Services
Our App Store Optimization Services
Our team of expert ASO professionals has immense experience in app optimization architecture. We make sure to apply the best optimization tools for improving the visibility and discoverability of your app on both the Google Play Store and Apple App Store.

Market And Keyword Research
We perform extensive research to select the right keywords using category searches on the app store. Track, analyze, and then optimize your app's ranking with the help of ASO tools to monitor your search rankings, competitor performance, and keyword analysis.

Tracking, Monitoring & Optimizing
At MageNative, we regularly measure and analyze rankings and downloads for iOS and Google Play Store. Our team has multiple years of extensive mobile knowledge Which significantly enhances your ASO resulting in many more organic installs.

Product Page Optimization
In the highly competitive world of digital marketing, only being visible on the app store will not give you better results. The success-defining factor is app downloads. You can improve your app downloads through better communication with the clients and by adopting A/B testing to identify which text or icons work better.

Creative Services
We provide
App icons, screenshots, copywriting, feature graphics, and value prop development.
App Store and Google Play preview videos
Display assets for paid user acquisition.

Conversion Optimization
Conversion Optimization is one of the essential parts of ASO. If done right, this can boost keyword rankings significantly and reduce the cost of user acquisition across all channels. MageNative conducts extensive research along with A/B testing helping your app rank at the top of the charts.

Paid Management
Our App Store Optimization services also include Google Play Store Ads and iOS App Store Ads services in an orderly manner. Paid management ensures your app achieves maximum engagement with the lowest cost per tap/install.

Video Marketing Services
Brand videos are one of the most powerful tools of any content strategy. It shows your company's expertise to your potential customer, helping you convey the brand message effectively and ultimately increasing overall brand recognition.

Content Marketing Services
At MageNative, we make your content marketing hassle-free with our well-researched and targeted content marketing services. Our highly skilled content marketing team innovates ideas, writes, edits, and makes your content search engine-friendly, creating a massive impact on your business.

Social Media Marketing Services
Improve your social media presence (website traffic, business brand awareness, and getting new clients) with MageNative.
We help you Develop Brand Awareness (Followers), Build Relationships (Engagement), resulting in more likes and comments on your social media posts, and increase your Website Exposure (Traffic & Conversions) to increase your leads and sales.
Build an app meant for conversion
Increase Your App Ranking on your Google Play Store and Apple App Store with App Store Optimization
Love from clients Listen to our customers

Great continues help from the support they custom many options to us and it helped our app and genarated sales from day one with it, I highly recommend this app to every one starting out. We cant thank them enough
Palmyra Online

I utilized the programme to create an app for my customers, and it was incredibly quick and simple. It was completed with just a few clicks:). So far, it's been simple to set up and utilise, and if you have any unique ideas, they'll gladly assist you.
StarSupermarket

The team at MagNative has been extremely helpful in the process of setting up a mobile app. They are ready and able to answer any questions. Great service and great mobile app builder.
MT-RSR

Very helpful team. I recommend their services. Initially i felt building an app was a bit overwhelming but with the support of the amazing team all came together pretty well.
Country Girl City Dream

The team was really helpful in accommodating too all our edits and updates! Prompt replies and great communication! recommended!
Sehetna-eg

I love this app. Im in the process of set up and the customer service is amazing! They are very helpful. Magenative having good IOS support (Shubham) who I can trust for issues.
TRIMART
Our Best Reads
Care for a great read? Here we bring to you our blog pieces, carefully handpicked to fill you up with must have information.
FAQ
Frequently asked questions
The queries you have in mind regarding ASO Services have already been answered in our FAQ section.
Why is app store optimization necessary for your application?
ASO for your mobile app is exactly like the SEO for your website. It provides better visibility to your mobile app in searches. App Store Optimization is essential for all mobile apps, whether small or well-known high-ranking apps. If your app is new, you should optimize it for the Google Play Store and the iOS App Store to make it easier to find for users using relevant keywords. If your app is a high-ranking one, updating your ASO strategy for relevant festivals and seasons will help it get more downloads resulting in featuring in the store's recommendations and giving high visibility.
How effective is App Store SEO/Optimization?
ASO is already as big as SEO since we know that mobile device traffic is more than desktop traffic. Since the competition in the app stores grew, ASO came into the picture, helping apps get significant visibility. It has become an essential marketing strategy. We know that the principal goal behind the ASO is to increase app rankings and organic downloads.
How do I trust you that you don't share my personal data with your other clients?
MageNative is ethically trained to work upon clients' trust. It is against our principles to do such things, but as a precaution, we also sign legal NDAs per your needs. You are always safe with us.
How much experience do you have in the ASO field?
We have over 13 years of experience developing the best work for our clients. MageNative is specialized in various industries from A to Z and brings a lot of domain expertise.
Do you provide a quote for your Digital Marketing & ASO services?
Brilliant! We're so glad you're interested in MageNative and our SEO services. Book a discovery call or fill out the contact form below to get a quote. As a guide, our prices start from $500 per month for SEO and $3000 per month for Optimizing your Android & iOS mobile app.
How long does app store optimization take to show results?
For iOS, the keywords indexing takes 3–4 weeks to fully take effect fully. It may take another week for the Play Store to make it 4–5 weeks. Overall, ASO will take around 3–6 months, depending on how often you update it.
Does running Apple Search Ads influence my app's rankings?
Running Apple Search Ads campaigns contribute to your overall brand authority, leading to increased organic performance and rankings. It's a given that you can improve your app's rankings by running Apple Search Ads.
What about the ownership of the work? Do I have to share it with you?
MageNative will only be involved in the product development process for you. Our team will have no ownership of your overall product or a part of it. All the data processed will be right before you and handed back. MageNative is focused on exceptional customer service.
Are you open to a partnership?
Amazing! Speak directly to our founder about partnerships. Click here to message us about alliances.
I have some questions regarding your services.
Great! We love questions! Drop us an email with your question(s) to this address, and one of our ASO experts will get back to you ASAP. Particularly interested in Lead Generation? Get in touch with MageNative.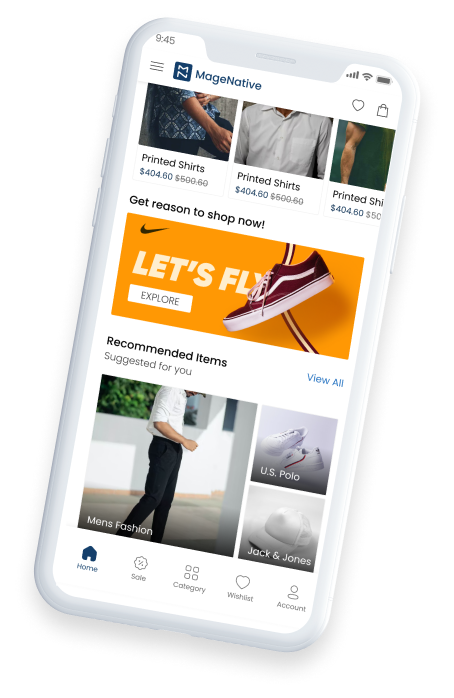 Let's Create Your Success Story Together
Get in touch with us now. Submit your business details and get a custom strategy to grow your business.
Schedule a Meeting