Did you know?
In today's hyper-digitalized world, countless individuals are seeking ways to generate passive income from their online activities.
Whether you want to supplement your monthly paycheck or explore the possibilities of making money online without the hassle of creating your own product, the demand for alternative income sources is booming.
Here's an eye-opening fact: Affiliate marketing strategies offer one of the most efficient and effective pathways to achieve your financial goals. By collaborating with businesses, you can help them tap into a wider customer base while simultaneously creating a reliable income stream for yourself.
The best part is that this opportunity is available to everyone, regardless of whether or not you have your own business.
If you haven't yet ventured into the realm of affiliate marketing, it's time to seize the moment and unlock the potential of this incredibly lucrative revenue stream. Don't miss out on the opportunity to turn your online activities into a source of consistent and passive income. Let's dive into the world of affiliate marketing and discover how it can transform your financial future.
What Is Affiliate Marketing?
Affiliate marketing is a lucrative online strategy where you can earn money by recommending products and receiving a commission for every customer purchase. It serves as a digital sales approach that benefits both affiliates and product owners by driving sales and generating income. By participating in affiliate marketing, individuals can make money without the need to create their own products.
In essence, affiliate marketing involves promoting a product or service through various online channels such as blogs, social media platforms, or websites. Affiliates earn a commission whenever someone buys the product through their unique referral link or code. When executed effectively, this performance-based opportunity can serve as an additional income stream or a means of diversifying revenue for an existing business.
To take part in an affiliate marketing program, you will need to follow these steps:
Discover and join an affiliate program of your choice.
Select the offers you wish to promote.
Obtain a unique affiliate link or code for each offer.
Share these links or codes on platforms like your blog, social media, YouTube channel, or website.
Whenever someone uses your links or codes to make a purchase, you earn a commission. The commission rates can vary significantly, depending on the affiliate program and the company. At the lower end, you may earn around 5% of the sale, but with certain arrangements, you can potentially earn up to 25%. In some cases, instead of a percentage, affiliate marketing programs offer a flat fee per sale.
How Does Affiliate Marketing Work?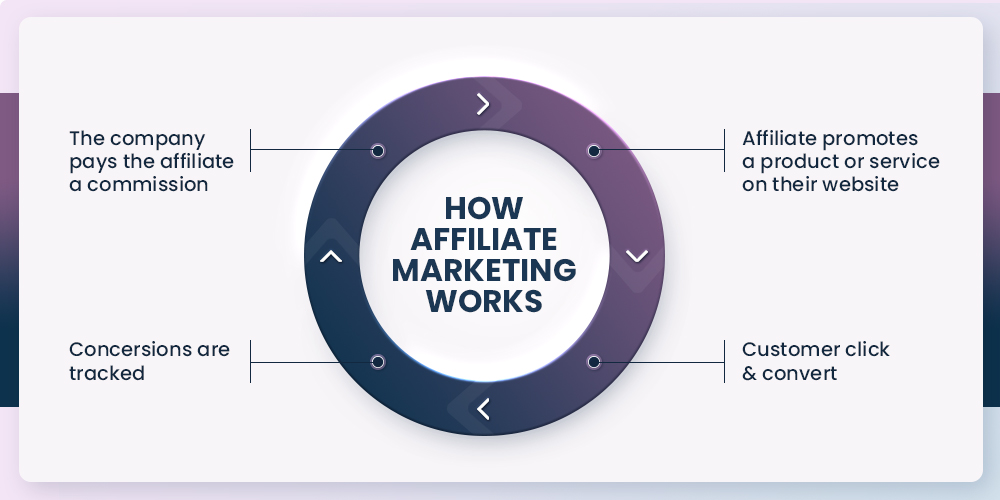 To take part in an affiliate marketing program, you will need to follow these steps:
1- Discover and join an affiliate program of your choice.
2- Select the offers you wish to promote.
3- Obtain a unique affiliate link or code for each offer.
4- Share these links or codes on platforms like your blog, social media, YouTube channel, or website.
Whenever someone uses your links or codes to make a purchase, you earn a commission. The commission rates can vary significantly, depending on the affiliate program and the company. At the lower end, you may earn around 5% of the sale, but with certain arrangements, you can potentially earn up to 25%. In some cases, instead of a percentage, affiliate marketing programs offer a flat fee per sale.
Also Check: How To Make A Mobile App User Acquisition Strategy In 2024?
Benefits Of The Affiliate Marketing Model
Affiliate marketing provides various advantages to affiliates, primarily due to its simplicity. As an affiliate, your role mainly revolves around the marketing aspect of a product's success, such as educating potential customers. You can avoid the more challenging tasks like product development, support, and fulfillment.
One of the major benefits of affiliate marketing is its low risk. Joining affiliate programs doesn't require any upfront investment, allowing you to start earning money with an established affiliate product or service right away. Additionally, affiliate marketing has the potential to generate passive income through commissions. While initially, you'll need to invest time in creating traffic sources, your affiliate links can continue to generate a consistent income stream.
Moreover, successful affiliate marketing enables significant earnings growth without the need to hire additional assistance. You can explore innovative ways to reach a broader audience while your existing efforts continue to generate revenue in the background.
To illustrate this point, let's consider an example: Ankur Warikoo organized a giveaway on Twitter, gifting 12 products through his product recommendations.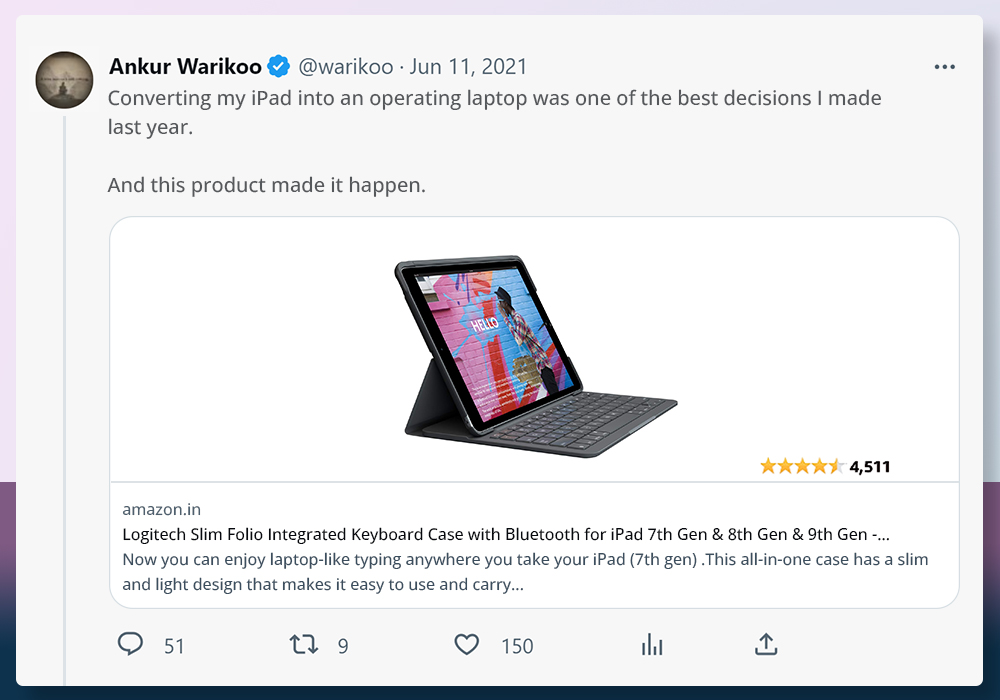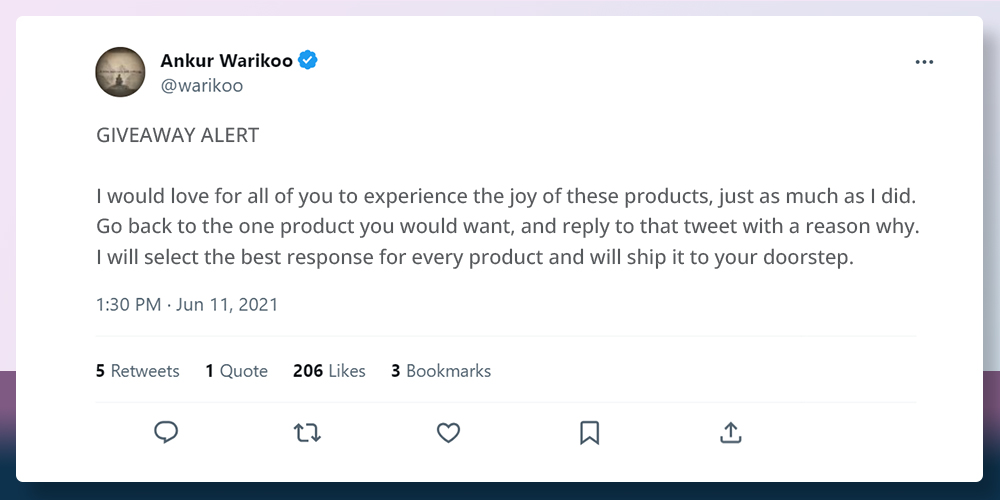 How To Find Affiliate Programs?
If you're interested in venturing into affiliate marketing, there are several avenues you can explore. While not all companies offer affiliate programs, some manage their own programs while others utilize affiliate networks.
To simplify your search for affiliate programs, you can visit affiliate marketplaces or platforms. These platforms cater to various niches and host a range of successful affiliate programs. Here are a few popular ones in India:
AffiliateFuture
Admitad
ClickBank
Commission
Resellerclub
Share a Sale
Alternatively, you can also check the websites of the products and services you personally use and enjoy to see if they offer affiliate programs. For instance, brands like Juicy Chemistry, which specialize in organic skincare products, often have their own affiliate programs in place. If you're a user of their products or possess knowledge about skincare, this could be an ideal affiliate opportunity for you.
Source: Juicy Chemistry
Alternatively, you can take a more direct approach. If you come across a great product, reach out to the owner and inquire about their affiliate marketing program. Even if they don't have one in place, they might be open to arranging a unique coupon code for you to share with your followers. The best opportunities often arise when you're the first to inquire and have a relevant distribution channel. For instance, if you're a health and wellness blogger, consider approaching a seller of a new fitness product.
Keep in mind that affiliate marketing programs have specific terms of service, so carefully review the details. Typically, your affiliate link will include a cookie with a specified timeframe, and some programs may restrict the use of the product or company's name in pay-per-click ads.
Selecting Your First Affiliate Program
When considering your initial affiliate program, it's crucial to focus on a key criterion: ensuring that the product or service aligns with your audience or the audience you intend to cultivate. Ask yourself whether it's something your target audience would find valuable and if it fits within your area of expertise.
For instance, a food blogger wouldn't likely promote beauty products. Instead, it would make more sense to explore a wide range of other products, such as cookware, meal kits, gourmet ingredients, or even aprons.
Moreover, ensure that the product or service you're promoting is a good fit for the platform on which you're promoting it. Image-heavy platforms like Instagram are well-suited for home decor and clothing, while longer-form content platforms like blogs or YouTube may be better for promoting in-depth assessments of products like software.
Which Platforms to Utilize for Affiliate Marketing?
There are numerous platforms available for earning money through affiliate marketing. Here are some examples:
Your own website or blog
Instagram
YouTube
Twitter
Facebook
LinkedIn
Reddit
Email
While any platform can be used to share your affiliate marketing links or codes, it's essential to determine which platforms make it easiest to reach your largest audience with unwavering trust and where they are most likely to make purchases.
For instance, if you excel at writing and have an audience interested in newsletters, email and your own blog may work best for you. Business products might be most effectively marketed on LinkedIn. If you have a large number of followers on Instagram, that could be the ideal starting point. However, there's no need to limit yourself to a single platform.
Tips For Promoting Your Affiliate Offer
As mentioned earlier, affiliate marketing revenue can eventually become a form of passive income, but it requires some upfront effort. The success of your program depends on the quality of your recommendation. To make a convincing recommendation, it's best to personalize your approach. Share your experience in your blog, social media posts, or videos. If you're writing a personal review, offer a candid opinion based on your firsthand experience and knowledge of the product. The more open and authentic you are, the more convincing your recommendation will be.
However, personalization alone is not enough. Consider the following tips while promoting your affiliate offer:
1. Build Trust:
People are more likely to follow your advice if they trust you. Building trust takes time, so be patient and persistent. Trust is particularly important for higher-value offers.
2. Talk To A Product Expert:
Consider interviewing users of the product or service, or even the person behind its creation or sales. Authentic user experiences and expert opinions add credibility to your recommendations.
3. Create A Product Tutorial:
Provide a tutorial that solves a common problem related to the offer. This helps potential customers understand the product's value and increases the likelihood of conversions.
4. Find Relevant Search Terms:
Research keywords that potential customers might use when searching for solutions related to the product. Tools like Google Ads Keyword Planner can assist with identifying appropriate keywords.
5. Consider Your Angle:
Determine how much emphasis to place on instructional or tutorial content, which can lead to customers trying the product themselves. Videos showcasing product utility or unboxing posts can be effective.
6. Set Your Distribution Strategy:
Share your promotional content on your website, social media platforms, and through email marketing campaigns. Create an affiliate marketing hub on your website, featuring a resources page where you share tools you use and recommend.
7. Try Offering A Bonus:
Offer bonuses to customers who make a purchase through your affiliate links, such as a free ebook or exclusive discounts. This can incentivize purchases and increase conversions. In India, the most frequently encountered bonus programs include the following: coupons, free trials, product giveaways, and additional discounts offered for services or products purchased through affiliate links.
8. Ensure Compliance And Transparency:
When engaging in affiliate marketing, it is crucial to adhere to the guidelines set forth by the Advertising Standards Council of India (ASCI). These guidelines outline specific responsibilities that need to be fulfilled, such as the use of disclosure labels.
A disclosure label is required for all brand promotions when there is a material connection between the affiliate marketer and the brand. This connection typically exists when the marketer's content includes hyperlinks or discount codes that result in compensation for click throughs and sales traced back to their content. Therefore, it is essential to include a disclosure label in such cases.
Even when including links to your family brand in your content, it is necessary to disclose this relationship. However, if you are promoting something at your own expense without any material exchange with the brand you are endorsing, a disclosure is not required.
All disclosures should be prominently displayed and easily noticeable to ensure transparency. While ASCI does not impose penalties or fines, non-compliant cases may be escalated to government authorities and sector regulators to protect consumer rights.
These guidelines are designed to foster collaboration, effective communication, and responsible practices among affiliates and the industry as a whole. By following these guidelines, you not only avoid misleading consumers but also establish long-term trust with your audience.
9. Prominently Feature Your Affiliate Links and Codes
The placement and visibility of your affiliate links and codes within your content require careful consideration. While it is important to avoid being overly pushy, it is vital to ensure that interested users do not overlook them. Here are some general tips to incorporate into your affiliate marketing campaigns:
Utilize call-to-action (CTA) buttons whenever possible, as they tend to yield better conversions compared to displaying URLs within your website or blog.
Cloak your links using tools like Pretty links to transform lengthy and cryptic URLs into more user-friendly and brand-aligned ones. This not only saves space in your content but also enhances trust and recognition.
Compile all your affiliate offers in a centralized location, such as a dedicated page or menu on your website. This allows your audience to easily access and revisit your offers, increasing the likelihood of discovering products they find appealing.
Leverage the features of your chosen platform effectively. For instance, on YouTube, you can place links in your video description or incorporate them as on-screen annotations at strategic moments. On Instagram, prominently display links in your bio or utilize a LinkTree URL to consolidate all your affiliate links in one place.
By implementing these tips, you can optimize the visibility and impact of your affiliate links and codes, thereby increasing your chances of generating conversions and earning commissions.
A great example of prominently displayed affiliate links can be seen on Bloggerspassion.com, where they feature "recommended tools" prominently on their homepage along with compelling copy and CTA buttons for each tool.
These strategies will help you kickstart your own affiliate marketing journey and contribute to your financial growth. Before diving in, it can be inspiring to learn about successful affiliate marketers in India who have capitalized on this revenue stream
Examples of Successful Affiliate Marketers in India
Taking a look at individuals who actively earn from affiliate marketing provides both inspiration and evidence of the legitimacy and profitability of this income stream. Here are a few notable examples:
Tanya Joseph: With over 92K subscribers on YouTube, Tanya Joseph offers product recommendations and video tutorials, incorporating affiliate links in her descriptions. She even promotes her own affiliate marketing mentorship through webinars.
Harsh Agarwal:The founder of ShoutMeLoud, Harsh Agarwal, earns a significant portion of his income, reportedly 15-20 lacs per month, through affiliate marketing. He clearly discloses his affiliate partnerships in his posts.
Source (Instagram)
Jyoti Chauhan has been successfully running her blog, UpdateLand, since 2013. The blog covers a wide range of topics including in-depth product reviews, how-to guides, and search engine optimized content. With over 5L monthly traffic, UpdateLand generates income through various channels, including affiliate marketing as mentioned on the website. One example of Jyoti's affiliate marketing efforts is her comprehensive guide on Semrush traffic analytics tool.
Source: Updateland
Anil Agarwal
Anil Agarwal is the proud owner and operator of a popular blog called BloggersPassion. In one of his blog posts titled "Bloggers Income Report January 2021: How Much Money Do Top Bloggers Make," Anil openly shares that he earns $10,844 (over INR 8L) per month in 2021 through affiliate products, direct advertising, and consulting. Furthermore, he showcases a case study in which he collaborates with Harsh Agarwal from ShoutMeLoud and earns $16,433 (approximately INR 12.33L) through affiliate marketing by promoting a single product.
Source: Bloggerspassion
Kiran Gundimi
Kiran Gundimi is a young Instagrammer who specializes in creating content related to skincare, health, beauty, and lifestyle. Despite having a follower count below 4000, she effectively promotes products in her niche and earns money through affiliate marketing. Kiran includes her affiliate links in her Highlights section on Instagram and consolidates them in the Linktree URL found in her bio.
Source: @KiranGundimi | Linktre
The noteworthy aspect of the aforementioned successful Indian affiliate marketers is that they have all evolved into content creators in their own right. This expansion into content creation has allowed them to explore additional revenue streams, such as earning through Google AdSense and influencer marketing. It clearly demonstrates that by building trust with high-quality content, one can open up various avenues for earning, with affiliate marketing serving as an excellent starting point.
Explore the Lucrative Realm of Affiliate Marketing Strategies
Are you seeking a means to generate passive income on the internet? Would you like to enhance your monthly earnings without the burden of creating your own products? If that's the case, you're not alone! Numerous individuals are turning to affiliate marketing as an effective method to earn money online by collaborating with businesses and assisting them in expanding their customer base. And the best part? You don't even need to have your own business to begin!
If you haven't yet delved into the world of affiliate marketing, it's time to recognize the tremendous potential of this income stream. In this piece, we will delve into the intricacies of affiliate marketing and how it sets itself apart from influencer marketing. We will also discuss how you can kickstart your journey into affiliate marketing, find suitable affiliate programs, and effectively promote your offers. So fasten your seatbelt and get prepared to embark on an exhilarating adventure into the realm of affiliate marketing strategies!
Commencing Your Affiliate Marketing Journey
Now that you grasp the fundamentals of affiliate marketing, it's time to immerse yourself in the practical steps required to get started:
1. Discover and join an affiliate program:
Begin by exploring affiliate marketplaces or platforms that provide a wide array of affiliate programs for you to choose from. In India, some popular options include AffiliateFuture, Admitad, ClickBank, vCommission, Resellerclub, and ShareASale. Alternatively, you can visit the websites of products or services that you personally use and admire to see if they offer their own affiliate programs.
2. Select offers to endorse:
Choose products or services that align with the interests and needs of your audience. Take into account your expertise and the value the offer can provide to your target audience.
3. Acquire unique affiliate links or codes:
Once you've made your selection, you will be provided with a distinctive affiliate link or code that tracks the sales generated through your promotional efforts. Ensure that you utilize these links or codes whenever you share the offer on your blog, social media platforms, YouTube channel, or website.
Are You Prepared To Embark On Your Affiliate Marketing Journey?
Engaging in affiliate marketing programs can be a gratifying method of earning money online without assuming excessive risks. The only investment required is your time. By dedicating your hours initially, you can consistently enjoy the benefits and transform it into a reliable income stream, potentially even a standalone business.
To kickstart your venture, we invite you to explore the MageNative Affiliate Marketing Program. By signing up, you can assist entrepreneurs in discovering the capabilities of MageNative while earning through the influential channel of affiliate marketing.
About The Author
A content marketing professional at Magenative, An app development company providing solutions on different app development platforms including Shopify , Magento and Woocommerce.
Related Posts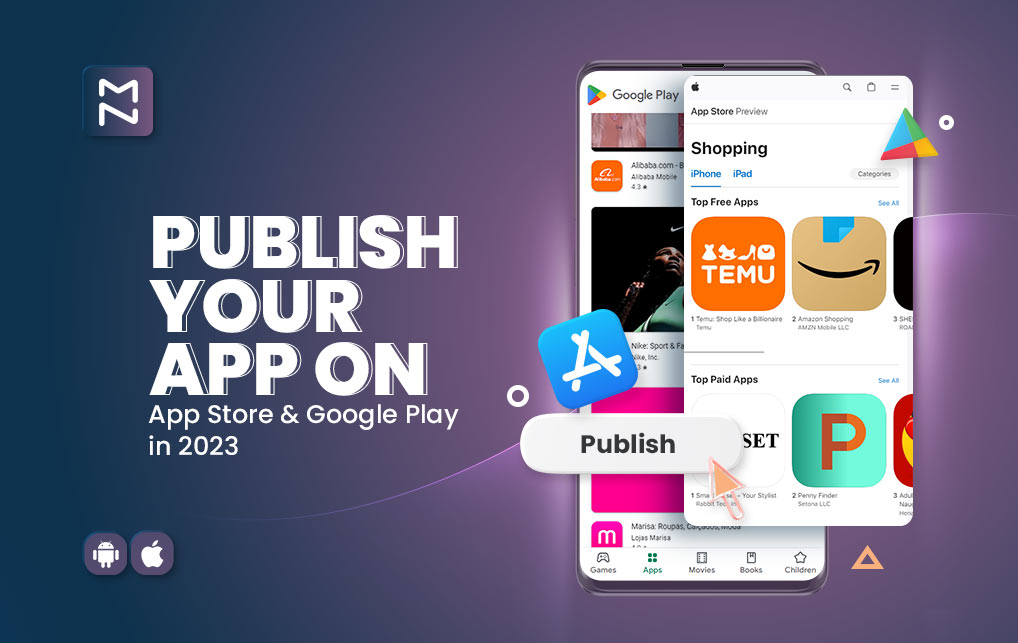 How To Publish Your App On Apple App Store And Google Play Store In 2024?
Objective: In this article, we provide you with an in-depth…
Read article >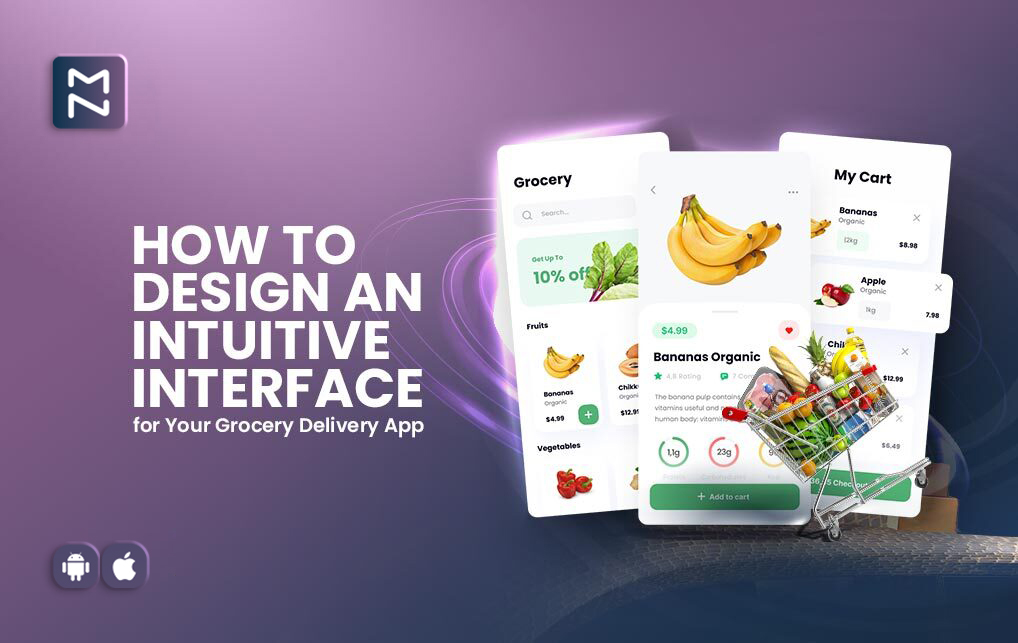 How To Create A Winning Grocery App Design? Best Practices To Know
In today's times, you cannot deny that mobile apps have…
Read article >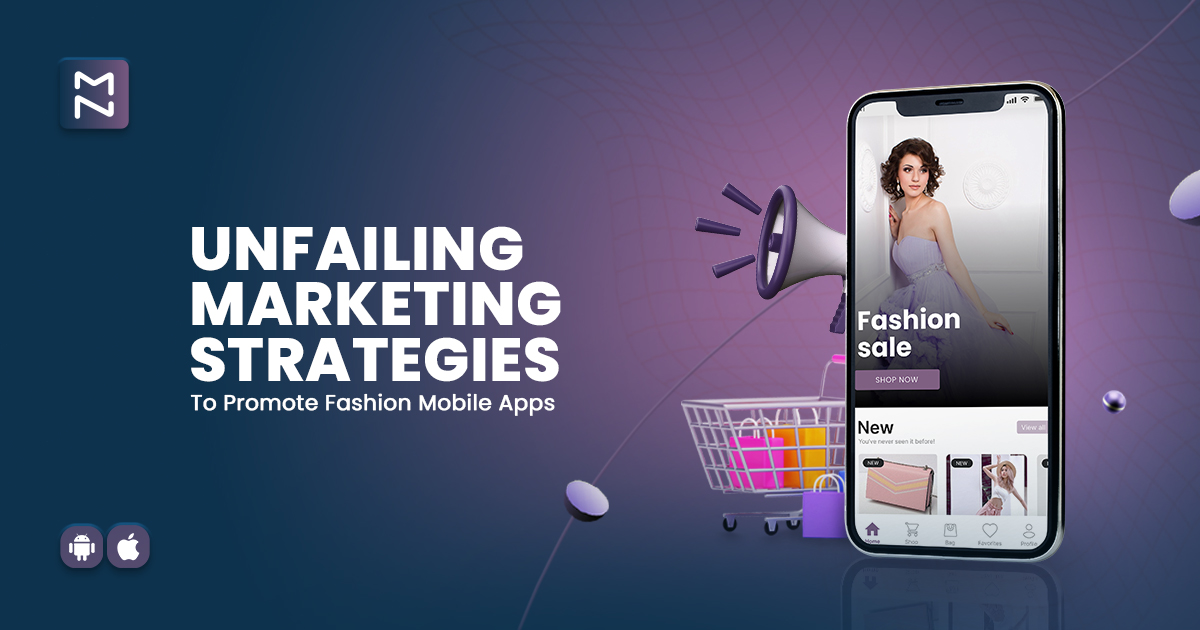 10+ Marketing Strategies for Your Fashion Mobile App
Are you into the fashion industry? Well, pat your back…
Read article >