Mobile apps have become an essential part of our daily lives – be it shopping or paying bills or booking appointments – mobile apps make everything easier and faster for all. Due to the ease mobile apps offer, they are now widely used for businesses to obtain success. But, yes, there are some exceptions! The myths regarding app development restrict many merchants from getting their own apps. As a result, they end up missing its benefits solely because of some misconceptions.
We're going to bust myths one at a time now to help you in deciding whether to believe the app development myths or be with the reality.

10 Common App Making Myths With  No Connection with Reality

Here, we present 10 common myths related to app development and will uncover the reality behind these. If you've been a believer of any of these, this will surely clear the air.

Myth 1: App Making Is All About Coding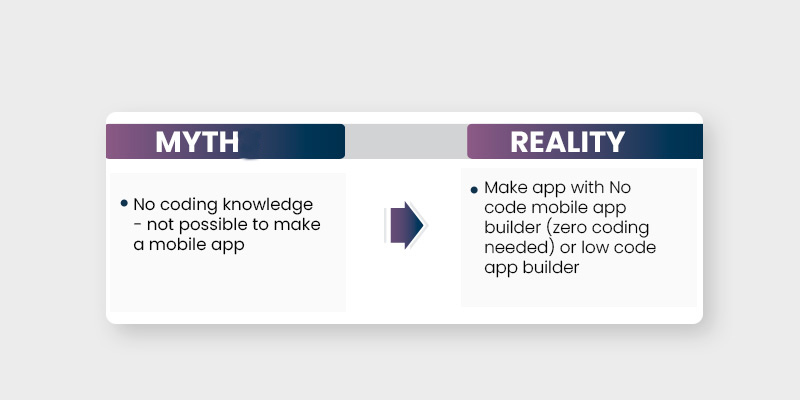 While talking about app development myths, a number of business owners do not consider a mobile app because of the notion that building one involves coding.

If you search on different forums, you can often see questions like
"How much code is necessary to make an app?"
"I Have a Good App Idea, But No Programming Skills."
"Is coding necessary to make apps on android?"

It's a common belief that app development is all about coding, but this is just a myth. Now, here is the reality:

Reality: No-Code Mobile App Builder Is IN
App development with codes is age-old. Now, you can develop an app without writing any code. So, you don't need to have technical knowledge (programming languages, to be specific) to develop your app all by yourself.

Here is how you can use these app builders
Get a no-code mobile app builder as per your preference
Make your app using its drag and drop feature
See the demo of your mobile app
Customize if needed
Publish it on Google PlayStore or iOS AppStore

With these no-code app builders, the entire app-making process becomes as simple as playing an online game. If you have an idea, you can create an app with these mobile app builders without going through the hassles of writing codes. And these no-code app builders had a global market of $13.8 billion in 2021.
Apart from the no-code app builders, there are lots of low-code app builders as well. Research says that by 2030, these app builders will be used for more than 65% of app development globally with a revenue of $187 billion.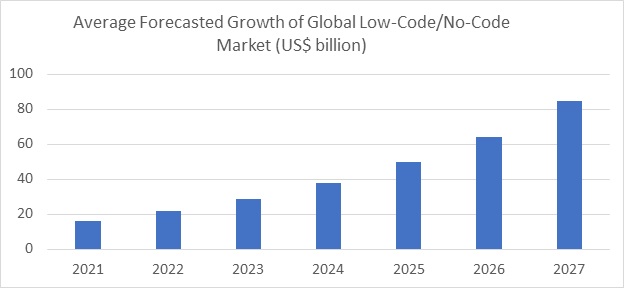 Source: research.aimultiple.com
Amazing fact: 40% of users who are now using no-code app builders have no technical knowledge – they are from business backgrounds. However, they had used the term "EASE OF USE" to describe the process of app making with these app builders. 
Myth 2: App Brings INSTANT Results (Traffic & Conversion)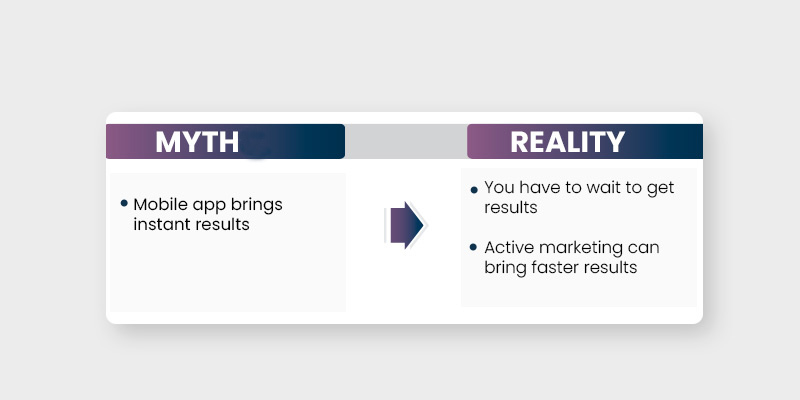 Moving on to the expectation of the merchants from a mobile app. Many app development firms portray if you get your app from them, you will get immediate results. But this is not the case! They purposely do this to promote their solutions.

Reality: Allow The App Some Time To Bring Results

Any new implementation takes time to bring results – and this same thing is applicable to mobile apps for business. Come on! You cannot expect more traffic and conversion the moment you publish your App.

Instead, you need to
Allow it some time to perform and bring results
Promote your app on the right platforms
Try to make your app discoverable

Traffic and conversion will come only when your app is visible to your target audience. Ensure that with exceptional and strategic marketing. Get an expert team to get fruitful marketing results.

Find out: A Complete Guide To Turn Your Shopify Store Into A Mobile App
Myth 3: App Aesthetics and Features Regularize Its Usage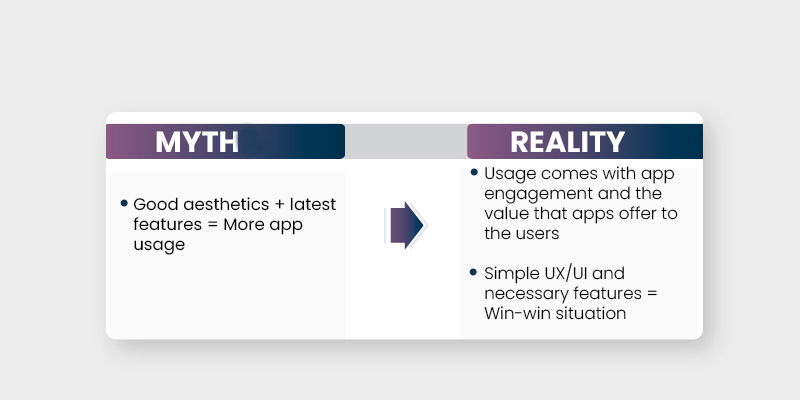 Do you also believe that an app with rich features and outstanding aesthetics is enough to increase app usage? If your answer is yes, you are believing a myth!
Let's face the reality now:

Reality: App Usage Is Much About What You Are Offering

You might wonder that a simple app is capable of bringing good results and consistent usage. Moreover, more features do not provide better results.

So, remember to
Make a clear design to make more appeal
Try to remove the unnecessary features
Engage in active marketing
Announce attractive deals
Engage with your buyers daily

As mentioned earlier, the more users can connect with your app, the more they will use your app. The connection depends on the aesthetics and features of your app to some extent, but not entirely. So, reach them daily, show your offers, and best-selling/newly arrived products to increase their usage.
Check out: Benefits of Shopify Mobile Apps – See What Your Business is Missing Out Without an App
Myth 4: Mobile App Development Burns The Pocket, So It Is Only For Profitable Companies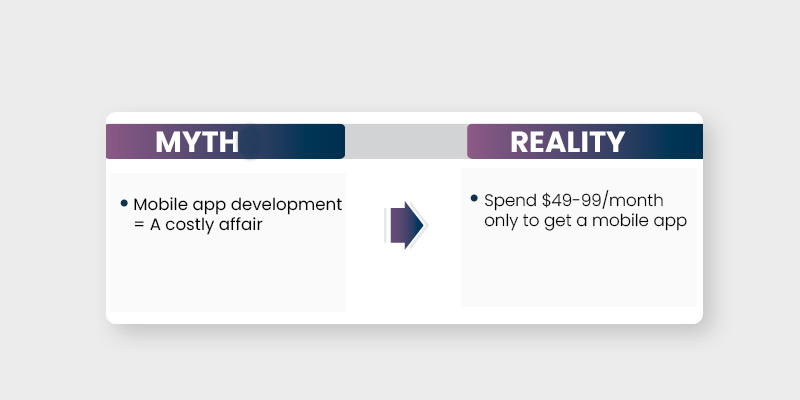 This is the most common myth people take too seriously when it comes to app development – the COST. A huge percentage of business owners believe that they will have to spend millions just to get an app. As a result, they keep using their eCommerce store only and settle for mediocre results
Are you also opting out of building a mobile app just because you think it will bankrupt you? Time to take a hit of reality!

Reality: $49-99/Month Is Enough

Remember we mentioned no-code app builders previously? If you develop your mobile app with those app builders, you will have to spend $49-99/month.
Yes! You have heard right! It's true – just $49-99/month inclusive of all charges. Additionally, you can change your plans as per your needs each month. So, what are you waiting for? Get a mobile app to build your business today!

Myth 5: Marketing The Mobile App Will be Very Costly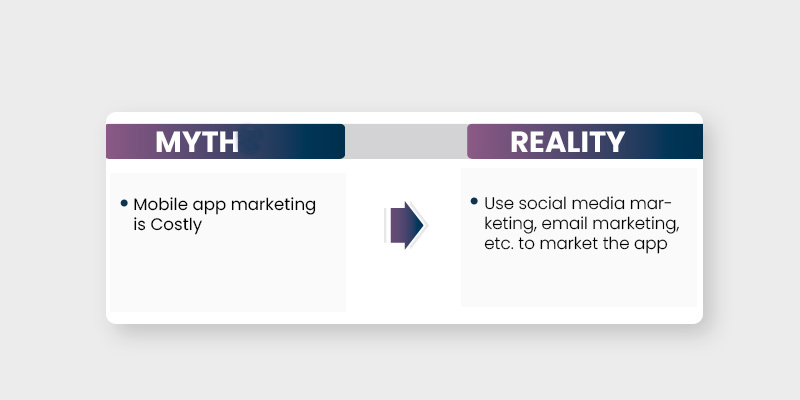 In the last 2 points, we have mentioned that marketing is essential. But regarding the term "marketing" of the mobile app, is believed to be an expensive deal by many. Are you one of them? Do you also believe that to make your mobile app discoverable, you have to spend all your savings?
Well, certainly not! There is no logic in considering Marketing as something unaffordable since right now there are many more ways to market a mobile app. Presenting a few for you:

Reality: Well! Not Always – Marketing Can Be Affordable Too!

Marketing is no more an unaffordable task no matter how small they are.

Here are multiple ways to market your app without spending thousands of bucks:
Social media marketing
Influencer marketing
Content marketing
Word of mouth

Your regular activity of social media, helpful content in blogs or videos, and influencers, all have the potential to make your app popular within your budget.
Did you know, 77% of marketers have reported an increase in user engagement after active email marketing?
Check out: Top 10 BFCM Marketing Strategies for Your Shopify Store This Festive Season 2022

Myth 6: App Development Needs Around 2 Months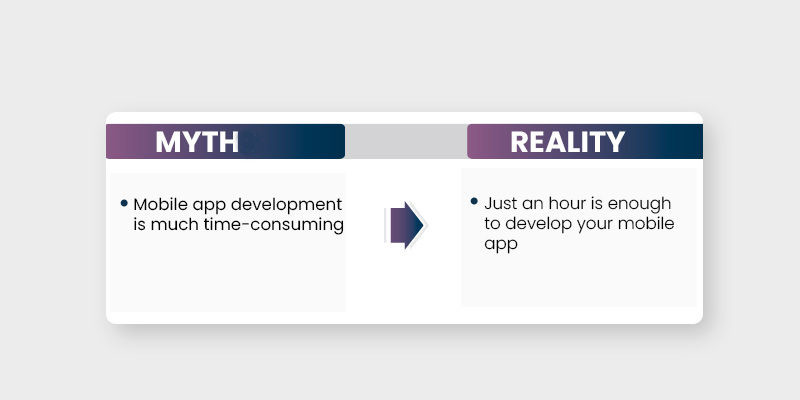 Another common misbelief regarding app development is its duration. Again, for no reason, people consider that app development will take months to complete, but this is just a myth.
Relax! App development does not take that much of time.

Reality: Have One Hour In Hand? Good To Go For An App

Mobile app development process has been shortened to just one hour (sometimes even under 60 minutes). But, for that, you have to use the no-code mobile app builders to make an app. It may appear unrealistic but it is true that no-code app builders can reduce the app development time by 90%.

So are you ready to make a mobile app for your business within an hour? 
Myth 7: App Is Not At All A Necessity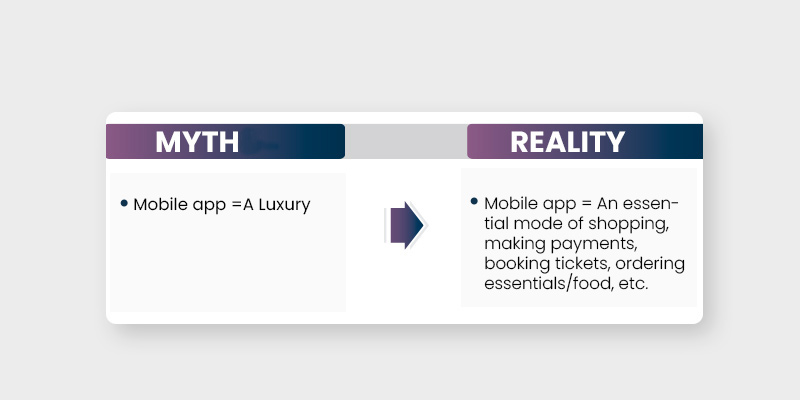 In 2021, 69% of shopping (in the US) was done online and a majority of it was done through apps. Yet, there are some business owners who believe a mobile app is just a luxury; however, it is one of the myths of app development that can be busted easily.
Reality: 57% Of Users Prefer Apps Over Other Shopping Channels

Research shows that mobile apps are one of the most preferred channels for shopping. Therefore, you can get more users on your app compared to the other channels you are using.
It's definitely because apps are easy to use, fast and reliable to more than half of the users. So, can you even imagine how much you can expand your reach by conducting business with a mobile app?

Myth 8: Mobile App Analytics Are Enough To Track Its Performance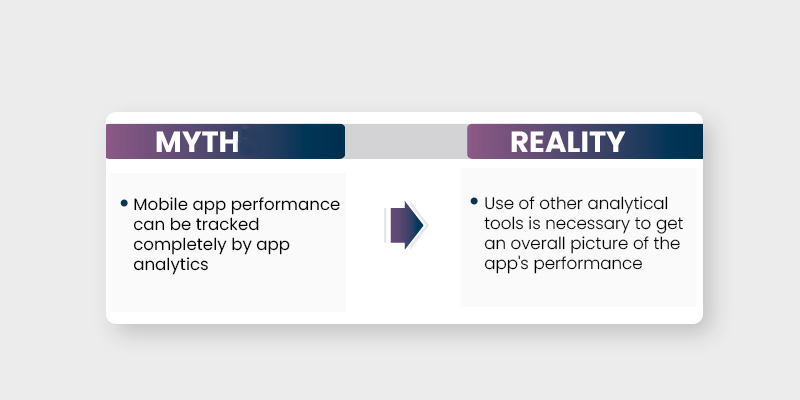 Mobile apps come with prebuilt analytics and some users believe this inbuilt app analytics is enough to track performance which is not always true. Indeed, mobile app analytics often provide very accurate data but you cannot rely only on it. So what's the way out?

Reality: Take Help of Diverse Analytic Tools

To understand how well a mobile app is performing, you have to use different analytic tools and compare the findings. You have to track the mobile app KPIs as well to get a broader understanding of your app's overall performance.
Now you might wonder, why should you do this? Actually, an app may not always offer its best performance. Sometimes its performance can be average, so you need to make some updates. A multi-directional performance tracking can specify the improvement areas so that you can make changes going lost.
Check out: Top 8 Ways A Mobile App Can Reduce Shopping Cart Abandonment
Myth 9: App Published Means No More Tasks Left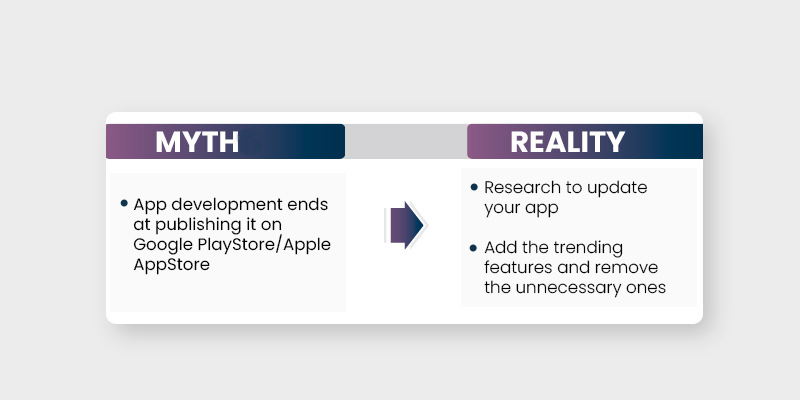 Another popular myth is app development ends with making and publishing the app on PlayStore and AppStore. But, it is just a misconception that you have to clear up.

Reality: Updation Is The Key

Making and publishing a mobile app is just one part of the app development process. However, it is a never-ending process as users' requirements keep changing here.
A feature that they love today may not appeal to them tomorrow because they find some new feature. Therefore, you have to research daily to understand what is in trend and what is going obsolete.
You need to include the new features on your app and get rid of the old ones. Also after making the app, active marketing is very essential. So, don't forget that.
Check out: 17 Proven Strategies to Increase App Downloads and Installs Revealed
Myth 10: Apps Are Not Secure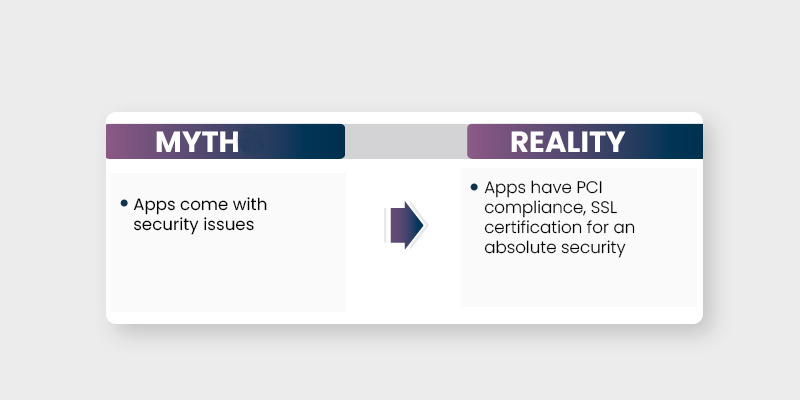 One of the popular misbeliefs regarding app development is its security concerns. Merchants consider apps not secure and they are probably not aware of the reason.
But, we are here to bust this app development myth too!

Reality: Apps Come With PCI Compliance Providing Ultra-security

Mobile apps ensure complete data protection of the users to provide them with a secure shopping experience. Mobile apps come with PCI compliance and SSL certification which makes every action of the users secure. In any situation, user data cannot be leaked from the app. So, security problems will not occur on your app ever!
Check out: 9 Effective Tips For Successful Mobile App Branding
Taking App Development Myths Seriously? See What You Are Missing Out On!

It is completely your wish to get a mobile app by understanding the realities or not having an app due to the myths.

However, it is our responsibility to show you the perks you may miss by not having a mobile app here:
Not just that, if you are neglecting a mobile app for your eCommerce store, see this:

Do you think that is all? Wait! Let's wrap up this section with an astonishing forecast:
By 2023, mobile apps will generate a revenue of $935 billion.
So, will you consider this eye-opening fact or believe those app development myths? Decide wisely!

Let Not The App Development Myths Make You Paranoid Anymore!

App development myths are presented so convincingly that people end up believing them with conviction. Merchants are easily misled by these and they actually miss out on good exposure and of course amazing results for their business.
But, you can now experience new-age app-making with mobile app builders and see the reality all by yourself. Once you start building your mobile app with zero-code app-builders you can figure out how far you were from reality. So are you ready for busting the app development myths?
Are you aware of any other myth regarding app development? Let us know – Our comment section is just for you.
Check out: Why Is MageNative The Best Mobile App for Your Shopify Store?
About Magenative
MageNative is a leading app building platform that facilitates app creation for business owners regardless of their knowledge of technical nuances involved. At MageNative, we convert ideas into scalable mobile apps instantly and most conveniently.
About The Author
A content marketing professional at Magenative, An app development company providing solutions on different app development platforms including Shopify , Magento and Woocommerce.
Related Posts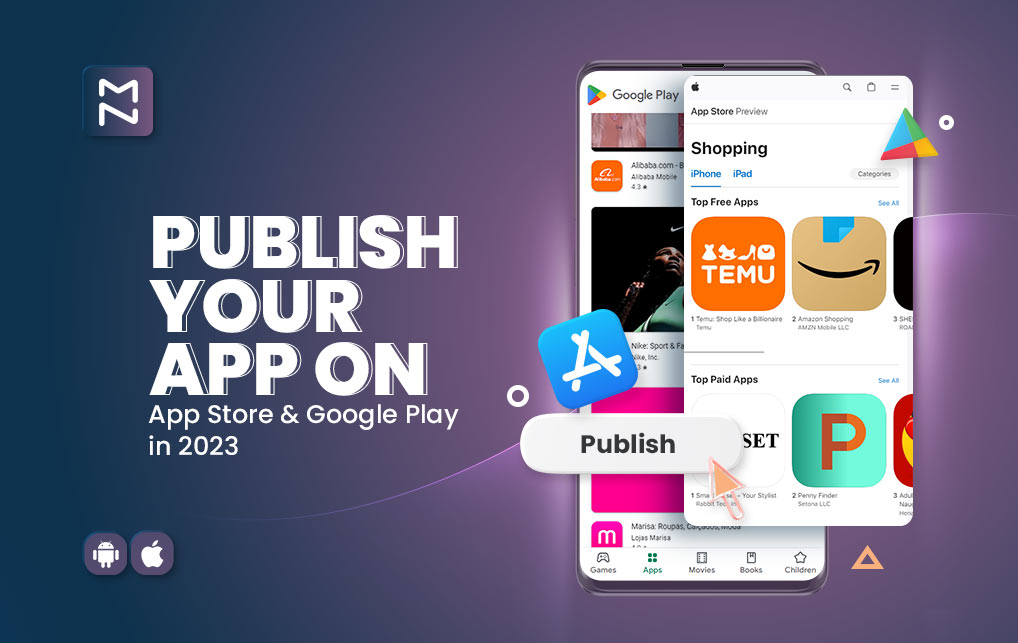 How To Publish Your App On Apple App Store And Google Play Store In 2024?
Objective: In this article, we provide you with an in-depth…
Read article >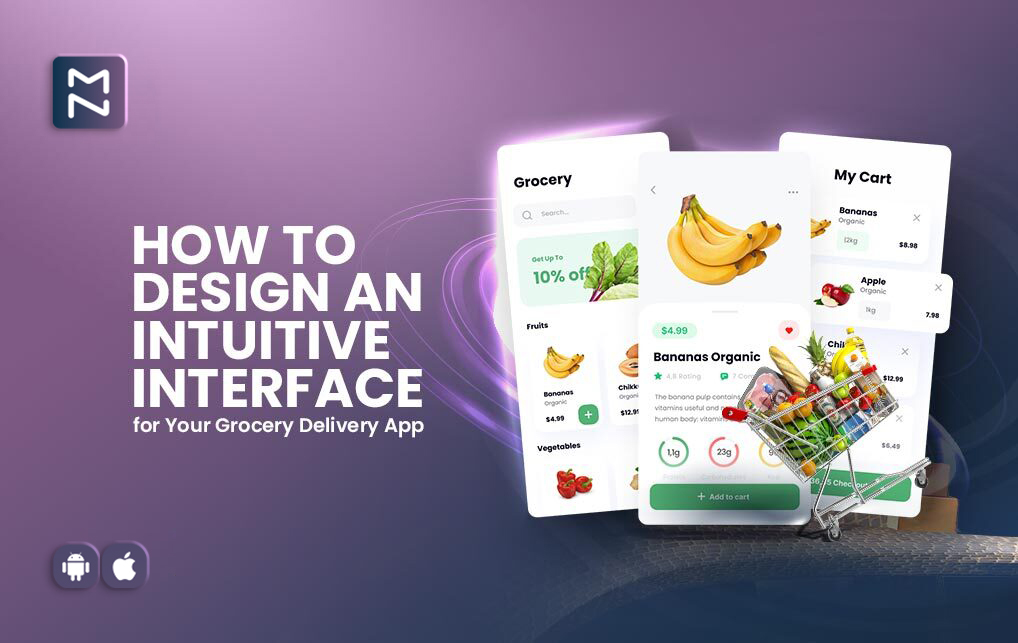 How To Create A Winning Grocery App Design? Best Practices To Know
In today's times, you cannot deny that mobile apps have…
Read article >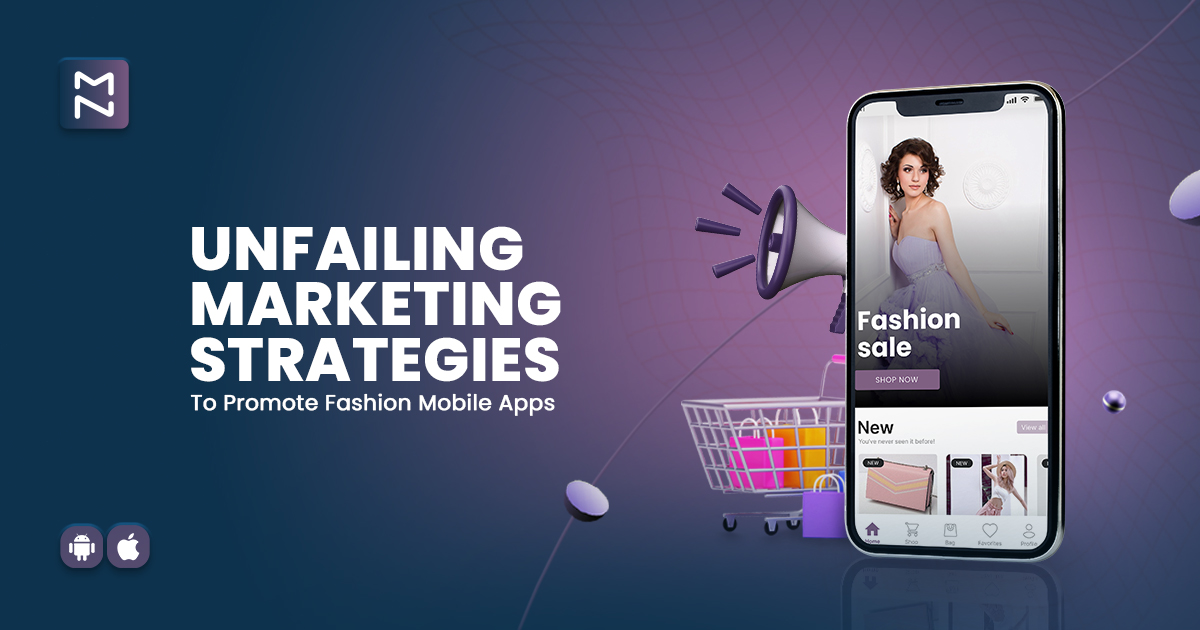 10+ Marketing Strategies for Your Fashion Mobile App
Are you into the fashion industry? Well, pat your back…
Read article >