Seasonality is crucial to your ASO marketing strategy because user behavior changes based on seasons, holidays, and other external and internal events. This can impact category and app-specific behavior, such as New Year's resolutions in the Health & Fitness category or new content on a game or streaming app.
Seasonality in the app stores refers to time-based changes in user decision-making based on external and internal events. By leveraging seasonality in your ASO strategy, you can improve the discoverability of your app or game and increase app store conversion rates.
Taking advantage of seasonality involves more than just targeting specific holidays or events. It requires a deep understanding of your audience, their behavior patterns, and how they make decisions. Developing a comprehensive seasonal marketing plan can increase your app's visibility and attract more users during peak seasons. So, pay attention to the importance of seasonality in your ASO strategy, and start planning for the seasons ahead!
What Is Seasonal Marketing?
It's not unusual for businesses to experience website traffic and sales fluctuations at certain times of the year. For example, a flower shop may see a surge in sales during Valentine's week, while a bathing suit retailer may do well during the summer. This is where seasonal marketing comes in.
Seasonal marketing is promoting products or services during specific times of the year. This can include well-known holidays like Christmas and Valentine's Day, the "winter season," or other significant events relevant to your industry. It's about identifying relevant dates throughout the year and finding ways to leverage them in your marketing campaigns.
Seasonal marketing doesn't have to be limited to official holidays – it's about adjusting your marketing strategy to align with the events that matter most to your audience. Capitalizing on these opportunities can increase engagement, boost sales, and grow your business year-round. So, start thinking about how you can incorporate seasonal marketing into your strategy and take your business to the next level!
Significance of App Store Seasonality For ASO
Many businesses overlook seasonal marketing, but it's a massive mistake for direct-to-consumer (D2C) and eCommerce brands. Why? Because seasonal marketing provides consumers with a compelling reason to spend money. Whether they realize it or not, seasonal marketing is always at the forefront of their minds.
During the holiday season, for instance, people are eager to take advantage of sales and buy gifts for their loved ones. Similarly, people get excited about purchasing Halloween costumes and trick-or-treat candy as fall approaches. By tapping into these seasonal trends, businesses can drive sales, attract new customers, and build brand loyalty.
For D2C and eCommerce brands, seasonal marketing is crucial as it can make or break their revenue for the year. By staying on top of seasonal trends and adjusting their marketing strategies, businesses can maximize profits and thrive year-round. So, if you're not already leveraging seasonal marketing in your strategy, now is the time to start!
Reduce product returns significantly with some out-of-the-box ideas.
The Leaders Are Already Doing It
If you are still figuring out whether to get into ASO marketing or not. The big players have already started using it.
During the holiday season, Adidas and Best Buy implemented season-based App Store Optimization (ASO) strategies and quickly changed their app descriptions, promotional text, and screenshots to match their seasonal campaigns on the app store and play store. And their efforts paid off, as both saw their highest download growth between November 15th and 29th, with Best Buy experiencing a massive 454% increase and Adidas a whopping 582% boost!
Last year, holiday retail sales reached $789.4 billion despite the consequences of the pandemic. – NRF
On the other hand, apps that failed to utilize seasonal app marketing strategies were left out of the top 10 rankings. The connection between the app's product page and seasonal campaigns is crucial in maintaining a cohesive user experience and keeping up with the competition. Walmart and Amazon are great examples of this, as they held their top positions by matching their apps with their holiday-themed campaigns.
So, take advantage of this opportunity to boost organic traffic and increase visibility for your app. Optimize your app's features and metadata specific to the season, just like Best Buy and Adidas did, and watch your app downloads skyrocket!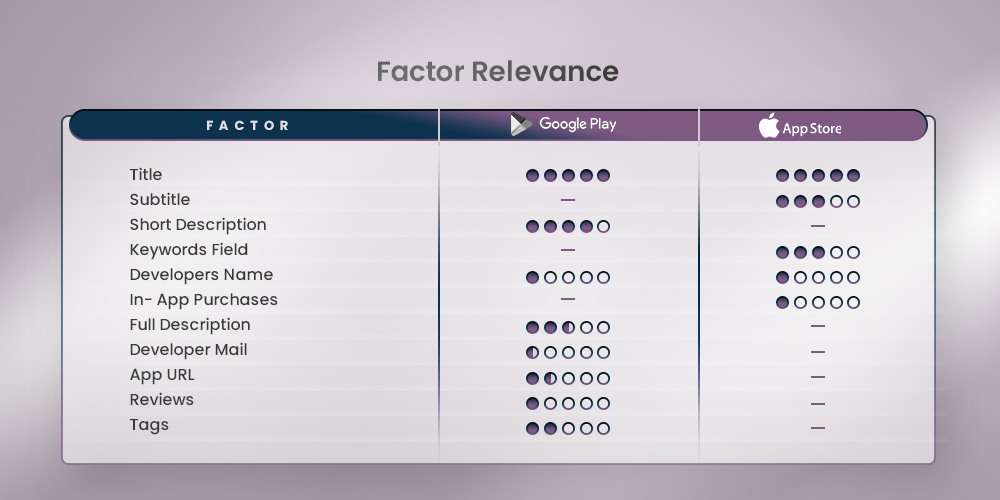 Benefits of Seasonal Marketing For ASO
You can reap various benefits by using seasonal marketing in your app store optimization strategy.
Get Featured: For starters, it can help your app get featured on the explore and browse pages of both the Google Play Store and iOS App Store, increasing your app's visibility and discoverability.
Boost Conversion Rate: Another advantage is that it can help boost your app's conversion rate, making your app listing more appealing and engaging to potential users.
Re-Engagement: Seasonal ASO marketing can also be a powerful tool to re-engage existing users, as it creates a sense of urgency and excitement to take advantage of limited-time promotions.
Up-To-Date: Incorporating seasonal marketing into your ASO strategy shows users that your app is always up-to-date and in tune with current trends and events. Doing so can strengthen your brand's reputation and keep users coming back for more.
Are you looking for some expert guidance to optimize your mobile app? Check out MageNative's exclusive ASO services and boost your sales today!
Creating A Seasonal Campaign
Here are 8 steps and tips to follow when creating your ASO seasonal marketing campaign:
1. Create A Seasonal Calendar
Get ahead of the game with a seasonal calendar! By planning a consumer content strategy, you can stay ahead of the competition and be ready for any holiday or event that comes your way. Don't leave things to chance – preparation is the key to success!
Here are a few seasons that are most popular in the app world: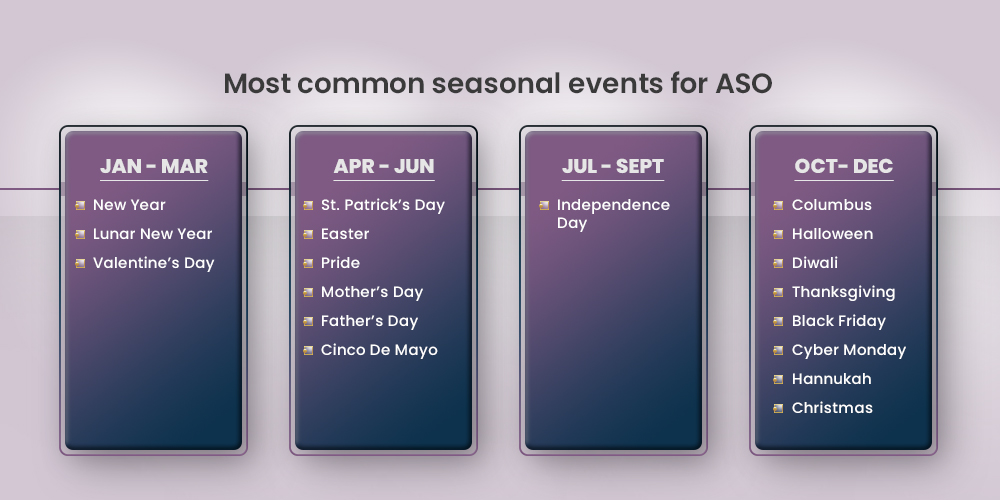 2. Optimize Your Listings To Get The Right Audience
Don't just settle for being found – optimize your app listings to attract the right audience and increase your install and retention rates. By targeting keywords related to your app, you can improve your performance and achieve high-quality rankings on both platforms.
And don't forget to plan – targeting these keywords in advance will give the algorithms time to index your app and help you achieve even greater success!
3. New Audience – Different Types of Users
Want to create more effective campaigns for your app? Understanding your target audience's age, location, and other key factors is essential. This will help you make more targeted, focused campaigns that yield accurate results.
And if your app is localized, take advantage of the most popular seasons and events in those markets to attract a new and diverse audience. So, get to know your audience and create campaigns that truly resonate with them!
Understand Your Customer Better
4. Special Keyword Opportunities
Looking for ways to increase your app's visibility during the holiday season? It's all about finding the right keywords! While these terms may not be relevant to your app throughout the year, they could become a perfect fit during the holiday season.
By analyzing search trends and popular topics, such as Christmas, New Year's, Black Friday, and more, you can identify the best keywords to target. And by combining these keywords with others, such as Shop, Xmas, Christmas, 2023, new, wish, holidays, gifts, and presents, you can create powerful long-tail opportunities that attract new users.
So, start exploring special keyword opportunities today and watch your app's visibility soar!
5. Update Your Creative Assets & Metadata
Ready to bring your seasonal marketing ideas to life? It's time to update your app's creative assets and metadata! Whether icons, screenshots, or feature graphics, these assets can be optimized to attract more users during the holiday season.
And don't forget about metadata – incorporating seasonal marketing into your short description, "what's new" section, or promotional text can boost your app's rankings for specific keywords. So, update your creative assets and metadata today and take your app's seasonal marketing to the next level!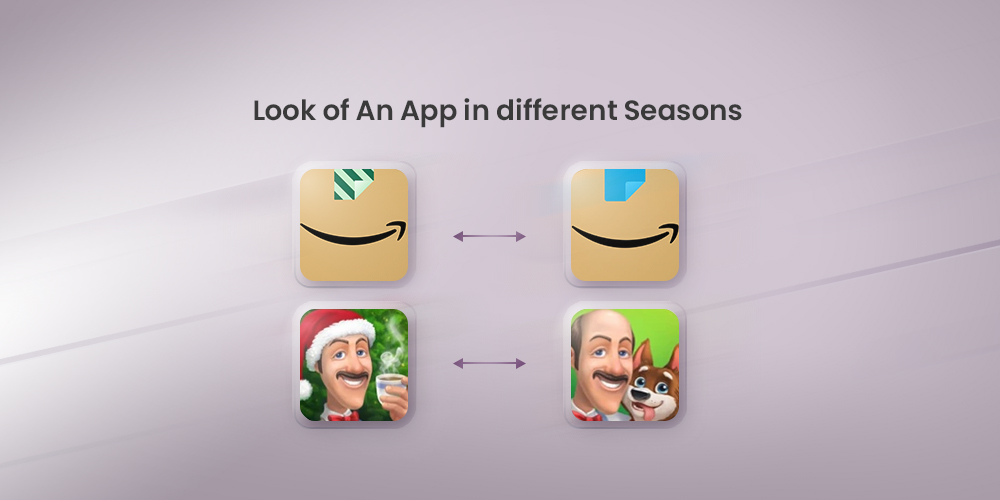 6. Make Your Assets Shine!
It's time to let your creativity shine! With a strong keyword strategy, you can now focus on making your creative assets fun and festive. Even if you're not offering special promotions, consider adding festive ornaments to your screenshots and tapping into the emotional component that helps users connect with your app.
Don't be afraid to experiment and try new things – after all, the holiday season is the perfect time to get creative and stand out from the crowd. So, add some holiday cheer to your app, and prepare to spread some joy this season!
7. Research Performance From The Last Holiday Season
Want to ensure your holiday campaigns are a success? Look to the past for insights! Before you begin, take some time to analyze your past paid campaigns and identify which messaging and creatives performed best. Additionally, examine your proven keywords on the Google Play Developer Console to identify trends and competitor keywords.
By learning from past successes and failures, you can make informed decisions and create even more effective campaigns this holiday season. So, look back before moving forward and set yourself up for success!
8. Align Your Channels And Apply A Multi-Channel Strategy
To maximize the impact of your holiday campaigns, aligning your channels and to apply a multi-channel strategy is essential. This means focusing on organic traffic and aligning your UA campaigns and SEO efforts. Choose the same goals to achieve the best results and keep your strategies consistent across all channels.
While targeting new users during the holiday season is essential, remember to re-engage existing users and those who may have removed your app. And be sure to take advantage of all the console features available, such as In-App Events and LiveOps.
In particular, consider using CPPs for ASA and Facebook campaigns to drive more installs and engagement. You can ensure your holiday campaigns succeed by aligning your channels and taking advantage of all available features. So, start planning your multi-channel strategy today and get ready to reach more users this holiday season!
Looking for a mobile app to keep your customers engaged throughout? Build your mobile app without coding within 1 hour. 
The Takeaway
Every test is a learning opportunity, and the insights should be carried over into the following experiment. From our previous year's marketing strategies, we can learn what to continue with for future events (both seasonal and generic) and what not to do again.
Combining seasonal app marketing initiatives with your ASO marketing strategy can be one of the most powerful methods to help boost store listing conversion rates. Remember to stay excited and relevant; participating in the festivities is crucial!
It would be best if you opt for a skilled ASO service provider that can do all the work for you while you remain focused on your business.
All this is just the beginning! Taking advantage of the holiday season is a complex strategy; you don't build it in a day. Product and Marketing channels should crack the code together and make the magic happen this season.
About MageNative
MageNative is a leading app-building platform that facilitates app creation for business owners regardless of their knowledge of the technical nuances involved. At MageNative, we convert ideas into scalable mobile apps instantly and conveniently.
Check out the most successful Case studies of MageNative.
Also, check: Why Is MageNative The Best Mobile App for Your Shopify Store?
About The Author
A content marketing professional at Magenative, An app development company providing solutions on different app development platforms including Shopify , Magento and Woocommerce.
Related Posts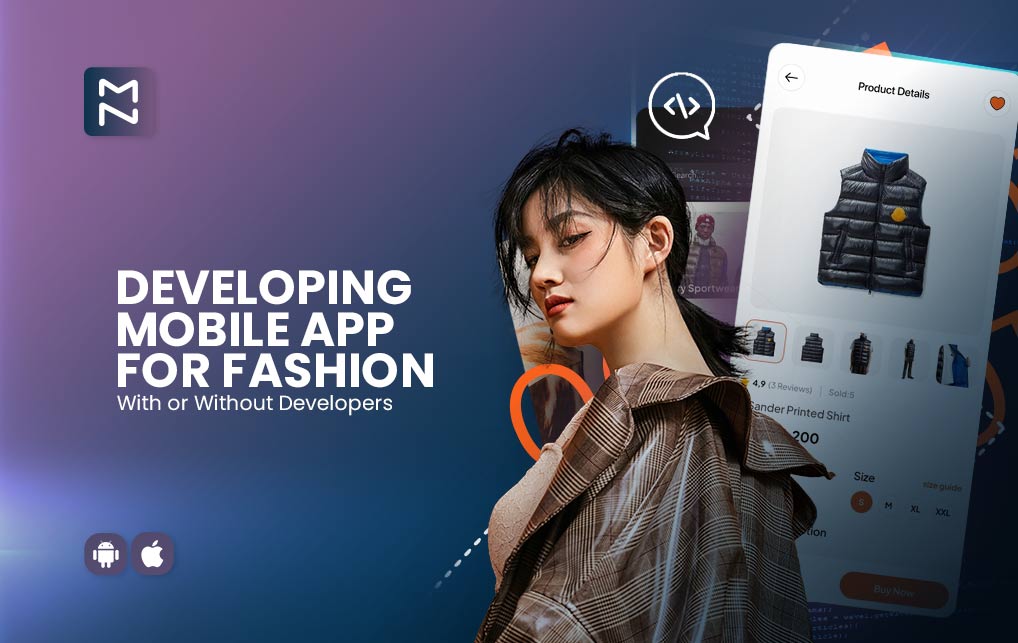 Fashion App Development: How Can You Do It? [With Cost & Time Analysis]
For fashion lovers, online shopping and mobile app purchases are…
Read article >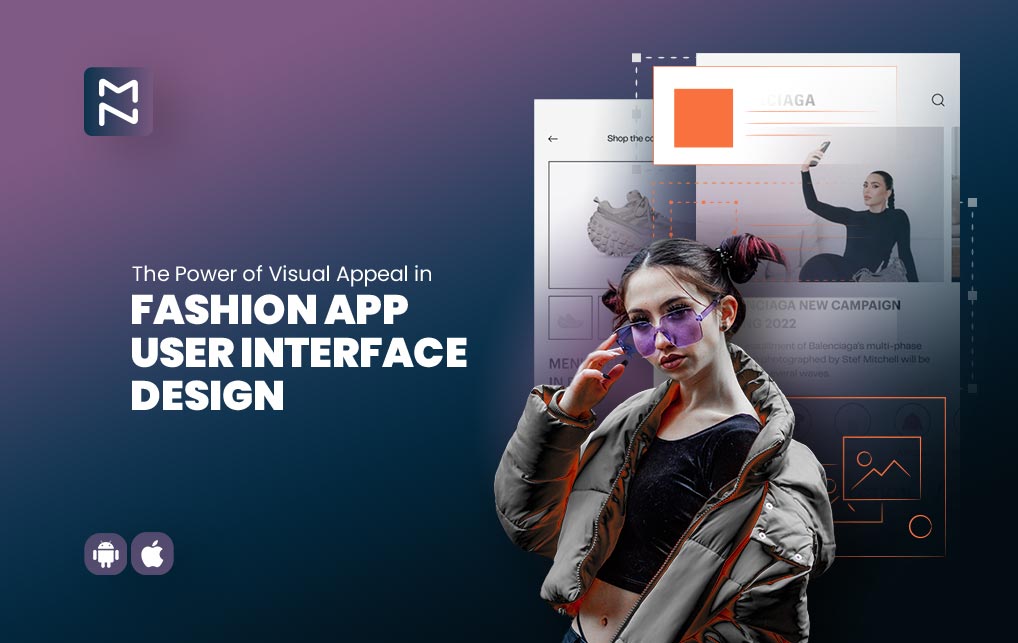 The Importance of UI/UX in Fashion Mobile App
You cannot deny the fact that UI UX in fashion…
Read article >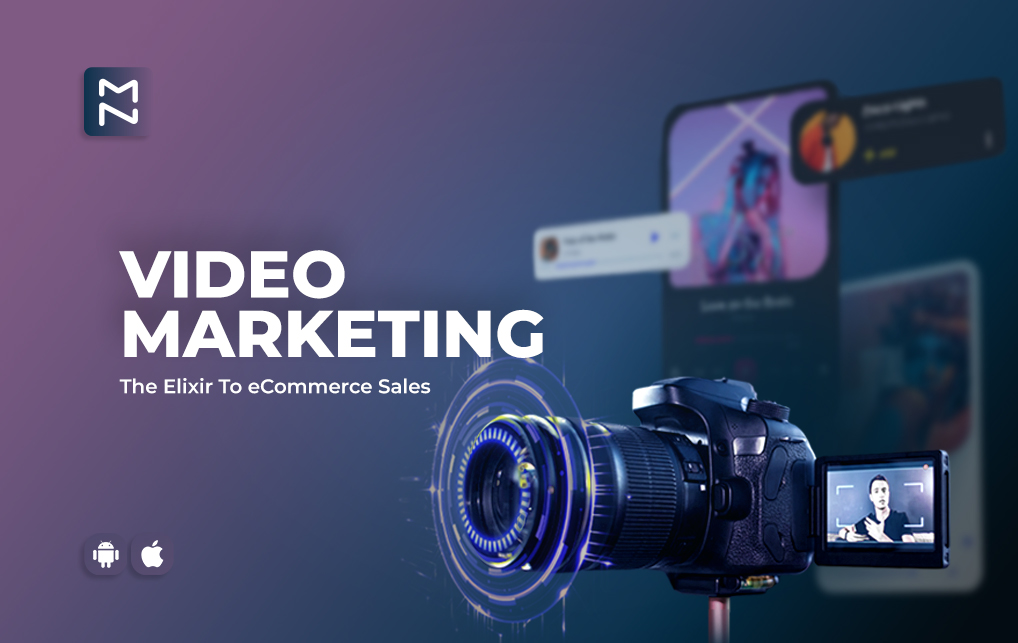 Why Video Marketing is The Secret Sauce to eCommerce Success
With increased competition, online businesses must find innovative ways to…
Read article >