Do you own an online/offline grocery store? Do you sometimes feel that it is missing a spark? Maybe not just the spark, maybe it is missing some magnificent business results too – so what about offering a modern tinge to your grocery business?
An advanced solution like a mobile app can help to flourish your grocery business and nourish the results! Sounds interesting?
Are you looking for the most advanced solution so far for the next level of growth of your grocery business? Or looking for a smarter alternative to your online grocery store?
If the answer to any of these questions is yes, you are on the right page – we will brief you about the changing trends in the grocery industry, and how apps are taking it over. We will give you reasons to consider switching to a mobile app from an online/offline store and recommend ways to get the app.
So, no more storytelling, let's just dig into the main part:
What Makes the Grocery Industry of Today Stand Out?
Let's begin with a quick recap of how grocery industry was and its current scenario:
| | |
| --- | --- |
| Then | Now |
| Flourishing grocery stores | Popular mobile apps |
| Specific options to choose from | Ample options to choose from |
| Specific hours of operations | 24*7 availability |
| Local brands did not get sufficient scopes | Sufficient scopes for local and small brands |
| Only popular brands got conversions | Locals are equally getting valued if product is powerful |
| Long queue to pay | Instant payments |
| Going to purchase | Ordering from home and getting everything home delivered within hours |
| Only word-of-mouth to retain the customers | Word-of-mouth, loyalty programs and many other ways to retain the customers |
| No attention to good customer experience and service | Customer experience and customer service are deeply valued |
| Modes of shopping – Offline only | Modes of shopping – offline + online |
eCommerce in the Grocery Industry
There was a time when grocery shopping was entirely an offline affair, but now the shoppers are always running out of time. And in the busy schedules, an alternative became mandatory through which they order groceries in minutes and get the products at doorsteps. Thus grocery eCommerce became a part of everyone's lives.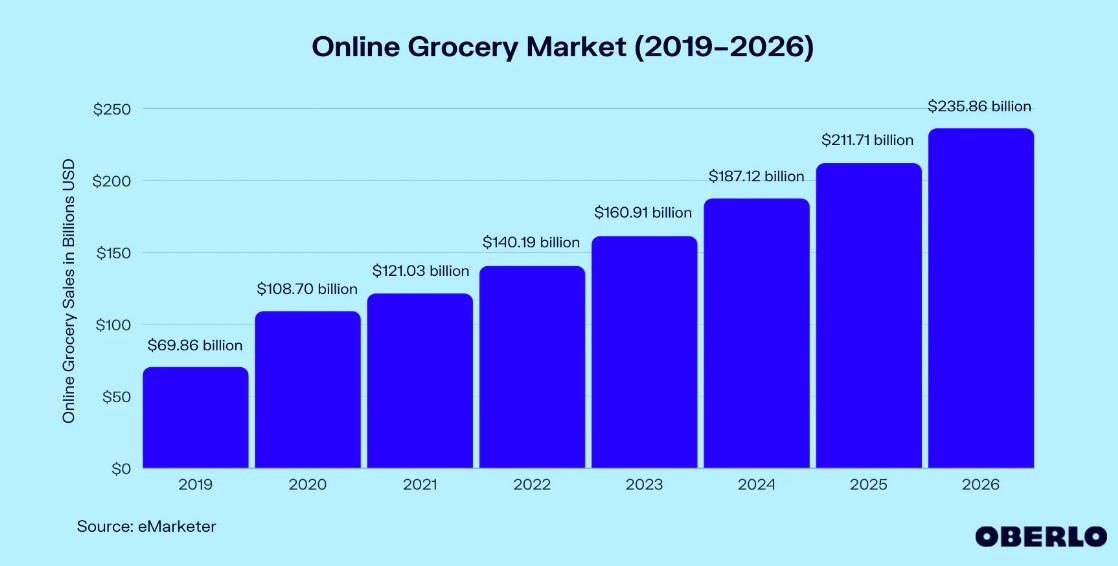 Source: Oberlo 
The graph above shows that the online grocery market will amount to $235.86 billion by 2026. Statista predicts that the online grocery sales figure only in the US will be $187.7 Billion by 2024. 
The story is nearly same in Europe's online grocery market: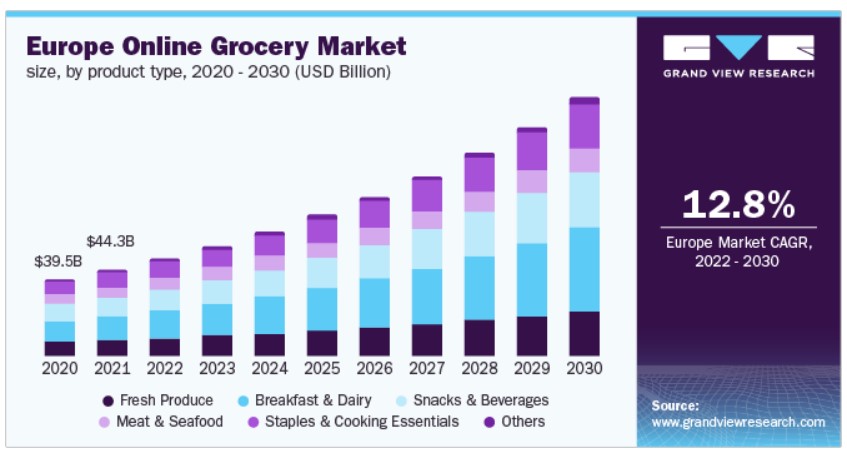 Same goes for global grocery market: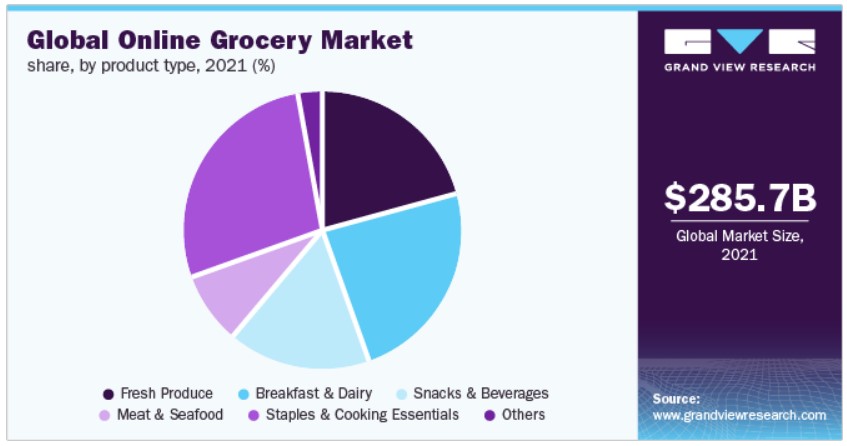 Source: GrandviewResearch
Here are some more interesting information this research showed:
Market size value in 2022: $354.28 billion
Revenue forecast in 2030: $2,158.53 billion
Growth rate: CAGR of 25.3% (2022-2030)
Regional scope found in: North America, Europe, Latin America, Asia Pacific, Middle East & Africa
Country scope: US, Canada, UK, France, Poland, Germany, China, Japan, India, Brazil, Mexico

But in 2020 (during the pandemic), grocery shopping experienced a digital shift in mass. Online grocery stores have become an essential part of consumers' daily lives.
And online grocery business got a boost, and the best part was the urge of getting things home delivered was not just a pandemic trend – this trend was there to stay forever. You may check these survey findings to know the changing shopping behaviour of grocery shoppers.
And the brighter part is online grocery sales are going to increase at 11.7% CAGR in the coming 5 years!
But, wait! We are talking about mobile apps, right? It is a next-level solution – let's step into that part now.
Why Was An Alternate Required for Online Grocery Stores?
As the users continued using the online grocery store, they came across a few glitches gradually. And an advanced solution became essential, which was the mobile app. Here are the key reasons why online grocery stores needed a mobile app then:

Need for A handier solution Buyers need a faster & easier ordering system. Advanced features (like reordering, AI powered product recommendation) become essential which the website may not necessarily provide. Hence, apps are a much needed alternative
Better experience – Websites do not always save progress, especially on listing pages. For example, in case a user is checking an item in the listing page, and leaves for 10 minutes, the progress is simply lost. The user has to browse the listing page right from its beginning. This is why an advanced solution was very much needed.
Ease of UseEven though consumers accepted grocery websites widely, sometimes the complicated URLs made it a bit difficult for the users. These websites can be added to the browser homepage and users can launch the website from there. But an advanced solution became essential.

Overall a changing behavior in grocery shopping created an urgency and apps for grocery shopping made a grand entry in mass quantity.
Did you know? 

Nearly 43% of the grocery shoppers prefer mobile apps compared to the grocery shops.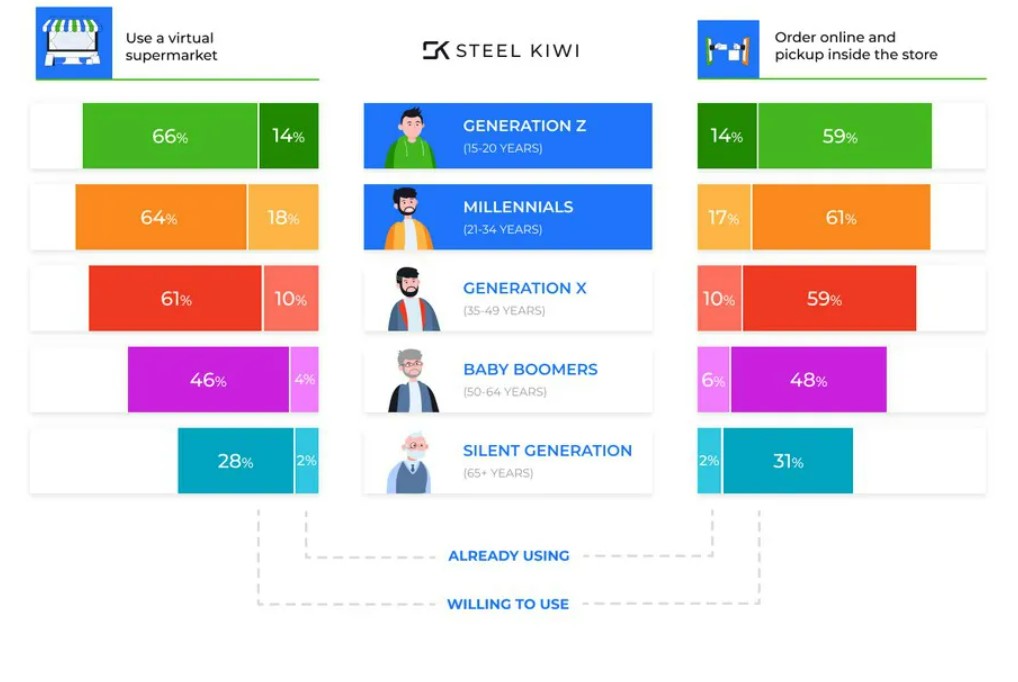 In the image below, you can see the willingness of the buyers to try online alternatives for grocery shopping:
Grocery Mobile Apps- Simplicity, Interactivity, and Beyond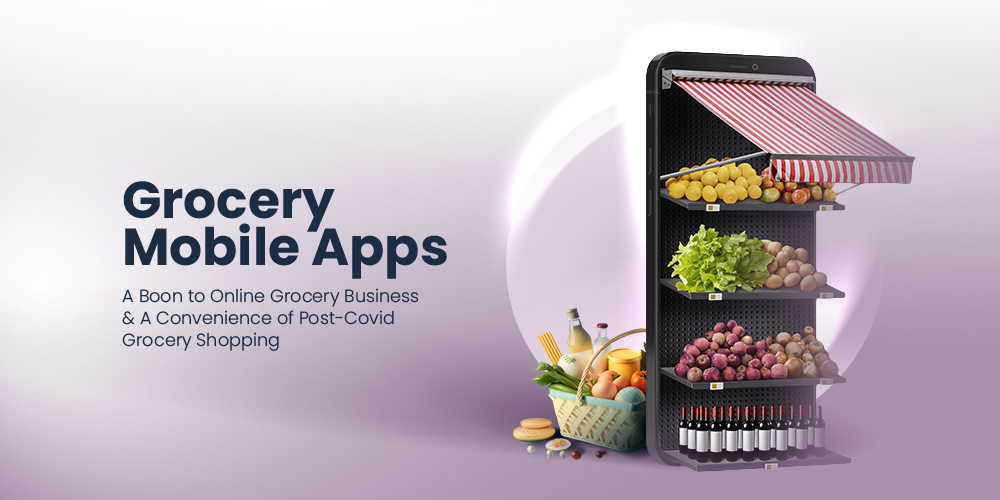 Mobile apps right after entering the scene, introduced ease, speed with simplicity. It made the entire process of getting grocery items home delivered so swift, that there was no looking back.
Let us first understand how grocery mobile apps works – here is it's workflow:
Download the app
Create an account
Check out the items
Add items to the cart
Review the cart
Edit and place your order
Pay or select COD
Enter your address
Order gets confirmed & fulfilled
Items Packed
Order delivered (amount collected)
Survey offered
Grocery Mobile Apps – Taking Grocery Business To The Next Level
Here check out the importance and benefits of apps to get groceries and find out why you should switch your online and offline grocery store to a mobile.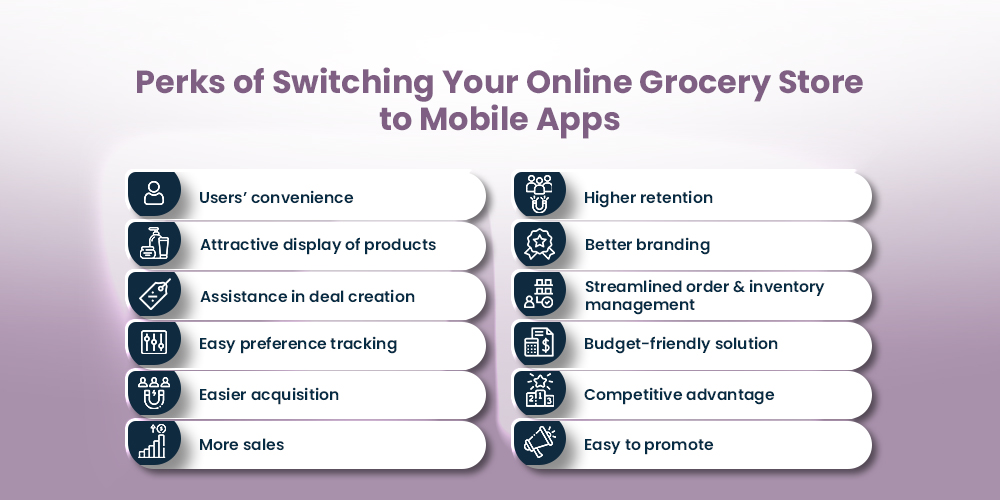 1. Convenient to Users
Mobile apps are very convenient to the users. Here are some reasons why they prefer using grocery shopping apps:

Easy to use
Safe transactions
Contactless
Multi-language payment
In case, you are in need of what makes a grocery app convenient mode of shopping, here are the details: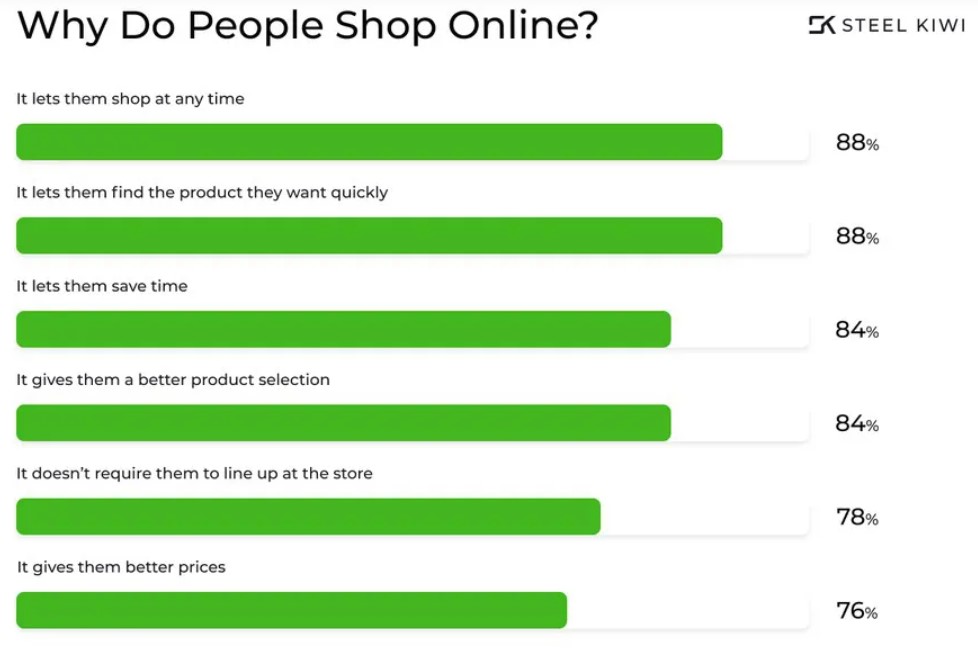 Source: SteelKiwi 
So, online grocery shopping started in mass during the pandemic; however, it did not disappear as it introduced so much convenience to the users. And mobile apps took convenience to the next level and made a habit of grocery shopping through apps.
2. Makes Inventory Display More Attractive
Apart from the convenience, one more reason why users are attracted to shopping from mobile apps is their over-the-top display. Mobile apps display the inventories in a premium way, and the users nonetheless feel an urge to check that out.
On the product pages too, the colorful boxes for different sections, bright buttons, carousels, etc., make the users highly satisfied. And it often leads to a purchase.
Amazing fact: Walmart's online sales in 2022 Q4 grow 17% and it is predicted to reach $54.3 billion by 2024. 
3. Assists In Offering Lucrative Deals
As mentioned in the previous point, apps come with a very attractive and appealing display. On announcing the same offer on your website and app, it is highly possible that your app brings more results due to its appealing UX/UI.
Keeping aside the dull colors and conventional designs, mobile apps come with customization. So, whenever you are planning to announce hourly discounts or exclusive offers, you can design the special offer banners and homepage carousels without any limitation and users can enjoy an undistorted view of all these.
As a result, users check out your offers often, and out of curiosity, they make a purchase. And if the product is powerful enough, you can retain the customers as well.
If you want to get sales on your grocery store, find what they actually require in the image below: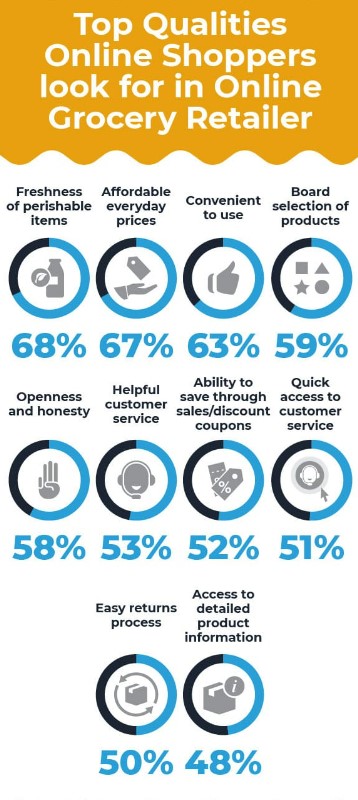 4. Simplifies Customer Preference Tracking
Mobile apps use advanced technologies to understand user behaviour. Artificial intelligence used in grocery mobile apps makes it so easy to understand consumer psychology and their buying patterns.
As a result, it becomes easier to recommend them related products. Similarly, whenever you want to announce any personalized deals, it will be easier for you to understand what type of deal on which type of products can help you to convince a particular customer. Not just that, if you are taking help from a loyalty program these results will help you a lot to analyze customer behavior in the best possible way.
Did you know that in 2022 Amazon's online grocery sales were nearly $29.5 billion and ny 2024, it is expected to be $41.2 billion?
5. Helps with Customer Acquisition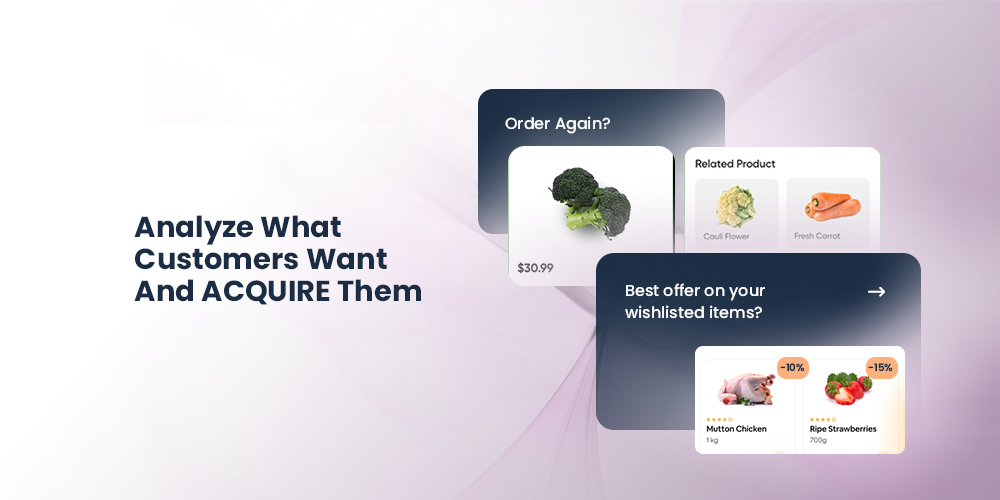 Mobile apps created an attraction that straightway helps in customer acquisition. Now, it is a fact for any kind of online shopping that dull online appearance keeps customers away.
No matter how cool products you hold or how good deals you offer, if your website or app looks basic, customers will not come, and low traffic means low conversion.
Mobile apps readily remove browser dependency, and the dynamic interface never fails to appeal to consumers. The swift navigation and progress saving of the listing page are enough to acquire customers.
6. Improves Sales
Now, customer acquisition is a part of the business strategy to get more sales. Mobile app strategically smoothens the checkout page with subtle features that conversions become a part of it.
During the checkout, users get an auto location tracking option, multi-payment options, shorter checkouts, guest checkouts, reordering options, and much more. It overall brings satisfaction in the user's mind that works for retention.

Amazing Fact:
InstaCart's annual sales started with a slow growth after the pandemic, and in 2021, it generated $26 billion sales and expected to reach $40.5 billion by 2024.
7. Increases Retention
Grocery mobile apps leave no stone unturned to retain users. It understands users' preferred products, finds similar products and notifies them at times.
Along with this, a pricing analysis is also done to indicate whether a user has waited for offers on a particular product or not. Based on this, your grocery app creates specific deals to get clicks.
8. Improves Branding
Apps make your brand image popular – from app stores to search engines, it displays your logo, tagline, and brand specifics (colour, font) to make users aware of it.
Also, when users download an app, they have to tap on its logo itself to launch it. So, they become conscious and whenever they see the logo, they remember the brand itself.
Kroger reached $12.8 billion in 2021 and expected to generate $23.8 billion by 2027.
9. Streamlines Inventory and Order Management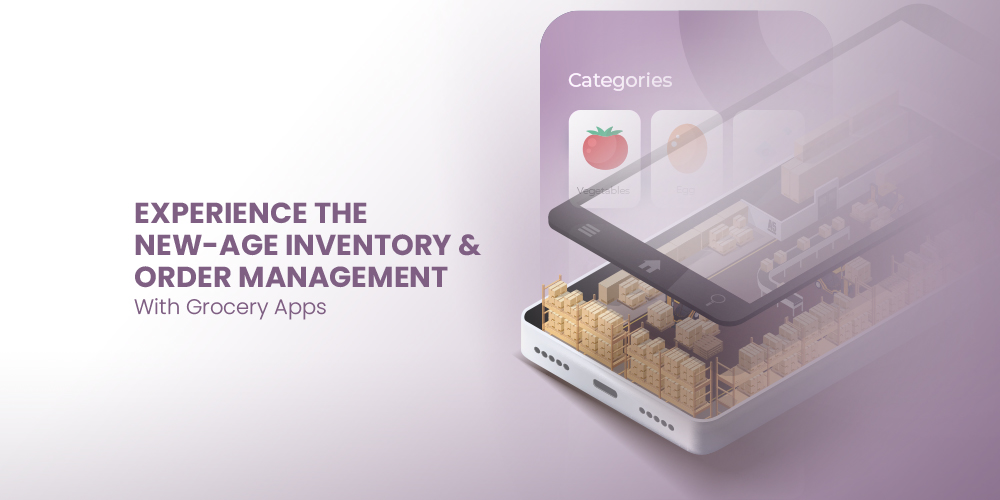 Grocery business comes with a number of small to medium purchases. Users prefer weekly grocery shopping mostly. As a result, it often becomes difficult for the merchants to keep track of these.
Mobile apps come to solve this problem as well. With their advanced analytics, mobile apps introduce a streamlined order and inventory management. Merchants are aware before a product is going to be out of stock and restock that beforehand.
Similarly, they can understand the product with mass demand and keep it for promotion. At the same time, they can notify the users with every step of the shipment and delivery of the order. Even bulk order management does not remain a problem with grocery mobile apps.
10. Saves Huge Time & Money
By streamlining order and inventory management, grocery apps save huge time and money. With these apps, buyers can receive bulk purchase discounts which satisfy them. On the other side, merchants get low-cost delivery assistance, and supply chain guidance to make everything at lightning speed.
11. Offers Competitive Advantage
Mobile apps are the premium solution to your grocery business that creates competitive advantage. You can be famous among the local and small brands and by becoming partners you can hold a rich inventory and stay ahead of your competitors.
12. Creates An Ocean of Marketing Opportunities
A grocery app is easier to promote and we all understand the importance of marketing and promotion in the current day. Unless a good quality product is well marketed, a worse one will easily replace it.
Your mobile app can take help of social media marketing, ads, Google shopping network, etc. to bring conversion.
Popular Grocery Mobile Apps
Here are the top grocery apps available globally:
Instacart
Target
Kroger
Walmart Grocery
Shipt
Google Express
FreshDirect
Instashop
Big basket
Hello Fresh
Mobile Apps – A Modernize and Inevitable Alternative to Online Grocery Stores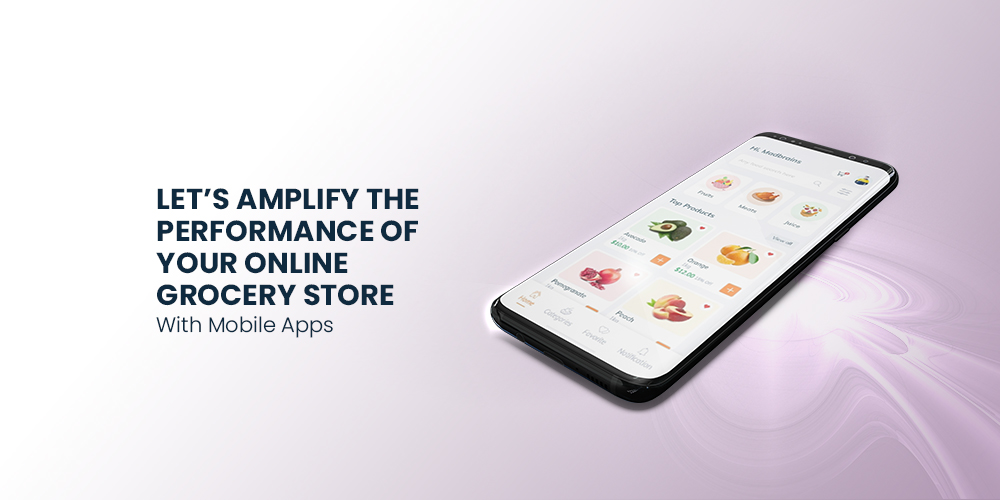 Grocery mobile apps have literally created a new dimension in the industry, and this revolutionary solution is going to stay here for a really long time. So, are you getting one and empowering your grocery business with advanced dynamics?
In case you are operating it with your website, you may consider clubbing it with a mobile app to make it more accessible to your customers. To use your app, they neither need to open any browser nor need to insert any URL – just a tap on the icon will take your buyer to your virtual grocery store.
So, would you like to uplevel their experience with a mobile app? Or will you still take the risk of losing them just because of an old grocery website? We suggest a smart upgrade of your online store where you can synchronize A-Z without losing a single data – yes, you can definitely consider a mobile app.
How MageNative Helps?
So, now you have definitely understood why an app is a must for online grocery stores? But thinking about getting one?
Well MageNative can help you.
MageNative comes with a no-code mobile app builder and it allows you to build your grocery app simply with drag and drop. So, you can now turn your online grocery store on Shopify into a mobile app within an hour. Merchants can get premium features and a lot of integrations to appeal to their buyers with this app builder.
How about giving it a try? Click below to have a first-hand experience
About The Author
A content marketing professional at Magenative, An app development company providing solutions on different app development platforms including Shopify , Magento and Woocommerce.
Related Posts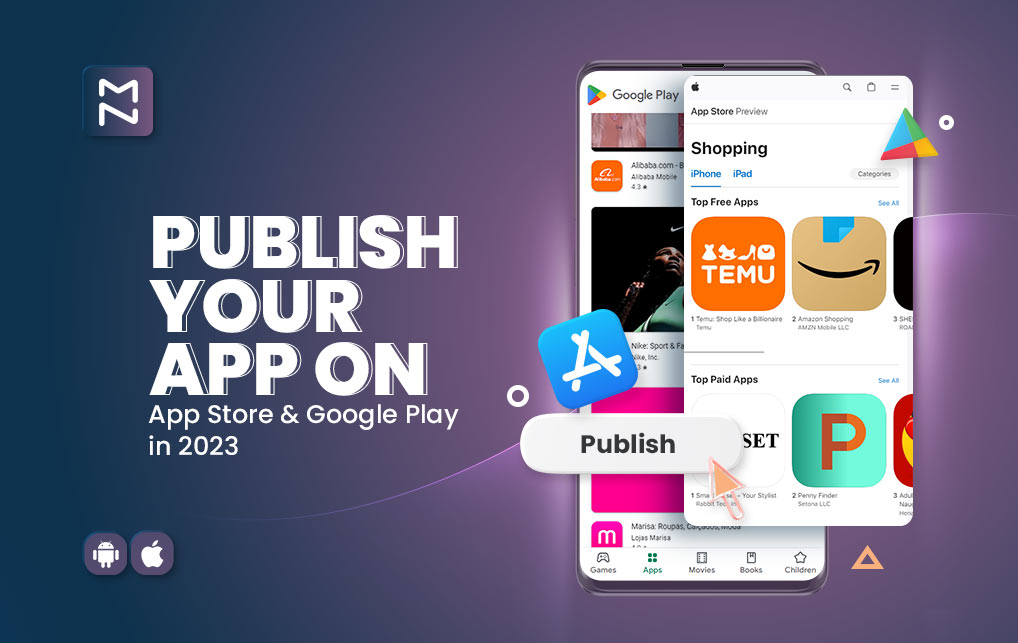 How To Publish Your App On Apple App Store And Google Play Store In 2024?
Objective: In this article, we provide you with an in-depth…
Read article >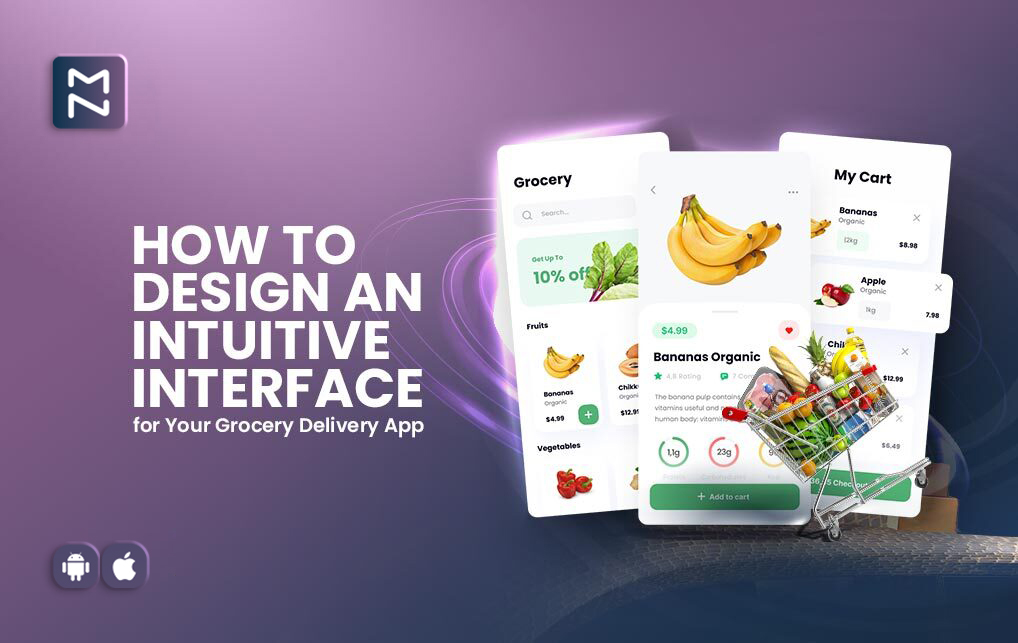 How To Create A Winning Grocery App Design? Best Practices To Know
In today's times, you cannot deny that mobile apps have…
Read article >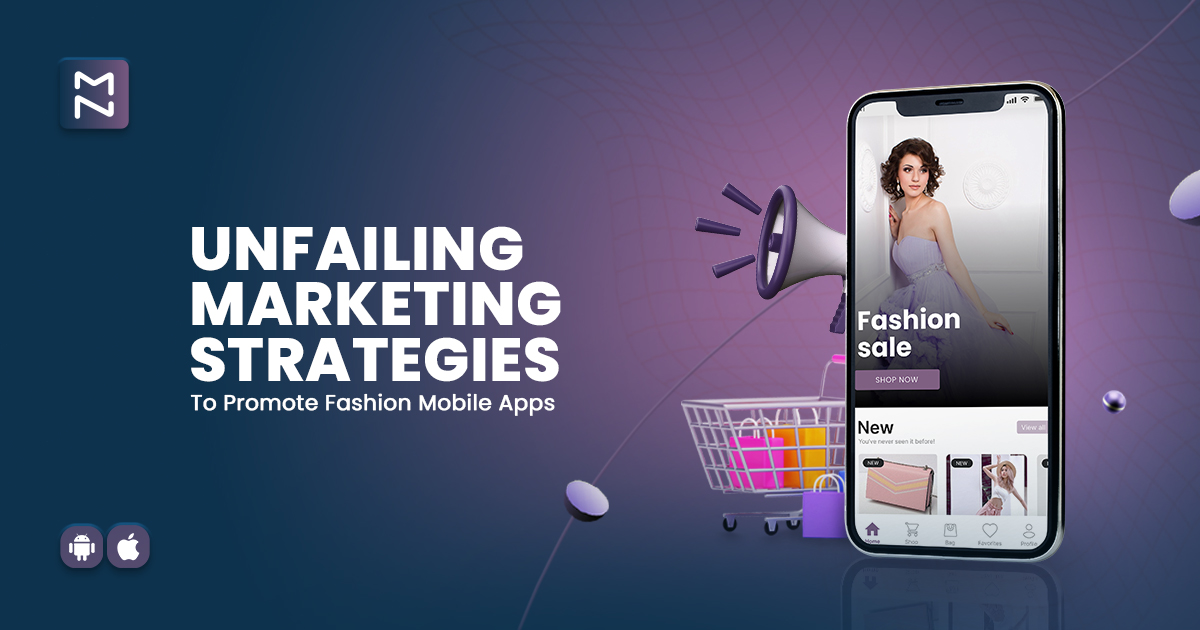 10+ Marketing Strategies for Your Fashion Mobile App
Are you into the fashion industry? Well, pat your back…
Read article >