Shopping from mobile has become a trend for meeting buyers' needs accurately. Right now, online shopping and shopping with apps are taken almost synonymously. 55.5% of the buyers, admitted that apps make shopping super convenient. This user-friendliness of apps helps in disrupting the entire eCommerce business. This is why turning an online Shopify store into a mobile app can be your next big move.
Especially, if you are craving better results, you should build a Shopify mobile app out of your online store. So, let's find out a step-by-step process of making a mobile app from your Shopify store gain a competitive advantage.
Why Should You Turn Shopify Store Into A Mobile App?

An eCommerce store on Shopify was once enough to sustain in the industry. But, right now, it needs a bit of extra power to remain profitable.
Most importantly, you can double the profits simply by turning your Shopify store into a mobile app. So why should you be just satisfied with the results your store brings? Sounds sensible, right?
Moreover, an App could be the best mobile shopping companion for your store.

Did you know that 87% of merchants use Shopify apps for eCommerce business?
Here, check out the advantages of mobile apps:
Simple to use
More accessible
Interactive UX/UI
Dynamic speed
Rich in features
Advanced tech stack
Advanced search options (text, image, and voice)
AI-powered notifications
Replication of original store with AR and VR
Interactive interphase
Better social presence
Improved brand identity
Competitive advantage
Instant support with bots
Higher engagement and retention

These altogether lead to a better conversion rate that takes your business to the next level. So, you can multiply your profits from your Shopify Store, simply by turning it into a mobile app.
Let the Numbers Speak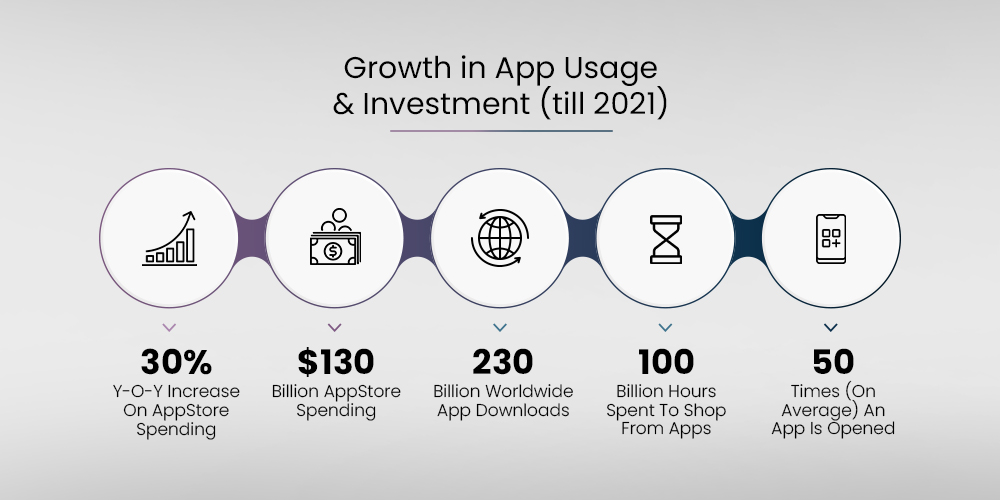 Enough words, now let's check the growth of mobile app usage in terms of numbers from reliable sources:
Amazing fact: Google PlayStore has 3.48 million apps, and AppStore has 2.22 million apps, approximately
Forecast
Why Are Websites Or Mobile Websites Insufficient in Fulfilling The Current eCommerce Needs?
Now, let's clearly understand how mobile apps offer you a competitive advantage – in other words, let's try to figure out where Websites or Mobile web lack.
Mobile webs cannot perform to their fullest due to incomplete access to smartphones.
The designs are also stereotypes sometimes.
Websites often lack the personalization features to connect Gen Z.
Due to improper utilization of social media, website users sometimes find it not so engaging.
Websites often take time to load, as a result, users look for alternatives.
Websites alone are incapable of improving branding, so coupling them with apps is a necessity.

In a nutshell, apps are preferred because eCommerce websites mostly offer laggy and interrupted browsing. Mobile apps readily resolve these with dynamic speed, over-the-top features, and simple usage. All these results in a satisfactory shopping experience to the buyers.
So, if you already have a Shopify website, you may consider upgrading it into a mobile app.
Did you know a user spends around 4.8 hours/day on their mobile phones? During this span, 92.5% of the time is spent on apps and the remaining time on web browsers.
Can I Turn My Shopify Store Into An App?

Of course, you can – and we understand the value of your time as well. So, if you have a Shopify store, only 60 minutes will be more than enough to turn it into a mobile app.
What Are The Key Requirements to Turn A Shopify Website Into A Mobile App?
There are a few must-haves to convert a Shopify store into a mobile app – here is the list of prerequisites:
A website developed on Shopify
A valid Google PlayStore (Android) and Apple AppStore (iOS) account
Real-time API

Yes, that's all – these 3 elements are enough to convert your Shopify store into a mobile app. With these 3 prerequisites, you can easily turn your website into a mobile app. Find out how:

How do I Convert my Shopify Store to A mobile app? – Know The 3 Methods

There are 3 different approaches to convert a Shopify store into an app. As per your requirements and preferences, you may choose one: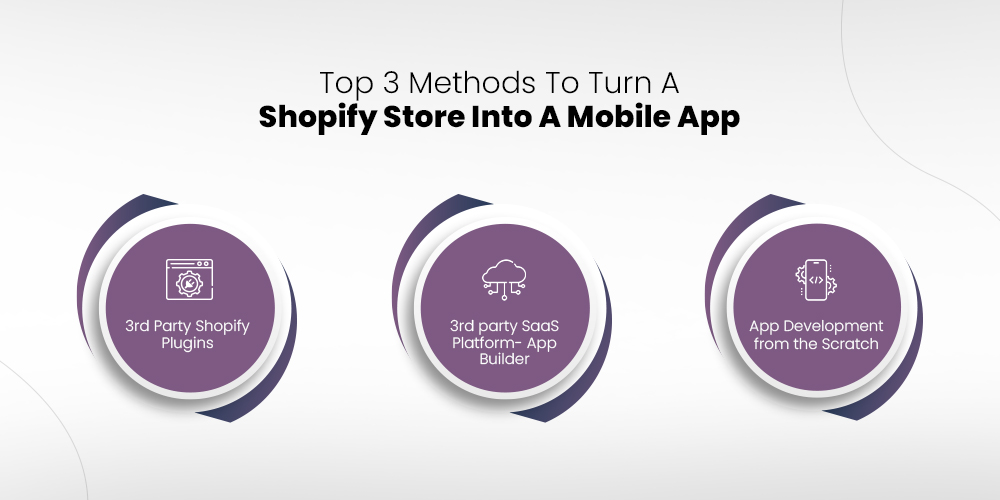 How to build a Shopify mobile app? Method 1: 3rd Party Shopify Plugins

3rd party Shopify Plugins are available on the Shopify App Store. These are developed by individual developers or a team of developers. In most cases, these plugins are available at different prices and offer specific groups of features.
Currently, it is the easiest and most affordable way to convert a Shopify store into a mobile app, and numerous merchants are now opting for it.
Before knowing the step-by-step process of app development with these, let us first list the must-have features of 3rd party Shopify plugins:
How To Choose The Best 3rd Party Shopify Plugin To create an app for my online store?

Well, the answer is very simple. On Shopify app store, one can get hundreds of 3rd party plugins; however, your goal is to select the best one to help your business. So, here are some must-have features you have to look for in the 3rd party Shopify plugin to turn your Shopify store into a mobile app:

1. Customization Facilities

A good Shopify plugin must have customization features so that you can add, delete and update anything on your app at any time.

2. Android And iOS Apps

Nowadays, only an android app or only an iOS app is not enough. Unless you opt for Android and iOS apps, you may miss out on many users. So, choose a plugin that allows you to create both.

3. AI-powered Notifications

Customer retention on mobile apps often fluctuates. AI-powered notifications are the power tools to bring them back to your app. Unless you want to struggle in future with customer retention, choose a plugin that has AI support.

4. Advanced Technologies

The aim of your Shopify app has to replicate your offline store. In other words, your app should offer an in-store experience to your buyers virtually, which can be done easily with AR (augmented reality), and VR (virtual reality). So, do check if AR and VR are listed on the key specifications of your Shopify plugin.

5. Ease Of Access

A Shopify plugin that ensures fast browsing, image search, voice search, social sharing, social login, etc. will be more user-friendly – so opt for one with all these.

6. Sufficient Number Of Themes

Themes must match the store to make your app relevant to your audience. So, ensure the plugin you choose comes with a wide number of themes or a custom theme facility is added.

7. Marketing Assistance

A good Shopify plugin must utilize the social channels for promotional purposes. It also enhances the possibility of getting viewed by your target audience.
* These are the most important features; however, you may consider more features in your Shopify plugins as per your preferences.
Step By Step Process To Make A Shopify mobile App With 3rd Party Shopify Plugins

Now, let's take you to the simplest process of turning your Shopify store into a mobile app with 3rd party plugins.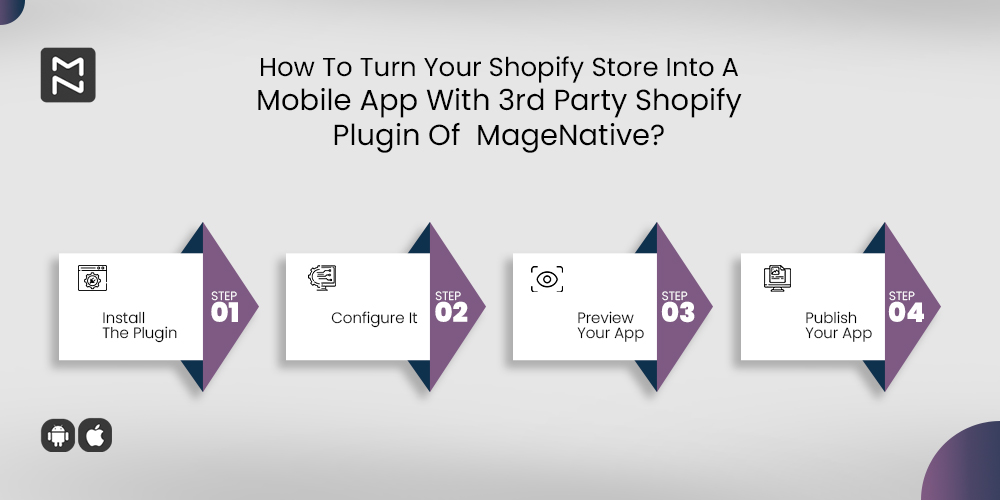 Step 1: Install The Application

In the first step of building a mobile app on Shopify, add the 3rd party Shopify plugin from Shopify app store. Check the highlights of the app before choosing it.
For advanced business results, you can opt for MageNative mobile apps. Also, its installation and configuration are as simple as installing an app from PlayStore or AppStore – here comes its installation process:

Firstly, go to Shopify app store
Find and click on MageNative Shopify mobile app builder
Then, hit "add app" button
Now, click "install app" button
Then "Go to app" button
Next, proceed with filling in the details and generate your OTP
Lastly, click on "I agree" to the terms and conditions

A dialogue box asks you to schedule a call with experts once you complete these steps, followed by a cancel option. If you do not need experts' assistance, you can simply click "Cancel" and move to the configuration stage.


Get ready for a dynamic Shopify mobile app today with MageNative!
Step 2: Configure your Shopify mobile app

The next step in converting your Shopify store into a mobile app is to configure your store using the 3rd party plugin. It is the most crucial step in turning a Shopify store into a mobile app.

To configure your store, here is the process you need to follow:
Select your store and store type
Select the theme

Set up your branding

Go to customize the app
Enter the app name and color code (to be used as the BG color)
Upload splash screen image, login page BG image, and app icon
Click on "save and next" to preview your app

Check out: Benefits of Shopify Mobile Apps – See What Your Business is Missing Out Without an App

Step 3: Preview Your Shopify Mobile App

So, you have now completed the major tasks of turning your Shopify store into a mobile app. At this point, your demo app is ready, and now, it's time to check how it is performing.

For this, you can follow these simple steps.

If you need changes in the theme, you can customize it again.
You may be interested in 25 KPIs That Measure Performance, Success, And Growth Of Shopify Mobile Apps

Step 4: Publish or Launch The Shopify Mobile App

So, now it is the time to step on to the final stage of Shopify mobile app development out of your online store. If you are satisfied with the appearance of your app, you can move to its publishing process.
Turning a Shopify store into a mobile app ends with its publications on Google Play store and iOS App Store. You will need a developer's account on both Google Play Store and iOS (Apple) App Store to publish an app.
With the developer's account credentials:
Fill in the details (app name and description)
Add the support information
Add privacy policy
Add logo, banner, and keywords
Add developers' information
Add developers' account name
Now, finish it up by adding promo video

And you are good to launch your app on both Google PlayStore and iOS AppStore.
Read the Success Story of AmorEarth after using MageNative Shopify Mobile App
How Much Do 3rd Party Shopify Plugins Cost?

These 3rd party Shopify Plugins come with different monthly packages. Therefore, you may select a package according to your needs.
The basic package of MageNative is just $49/month, Growth package is $69/month, and Enterprise package is $99/month. This is why it is the most affordable mobile app development along with being the simplest one.
*You can get a 30 days free trial no matter which package you opt for.
Check out: How Are Shopify Mobile Apps Transforming The eCommerce Landscape?
Advantages Of 3rd Party Shopify Plugins

Now the question is, why should you always opt for 3rd party Shopify plugins to convert Shopify stores into mobile apps?
Indeed, there are other options to do the same, but we have some dominant reasons to keep the eCommerce app builders (3rd party plugins on Shopify) at the very first position.
Here are some convincing reasons to try 3rd party Shopify plugins for making a mobile app out of your Shopify store.

1. Customizable

The 3rd party plugins provide 100% customization on your mobile app. So, you will be able to customize your app anytime. Also, these plugins do not limit you to a specific set of themes or layouts. As a result, you can upload graphics from your device and view your appearance anytime.

2. Cost-effective

To develop an app, merchants often spend all their savings. Sometimes, due to the lack of funds, many merchants leave behind the idea of converting their Shopify store into an app. But now you have seen the price range of the Shopify plugins – so, you must have understood that you will not have to spend all your savings on it. You can actually get a plugin with enterprise-level features for $100/month. So, quite a good deal, isn't it?

3. Realtime Development

You must be wondering that turning a Shopify store into a mobile app must be very time-consuming.
Well, let's debunk this belief as you can get a preview of your app within an hour!
So, if you urgently need a mobile app with high-end features and don't want to spend thousands of bucks on it – you can go for the 3rd party plugins.
4. Personalized Marketing

3rd party Shopify plugins uplevel your marketing with their SEO and SMM features. So, it becomes easier to reach your target audience, and more installs and conversions.
Check out: Spice Up Your Customer Retention Strategy With Mobile Apps
5. Coding Knowledge Is Not Needed – Just Drag and Drop to Make a Mobile App from Your Shopify Store

Apart from these benefits, making a mobile app with 3rd party Shopify plugins comes with zero coding feature. You can develop an app just like you have always dreamt of with these Shopify plugins with drag n drop.
In other words, you will not need to hire developers – it reduces the app development cost as well.

6. Complete Data Access

Are you worried about the data on your eCommerce store? Relax! you will not lose any data while converting your store into a mobile app. Instead, you can access all your existing data through these 3rd party plugins.
These are the reasons why we recommend turning your Shopify store into a mobile app—still, thinking? 
How to build a Shopify mobile app? Method 2: 3rd Party SaaS Platform – App Builder

SaaS or software as a service is a cloud-based service that allows you access to any software without the hassle of its installation. Also, the service providers take care of the maintenance of this service, and the merchants can opt for this service on a subscription basis.
Here, the merchants must select the features and security services per their requirements and pay accordingly. These are the ready-made modules that are also called the constructors.

How Much Do 3rd Party SaaS Platform – App Builders Cost?

The monthly subscriptions of these 3rd party SaaS app builders range from $50-799/month. Basically, at different pricing, you can enjoy different amenities, which means the more features you need, the more you have to pay.

Advantages of 3rd Party SaaS Platform – App Builder
1. Customizable To Some Extent

The app builders provide a few customization features so that you can make your dream app as per your preference.

2. Code Free App Making

Like the 3rd party Shopify plugins, these SaaS app builders come with no codes. So, you can make your app without writing a single line of code.

3. Pretty Affordable

Though the 3rd party SaaS app builders are a bit costlier compared to the 3rd party Shopify plugins, merchants in a profitable position can afford it.

Disadvantages of 3rd Party SaaS Platforms
The biggest disadvantage of method 2 that may be of concern for a number of merchants are:
Limited customization
No ownership of the app
Varying subscription – the more you need, the higher you are charged
How to build a Shopify mobile app? Method 3: App Development From Scratch

It is a conventional method for developing custom apps, which offers the freedom of choosing A-Z of your app. So, you not only get the chance to make your app as per your preference but also without any limitations.
This method is costly, so it is not for beginners with limited funds. Not just money, in case you take charge of making your app, you have to dedicate enough tome to it.
Here, you are the boss of your app, but for developing an app from scratch, you either need to hire an expert team of developers or have core technical knowledge.

How Much Does App Development From Scratch Cost?

To make an app from scratch will cost $60,000 to $3,00,000. However, this cost completely depends on your app's complexity, features, and security systems.

Advantages Of Making App From Scratch
1. You Are All-In-All

Since you are not taking software on a monthly/quarterly/yearly subscription, you have all the power here. Therefore, you can make any update on your app anytime.

2. Select The Best

Again you and your team of developers will be responsible for selecting the language, platform, security solution, and everything else. Unlike subscription-based solutions, you will not have to select the features from the given list. So, you can take the call as per your budget.

3. Add Personalized Touch On Everything

If you can spend some more money, you can personalize your app's entire UX and UI. Not only that, but you can also create all the icons if unsatisfied with the available ones.

Disadvantages Of Making App From Scratch

The reasons why merchants refrain from developing an app from the scratch are:
Pricing
The complexity of development
Verdict – What Is The Best Method To Convert A Shopify Store Into An App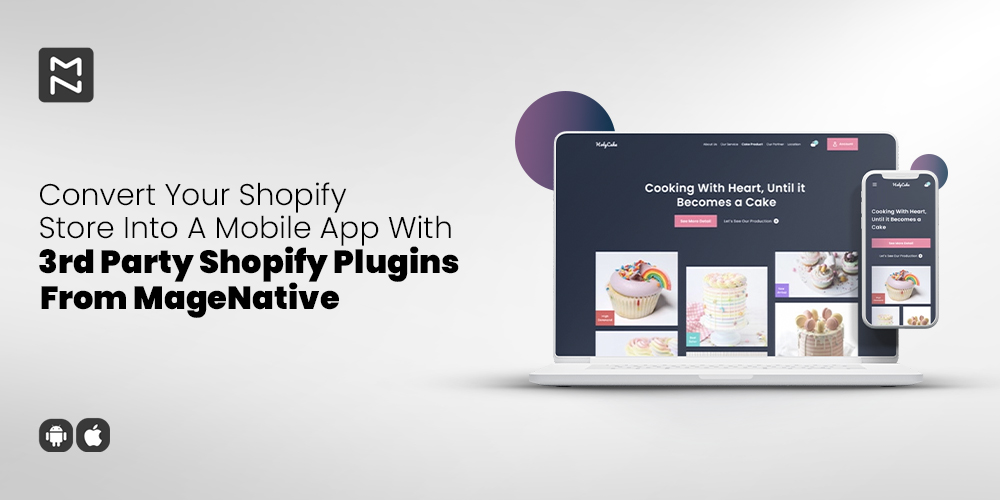 Considering the features and benefits of each method, 3rd party Shopify plugins are undoubtedly the best method to turn your Shopify store into a mobile app. These plugins can fulfill what the merchants need at very decent pricing.
Also, the beginners who are planning to switch to a mobile app can also use the 3rd party Shopify plugins. It will improve their business too.
However, if it is possible to spend enough time and money and if you can take enough responsibility to handle urgent problems, you can develop an app from scratch. Since it will need ground-up work and core tech knowledge, not all merchants can go for it.

Wrapping Up – Get An App For Your Business Or Leave Behind – Switch To Shopify Mobile Apps Today

There was a time when a mobile app for business was considered a luxury – but today, it is a necessity. It is not because of the Covid-19 situation; in general, buyers do not have time to go to stores and stand in long queues even to purchase essentials.
Rather, they will install a few apps and try purchasing. So, at this point, if you do not have a mobile app, you are simply missing out on several opportunities. Will you continue to miss out on some more opportunities or get an app? Take your call and get results on the table.

About MageNative
MageNative is a leading app building platform that facilitates app creation for business owners regardless of their knowledge of technical nuances involved. At MageNative, we convert ideas into scalable mobile apps instantly and most conveniently.
FAQs
1. Can I build a mobile app with Shopify?

Yes, of course, you can build a mobile app with Shopify. Third-party Shopify plugins simplify the task of making a Shopify mobile app with its drag and drop functionality.

2. What are the prerequisites for making a mobile app from a Shopify website?

There are only  3 prerequisites to build an app. To make a mobile app from a Shopify website, you need 1. A website developed on Shopify, 2. A valid Google PlayStore (Android) and Apple AppStore (iOS) account, and 3. Real-time API. Therefore, you don't need to arrange a lot of resources in order to get your app – just the website, credentials, and API will be more than sufficient to create an app.

3. Which is the best method to make an app?

It depends on how much time and money you can invest in it. So, if you are a beginner and want your app in a few days, you must go for Shopify plugins which free you from all the responsibilities without compromising the app's performance. Also, you will not need to write a single line of code for it. But if you can afford to hire developers and spend quite a bit, you can develop it from scratch.

4. How much does the 3rd party Shopify Plugins cost?

The 3rd party Shopify plugins' monthly subscription starts from $49/month. Depending on the features and functionalities you pick, it may also go to $99/month.

5. Will it be possible to make an app for my business without coding knowledge?

Yes, it is possible. Now, you can use the 3rd party Shopify plugins and "drag n drop" to make your app without any complexities. So, in other words, 3rd party Shopify plugins will never ask you to write down the codes to develop your app. Instead, it empowers you to pick each and every element of your app and make it as you wish.

6. Do I need an app to grow my business?

An app is mandatory in the present-day business scenario as the buyers' behaviors have undergone massive changes. They prefer to make purchases by installing an app even if the store is a few minutes away from home because shopping from an app is easy, secure, fast, and convenient. So, not having a mobile app at present means that you are missing out on some advantages.
About The Author
Gaining knowledge by reading - Sharing knowledge through content
Content Creator| Reader| Forever Learner| Believer| Animal lover| Music is life| Linkin Park in Brain| Backstreet Boys in Heart| Love for Baking & Dessert Making| Noob Guitarist
Related Posts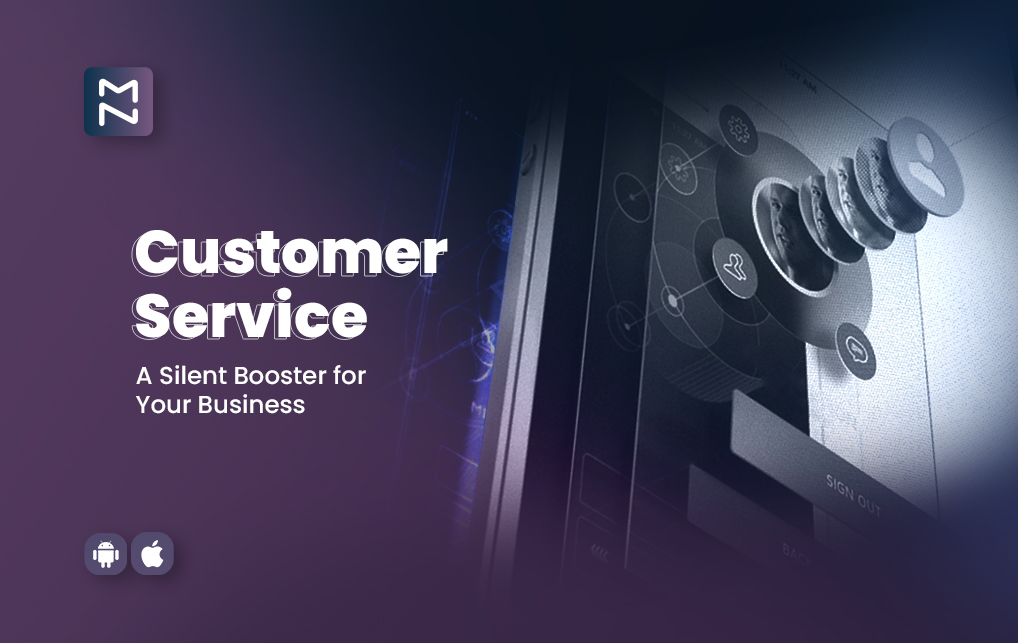 Mobile App Customer Service: Benefits, Red-flags, Quick Tips & More
Let's admit – a majority of online shoppers believe that…
Read article >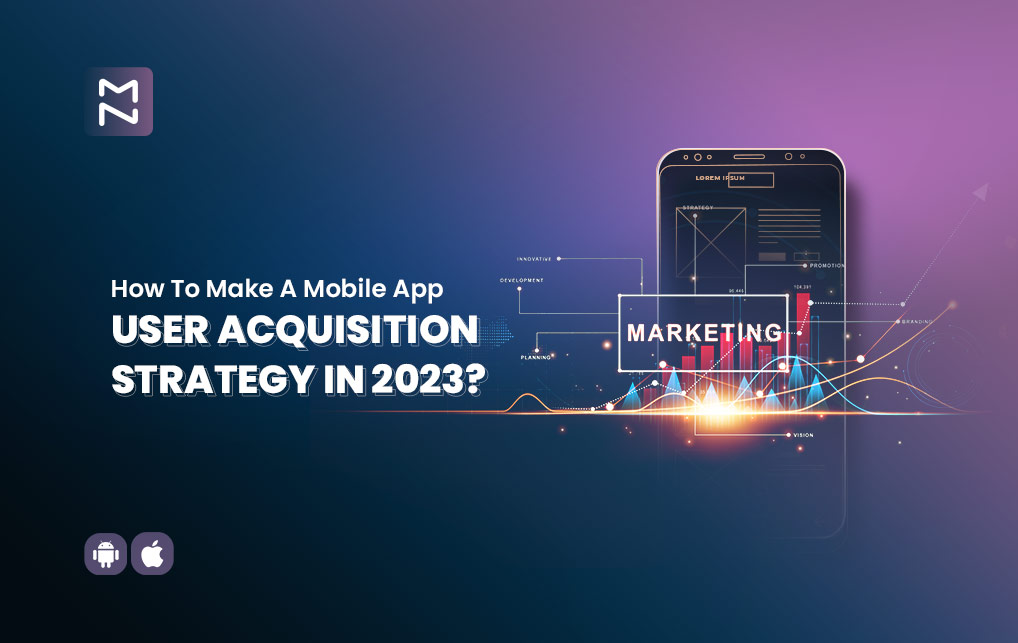 How To Make A Mobile App User Acquisition Strategy In 2023?
As a mobile app owner, the constant hustle to build…
Read article >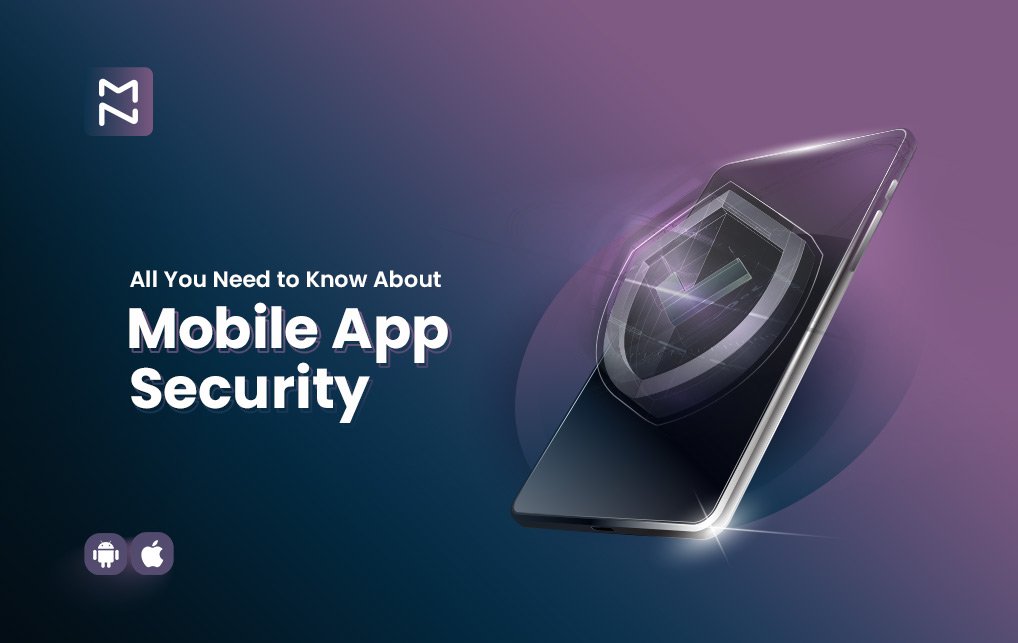 Mobile App Security – Loopholes, Best Practices and Beyond
Can you name one factor that decides whether a user…
Read article >