Remember the celebrity endorsements by numerous brands in the sports, fashion, beauty, etc. industries? Presently, the reach of influencers is utilized for the same reason, and it has disrupted the marketing game. Have you not utilized influencer marketing yet? Are you confused about whether influencer marketing will be fruitful enough for you or your investment will go in the wrong direction?
NEVERMIND! This is pretty natural in the beginning, but we have everything that can prove influencers can do wonders in terms of fulfilling your business dreams. No matter the industry you are in, your mobile app can reach a huge number of your target users through influencer marketing.
Influencers readily reduce your struggle to reach your potential audience as they are already in touch with your TG on different social platforms. These consumers actively consume the content created by their favorite influencers!
Maybe this is the reason why around 60% of the users are very likely to buy a product or download an app when their favorite influencer recommends it.
It is said that on average, a business can make $6.50 for one single dollar spent on influencer marketing! Just think of the opportunities your app will get when influencers recommend it within their posts.
So, are you ready to bring on influencer marketing to skyrocket your mobile app's growth? Let us help you there:

Influencer Marketing – The Face Of Today's Promotional Activities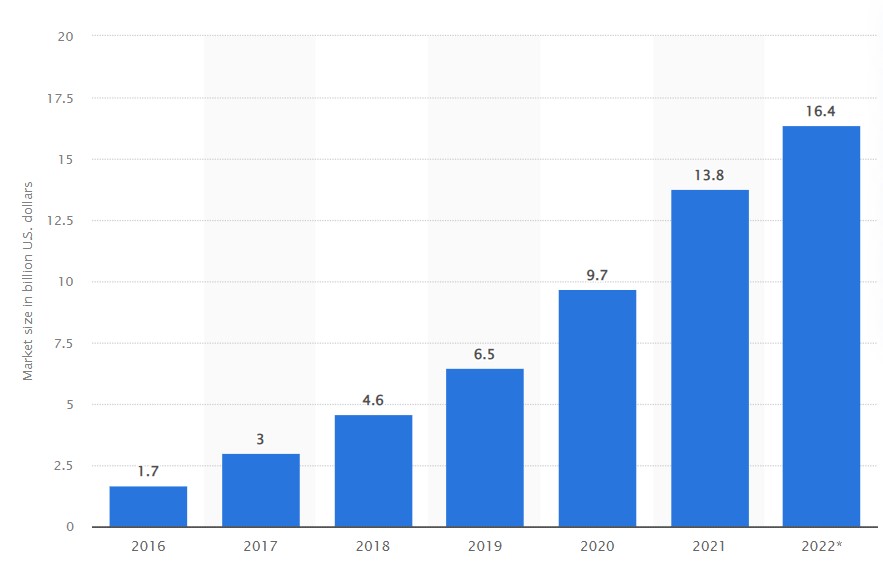 Source: Statista
A 2021 report of Statista showed a predicted market size of $16.4 billion in influencer marketing in 2022. Another report by Statista claims that marketers keep 10-20% of their overall marketing budget for influencer marketing.
The growth curve clearly says that influencer marketing is here to stay, and in coming years it will be no wonder it will take some bigger leaps. It gets billions of investments globally, and in some countries, the influencer marketing budget just got doubled – Makes Sense Indeed!
Right now we all are familiar with the term influencer marketing – through this marketing, business owners use the strength and followers of one or more influencers to nurture their businesses.

Now, let's not move to the definition of influencers! C'mon, we all know it, right? Rather let's straightway move to what makes an influencer worthy enough to promote your mobile app!
Huge number of followers
Excellent number of views on their posts
Excellen engagement (likes, comments, and share)

On social media platforms, one can get a number of influencers for your mobile app marketing. But before picking up the right one for you, know the terms based on their number of followers:
| | |
| --- | --- |
| Type of influencer  | Number of followers  |
| Mega | Above 1m |
| Macro | 500k-1m |
| Mid-Tier | 50k-500k |
| Micro | 10k-50k |
| Nano/span> | 1k-10k |
Based on what the influencers do, here are some terms
Networker – An Influencer with a huge number of connections.
Opinion leader – An Influencer with complete knowledge, authority, understanding of their niche, and a capability of influencing a group.
Discoverer – An influencer with concrete knowledge of products, trends, technologies, etc.
Social influencer – An influencer with regular posts on specific/random topics that generate more followers.
Sharer – An influencer who shares information for their followers.
Importance Of Influencer Marketing For Mobile Apps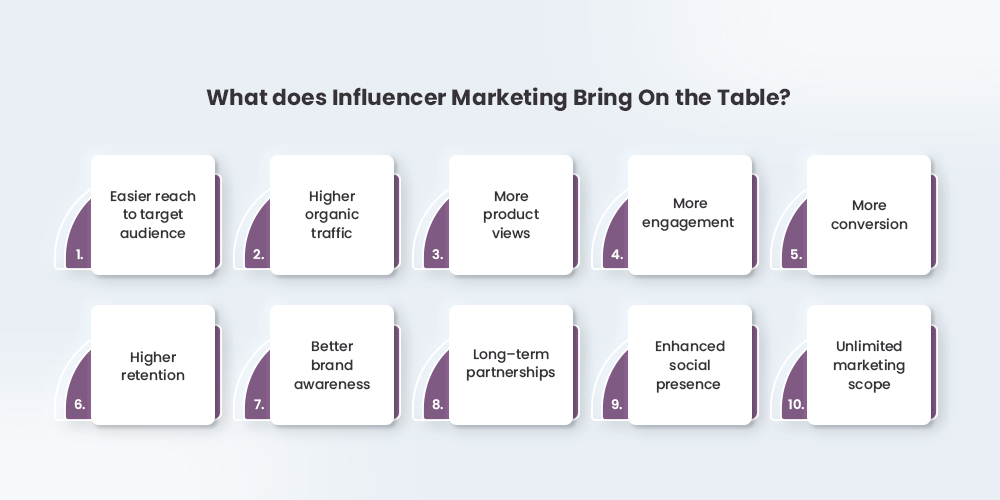 You must be wondering how influencer marketing helped mobile apps, right? Business owners simply need to utilize the power of influencers to market their mobile app.

At present, the business owners generally struggle to get
Noticed by their potential users
Convert visitors into buyers
Retain the buyers

Influencer marketing can ease all three problems:
1. Getting Noticed Becomes Easier Than Ever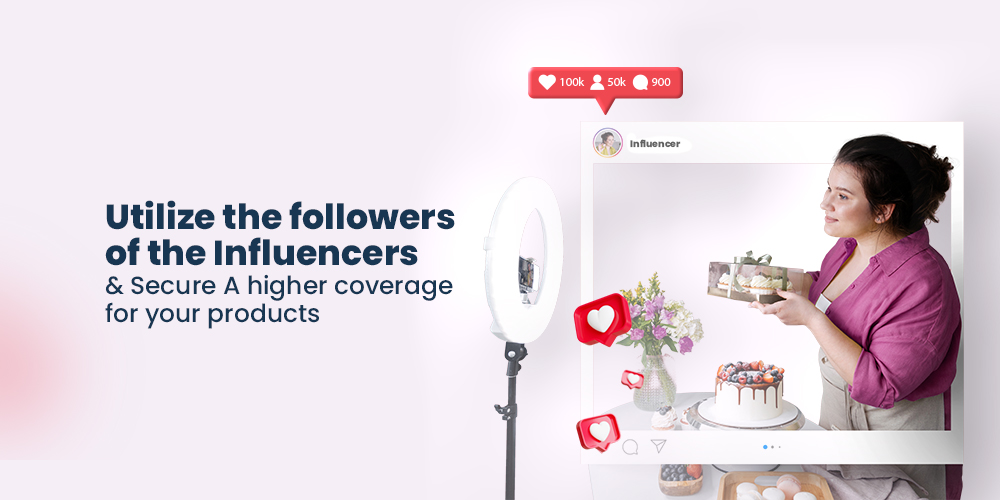 Once you collaborate with an influencer, you can utilize the followers they have. It is possible that the influencer is already connected to the audience you are targeting. Therefore, once they take the name of your brand or any particular product, it reaches a huge number of audiences automatically.
Ultimately your app gets more organic traffic and higher product views. This is a coverage any merchant always dreams of, so are you ready to dive in mobile app influencer marketing?

2. Earning Conversions Is Faster
Now, influencers have a huge appeal among the social media audience. What they say is often taken for granted because they are very convincing.
As a result, a major percentage checks out the product, and some of them definitely opt for a purchase. So, your app gets the benefit when influencers promote your business.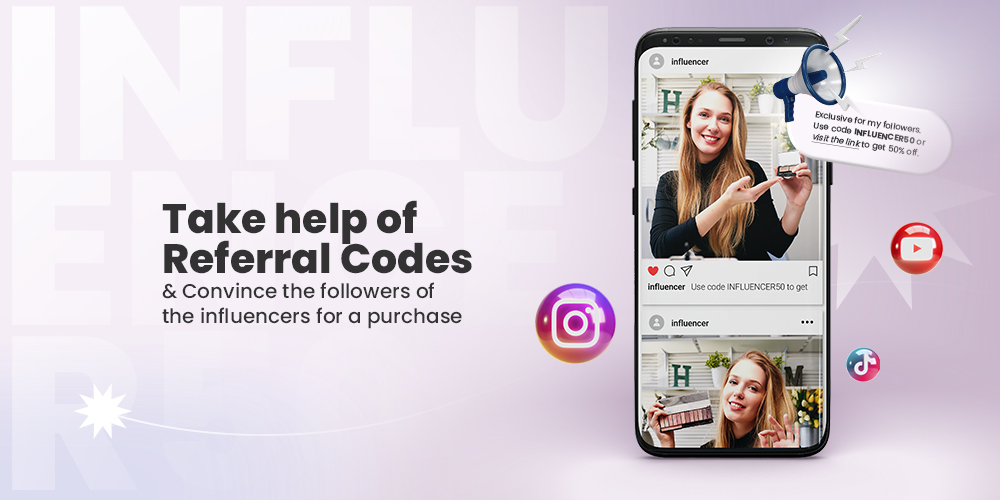 Merchants often give a special promo code to the influencers by using which any user can get an extra discount.
Pro-tip that is rapidly used – a personalized promo code is given to the influencers to put in their video, and any person using the promo code will get a discount. This tempts the audience more to make a purchase or at least explore it.
Amazing fact 

Bach Flower Remedies took help of s A Girl Named PJ and A Clothes Horse and generated 6,000+ clicks, 133 million impressions on social media and 258% more followers.
3. Higher Customer Retention Is On The Way
Again retaining customers is like one of the biggest struggles of the merchants where influencers can assist. The reality is followers love the content influencers produce – they unknowingly rely on what they say.
As a result, when the influencers name a product or say good words for a product, it automatically creates a market. For the company, it becomes easier to retain the customers.
Overall 51% marketers admitted that influencer marketing helps them in customer acquisition. Be it a tweet/pin, or a video or still image, or text based post or blog – what influencers recommend are taken as style statement, trend and much more. 
Well, there is a lot more influencer marketing can offer your mobile app – check that out too.
Some More Benefits of Influencer Marketing For Mobile Apps
Here are some more reasons that merchants may overlook to consider influencers for a mobile app marketing:
1. Better Brand Awareness
Based on your requirements, influencers create their content to create an unavoidable urge among their followers and attempt to make your business bigger. Your users come to know about your brand and your products. An awareness is created among these users, and some of them started following you on your social media profiles.
Did you know,
93% of the marketers have used influencer marketing and their key objectives behind that are enhanced brand awareness (86%), reach audience (74%), and more conversions (46%)? 
2. Long–Term Partnerships
In case an influencer marketing activity brings results in terms of traffic, conversion, etc, merchants can utilize them for long-term partnerships. Merchants can reach them again for promotional purposes.
If both parties are benefitted from the process, they can consider the collaboration for quite a long term.
Duolingo app has created a master TikTok strategy with influencers that resulted in millions of app downloads. 
3. Enhanced Social Presence
Influencers shine in social media, and if you choose the power of influencers to grow further, you will also shine as bright as the influencers. Your social presence gets more happening with influencer marketing, and your mobile app receives better results.
Did you know that

86% of female social media users love getting purchase advice and an overall 61% population trusts influencer recommendations? 
4. Unlimited Marketing Scope
Influencer marketing, in a nutshell, makes you popular – so you can get further partnership requests. You may receive requests for other collaborations too. Social media is like an ocean of opportunities when it comes to marketing – it becomes twice easier to target the audience, reach them, and get noticed by them.

Some of our loved marketing guides you may want to read:

Convincing enough to promote your mobile app through influencer marketing? Wait!
Before You Invest In Influencer Marketing: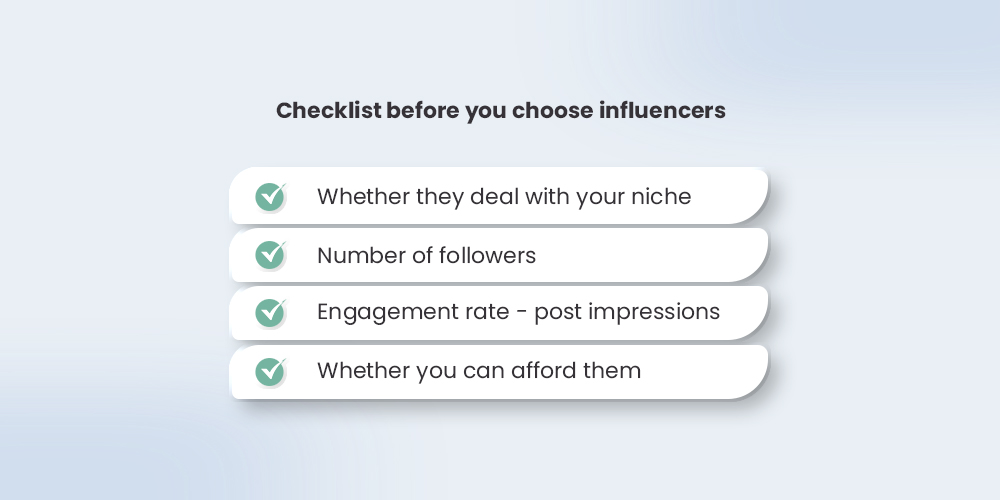 All set for influencer marketing? Wait! You need to take care of a few factors before you invest in influencer marketing:
1. Understand The Best Platform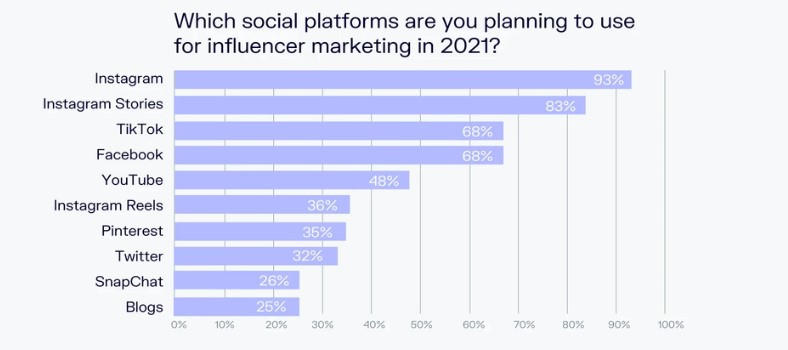 Source: eMarketer 
Before you opt for an influencer, you should have an idea of the best platform to get the ideal influencers for you. For this, you need to ensure which social platform your target users are using the most – it can be Instagram or Facebook, or TikTok, or any other platform. Not all influencers are famous on all platforms.
First, you need to determine the platform and then search for the most popular influencers for your niche.
Bigelow Tea picked Ashley Thurman (a blogger) and got 32,000+ blog engagements. 18.5% higher sales and 3X media value.
2. Find The Most Fitting Influencers For Your Niche Most
On social media, almost every other person tries to be an influencer – they want to tell a story to the people they are connected to. They want to generate a mass appeal – but not all these influencers will work for your brand.

To find the most fitting influencers for your company you need to check the influencers who connect with the
Users you want to reach
Customers of the location you want to aim
Niche you are into
Followers the most through the posts

You have to check the number of interactions (reactions, comments, and shares – engagement rate) of their posts to understand how users are engaging with their posts.
Did you know?
Sprint's #LiveUnlimited campaign with Lele Pons, Bradley Martyn, etc. earned them 7.4 million views!
3. Check The Trends In Influencer Marketing
On marketing too, there are some trends – check which influencers are in-line with these trends. Unless the influencer is in-line with the trends, it is very likely that their posts will not get sufficient views.
Audible's collaboration with numerous YouTubers earned them 83 million+ views. 
4. Plan Your Budget
It is highly recommended that you plan your budget for influencer marketing before you approach them. You must be aware that influencers, especially the popular ones, promote a product or a brand within their video or any other type of post on charging a specific amount. Therefore, understand how much they charge and how many promotions they will do within that charge.
5. Understand Whether  Your App Has The Potential To Appeal
Yes, indeed the influencers charge a good sum to work for your brand, but that's not all. The end decision will always be theirs to work for you or not.

In other words, your app, your products  need to have the potential to convince them. So, make sure that your app has
A mass appeal
Aesthetic design
Good inventory
Competitive pricing

Basically, your mobile app should have the elements which can convince the influencers to take part in the marketing activities.

Would you like to have a mobile app that can impress the influencers easily? Build it with MageNative mobile app builder. 
>QUICK RECAP<
How to Find the Best Influencers for your Niche?
Check out the social platforms where your target audience spends maximum time
Find the popular influencers that match your niche on that platform 
Check out their number of followers 
Check the number of posts per day and number of impressions (engagement rate) on the posts
See how they interact with their followers
Understand whether their posts are following the latest trends
Check how much they charge 
Thinking How To Convince An Influencer?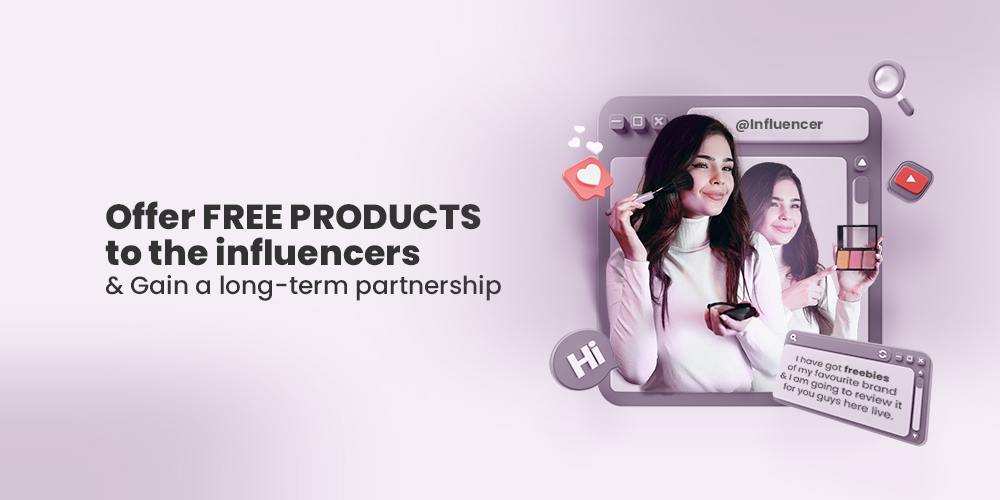 Here are some more tips to create an appeal for your brand among the influencer you are targeting:
Show them positive reviews (of your products or the app itself from the app store)
Offer them free samples to create a power-packed impression and give them a clarity of what you sell
Praise their posts
Follow up with them daily
Show them your social media pages
Bonobos' #BetterThanAC campaign with Foster Huntington earned them 5.1 million+ impressions, 68,000+ engagements (3x than before).
Mobile App Influencer Marketing Tips to Get Maximum Benefits
Time for some tips for your mobile app influencer marketing to help you in getting the benefits to the fullest:
1. Offer Them A Clear Objective
You have to tell them what exactly you want from them so that they can work accordingly. Your requirement can be any or multiple among the followings:
Mentioning the brand name
Promoting a product
Mentioning a product
Detailed review of the product
Announcing a promo code

Your specific requirement will help the influencer to curate the content in the best possible way to get maximum interactions.
The consecutive collaboration of Adidas brought 41000 followers and 24.2% higher sales by dropping Nike's sales by 9.1%. 
2. Let Them Be Creative – Allow Them Build The Story
Once you have given them your requirement, allow them some time to brainstorm to their followers with your brand psychologically. They understand their followers really well. They know what kind of content their followers expect from them.
At the same time, they can figure out the way to sneak in your brand in their content to make it more and more convincing. They will build a story likewise. So, we suggest you not to poke into their method of execution; rather let them be creative with the post.
3. Maintain Consistency
In case you find good engagement (in terms of traffic and conversions), consistently bring some more collaboration with the same influencer. You may try some other influencer too after doing your research.
You have to be consistent with collaboration – it is very much capable of bringing results for your business.
Blue Apron collaborated with multiple bloggers to write simple yet value-adding reviews for them, and it earned them so much success that they continued the partnership for one more year. 
4. Check The Results And Optimize The Strategy
Now, after an influencer collaboration – do a thorough check on your mobile app to know whether this marketing activity brought you any result or not! For these check:
App store visits
Number of app installs
Traffic
Sessions
Conversions

In case you find these results not satisfactory at all, you are either taking help of the wrong influencer or there is something fishy! Therefore, you need to optimize your mobile app marketing strategies again.
Good to know:

Lynda, partnered with YouTube influencers Rooster Teeth and The Fine Brothers and the videos received 25+ million views. 
The BEWARE Factors Of Influencer Marketing
Influencer marketing is no doubt very beneficial for any company in any industry if done rightly. So, oops moments are unavoidable if it is not given proper attention.
This is why we advice you to be aware of a few factors:
Fake followers
Communication gaps
Missing Hashtags or Keywords

So, check these out carefully before you approach any influencer.
Check out: How To Make A Marketing Calendar That Brings Results?
Industries That Use Influencer Marketing To Make Their Mobile App Popular
The top 8 industries that utilize influencer marketing the most are:
Fashion
Food and beverages
Hardware and Software
Fitness
Beauty and hygiene
Sports
Healthcare
Travel and tourism
Did you know that SmarTrike's collaboration with new mommy influencers got almost 20,000 likes on one single post? Their total campaign got 76,000 likes, reached 12+ million people, and generated maximum new mom followers, 
Popular Apps And Websites To Get The Best Influencers To Promote Your Business
In case researching social media and getting the relevant influencers seems a troublesome affair to you, not an issue. There are apps to help you out with the best influencers who match your niche.

Here are the apps you can consider:
Summing Up…
In a nutshell, influencer marketing can be a booster to all your marketing activities you are planning to do if done correctly. At present, 44% B2C brands are planning to use influencer marketing to widen their reach among the customers, so, why should you stay behind?
Gen Y and Z trust the influencers like the personalized recommendations. If they are your target audience too, then don't you think it can be a steal deal to boost your mobile app installs?
So, begin with a nano influencer and then go ahead approaching the micro ones as research says, micro influencers get 60% more engagement compared to others.
Initially, approaching the influencers may seem a bit difficult – you can take help from the templates for the same purpose. Are you ready to get in  touch with your favorite influencers?
Did we miss any other important information to share? Let us know in the comments.

About Magenative
MageNative is a leading app building platform that facilitates app creation for business owners regardless of their knowledge of technical nuances involved. At MageNative, we convert ideas into scalable mobile apps instantly and most conveniently.
About The Author
A content marketing professional at Magenative, An app development company providing solutions on different app development platforms including Shopify , Magento and Woocommerce.
Related Posts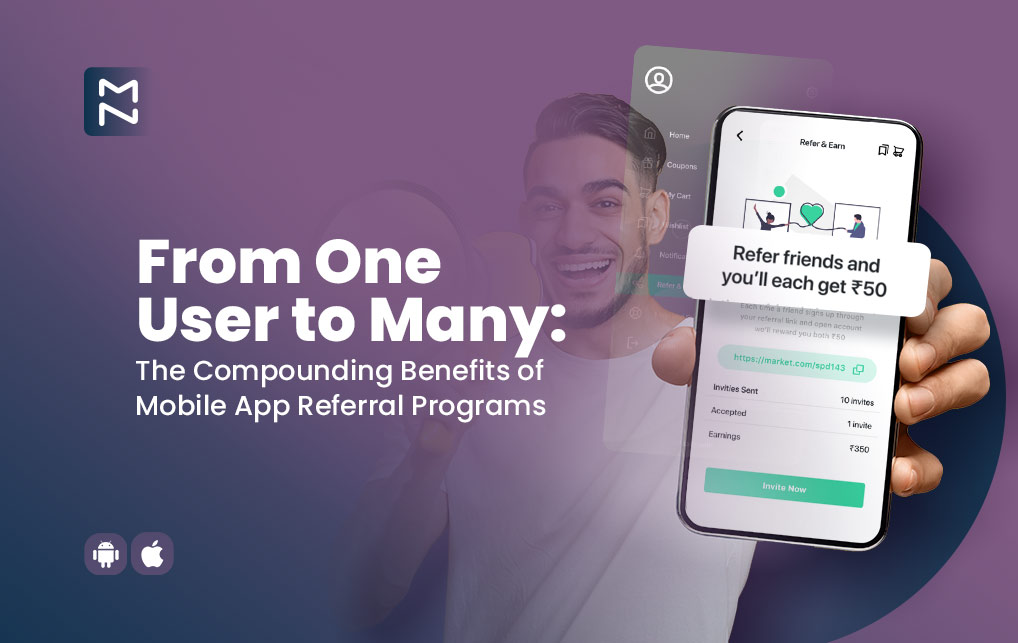 How a Mobile App Referral Program Can Help Your Business Grow
In today's crowded mobile app marketplace, businesses must be creative…
Read article >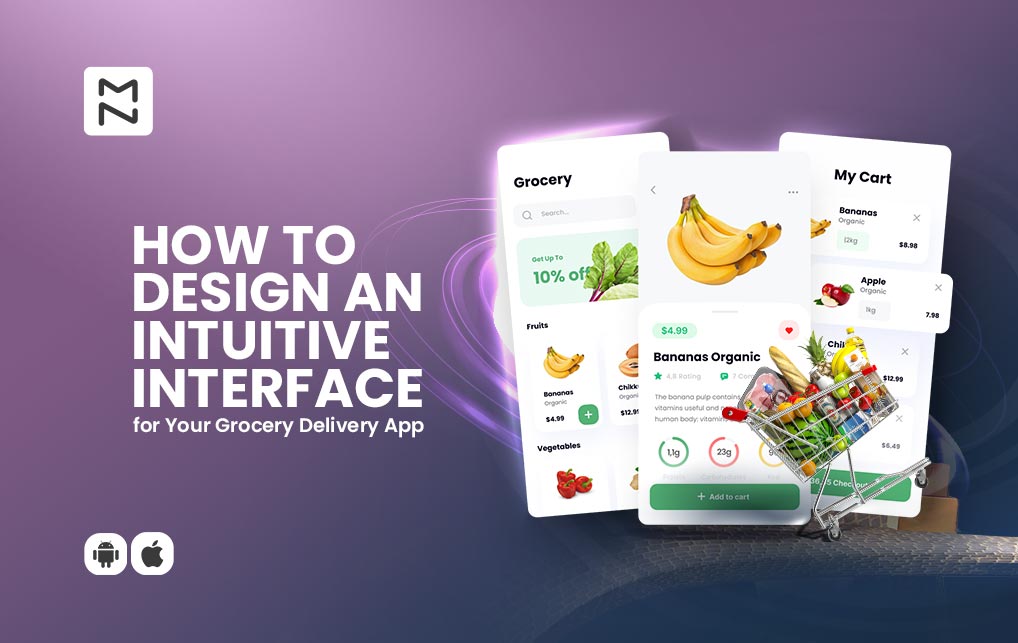 How To Create A Winning Grocery App Design? Best Practices To Know
In today's times, you cannot deny that mobile apps have…
Read article >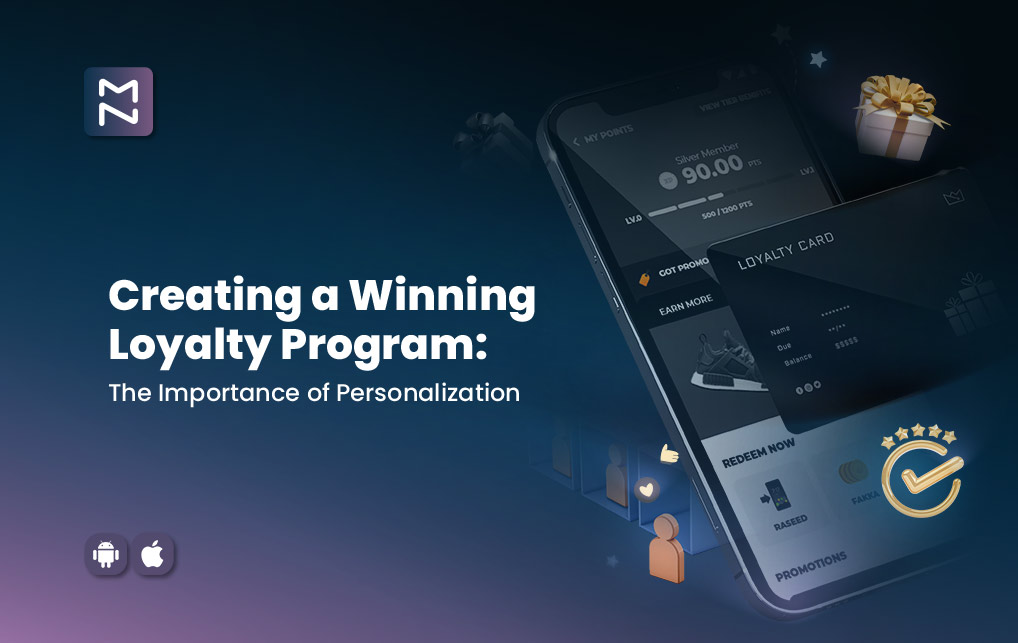 Customer Loyalty Programs And The Power of Personalization
Customer loyalty program have become increasingly popular in recent years…
Read article >