Publishing an app on Google Play Store and iOS App Store is generally considered to be the final stage of app development! But is it so? What if the app does not perform the way it should? What if urgent updates are needed? This is why a continuous monitoring of the app's performance is needed. Exactly here mobile app KPIs come and help in measuring the app's performance in the most accurate way.
Having an app is 50% growth in business but tracking and improving accordingly holds the remaining 50%.
So, to ensure that your app performs consistently, in other words, to check the glitches and fix these, tracking the app's performance is essential.
But how to measure app performance is the question and mobile app KPI metrics ease the task.

What Is KPI?

Key performance indicators or KPIs are the special checkpoints based on which the performance is monitored.

In simpler words, Mobile app KPIs denote
How successfully the goals and objectives are met?
What are the lags/glitches/improvement areas?
What do these lags cost to the overall performance?
How to fill the gaps or fix the issue?
What Do Mobile App KPIs Do?

Mobile app KPIs aim at offering a clear picture of how the app is doing its job in terms of getting installs, traffic, usage hours, and conversions.
The earlier you bring the mobile app KPIs into action, the better you can improve them.
Based on the results that KPIs bring, app-makers or merchants can
Understand the possible risks on the way
Make on-time reforms in strategies
Set alternative plans
Arrange possible resources that may be required beforehand

As mobile app KPIs also identify what possibly went wrong in any given situation and indicate what may happen if effective measures are not taken on time.
Why Are KPIs Important to Measure Mobile App Performance?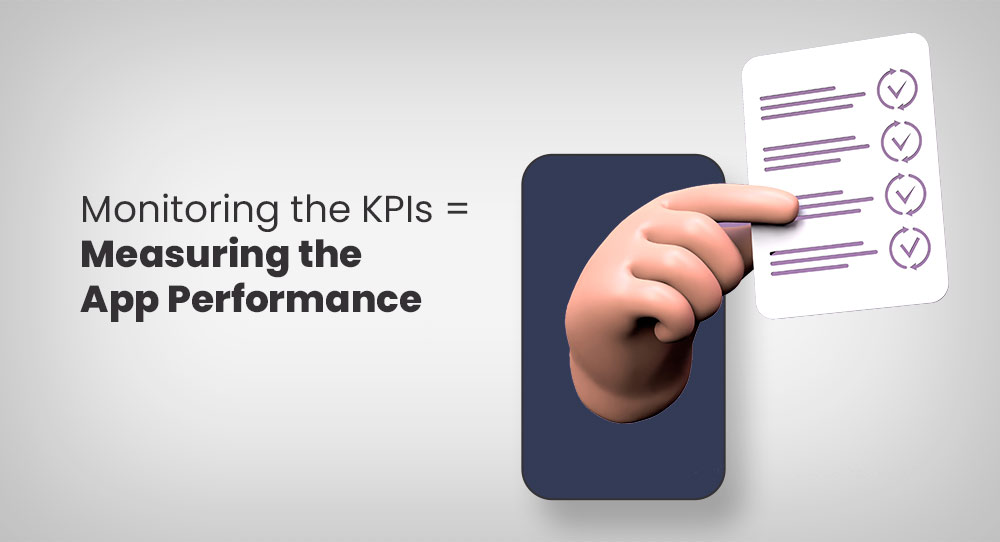 KPIs are an important part of any process – and running mobile apps is also a process that needs thorough monitoring. Consistent performance without effort cannot be guaranteed.
Unless you identify where your app performs to the fullest and where it falls and analyze the reasons behind its fall, you cannot help in its better performance.
The mobile app you have crafted is undoubtedly good, but after a certain time, you will have to add new features and remove unused ones. Or maybe you need to optimize its speed to obtain more traffic, longer sessions, and higher conversions.
Unless you keep a track of all these factors, your app will lose relevance and will be uninstalled. Mobile app KPIs are the saviors here as they alert the makers/merchants at the right time to prevent a fall.
Now, have a look on the most important mobile app KPIs that you cannot overlook if you want success in the long run:
What Are The Most Important KPIs In Terms Of Mobile App Performance Measurement?

There are numerous KPIs to measure the performance of your mobile app. But for easier monitoring of your app performance, we have segregated the mobile app KPIs into different categories.

Some essential KPI categories where your mobile app needs close monitoring are:
Customer engagement
Revenue and acquisition
Dynamics
ASO

Below, you will find the most important KPIs of each of these segments – for a clearer picture, you need to monitor all of these:

I. KPIs Related to Customer Engagement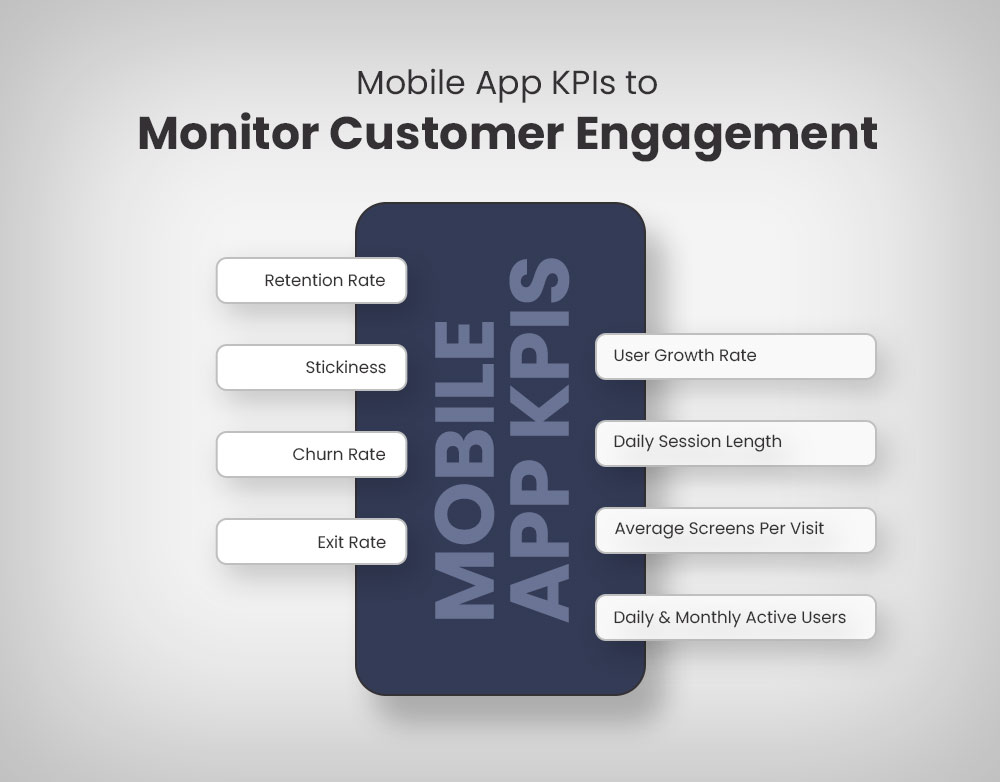 Mobile apps are built to reach customers and keep them engaged so your business can grow. So, monitoring customer engagement on your app is a necessity. Here, find the mobile app KPIs that can denote this:

1. Retention Rate

Customer retention rate is the number of buyers who come back for repurchase after a certain time. A high customer retention rate is good as it hints at your app's potential to bring users back, leading to higher earnings.
2. Stickiness

Stickiness is the gluey element that is responsible for customer retention. If your app lacks this element, your customer retention rate will decrease. If you find the sticky factor on your mobile app, improve it further to retain even more customers.

3. Churn Rate

Churn rate is one of the most important mobile app KPI metrics that point out the time when an active user uninstalls the app or unsubscribes.

4. Daily And Monthly Active Users

These two are the evergreen mobile app KPI metrics for a mobile app which indicate the number of active users – the average number of daily and monthly users on your app.
The higher number of users, the better – the lower, the riskier!
5. User Growth Rate

User growth rate points out the percentage on which you are gaining or losing your users on your app.

Grow your business remarkably with Shopify mobile apps from MageNative. See our offerings.
Daily Session Length and Depth Per Active User

These are "old but gold" mobile app performance metrics that never lose their relevance. Session or session length per active user indicates how much time an active user spends on your app. The longer the session duration your app has, the stickier and more profitable you are.
Session depth on the other side is the number of pages each user viewed on each session. It will direct you toward the interest of the users. As a result, you can prepare the retention strategy accordingly.

7. Average Screens Per Visit

The screen indicates the app's unique pages a user visits on an average screen. The more pages a user unfolds, or the more screens a user hits, the higher potential your app growth has.
The main reasons behind the higher number of screens are related products, app UX and UI, etc.
8. Exit Rate

Though merchants pay more importance to bounce rate instead of exit rate, they need to do the opposite. Merchants need to understand the screen from where the users dropped more than calculating how many users dropped.
Exit rate points out the exact screen where the users dropped and how many users dropped from the same screen. Once pointed out, the developers and designers need to work.
You might be interested in: A Complete Guide To Turn Your Shopify Store Into A Mobile App

How to improve Customer Engagement on an app?
Here are some quick tips for achieving higher customer engagement on a mobile app:
Add an attractive theme with smart color schemes
Announce lucrative offers with push notifications
Provide some unavoidable deals
Power your app with AI to stay relevant and offer personalization
II. KPIs Related to Acquisition and Revenue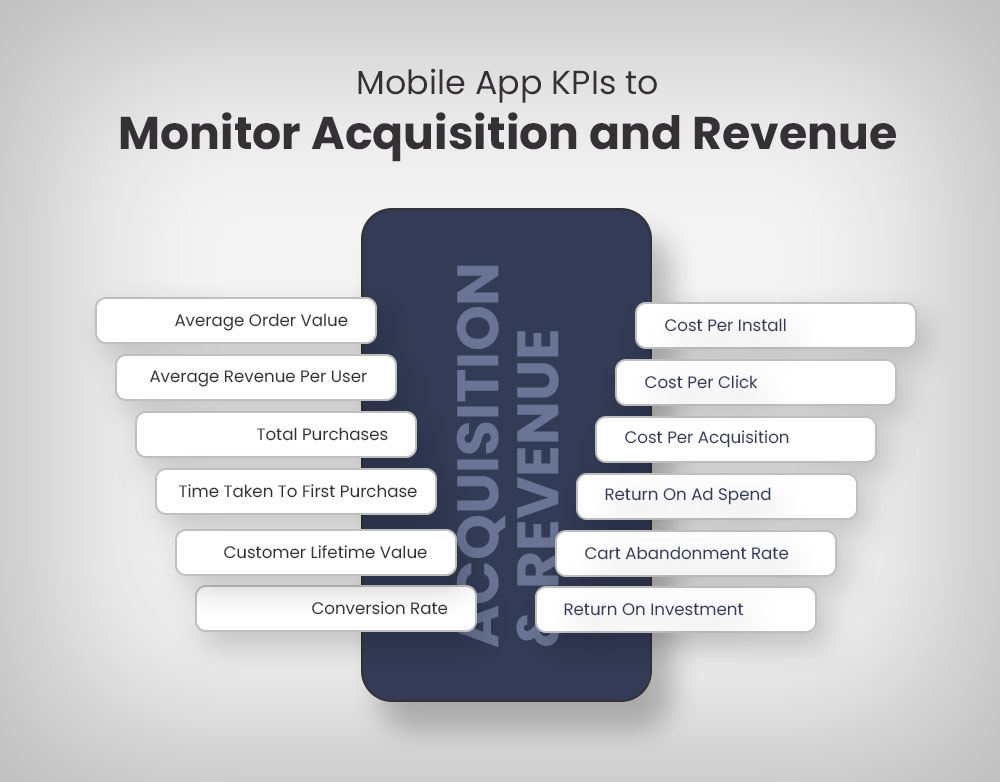 Higher customer engagement results in the purchase, so monitoring the income is essential. At the same time, merchants need to understand how much they have invested and their returns. Exactly here comes the relevance of KPIs related to revenue.

1. Average Order Value

Average Order Value or AOV is the amount each user spends on ordering goods/services from your app. A higher AOV indicates relevant products, competitive pricing, and much more.

2. Average Revenue Per User

Average Revenue Per User of ARPU is one of the most important mobile app performance metrics in terms of revenue and profit calculation. It denotes the value or amount you collect from each active user from in-app purchases, clicks, ad impressions, subscriptions, or any paid features. It is specifically how much your users spend on your app itself.

3. Total Purchases

It is a comparatively simple mobile app KPI that aims to determine the total amount your app earned at a certain time.

4. Time Taken To First Purchase

This mobile app KPI calculates the time each user spends making the first purchase on your app. This time starts from the installation and goes till the first purchase. You can figure out the user journey from this mobile app KPI.

5. Customer Lifetime Value

Customer lifetime value or CLV is the net profit a customer provides your app over a specific period. It is a very important KPI to monitor as it hints at both engagement level and conversion rate altogether.

6. Conversion Rate (Organic & Paid)

Conversion rate is another evergreen KPI that denotes the percentage of users who completes the conversion funnel journey. It starts from the user awareness stage to the action stage.
There are two types of conversion rates: Paid Conversion Rate (which comes from ads) and Organic Conversion Rate (which comes when users themselves find and use your app).
Organic conversion is what all the merchants dream as it comes in the most natural way. It means that the conversion comes on your page without any investment.

7. Cost Per Install

Cost per install measures the acquisition costs you took for each installation via paid ads or other paid activities. In other words, it tracks how much you spend to convince the users to install your app.

8. Cost Per Click

Cost Per Click is much similar to cost per install, but with a difference – this mobile app KPI measures the amount you spend on paid promotions to get each click from customers.

9. Cost Per Acquisition

Cost Per Acquisition or CPA is the total investment you make to acquire a customer. It includes both CPC and CPI, along with other marketing costs.

10. Cart Abandonment Rate

This mobile app KPI is the percentage of shoppers who started shopping by adding products to the cart; however, they abandoned the process without completing the transaction. There can be several reasons behind this like improper pricing, slow load speed, long checkouts, etc.

11. Return On Investment

Return On Investment or ROI dedicatedly measures how well an investment performed or what the investment gives in return.

12. Return On Ad Spend

Like ROI, Return On Ad Spends or ROAS breaks down how much of each dollar invested on an ad is returned.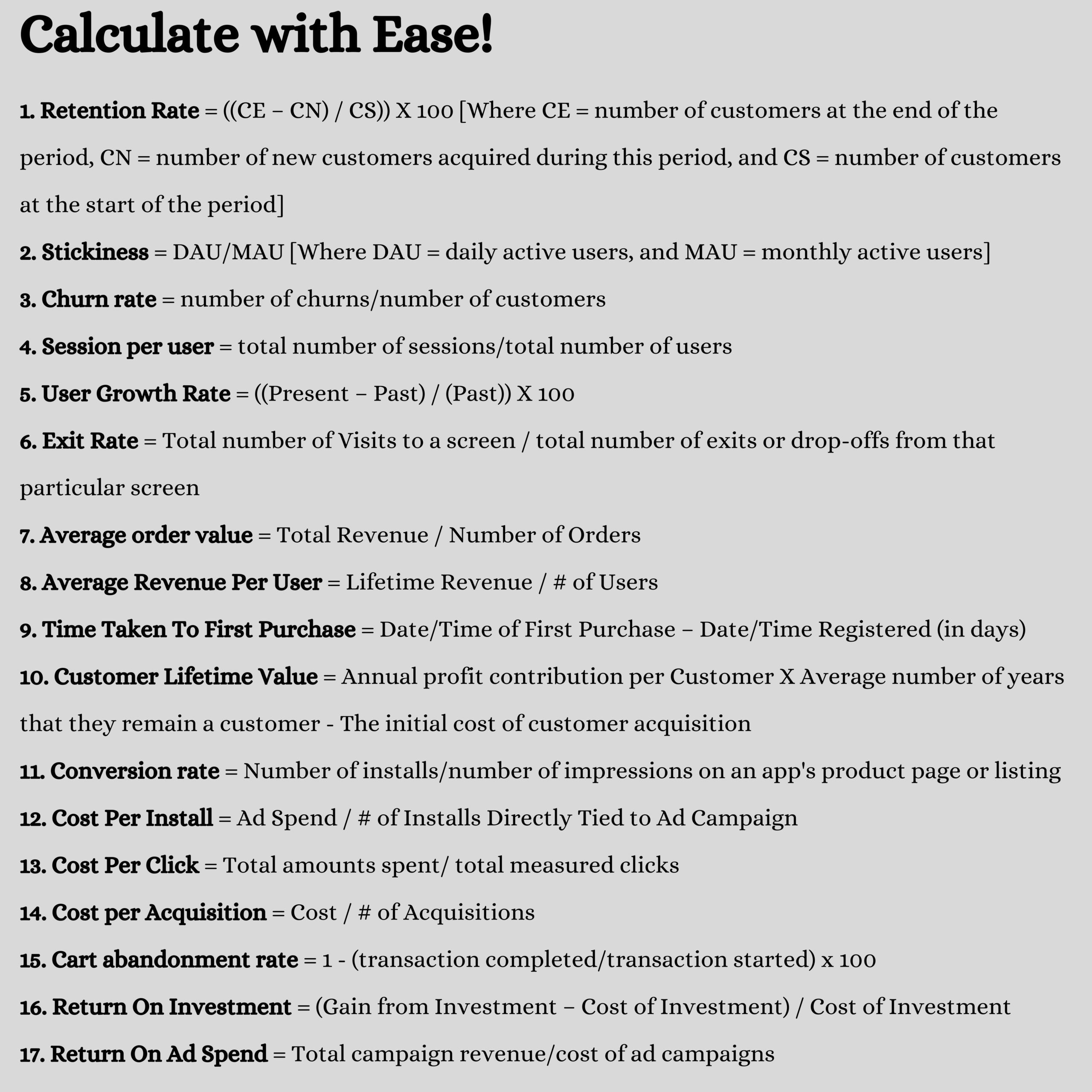 Also, read: Benefits of Shopify Mobile Apps – See What Your Business is Missing Out Without an App

How To Improve Acquisition and Revenue?

To improve acquisition and revenue, the first and foremost need is to make the app more engaging. In case the users find the app less engaging, they will drop and your revenue will come downward. Once your revenue comes downwards, your acquisition cost will be higher – as a result, your profit percentage will be lower.

Here are some tips to acquire customers easily and boost revenue
Focus on product quality
Set competitive pricing
Shorten checkout process
Analyze the competitors
Engage with your customers daily with notifications, calls, emails, SMS, etc.
Retarget the buyers
III. KPIs Related to App's Dynamics

User engagement and revenue is dependent on app dynamics. Good dynamics keep users connected and lead them toward purchases. As a result, your acquisition cost comes down.
On the other hand, poor dynamics cause cart abandonment and low traffic, thereby increasing your paid campaign costs. Here are some of the most important mobile app KPIs to track mobile app dynamics are:

1. Load Speed

App load speed is a common KPI for mobile apps that indicates the time it takes to load after tapping. The shorter it is, the better results you can get. On the other hand, a longer mobile wait time means that you must take immediate action to avoid losses.

Now fast-loading Shopify mobile apps are at your fingertips. Find how it looks yourself:
2. Crash Reports

Crash report is another important mobile app KPI metric that calculates the time the app collapsed after installation. Here, fewer crashes indicate a good app.

3. Device, OS, and Screen resolution

For a detailed performance report, you need to understand on which devices your app is performing and what OS and screen resolution that device has.
These are very important mobile app KPI metrics as these will specify whether your app is more compatible with any particular device, OS and screen resolution or it is performing the same in all.
How to improve App's Dynamics?
To improve app' dynamics, you need to
Optimize its speed
Remove the object or optimize the objects that prevents speedy loading
Test it several time on several devices
IV. KPIs Related to ASO

Lastly, your app starts its journey from the app store, so, you have to monitor its performance on the app store itself with the following mobile app KPI metrics:

1. Keywords

This mobile app KPI will show you the results on which it is getting visible to users and getting installed.
Make sure the keyword you optimize your app has a high volume and less difficulty score. After a certain time, you need to optimize your app store content to continue getting results. Optimizing your app for multiple keywords can also be a good idea.

2. App Store Ranking

Along with keywords, you need to check your app store ranking on different keywords. On each keyword, your app may result in the same or different position. Track this on a daily basis for better performance of your mobile app.

3. Rating and Review

Rating and review on PlayStore and AppStore are some important mobile app KPIs and these cannot be neglected while measuring an app's performance. Even though 100% of these ratings cannot be genuine, you need to take action by identifying genuine reviews.

4. Total number of Downloads, Installs And Uninstalls

These are very simple yet important mobile app KPIs that denote how often your app is installed and uninstalled. Installations have to be higher than uninstalls to be in a profitable position.
More download and install of a mobile app ensures good performance, always have eyes on these mobile app KPIs.

5. Number of registration and subscription

Registration and subscription are two very important KPI metrics while measuring app's performance on the app store. So, check the number of users who only installed the app and the ones who completed the onboarding and registered successfully. Along with this, check how many users take subscription on asking and how many remain unsubscribed.
Based on this, you need to plan for getting more subscriptions.

6. Social Share

A mobile app with good UX and UI has the possibility of future recommendations. Right now, social sharing is one of the easiest ways to recommend it to others. A high number of social shares will be a positive factor for your app. So, do consider this KPI for mobile apps.
Check out: How Are Shopify Mobile Apps Transforming The eCommerce Landscape?

How to Improve ASO?

To improve ASO, you will need to
Search high volume keywords from any paid tools
Optimize app store content each month
Implement keywords on the title, meta tags, image alt, etc.
What is the Ideal Time to Use Mobile App KPIs?

Well, there is nothing like the ideal time for using KPI for mobile apps – you can begin measuring app performance right from launching an app. However, you may not get remarkably positive results in the initial stages.
But you need to take it positively and strategize your business. Moreover, you need to get experts' guidance on how to improve mobile app KPIs, so that you get fruitful results in the long run.

See how the experts of MageNative Helped AmorEarth to reach millions with the power of Shopify mobile app
Winding Up

These are the most important KPIs for mobile apps that cannot be ignored; however, hundreds of other KPIs exist. So, if you want a decent picture of your app's performance – these KPIs will be sufficient for you. You must use other metrics for a more detailed overview of your app's performance.
No matter how advanced tech stack you have used in your mobile app, you cannot expect a steady performance from it throughout. There will be ups and downs, which you can track easily with mobile app KPIs. So, do not neglect these KPIs and check the results to improve your performance of your Shopify mobile app.

About The Author
A content marketing professional at Magenative, An app development company providing solutions on different app development platforms including Shopify , Magento and Woocommerce.
Related Posts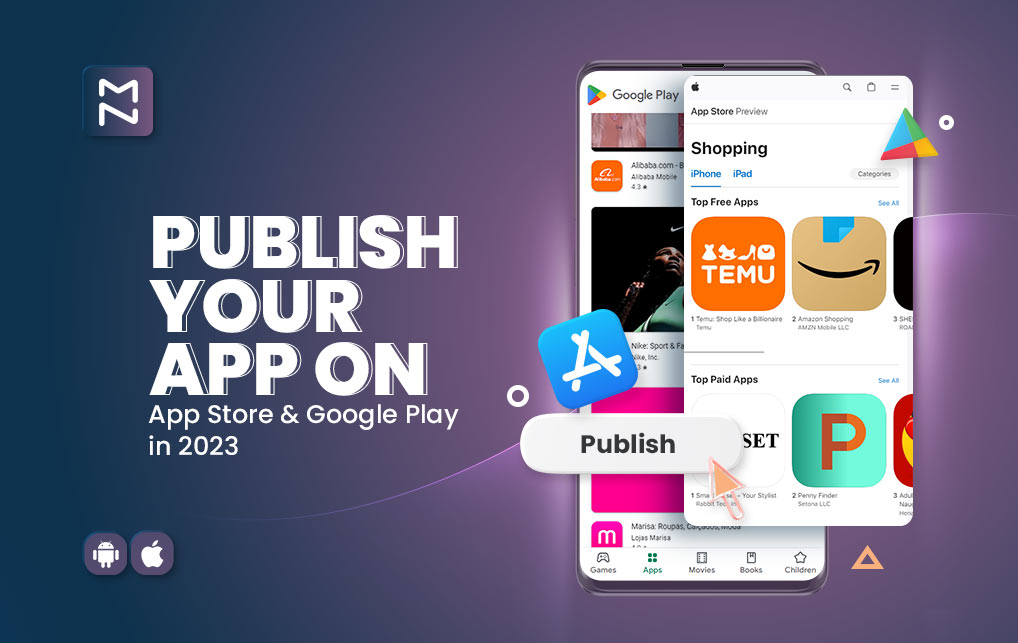 How To Publish Your App On Apple App Store And Google Play Store In 2024?
Objective: In this article, we provide you with an in-depth…
Read article >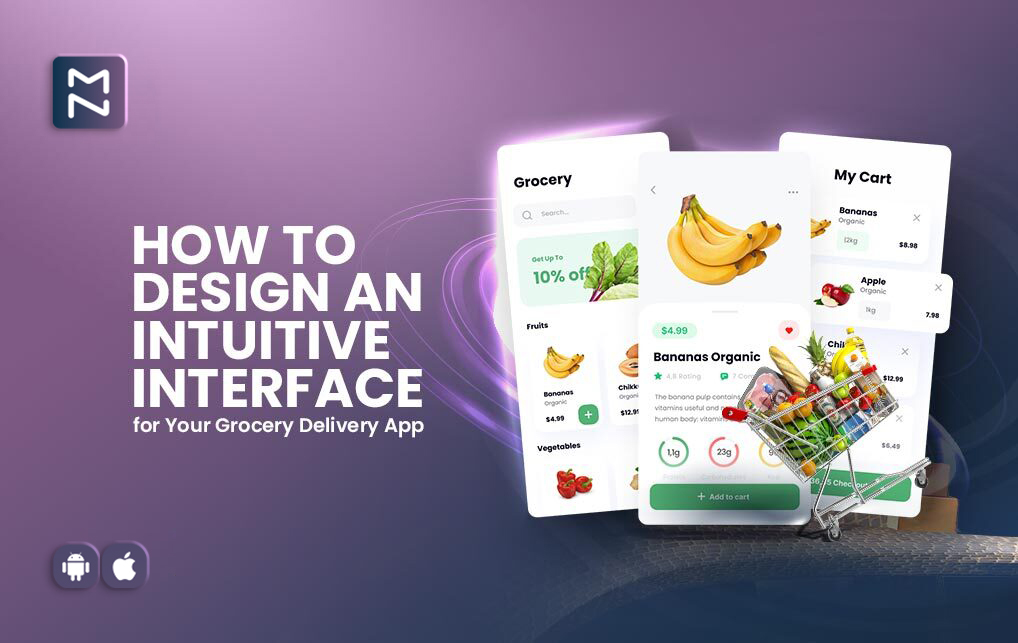 How To Create A Winning Grocery App Design? Best Practices To Know
In today's times, you cannot deny that mobile apps have…
Read article >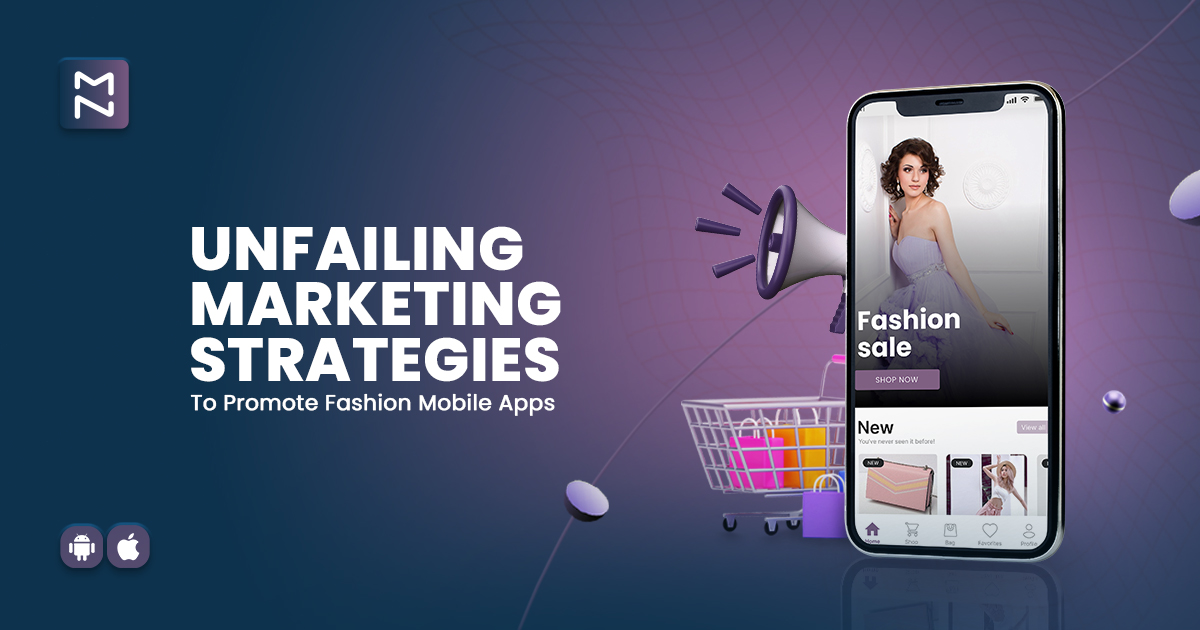 10+ Marketing Strategies for Your Fashion Mobile App
Are you into the fashion industry? Well, pat your back…
Read article >