Mobile app vs website vs web app – it is like a never-ending battle; however there is a clear winner that dominates the other two!
Did you know in just one decade (2010-2020), online presence of business companies rose by 75%! Not just that, 64% of the startups chose to have an online identity, alongside their physical store. In the first quarter of 2022, 1.2 million new businesses started and they chose one of these 3 options to debut! Eager to know which is that – mobile app or website or web app?
Before that, find out what made the companies switch their business to online mode –  in 2021 there were 5,168,780, 607 internet users. Specifically to meet their day-to-day requirements, different companies combined online and offline operations.
Are you wondering which will help you the most in doing so – mobile app vs website vs web application?
Get a complete and reason-backed answer (which is the best and why) here instead of taking a vague opinion. So, compare these thoroughly and take your call.
What Are Mobile Apps?
Mobile applications or apps are the softwares that are developed to perform particular tasks on mobile devices. At present, tablets and even smartwatches also run the apps.

Amazing fact: There are 3.48 million apps in Google PlayStore, and 2.22 million apps are in AppStore. 

Did you know what is more amazing? Apps were downloaded  100 billion times in 2021, and it will reach 200 billion within 2025. 

See the image below to find out the topmost categories of mobile apps (identified by Statista).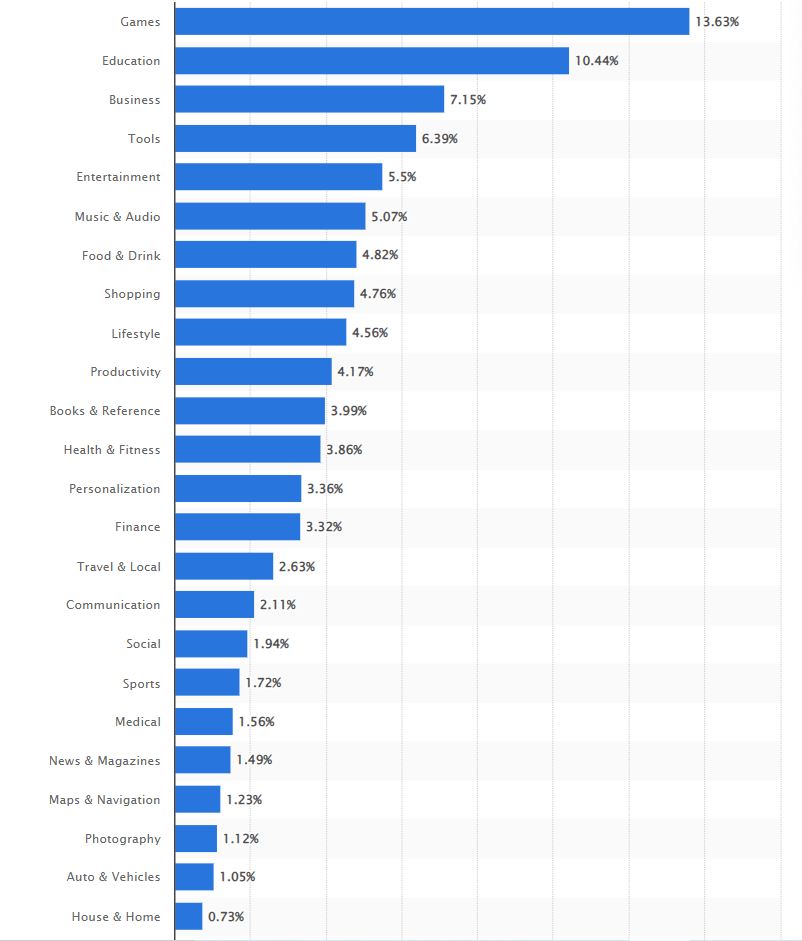 Source: Statista
What Are Websites?
Now, moving on to the websites, these are the common domains for a collection of worldwide web pages. Inside the hom epage, there are several other pages, yet altogether these are managed by a common organization.
Examples of websites are Google, FaceBook, Wikipedia, etc.
What Are Web Applications?
Web applications or web apps are smart combinations of mobile apps and websites. Here, the application is stored on a remote server; however, the service is delivered to the users through an internet browser.

Any type of online form is an example of a web application.
What Are The Differences Between Mobile Apps, Websites, And Web Applications?
Now, let's find out the comparative study of mobile apps, websites, and web applications:
Factors
Mobile Apps
Websites
Web Applications
Device compatibility
Separate apps are made for Android, iOS, and Windows
Displays in almost all devices equally
Yes
Reach
Wider
Only web audience
Moderate
Offline functionality
Works fine
Negligible
Negligible
Usage
Easy, once installed
Need to type complicated URLs, Easy once added to home-screen
Easy, once added to home-screen
User engagement
Excellent
Moderate
Moderate
Personalization
Excellent personalization
Not much opportunity
Not much opportunity
Cost
1. Within $99/month (if made with no-code mobile app builder)

2. Higher cost if made with proper coding

Somewhat lower than app development with coding, but much higher than no-code app making
Somewhat lower than app development with coding, but much higher than no-code app making
Maintenance and Update
1. Maintenance charge of no-code app development included in monthly subscription

2. Comparatively costlier maintenance in conventional app making

Moderate
Moderate
Browser dependency
No
Yes
Yes
So, Who Is The Winner?
Basically, all the pages of the website are composed in an app in a smart format that simply by tapping on something, a user can jump to a page without waiting for it to load.
Also, apps are faster, easy to use (no hassle of typing complex URLs), engaging, and secure. As a result, users at present rely on it almost for all their daily work.
So, as per the table above, apps are a clear winner of mobile apps vs website vs web app comparison.
Even though mobile apps are the winner, websites and web apps both have some plus points, would you like to explore that?
Find out: A Complete Guide To Turn Your Shopify Store Into A Mobile App
What Are The Advantages And Disadvantages Of Websites And Web Applications For Business?
Before you understand why mobile apps are the winner, we would like to take you to a journey where you can find the pros and cons of websites and web applications in this section.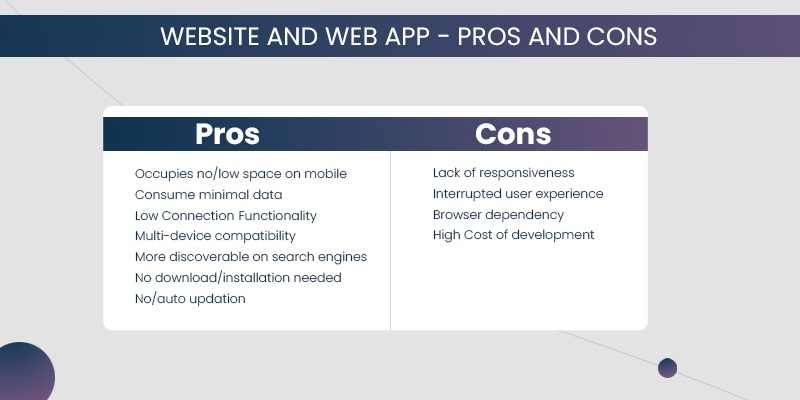 Pros
Here are the advantages of websites and web applications:
1. Occupy No/Low Space On The Device
Websites and web apps work on browsers, so users don't need to free up space on their mobile to use these websites or web applications.
2. Consume Minimal Data
As these are browser dependent, and each page comes with a specific quantity of content. So, the users do not need huge data to access these.
3. Low Connectivity Functionality
As data consumption is low, an excellent network is not always needed to use the website and web application. Therefore, a moderate connectivity is enough to access its prime feature. But if you want everything on the pages faster, a stronger connection is needed.
4. Multi-Device Compatibility
Websites and web applications are compatible with different devices. So, users using any device can enjoy the data on each page on websites and web apps properly.
5. Being Websites, More Discoverable On Search Engines
Whenever a search query is inserted on a search engine, a majority of the results are websites or blogs, or other web pages. So, websites and web apps perform well in terms of SEO.
6. No Download/Installation Is Needed
Users do not require to download or install any of these manually – whenever they need to access it, they either need to type the URL or tap on the icon on the home-screen.
7. Auto Update
Similarly, websites or web apps never ask the users to update these – updates are released from the end of the organizations and reflected on the sites.
Cons
On the other hand, some disadvantages of websites and web applications are
1. Lack Of Responsiveness
Even though these are compatible with all types of smartphones and desktops and function in all types of OS (Android, iOS, Windows, etc), the responsiveness of websites and web applications is sometimes questionable.
There are a few websites and web apps that function nicely on google chrome while opened from a desktop. But the same site may appear with a distorted view when opened from Mozilla or other browsers on mobile devices. This is a major issue why we consider apps as a winner in mobile apps vs. websites vs web apps.
Check out: Benefits of Shopify Mobile Apps – See What Your Business is Missing Out Without an App
2. Interrupted User Experience
Due to responsiveness issues, user experience on these websites and web applications is sometimes interrupted.
Also, due to poor network – browsing is entirely paused on websites and web apps. Not just that!
On resuming a good connection, many websites and web apps do not save the progress in browsing. As a result, the browsing of the users starts from the beginning.
In simpler words, if you open a shopping site from your browser and search for mobiles and pause browsing after viewing 18 products due to low network, it will be very less likely that you find the 19th product while your connection is restored. Instead, the browser directs you to the beginning of the listing page.
3. Completely Browser-Dependent
Due to browser dependency, users often do not prefer using these. Also, the browser is needed to stay updated throughout to offer a complete view of the websites and web apps.
4. Cost Of Development
Developing a website and a web app is sometimes very costly depending on the features and designs users need. Also, its maintenance charge is pretty high.
Is There Any Way To Fix The Issues Of Websites And Web Applications?
Right now, no code mobile app builders are available – therefore, users can easily fill the gaps in websites and web apps. Check out the next sections to understand how the apps fix the problems of these two. Therefore, these are considered to be the best when in mobile app vs website vs web application comparison:
How Are Mobile Apps Better Than Websites And Web Applications?
Now, you might be wondering why mobile apps are better than websites and web apps. Here are a total of 16 reasons why we claim the apps are best in mobile app vs website vs web app comparison.

For your ease, we have segmented these 16 reasons into 3 points of view:
Users' POV
Business POV
Makers' POV
POV 1: Why Do Users Find Mobile Apps Better?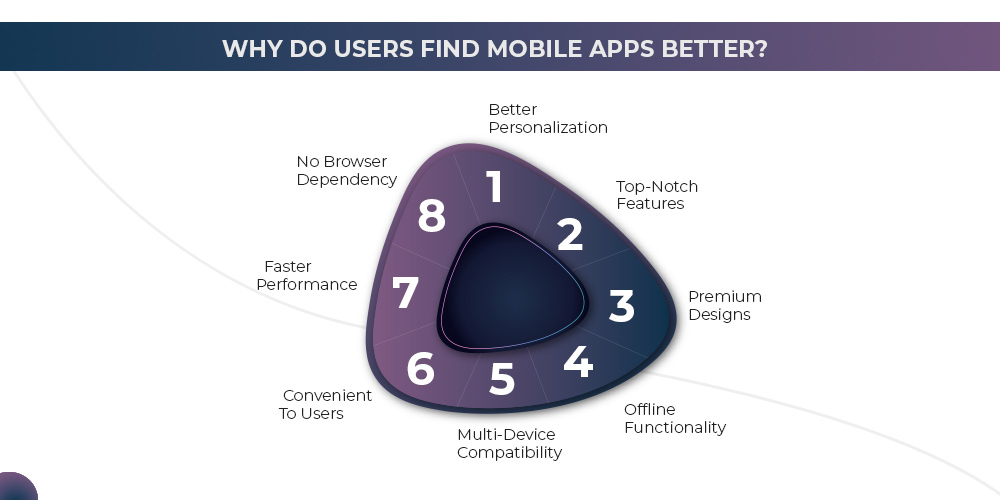 At present, mobile apps are majorly used to do A-Z of the daily work. Apart from playing games, and browsing on social media, any type of shopping/purchasing is a major task performed by the users on mobile apps. Be it grocery shopping, or buying food, fashion/beauty items, essential/luxury goods, tickets/appointments, subscription to a class, or anything  – in short, apps have widely disrupted the shopping method.
Hence, apps have become so favorite to buyers that 57% of them prefer apps to any other shopping channel. So, your business will definitely grow more with mobile apps than with websites or web apps.
Now, let's explore what makes the native mobile apps buyers' favorite:
1. Better Personalization
From the onboarding process, mobile apps keep asking different questions to the buyers which aim to offer a personalized experience to each buyer. Whatever answers the buyers insert here will reflect in the offers, notifications, as well as dashboard page.
So, it results in a highly satisfactory experience for the buyers and if you want to satisfy your buyers to the fullest, mobile apps are highly recommended for you.
Check out: Top 8 Ways A Mobile App Can Reduce Shopping Cart Abandonment
2. Top-notch Features for High-end Engagement
Mobile apps come with cool features that include:

Personalized offers (so that relevant and best deals are offered to each user)
Surprise elements (games – spin the wheel, touch to unlock)
Scheduled push notifications (AI product recommendations that helps to stay more relevant)
AR and VR (so that you can replicate brick and mortar stores on mobile)
Image and voice search (so that you can remove the hassle of typing search query)

All these make the buyers feel very special and keep them engaged. So, altogether they enjoy their shopping more on the app.

MageNative Mobile apps have much more to offer. Would you like to explore? 
3. Premium Designs
Mobile apps also come with very catchy aesthetics that please the users. App UX and UI are some major reasons why users stay connected here for a long time.
Mobile app designs are simple yet very attractive – as a result, the apps never crash due to too many elements on the pages. So, the app's UX and UI appeal to the users, along with enhancing their experience.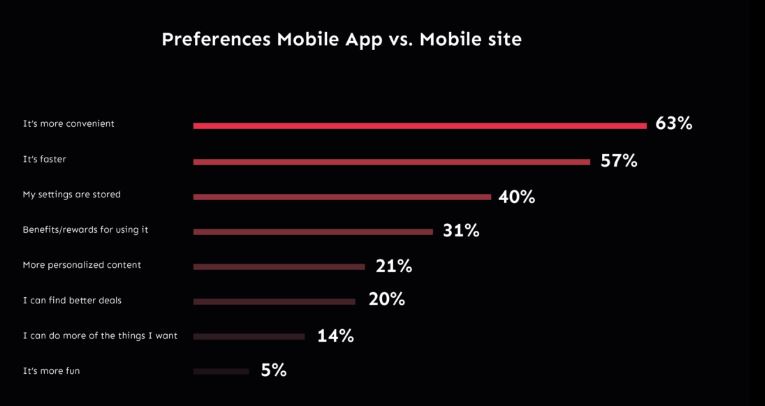 Source: NeonTri
4. Offline Functionality
Mobile apps offer limited yet moderate functionality even when you are offline. So, no matter how the connectivity in your device, you can enjoy some features of your app.
Some apps come with 100% offline functionality as well – you can take Amazon Kindle, Google Drive, and lots of gaming apps for example.
5. Multi-Device Compatibility
Apps for different OS are developed separately – so, an app will be compatible with any Android device as well as iOS device.
If you develop your mobile app with a no-code app builder, you can get the app for both operating systems and publish those in Google PlayStore and Apple AppStore respectively.
6. Convenient To Users
Mobile apps ask for access to galleries, contacts, locations, etc to make the entire shopping process effortless for the users.
For example, you add a product to your cart and proceed to purchase – here, apps free you from the hassle of inserting your location. By tracking your geo-location, apps automatically fill the address. You will get an option to save this location to use further.
The same thing happens at the time of payment – apps give you an option to save the bank details so that you don't need to add them in the future.
Also, Check out: 17 Proven Strategies to Increase App Downloads and Installs Revealed
7. Faster Performance
Mobile apps ensure a dynamic browsing experience – as a result when the users browse a category, the product images load very fast. Even before the buyers finish seeing whatever is on their screen some more images load.
In short, due to lightning speed, mobile apps offer more purchase options to buyers. So, a buyer with an intent of purchase considers an app more than a website and web app.
8. No Browser Dependency
Mobile apps work completely without browsers. Therefore, users will get an icon of the app after the installation and next time onwards, they have to tap on the icon to launch the app and continue their browsing.
POV 2: How Does A Mobile App Benefit A Business?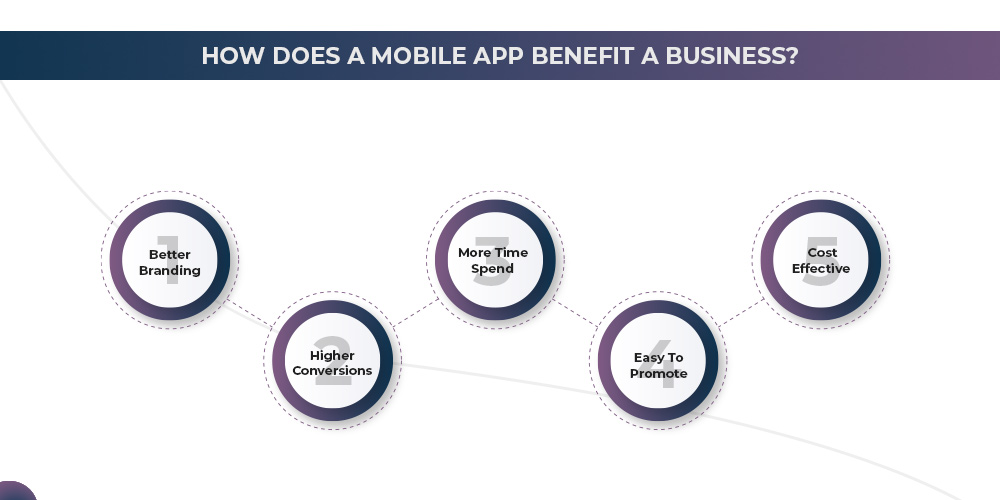 Now, moving on to the most important aspect of mobile apps – business benefits. A mobile app can offer multidimensional benefits to your business – find out how:
1. Better Branding
Mobile apps make your brand presence brighter by familiarizing your logo on different platforms. When people download your app what they first see is your logo and after downloading, it is the logo they tap to launch the app.
Mobile apps help your brand to be recognizable easily and assure long-term results for you, so investing on  it does not go futile.

Did you know that 

Starbucks with myStarbucks app got 3 million traffic in just 3 months of its launch (1,000,000+ installs just on android) – it was the brand image of Starbucks that drove them to install the app. 
Check out: 9 Effective Tips For Successful Mobile App Branding
2. Brings A Stream Of Conversions
Since mobile apps are the preferred shopping medium, they are more likely to make a purchase. So it increases your chances of conversion.
If your app is successful in impressing the visitor on their first visit – you can keep the hope that this visitor can be a buyer in some days. Also, mobile apps try to make a power-packed first impression in terms of their features and design for your business growth.

For example, Nike, in 2006, after the success of their membership program in 2006, launched their fitness app, followed by the overall Nike App. Their press release says that their revenue jumped 96% from the covid-impacted quarter to $12.3 billion within a year. 
3. More Time Spent On Apps
On average, users spend 3 hours and 40 minutes with their mobile each day and a recent study shows that 90% of this time is spent on a mobile app.
Check the image below to understand the time breakup of this 90% time: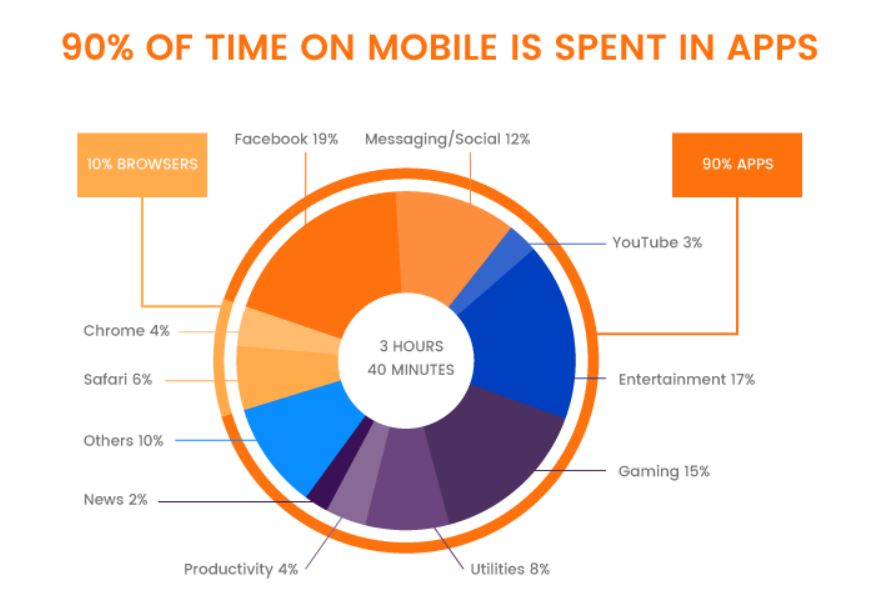 Source: Flurry Analytic
So, if you are struggling with a low time on page, a mobile app can be your solution.
Amazing fact: With incredible use of AR on IKEA AR Place App kept users so engaged that searches for IKEA became trending. Not only that, IKEA was also one of the 50 most innovative companies by Fast Company. 
4. Easy To Promote
A mobile app can be promoted easily on Search Engines, social media platforms or on an PlayStore of Google or AppStore of Apple so that more traffic is acquired.

For an effective promotion, you can use:
Content marketing
Video marketing
PR
AdWords
Online/offline ads
Social media marketing
Influencer marketing
Sponsorship

The reviews and ratings that you receive on PlayStore or AppStore can also be used for promotion as well.
Check out: Top 10 BFCM Marketing Strategies for Your Shopify Store This Festive Season 2022
5. Cost-Effective
Last, but not the least, the new age app development will not burn your savings like website or web app development does.
As you know, no-code app makers are ruling – you can get one and it charges around $49-99 per month which includes everything.
However, if you choose to go with conventional app development, it will cost you quite a good amount of money as well as a long time. So, if you have time and budget constraints, you can definitely go with a mobile app builder to wing your business dreams.
Does that sound interesting to you? Would you like to give it a try? 
POV 3: Why  Do Makers Find Mobile Apps Better?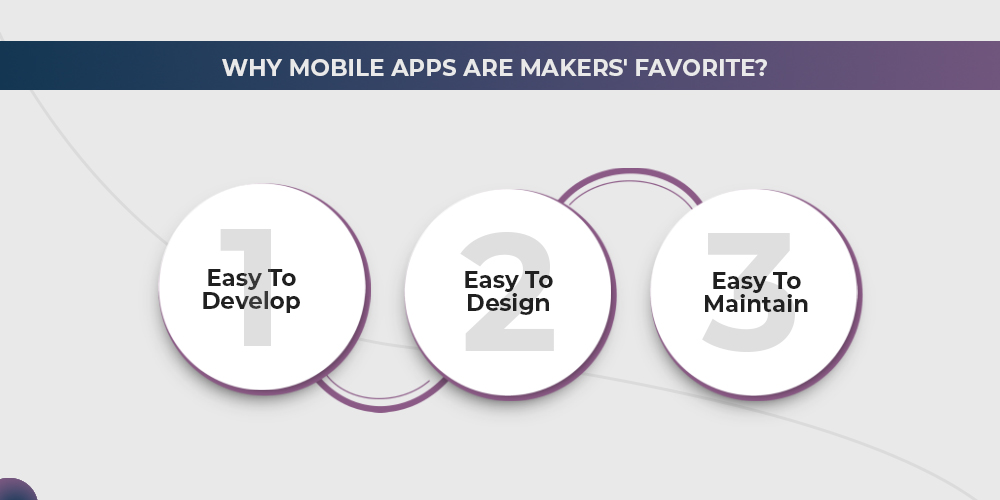 There was a time when building an app was a troublesome deal – from its development to design and maintenance – all were complicated!
But now, with the rise of no-code app builders, the entire app making process is simplified. Therefore, with these app builders, anyone (having merely any coding knowledge) can develop an app easily that too within an hour.
In the following points, figure out why mobile apps are more beneficial from the developers' and merchants' points of view.
1. Simplified Development with Zero Coding
Tradition mobile app development with pages of coding is now old – these are the days of no-code app making because you can now make your app with "Drag and Drop"!
Yes! You got it right! Just drag the features from the gallery and drop them in your app canvas to make a picture-perfect app you have always wanted. With these, the merchants who cannot get a team of developers can also make their apps.

Confused about how to make an app with a no-code app builder? We are here to clear your doubts! Let us know what is bothering you!
Contact MageNative
2. Easy To Design
Do you think that you must also understand graphic design to design your app? Relax! You don't need to.
Now, get Zero code app builders with some preset themes from and pick yours to design your app. But, wait, is it limiting you? Psst! You can also upload any design from your mobile or desktop to apply on your app and preview it! Isn't it cool?
Yes, app development is now simplified so that merchants can get an app easily without spending much in development and designing.
3. Easy to Maintain
Now, a mobile app is not just about development and design – it needs maintenance throughout! You have to research and point out the trending/unused features on the apps to update your own app accordingly.
In case you opt for a mobile app from MageNative, you get 24*7 guaranteed support from the experts. So, you don't need to worry about your app's maintenance.
Mobile Apps Gradually Bring Better Business Results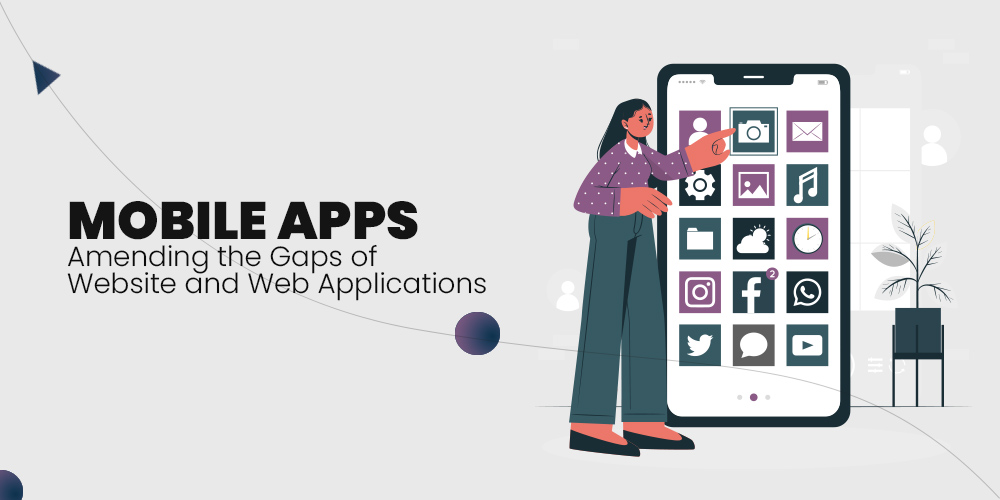 Now, it is time to resolve your confusion about mobile apps vs websites vs web apps since mobile apps have successfully dodged the others in terms of preferences, features, and results.
But, let's be practical, investing in mobile apps will definitely reflect on your sales but you need to be patient till it starts performing full-fledgedly. Come-on! We cannot expect the mobile apps to bring instant results, instead, allow it some time.
Rather than expecting instant results from the apps, you can concentrate more on their promotion. As a result, your app will have an even wider reach and be visible to more target audiences.
So, are you still in doubt about mobile apps vs websites vs web apps, or have a clear mindset to have an app? Let us know!

About MageNative
MageNative is a leading app building platform that facilitates app creation for business owners regardless of their knowledge of technical nuances involved. At MageNative, we convert ideas into scalable mobile apps instantly and most conveniently.
About The Author
A content marketing professional at Magenative, An app development company providing solutions on different app development platforms including Shopify , Magento and Woocommerce.
Related Posts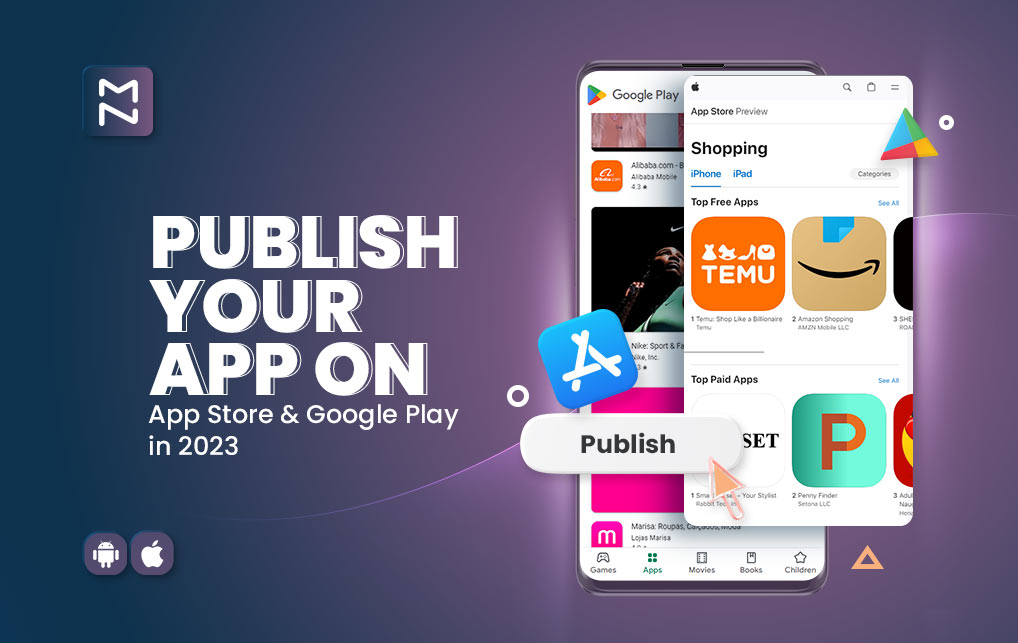 How To Publish Your App On Apple App Store And Google Play Store In 2024?
Objective: In this article, we provide you with an in-depth…
Read article >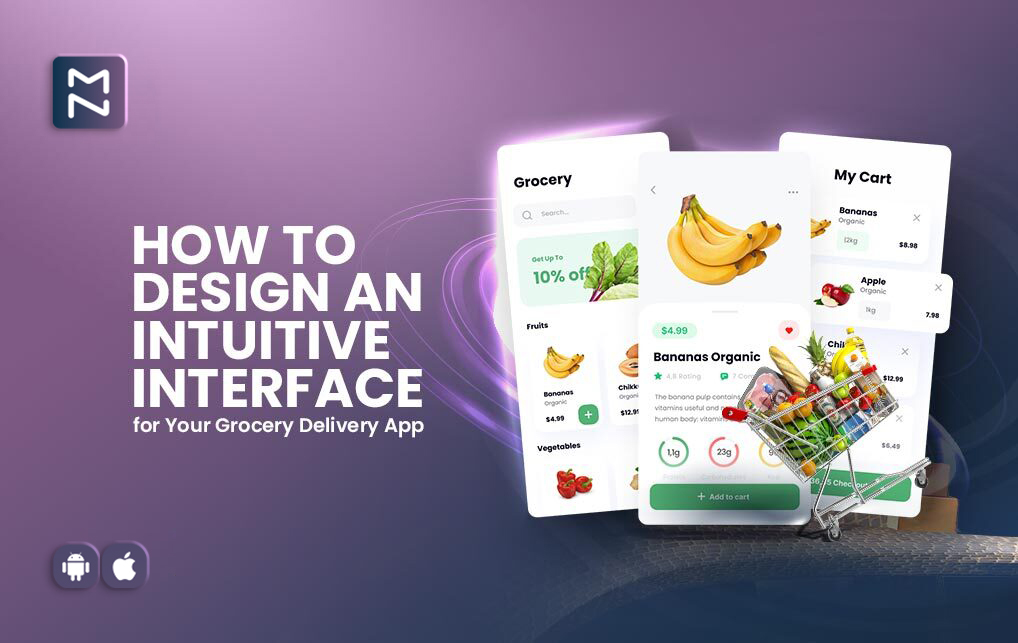 How To Create A Winning Grocery App Design? Best Practices To Know
In today's times, you cannot deny that mobile apps have…
Read article >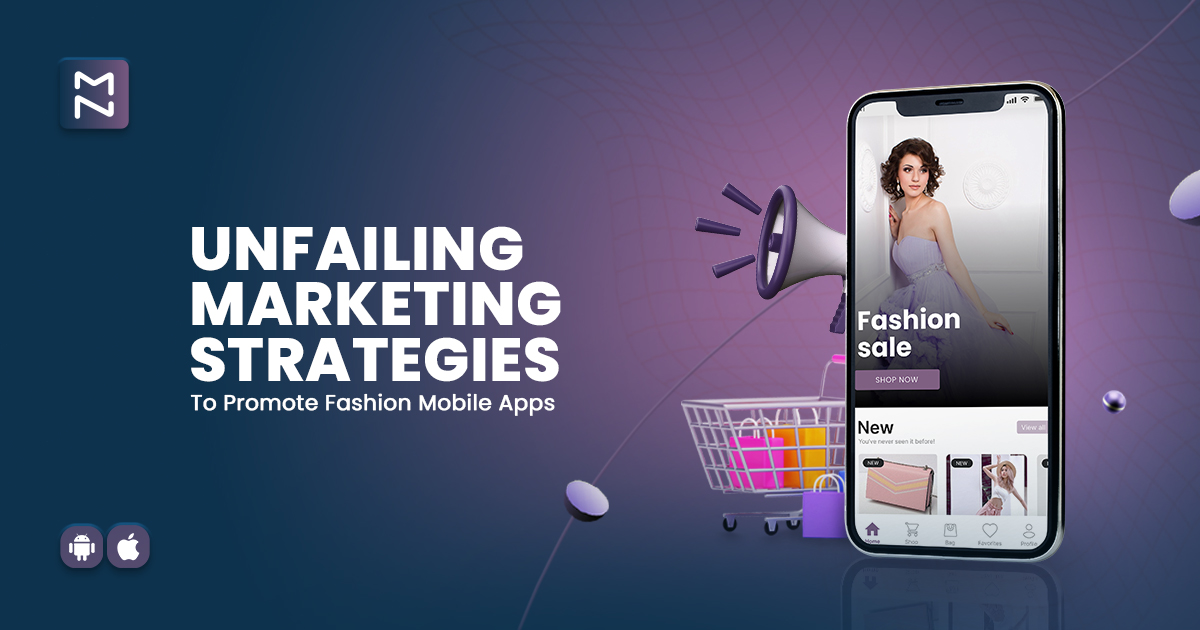 10+ Marketing Strategies for Your Fashion Mobile App
Are you into the fashion industry? Well, pat your back…
Read article >