The market value of a brand is 25%+ about its reputation, and a single negative customer review is enough to  invert this hard-earned fame. Yes, bad reviews are this influential – customers, if your product or services have rubbed the customers the wrong way they'll make sure everyone knows about it. Sadly the opposite is not true for positive experiences as much. Indeed, negative reviews are harmful to business, but at the same time, 0 negative reviews is also a matter of suspicion! So, what's the catch?
Valid and constructive Negative reviews are inevitable, yet essential. So, be sporting enough to handle these and bring more traffic, conversion, retention and loyalty to your business.

Did you know that a 1-star increase in the rating means a 5-9% increase in revenue? 

And 

Due to negative reviews, the potential of losing customers reaches 59.2%! 
What Can You Achieve By Handling Negative Reviews?

A smart tackling of these bad customer reviews can help your business grow. Simply with a fitting reply, and some quick fixes to your product or service – you can

Convert your negative customer review into a positive one
Increase the number of happy customers
Create reliability among your new customers
Make your brand more powerful

So, are you ready to learn the tricks of handling negative customer reviews like a pro?
Well then, dive in:

Why Do Negative Customer Reviews Happen?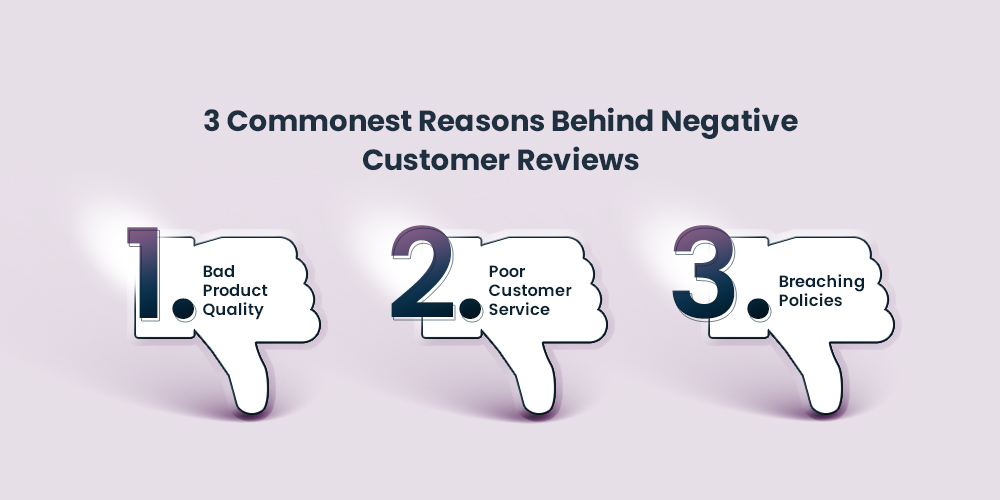 Before you know the tricks and tips to handle negative reviews, you first need to understand why customers drop such bad words:
Well, there are 3 main reasons why customers leave negative reviews. These are

1. Bad Product Quality

In case you are dealing with any type of consumer goods, it becomes a bit difficult to satisfy cent percent customers. And the customers who get dissatisfied, drop negative reviews. In case you offer any kind of service, there is a possibility of the same. It is said that only 1 in 10 happy customers leave a review.
Research says that a customer with a negative experience with your product is very likely to leave a negative review. On the contrary, a customer, with a good experience, is very less likely to write even a decent review. They just avoid it!
Therefore, you have to work on your quality to avoid negative reviews.

On average, 19% of reviews received are negative. And to cover the impacts of 1 negative review, you need 40+ positive reviews!
2. Poor Customer Service

The next common cause behind negative reviews is bad customer service. Customers who are unhappy with your product or service may not write a review if they receive good service from you. Also, they may skip the review if the return-refund process is easy to complete.
In short, unhappy customers may skip the negative reviews in case they can return them easily. Even if they are not able to find the return option, if you are able to guide them through the process, they may not write at least a one-star review. You can use chatbots, post-purchase follow-up emails/calls, etc. to ensure excellent service from your end. It will create a pleasant experience for the customers, and they will refrain from dropping a negative review.

Among the 2 products with similar ratings, the one with more reviews sells more.
3. Breaching Policies

Another cause behind negative reviews is incorrect policies – maybe an additional product or a voucher or points on making the purchase which they do not receive.
It may sound like a minimal cause behind negative reviews but offends the customers a lot by treating a lack of trustworthiness. As a result, they drop angry comments.
In order to resolve this, you have to keep your promises – unless you keep your promises, do not promise certain things.

Did you know? 

A happy customer tells 2-5 people about the product/service, but a dissatisfied customer spreads this to 9-20 people! It results in 86% less business operation! Dissatisfaction is so contagious! 
How Do The Negative Reviews Affect New Customers?

Source: Finance Online
Negative customer reviews are a serious threat to any business – no matter whether it deals with products or services because

In short, positive customer reviews hold the users, convert them into buyers, and increase retention. Bad feedback, on the other hand, does exactly the opposite.

Experts say that your goal is to stay 4+ star rated throughout, and the real challenge is the journey to reach upwards from 4 stars! 

On the other hand, negative customer reviews drive new users away and spoil your brand image. But do you know that you can bring traffic and conversion by treating negative reviews? 
Yes, that's possible – find out how?

Negative Customer Reviews Got You Down? Tackle These With EASE!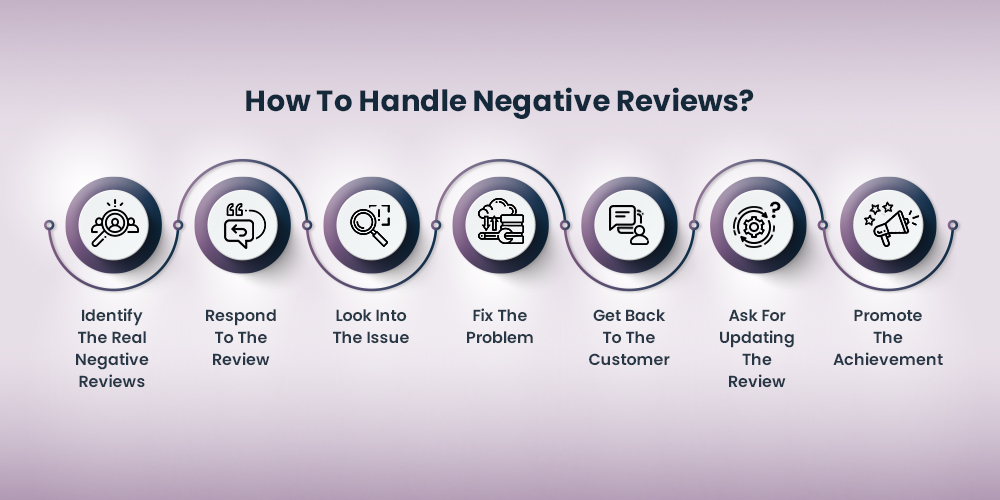 Let's admit it! Negative reviews are inevitable – even the topmost brands are not out of this. So how are they tackling this nuisance?
They are just acting to it, thereby utilizing these for their benefit! Yes, that's the story!

1. Find Out The Negative Reviews First

Now, it is a fact that on average, 19% of reviews are completely negative or hold a negative tone to your product/service. But in reality, not all these negative reviews are genuine – by tallying the negative reviewers with your database, you will find that several reviewers are not your clients at all.

Pro-Tips To Identify Fake Reviews
No profile details (name, location, etc.)
Repeated reviews
Inconsistent reviews (too many or no review at all)
Promoting another website in review

Therefore, you have to figure out the customers who are actually offended by your product or service. For this, you need to keep your notifications to get to know every time a review comes.
Understanding whether they are your users at all is a bit complicated and time-consuming task. However, we advise you to do so. Going one step further, you may consider a "verified" tag for your real users.

Did you know? 

Verified positive reviews bring 15% more purchases than anonymous ones 
2. Respond Nicely

It's time to move on to the most important part of this article – responding to the negative comments! Well, this is a fact that negative reviews are inevitable, and no matter how well you stand out, you will get at least a few negative reviews.
And the worst part is an owner does not always have the opportunity to delete a negative review, even if it is fake. So, responding is important as others (existing and new users and non-users) are watching you. 

Did you know that 75% of businesses never respond to any review; however, responding to one review increases revenue by 4%?

To top the surprise, responding to 25% of reviews increases an overall revenue of 35%!!
How To Respond To Negative Customer Reviews?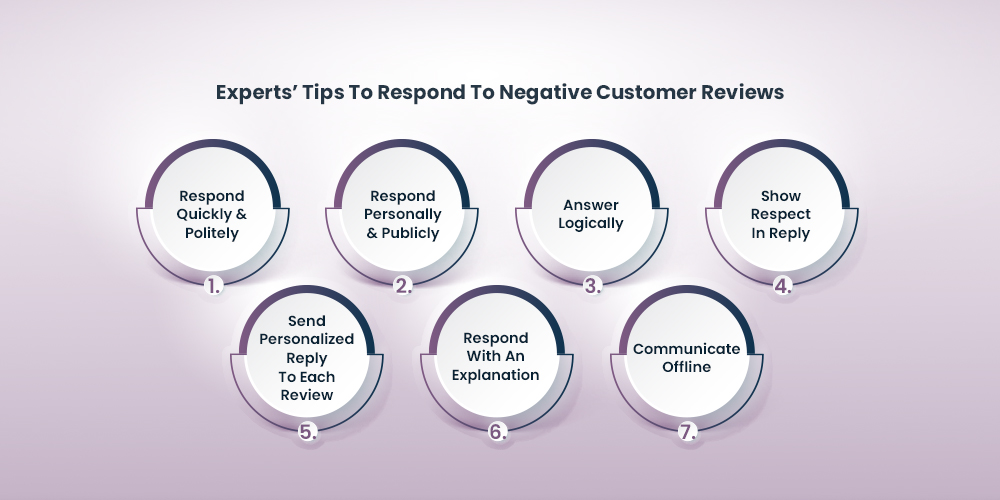 There are some SIGMA RULES when it comes to responding to negative customer reviews:
Respond fast with a personalized gesture – Be quick to respond to the reviewer. Personalized responses are most welcomed, so address the reviewer on your response. 53% of customers expect a reply after dropping a review – so respond to them.
Respond to each review – No matter if it is genuine or fake, positive or negative – respond to it. Keep the sample responses ready beforehand for each type of review. For example, prepare thank you notes (positive reviews), apology notes (negative ones), issue fixed notes (to send after taking action), unknown notes (fake reviews), etc. You can customize it to add a personalized tinge to it.
Show respect – Be grateful to the customers as they have taken the time to drop their valuable feedback.
Answer logically – Be logical and appropriate to your answer instead of dropping an angry reply to a negative customer response. Prepare an explanation and drop it in your response.
Ask for some time – In case you find the negative customer review is valid, and the fault is on your end, ask for some time from them to fix it.
Connect personally – If needed, switch the conversation to a personal level – get in touch with the reviewer via call or text and on the page. It will let them know you have come across and pay attention to their problems.
Remember, the tone of response matters! Also, remember that you are always being watched. So, refrain from being rude – maintain a polished and professional tone instead.  
Here are some phrases you may use in your response:
You're right
Let me fix it for you
I'd love to help you with this
Let me look into it
I'll keep you updated
Thanks for letting me know
Í'm really sorry
You're right
Sorry for the trouble
I'll get back to you
Thanks for sharing – I'll keep this in mind and improve it
3. See The Issue Raised

While responding to the bad customer reviews, ask the responsive team of your organization to check the matter. In other words, you have to figure out whether there is a glitch at all or not.
Once you come across a negative review from any customer. You have to get other details from the customer to resolve the issue – for this, you need to ask questions to gather the details from the customer. If the issue is genuine, be apologetic in your response in-personal and public.

3.3 star rating and at least 40 online reviews are the lowest checkpoints to engage with customers in business relationships!
4. Fix The Issue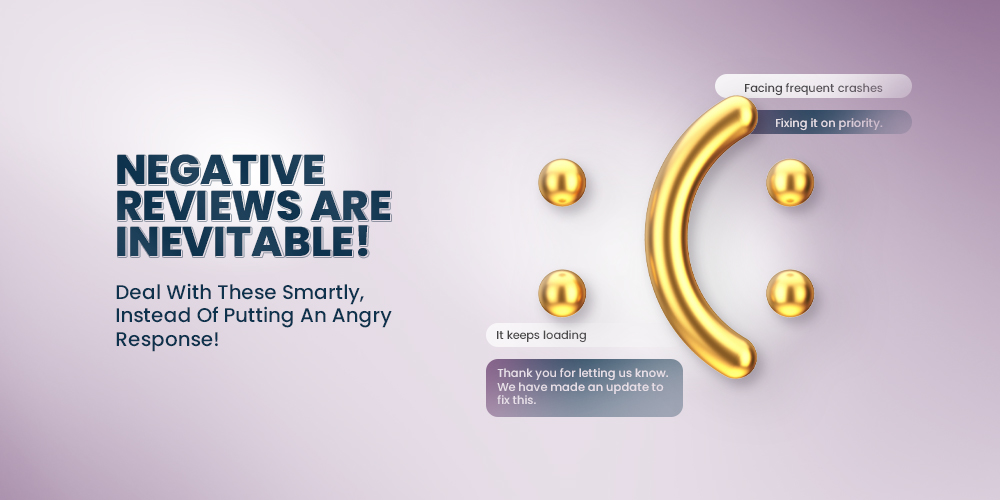 So, you have received a negative review and found the glitch is at your end. Here, fixing the issue becomes mandatory so that you can attempt to convert the negative review into a positive one.
Therefore, you need to aim at offering a solution proactively. Consult your team to know the time frame required to fix this issue and ask for the same time from the customer.
Having a negative review on a page is very common, but leaving the raised issue untreated will affect your brand image as a whole. So, fix the issue urgently.

Food for thought: 

Responding to 30% of the reviews can help you to stay ahead of your competitors. And consumers are willing to pay 49% more when the owner is responsive. 
5. Follow Up With The Reviewer

Once the issue is fixed, you need to follow up with the customer. Meanwhile, you have to make an attempt to urge the customer to update their negative review into a positive one.

For this, you can follow these steps:
Step 1: Revert the customer (if possible, upload an image)
Step 2: Ask them to recheck and see whether the problem is fixed or not
Step 3: Ask them to update the negative review into a positive one
Step 4: Compensate the customer with coins/discounts/gifts
7 out of 10 customers are willing to change their opinion after a reply for taking action.
6. Appreciate For Updating The Review

Customers barely update the review – but if you can successfully convince them to update their negative reviews into positive ones, do not forget to thank them. Show your gratitude both on personal and public pages.

7. Promote This Once Resolved Across Channels

Got an updated review? Consider it as an achievement and share the before and after review with screenshots on your social profiles. It will show how proactive your team and your service are.

Dos and Don'ts To Get More Customer Reviews!

For a quick recap, here are some dos and don'ts to get more positive reviews:
Dos 
Don'ts 
Encourage the reviews
If possible, offer points/coupons for dropping detailed reviews (more than 250 character and including picture)
Don't delete the negative reviews
Appreciate for leaving reviews
Don't ignore a single review
Respond to each review – leave a short response to each
Don't get defensive before understanding the point – stay calm
Request the concern authority to remove fake reviews
Don't ever blame customers for not using the product/service accurately – guide them instead
Request the concern person to update the review after the issue is fixed
Don't argue in the comment/review section as others will be watching you
Offer excellent customer service
Don't elaborate if you think the review is fake
Listen to customers and make them feel that you are listening
Don't promise something that you won't be able to offer
Understand how the reviews and rating frameworks work
–
Follow company policy while responding
–
Keep the contacting procedure simple and least time-taking
–
Add survey questions – reach via mail to get a review
–
Do not forget to welcome reviews because at least 40 positive reviews can convince buyers to purchase a 2.5-3 star product. 
Stay On Top Of Negative Customer Reviews To Keep Your Business Thriving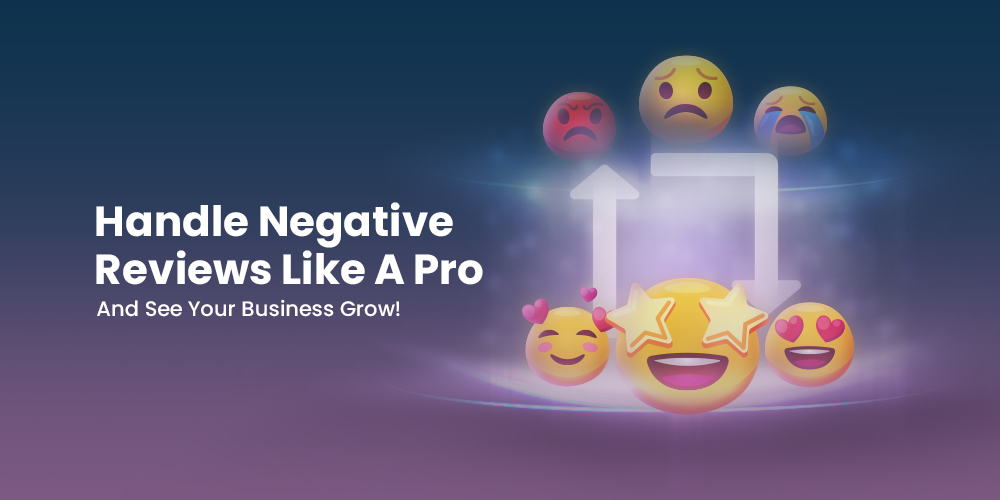 As said earlier, negative customer reviews are inevitable. These will keep coming – but treating the customer grievances seriously and urgently will make your future path smoother.
It is undeniable that some negative reviews are constructive, and it offers detailed insights about the product. 42% of marketers have admitted negative reviews help in making the product/service credible. And to top it off, 95% of buyers find a product/service suspicious if it has no negative review!
And you have also seen how responding helps and its statistics, right?
So, respond to the negative reviews – see the problem, try to fix it, and strengthen your branding, it will welcome huge traffic and conversion in the future.
Along with these, you always have to aim at offering satisfactory service to the customers to avoid bad reviews. Also, the product quality and pricing need to be accurate, along with a short and simple ordering and payment process. These remove unnecessary complications and help customers to get the product/service or return it quickly and easily.

Now make a feature-rich mobile app on Shopify that encourages users to drop more positive reviews with MageNative. Check out our exclusive solution
About MageNative
MageNative is a leading app-building platform that facilitates app creation for business owners regardless of their knowledge of the technical nuances involved. At MageNative, we convert ideas into scalable mobile apps instantly and conveniently.
Check out the most successful Case studies of MageNative.
About The Author
A content marketing professional at Magenative, An app development company providing solutions on different app development platforms including Shopify , Magento and Woocommerce.
Related Posts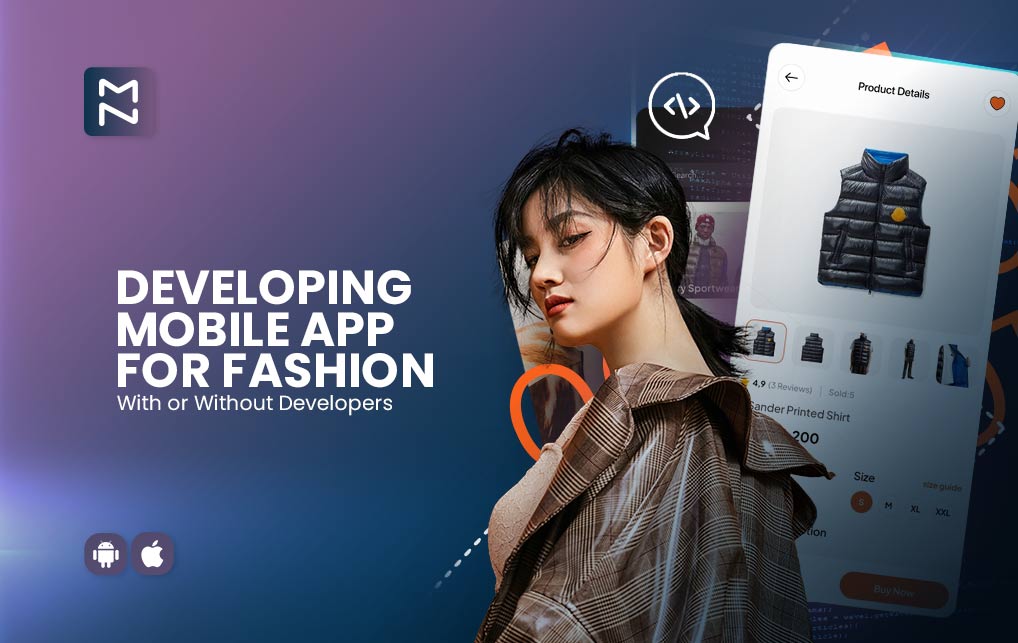 Fashion App Development: How Can You Do It? [With Cost & Time Analysis]
For fashion lovers, online shopping and mobile app purchases are…
Read article >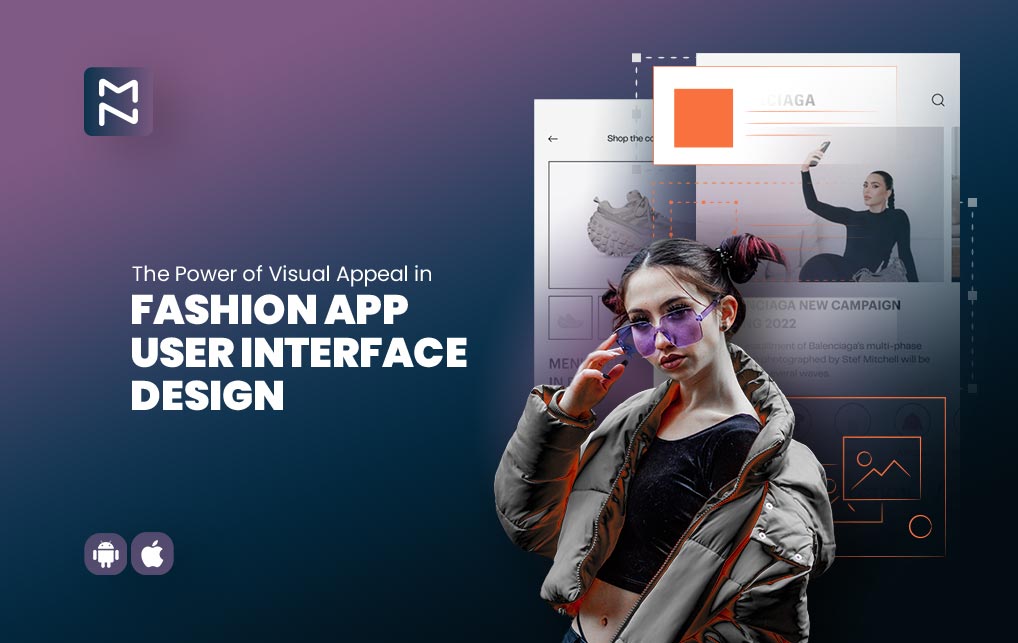 The Importance of UI/UX in Fashion Mobile App
You cannot deny the fact that UI UX in fashion…
Read article >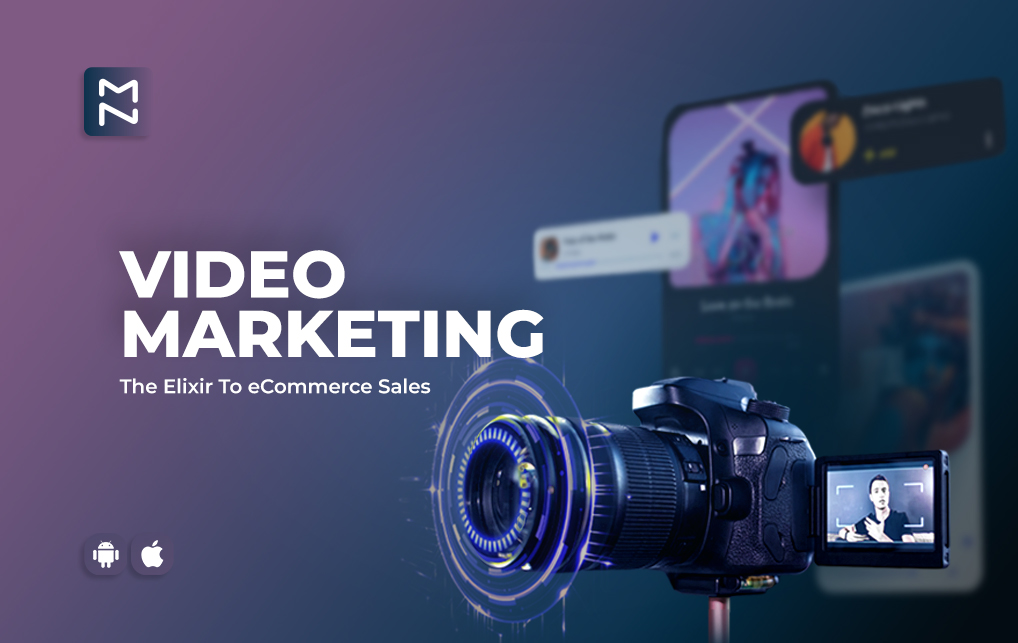 Why Video Marketing is The Secret Sauce to eCommerce Success
With increased competition, online businesses must find innovative ways to…
Read article >