Grocery store owners make daily staples available for many citizens; they will never be forgotten. But when analyzed from a business perspective- consumers love convenience, which has been the prime reason for the massive success of grocery delivery apps in the US, UK and European countries. The year 2019-20 was the fiery spark, shooting the online grocery demand into the sky. According to Statista, in 2022 there were 30.4 million grocery app users in the US alone.
Businesses that have already shifted or adapted to the online grocery ecosystem have the sharpest edge over competitors. Instacart was the US's most popular grocery delivery app, followed by Gopuff, with around 3.7 million downloads.
But they had many competitors in the grocery delivery market, and no monopoly existed. Then how did they nail the sales game? The correct answer would be a high performing grocery delivery app with the correct features. Knowledge of grocery app features is essential as a merchant; let's jump right into it.
Table Content
1. Types of Grocery Apps
Single Seller App:
This is the grocery app type where it's all about you. No other seller exists within the app interface and neither their products. In such a grocery app business, every product gets listed under a single seller's name. This native grocery app has the advantage of upselling and cross-selling products, manufactured in-house.
If you have ever grocery shopped on the Walmart app, then you should have noticed their private-label products. Equate and Sam's Choice hold excellent value, as well as popular private labels Walmart owns. Companies like Walmart incorporate all in-demand products from major grocery brands with their own manufacturing brands.
Multiple Seller App:
You already know this; the prime example of this type is the Amazon shopping app. Where the same product is getting sold by multiple sellers. Amazon has certain metrics of genuine rating assessment, product reports, and more to suggest the ideal seller for each product. If a merchant doesn't want to indulge in such cutthroat competition after reading the perks, then the single-seller app option is ideal.
Generally, major FMCG and grocery brands follow the model of selling through wholesalers. This is why you might not have seen companies like P&G or Colgate Palmolive list their products across major grocery delivery apps.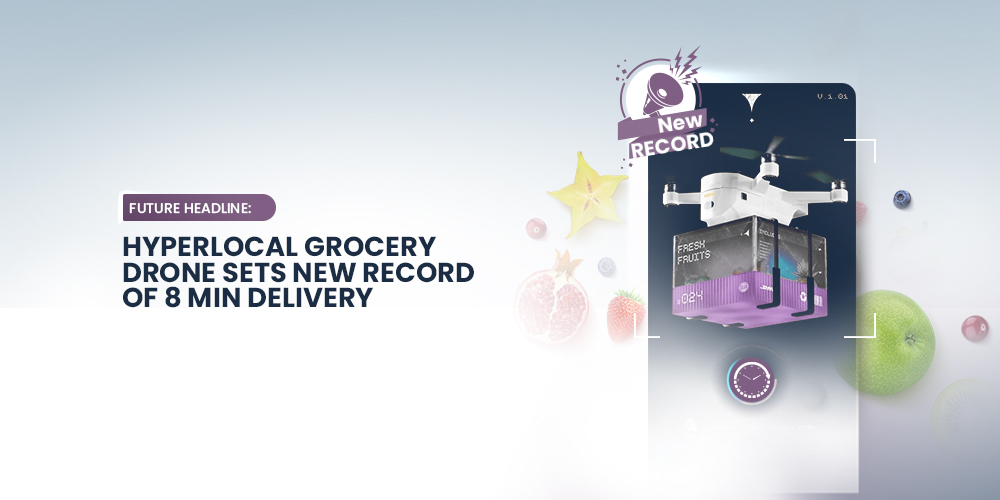 Hyperlocal Delivery App (Latest model):
Have you witnessed those ads on social media, road banners and tv channels to claim 30-min delivery of grocery apps? Well, previously it was just pizza, but now groceries are included too!
This hyperlocal grocery delivery app feature is being majorly used for local deliveries. Some even claim to deliver in 10 min or less. The catch here is that consumers want it quick; if you can get the products at their door within an hour every time, your app becomes their easy favorite. To make such a grocery delivery app triumph, you must have multiple dark store locations and storage facilities in a semi-hyperlocal model (this is when your app runs with its own inventory of products).
Besides this, you require a rapid packaging process in line with a specialist delivery fleet. You also need to keep in mind that customers like to see from which store they are receiving their product. This means the conventional hyperlocal model app needs to list major local stores from which users receive their products. But for some products like vegetables, eggs, or raw meat, there can be some exceptions where the delivery app takes complete responsibility for the grocery product, similar to private label goods.
2.Indispensable features for your grocery app requirements
1)Textual product search:
A search bar is now among the top grocery delivery app features. Vendors or merchants always need to prioritize their grocery app user's time. A search bar serves that purpose by letting consumers immediately type in the product name and specific brands. The app's search bar must remain in sync with the product data for all grocery categories. Features of online grocery shopping, such as the search icon design, are commonly executed in two types.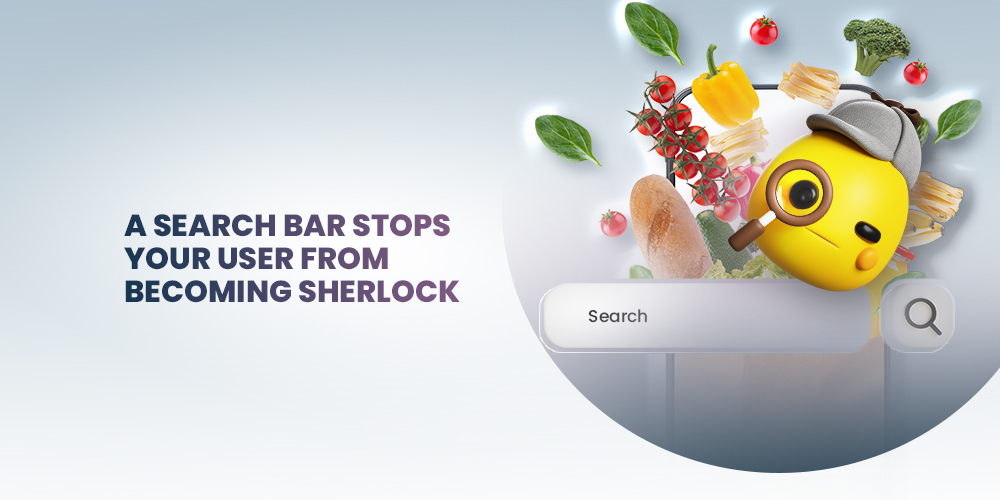 In modern apps, you will notice, there isn't a broad search bar on the app home page. Instead, the navigation panel has a search icon (or magnifying glass). The icon design has its own benefits of enhanced user interface and user experience.
When this icon is clicked, generally in major apps the search bar is revealed while the rest of the page also gets curtained with search suggestions or personalized options. Whether you execute a bar or icon among the grocery delivery app features, testing even after the app launch is vital.
2)Image search:
Not long ago, we could search for products and information only through words. Along with the technological shifts in grocery app development, image search has received praise as an innovative feature for consumer product identification.
How does an image search work?
An image search, also popularly known as reverse search, lets users find products only by an image of it. Within the same search icon among your grocery delivery app features, this 'image search' icon is embedded with a camera symbol. When a consumer clicks on it, usually two options are provided within an e-commerce app. The first one is 'take a picture' and the second one is 'select from gallery'.
The first option suggests that you can directly click the picture of an image from your device camera. The grocery app would identify the product through objection detection. Then if that exact grocery product is available for purchase, it will be shown as the top result of your image search. Otherwise, similar products will be suggested as a result if the exact one is not being sold. Thus for its textless convenience and non-readable product identification benefit, you must include this feature in your grocery app requirements.
3)Push notifications:
There isn't any other user engagement feature as powerful as push notifications. A push notification reaches directly into the notification bar of the customer, maximizing the chances of interaction. Modern grocery app requirements cannot be fulfilled without push notifications feature.
Factors like inflation, employment rate and consumer confidence affect the price of groceries. Any positive changes in these factors act as the green flag for the price reduction; push notifications let your grocery app users receive such notifications without opening the app or website of your business.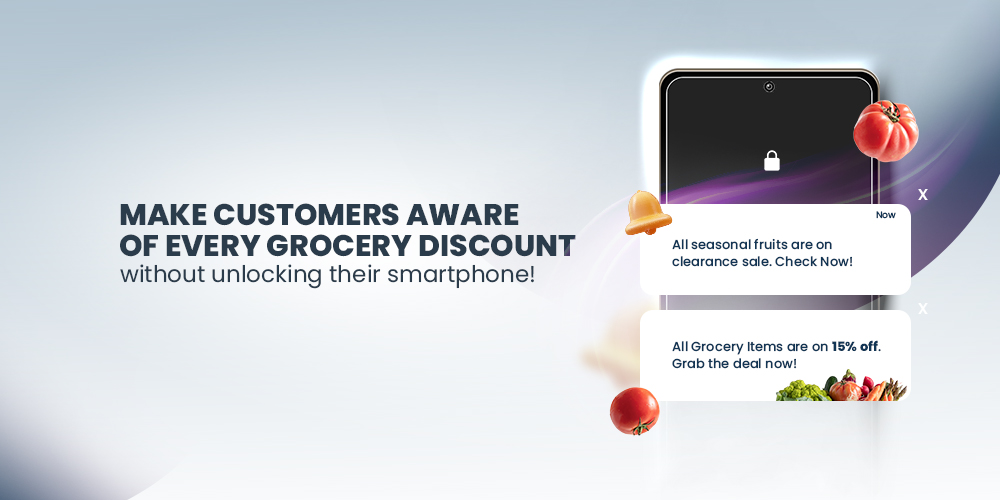 The other top advantages of push notifications in your grocery delivery app are mentioned below:
Emotional engagement with one-time customers through push notifications leads to improved customer retention.
Higher lead-conversion rate through prompt messaging techniques and real-time notifications.
Personalized notification launch after segmentation of total audience in groups. For example, customers interested in bulk purchases can be grouped together for a specific, triggering grocery app notification.
Execution of cross-selling and up-selling strategies beyond user-exit from the website and mobile app.
Upgraded customer service by sending answers to posted queries directly through notifications.
4)Reorder facility:
Grocery is the e-commerce category that can easily claim the No.1 position in reorder race. You must remember that grocery includes daily consumable food categories like eggs, bread, milk, chips, oil, cereal, and lots more. So, a recurring demand for the products persists every month or once a week. To encash this demand, your grocery delivery app features should have a quick reorder option. Like Neil Patel said in a recent article, retaining existing customers is more crucial than acquiring new ones.
The grocery app features can promote reordering by one-click reorders that directly take users to the payment interface. This one-click option must be present in the orders section as an icon for each past-order header. Your app can prompt re-order by leveraging other features of online grocery shopping, like push notifications and search bar recommendations. By calculating the time in their previous order consumption, such notifications or emails can be sent out.
Example:
Roger bought 10 packs of jumbo Cheetos in the baseball season, now assuming at least one pack bites the dust in each game. Your featured packed grocery app sends a restocking notification right after 11 days (stats suggest there are 6-7 games/week in the regular season).
Keep reading for more essential grocery delivery app features:
5)Easy login with social:
Nowadays, nothing disappoints app users more than a complicated login process. For the first time a user logs in using a social account, then only an additional step of authentication click remains. Otherwise, the next time it becomes a one-step process taking users directly to the grocery app or website.
The most common options for social login you need to have in your app are Google and Facebook accounts. For well-designed apps, the benefit goes a bit further. If the user doesn't log out from the app, the next time, the login process is skipped, and the user lands directly on the app launch screen.
The vendor-side advantages for the social login grocery app feature are right here:
User's enhanced experience is the prime advantage of the grocery app . The social login simplicity sets the right tone for further app interactions.
Saves users from complications of setting passwords and the turbulence when an old password is forgotten.
Social login is a mobile-friendly option that facilitates one-tap interface access.
As per data from Loginradius, about 71% of users in the age group of 18-25 prefer social login. This suggests the signups for grocery apps with social login features will be far greater than competitors. Less abandonment in the sign-up stage.
Social login increases the customer data obtained. This happens through publicly shared details, collection of age, interests, pages followed, and similar factors.
For embedding this feature, no charges are paid by grocery app owners to social companies.
6)App-only discounts:
Discount strategies to attract customers have become an age-old practice. But offering discounts only in the app is a rather new business strategy executed through modern grocery app features. Your grocery app should have a dedicated segment feature where a discount code can be created that runs only in the app even though interlinking remains between the app and the e-commerce grocery store.
When you think about this, it seems a bit puzzling- why offer grocery discounts only in the app while excluding the e-commerce store? There are certain long-term business aims behind such app-only discounts. The reasons for running app-only discounts are listed below:
Reason 1– One of the reasons is the long-term aim of the business to become an app-first business. This means in the future, they plan to reduce operation on the website and even shut down the website while only operating through the dedicated apps.
Reason 2– Access more data on the potential leads and acquire customers. Mining for data lets the business run targeted campaigns for maximized return on investment. Through permission enabling, apps can access certain device activity data that further informs about the customer's ideal choice or preference for grocery products.
Reason 3– Providing users with a seamless shopping experience every time with just a few clicks. All grocery consumers would agree that mobile grocery shopping is easier than online grocery websites. Customer retention and customer loyalty are two factors that hold extra importance in the grocery sector. These factors are better fulfilled through an app-major business with dedicated resources toward app maintenance and user-centric development.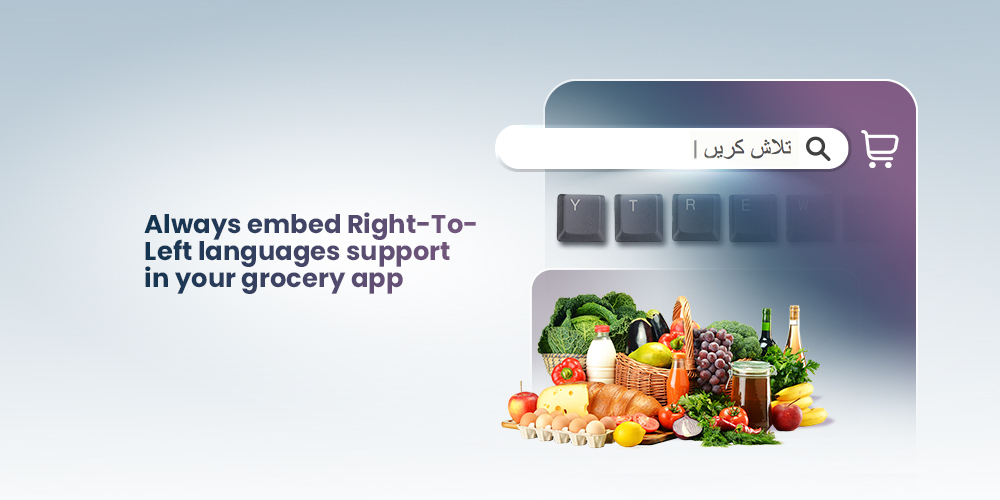 7)Multi-language support:
For optimal audience reach, your grocery app should have a multi-language option in between features of online grocery shopping. Many business owners develop the wrong belief that multi-language support is required when catering to regions with low literacy levels for global languages like english. But that's not the case; the importance of regional languages lies in emotional connection and simplicity.
A grocery app deals with major consumer goods and sometimes, a potential customer can face difficulty identifying one product as they only know the name in their regional language. Easy language changing options in the app solves this problem. Some customers would also like to set the language permanently to their regional language due to their comfort zone for interactions. If your grocery app can offer such a facility, steady user engagement and loyalty-nurturing growth are inevitable.
App language holds a root connection with business scalability. When your grocery business flourishes into regions where right-to-left languages are majorly relevant, you must ensure that your grocery app is equipped with such language support.
8)Delivery delegation:
Features of online grocery shopping are ineffective without proper delivery options. Every product in your grocery delivery app should have a delivery range in its backend along with extra charges (if any). Calculated upon the address provided by the customer, there should be a 'delivery estimate' date.
A grocery delivery app can have its own local fleet of delivery personnel, or it can delegate the entire delivery responsibility to third-party platforms like UPS or DHL. Even for local deliveries, partnerships are available to deliver your grocery app orders on the same day. You can offer the customers quicker delivery options with extra charges or some membership structure. Multiple delivery options will benefit both customers and the grocery app.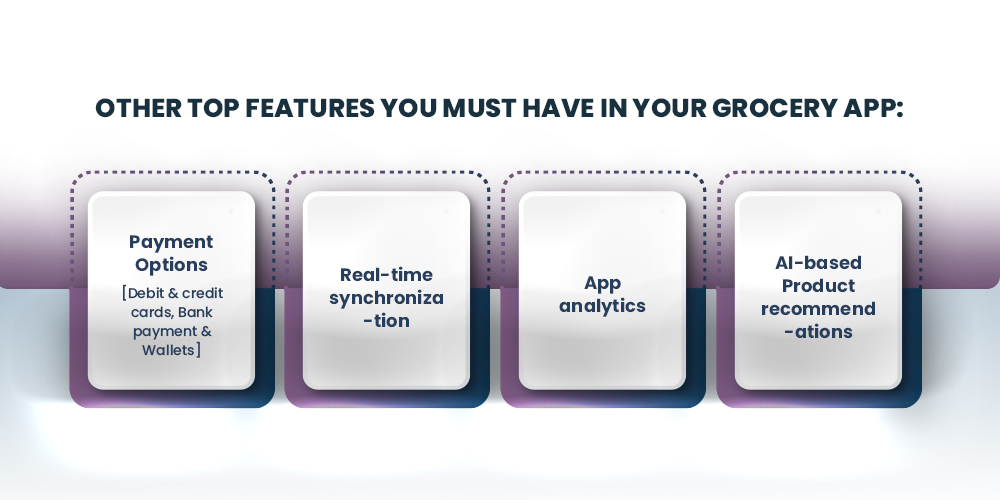 3.Cost involved in launching a grocery app
The most common question to pop up in a grocery store owner's mind will be, "How much would grocery app development cost?"
Well, the range would hugely vary depending upon the mode of grocery app development you choose.
Mode 1– Let's throw some light on general app development from scratch. Based upon the analysis of hourly rates by Arka software for US and European developers, the grocery app development would cost $15000-$20,000. US-based app development companies also demand a large sum of $35000 for a feature rich app for Android and iOS presence. As per the analysis of Codiant, the approximate cost to develop a grocery delivery app is between $18,000-$30,000.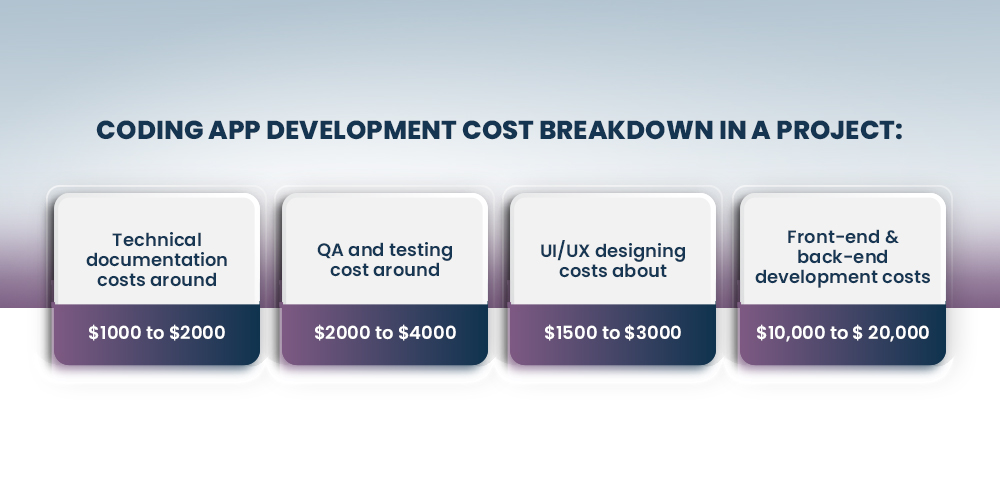 Mode 2– The other option is the no-code app development on popular self-app building platforms. Such platforms let grocery store owners create an app for themselves with little technical knowledge and assistance from an expert team. Most of these platforms are way more affordable and run on a subscription basis. Based on the chosen plan, only a small  amount needs to be paid every month.
How can MageNative help with the grocery app launch?
MageNative is a leading 'Mode 2' platform operating in a similar model as explained above. Grocery business owners can build their apps without a single line of code using MageNative app builder. A highly responsive combination of drag-and-drop features along with easy text inputs makes app development possible without developers.
Dedicated app management teams help you out at every step. To get you more familiar with the process, MageNative has a 30-day free trial with no hidden charges. You can jump-start the process using pre-built grocery themes on MageNative.
The cost for grocery app development in this format will cost around $49-$99/month for MageNative. The cost does vary in the higher scale of around $250/month for other similar platforms.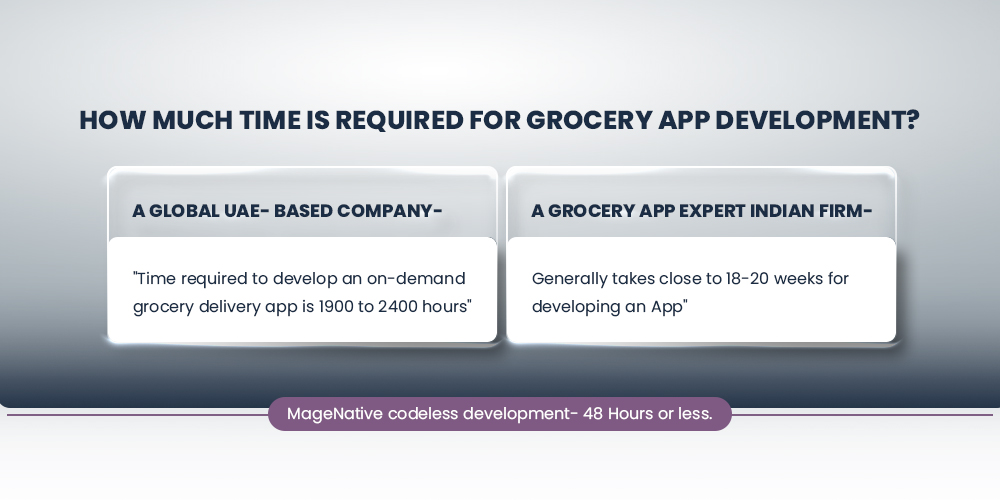 You can gain an overview of the codeless process by reading this piece for another e-comm category- fashion app development.
Shutter-down note
Phew! That was a lot of vital information for your new grocery delivery app- don't forget to save this article link for quick reference anytime. After gaining insights into the major pillars of features and cost for your app, it's time to procrastinate less and move forward with confidence. If you are ever in doubt, remember that your grocery business is part of the noble food distribution chain on which numerous people count for daily consumption.
About Magenative
MageNative is a leading app building platform that facilitates app creation for business owners regardless of their knowledge of technical nuances involved. At MageNative, we convert ideas into scalable mobile apps instantly and most conveniently.
About The Author
A content marketing professional at Magenative, An app development company providing solutions on different app development platforms including Shopify , Magento and Woocommerce.
Related Posts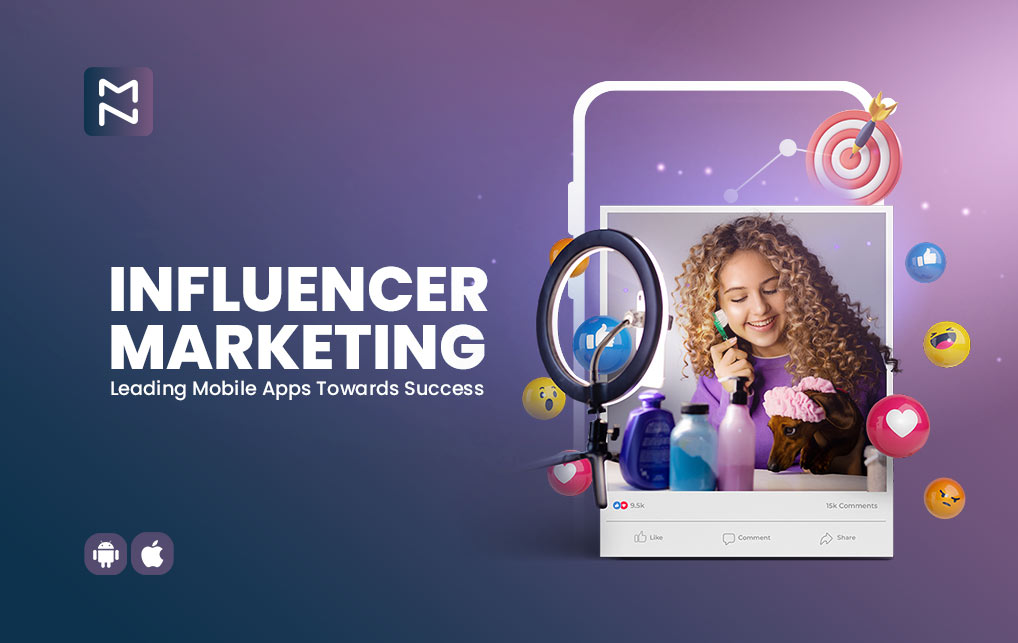 Influencer Marketing For Mobile App – Everything You Need To Know
Remember the celebrity endorsements by numerous brands in the sports,…
Read article >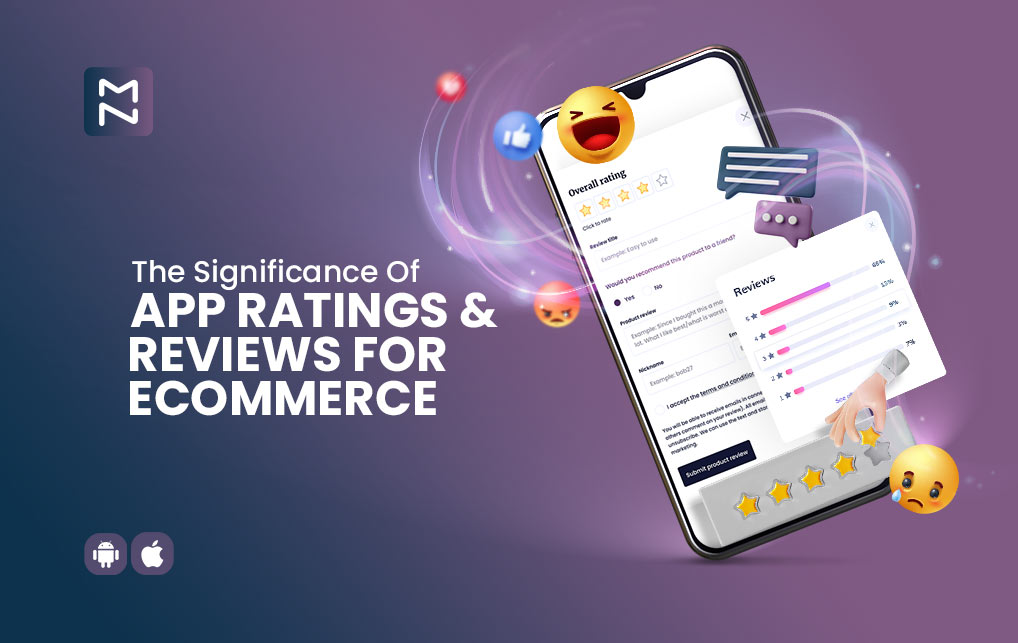 Why App Rating And Reviews Are Essential For Your Mobile App Growth?
App rating and reviews are important. So important, in fact,…
Read article >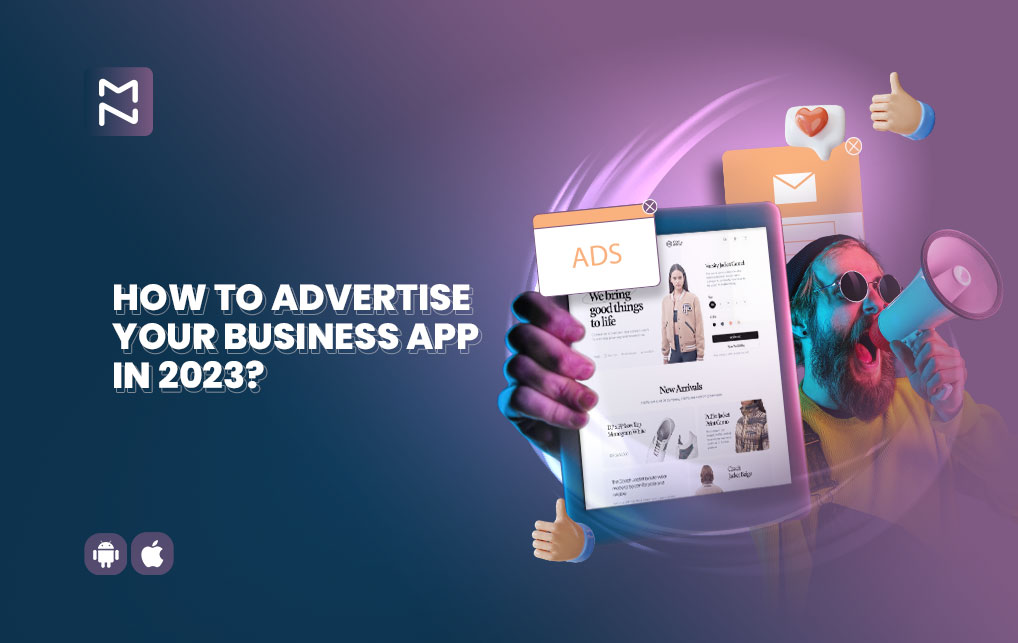 How To Pursue Mobile App Advertising In 2023: Do's & Don'ts
Suppose you have just finished the app development process of…
Read article >