Google Developer Account Enrollment and App Publishing
1.

Overview

The App Submission on Google Play Store Guide covers the process of the Google account creation and submission of the app on Google Play Store.

Google Play Store, operated and developed by Google, is the official digital app store for the Android operating system. The store allows users to browse and download applications developed with the Android software development kit (SDK) and published through Google.

Users need to add a Google account on their device to download and purchase any app on the Google Play Store app. If the users do not have an account on the Google Play store, then they have to register for a publisher account.

Perform the following tasks:
2.

Register For Google Developer Account

The user must first link the Google account with the Developer Console and then get started.

Note: Use a different google account from the personal one to associate with the Developer console for security purposes and convenience in support.

To register Google Play Developer Console

1. Log in with your Google account.
2. Then Visit https://play.google.com/apps/publish/signup/
3. Following page will appear in front of you, where you need select the type of developer account you want to create.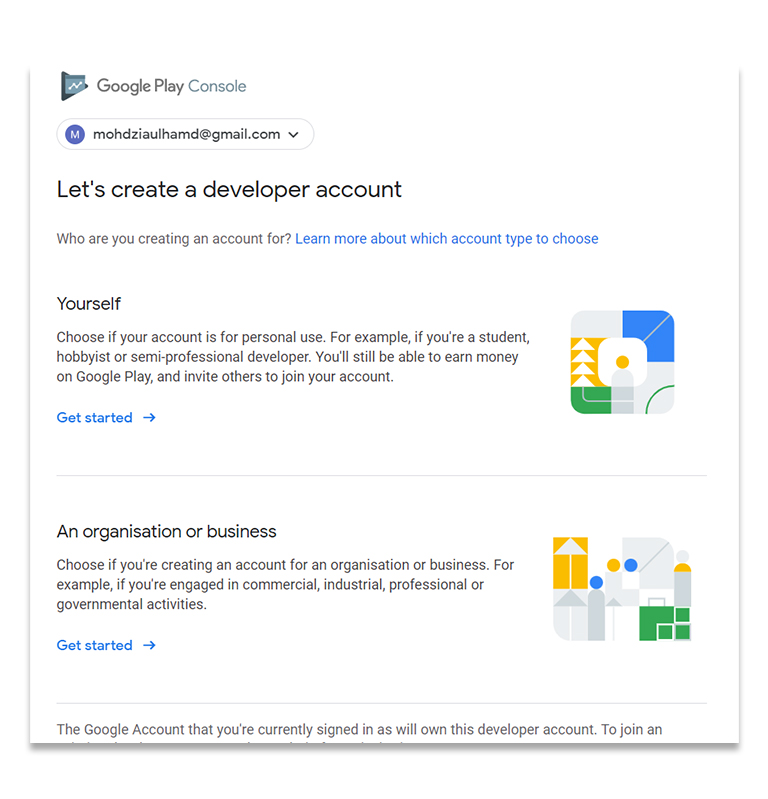 4- After this, you'll be headed to the following page, fill all the required details.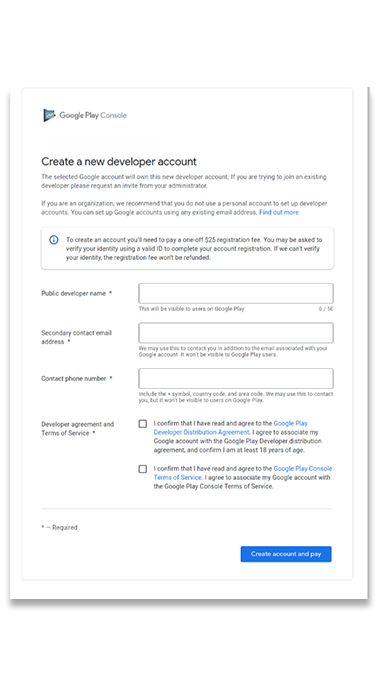 5- Read and accept the Agreement and Terms of Service
6- Select the corresponding checkbox associated with the agreement note.
7- Click the Create account and pay button
Once payment is executed and the registration is verified, a notification email is sent to the user.
Note: You also need to verify your identity before we can start publishing on the Play Store.
Follow this link for more information: https://support.google.com/googleplay/android-developer/answer/9198012
After completing the enrollment and verification, follow this guide to send us the invite for publishing the app on the Play Store.
That's it! Your Google Developer account is created. Go-Ahead to publish your app.