Over the years, the fashion industry has been the heart of the global economy, despite the pandemic. Experts have already predicted that the global market size of the fashion industry (apparel and footwear) will reach $3.3 trillion by 2030. Fashion is more like a delight factor to consumers that instantly boosts their moods. Many countries have become obsessed with retail therapy through fashion apps and offline stores.
The consumers and the industry are loyal to each other and value one another. But, the story was different years back – just like every other industry, the fashion industry had critical flaws. Over the time, it resolved the conflicts with a key objective of meeting consumer demands, thereby proceeding toward success.
It is one of the most revolutionizing industries at present, and by coupling conventionalism with technical advancements, the fashion industry is reaching its apex!
Let's dig into the growth of the fashion industry over the years, the digitization of it all, and understand how fashion apps make the journey easier.

Growth of Fashion Industry Over the Years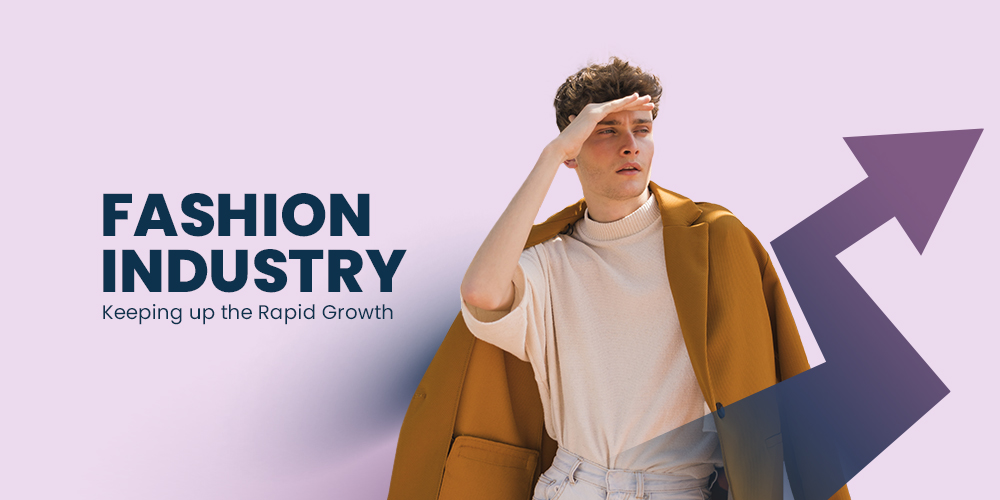 The fashion industry did not succeed instantly – since it is an entirely consumer-centric industry, it struggled occasionally. Its prime focus was to

Satisfy the consumers
Influence them cleverly
Generate profit by making them consumers

Research showed that the apparel industry alone accounted for $610.12 billion in 2022. A CAGR of 7% is already predicted for 2023, which will make the amount nearly $652.94 billion in 2023. It was not a smooth transition, though – let us have a look at the ups and downs:
The Fashion Industry – Then and Now
Initially, fashion was the industry of the creatives – the more one can create, the more they are visible, the more they can dazzle, the more they get sales.
Users accept the fashion goods that catch their attention, but what about the goods that do not catch their eyes? Well, this is where the marketers create demand and market for those particular goods. This space creation sometimes goes pretty well; sometimes, the consumers refrain from being a part of this new space by rejecting the goods.
At that time, the fashion industry was dominated by creativity and marketing. At present, creativity and marketing are coupled with technology. As a result, the designing task, as well as marketing the designs to be viewed by the target audience, became 2x easier. Technical advancement mainly came into the limelight to introduce convenience to consumers.
Yes, again, the consumers! In a consumer-centric industry, everything stays here only if consumers accept it, and if something just disappears, be sure that it did not generate a little value among the consumers.
The Shining New Inclusions 
The Obsoletes 

AI
iOT
AR & VR
Machine learning
Data analysis
3D Printing
Users may not necessarily always use these inclusions on their own – for example, AR and VR they use directly. On the other hand, AI technology is itself used by merchants to send relevant notifications and offers to consumers, which is value-adding.
From a no-tech industry to a hi-tech industry, the apparel industry has successfully come a long way.
A Statistical Look at Fashion Industry Growth
Enough of storytelling, time to jump to some concrete information related to the growth of the fashion industry.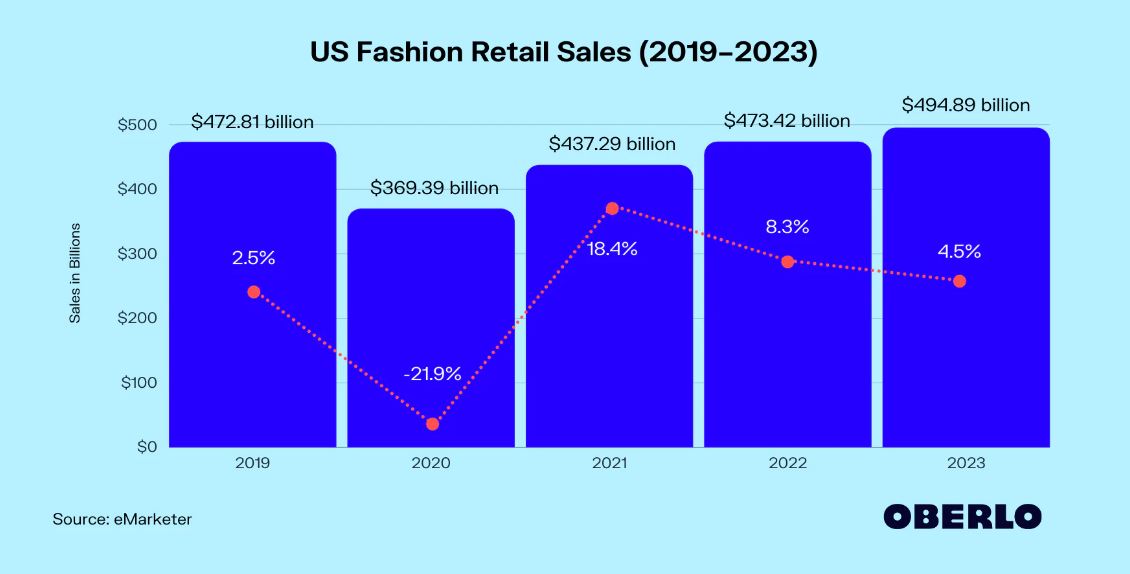 Source: Oberlo
This image depicts the growth of US fashion sales over the past few years. Not just that,
Right before covid 19 hit, the value of fashion industry was  $3 trillion (2% of the world's GDP)
During Covid-19, the consumption side came downwards, but in 2021 it recovered all its losses with a V-shaped performance
In 2021, global personal luxury goods sales were predicted $324 billion which is 29% higher than the 2020s
The global apparel market may grow $830.69 billion by the close of 2027 with a CAGR of 6.2%
Overcoming Roadblocks
However, the fashion industry grew amidst a number of problems. What about having a look at the key problems and their clever solutions?
Roadblock 1. Environmental hazards
People always blame the fashion industry for environmental hazards because of the pollution it emits into the environment. Initially, consumers are not that environmentally conscious. But currently, users are different, especially the young generation.
Did you know that 10 million tons of clothes are straightway thrown to landfills and 23% of all chemicals produced globally come from the textile industry?
From excessive waste generation to polluting the water bodies, from using too much water to unethical practices, from plastic to viscose usage – all seem to be very annoying to consumers today. This problem is so serious that consumers often reject a brand forever for its role in environmental hazards.
Solution: Use of Sustainable Commerce
Merchants cleverly solved this problem over time by bringing sustainability into their products and services. They ensured they generated the least waste possible from packaging to making the products.
From fast fashion to recyclable fashion – the merchants showed a new way to consumers to minimize waste. In addition to that, alternative fashion ensures maximum usage of the material to reduce waste.
Also, they tried to increase the product life cycle at some points.  In other words, by every means, they are now trying not to harm the environment. In doing so, they slowly but surely gained the trust of 2x consumers, and it helped their sales.
At present, merchants are very smart and they know how to impress their customers. They proudly display on their website and app that the fashion industry is the reason for 8-10% of carbon emission, thereby mentioning what they are doing to prevent it.
Moving on to the customers' reaction, they are nonetheless happy with the sustainable approach. Additionally, they are also happy to pay more for sustainable packaging or products.
Roadblock 2. Stereotyped Designs
One more problem in any type of consumer-centric business is stereotypes. A huge percentage of the TG of the fashion industry is the young generation. They constantly need something new. As soon as fashion brands fail to give them variation, trendy designs, and patterns, they get bored and move to alternatives.
This generation is not concerned about brand loyalty but about making their wardrobe colorful and trendy.  Brands that failed to offer this variation refrained from having a profit.
Solution: Hiring Freelance Designers With A Plethora of New Ideas
The reason behind the stereotyped design is limited ideas – so to resolve this problem, the root cause needs to be removed first. To remove this cause from grassroot level, freelance designers are now hired globally.
There was a time when the recruitment process of the fashion industry included some stringent set of rules. But the scenario is not the same anymore! At present, getting hired, even in the most popular fashion brands, only needs checking the skill and passion an employee has.
No matter where they stay or what they have studied – if they can design impressively, they get hired. This flexible hiring process also revamped the work culture of a number of companies which is also shaping up their brand image. It also helps the brands to enrich their collection to dazzle their TG.
Roadblock 3. Changing consumer behavior
Moving on to the biggest challenge of the fashion industry and every other industry so far is the changing demands of the consumers. Today's consumers are different from that of the previous times. They require speed and convenience in everything.
Previously they were used to shop from stores; currently, they need the entire store on their mobile device. Then they used to stand in queues at the cash counters to pay the bills; now they want a one-click payment system. As days pass, consumer demands will evolve, and the merchants will cope in staying profitable.
Solution: Digital Shift met the Demands and Kept Fashion Industry Livelier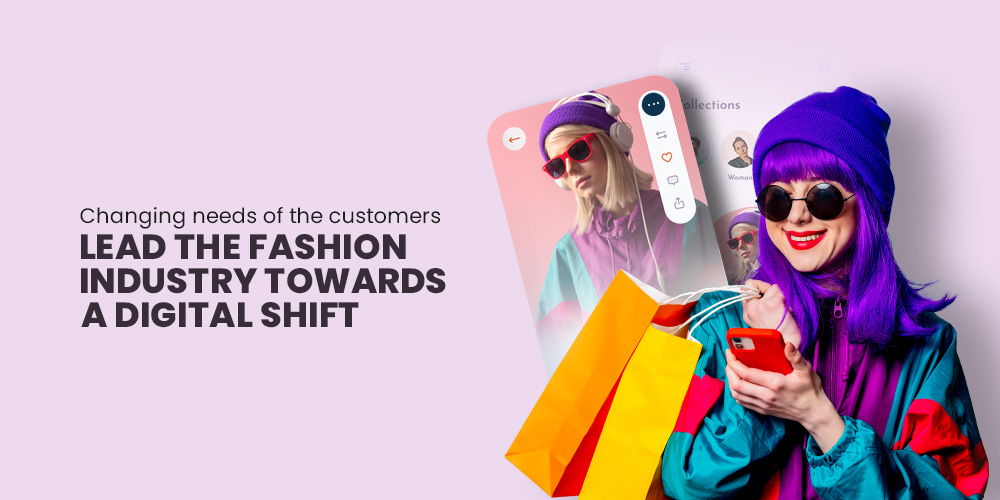 To meet such rapidly changing demands of the consumers, fashion merchants took an intelligent move by switching to Digi-comm. It simultaneously introduced the fashion industry to the speed and convenience they were looking for. The changing demands of the consumers were giving a hint to the technical advancement – hence eCommerce came into the limelight!
Rise of eCommerce
eCommerce gave wings to the fashion industry by introducing consumers to the ease they were looking for. Around a decade ago, the majority of the brands in the fashion industry accepted the digital shift, and they became aware of what consumers needed.
In other words, they became aware of running their business online alongside their brick-and-mortar store. They came to know about the importance of operating a business online through their website. And thus, they continued being relevant to their consumers and became one of the most flourishing industries at present.
Did you know that 75% of users have used phones for shopping, 35% purchased something using their phone, and 22% purchased using specifically mobile apps?
The Grand Entry of Mobile Apps In Fashion Industry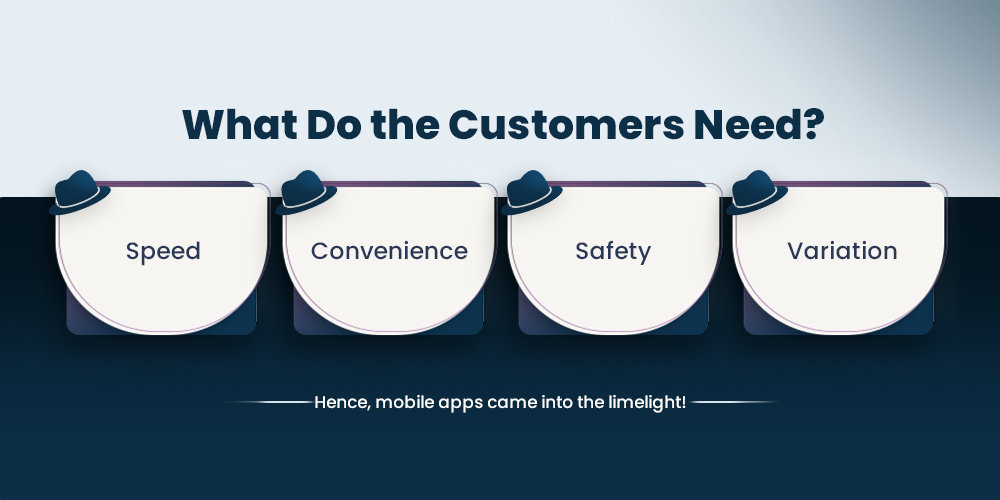 It is not that eCommerce meets consumer demands wholeheartedly – no, it's not that easy!  Consumers are now highly occupied, and every time they have a shopping spree, they want to finish it up quickly.
Keeping this demand in mind, mobile apps came into the focus, and its legacy is un-faded till date. Fashion apps started addressing the problems created in the websites, for example:

 Slow speed – fragmented user experience
Complicated URL structures
Insufficient features due to partial use of device
Inaccurate progress saving and so on

Actually, the shortcomings of the websites gave rise to mobile apps, and the use of apps is disrupting the previous growth records of the fashion industry so far.
Importance & Benefits of Fashion Apps
Now, let's understand the benefits of fashion apps to understand why it is running this successfully for such a long time: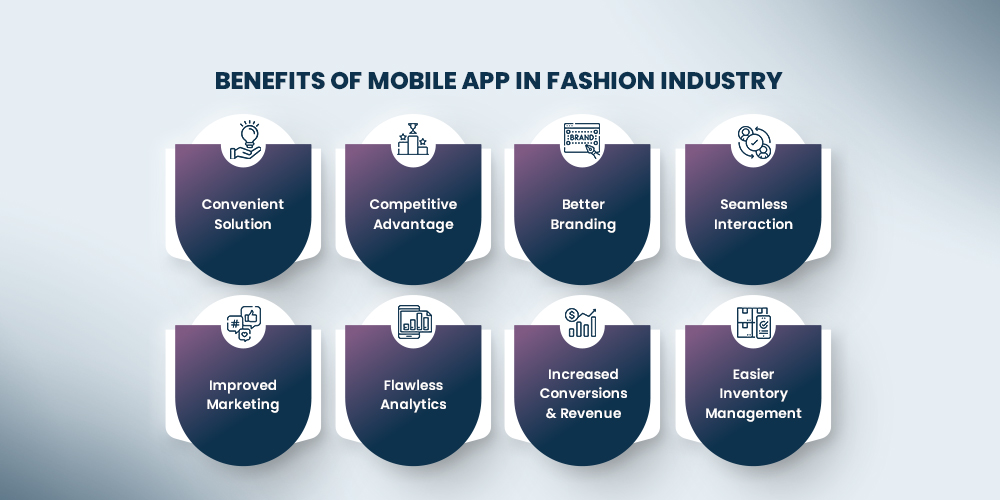 1. Convenient Solution To Fashionistas
Convenience is the USP of the mobile apps – consumers accepted the mobile apps with open arms because of the convenience it offers at the time of shopping. The entire shopping process is simplified in mobile apps, which saves time. So, fashionistas can get a new look whenever they want without investing so much time and effort.
2. Competitive Advantage
Merchants are now interested in operating their business via physical stores and mobile apps to reach the maximum number of people. Also, a fashion brand with its app is much ahead of the rat race of other brands since it makes the brand more accessible. So, if a brand looks forward to dodge the competition, a mobile app will be their answer.
3. Better Branding
It is somewhat true that the younger generation is not aware of brand loyalty. Rather, they are with the brands that help them in looking more stylish and trendy. However, on a broader level, brand identity is essential, and mobile apps make branding easier. A mobile app has a logo that stays in the Google PlayStore and App Store. On the mobile device of the users, they can see the same logo after installing the app. Not just that, their social media handles, too, have the logo, making it familiar to the TG. It creates an excellent brand image for the company, which brings long-term profits.
4. Seamless Interaction
Mobile apps ensure merchants remain seamlessly connected to their consumers. Apps offer opportunities to app owners to curate personalized offers, exclusive deals, and much more with interactive user experience.
Mobile apps also come with AI-powered push notifications, chatbots, etc., so consumers get A-Z support while accessing the mobile app. So, a merchant will never struggle for interactions while using mobile apps – they will feel that an agent is always there to provide all-around support.
5. Improved Marketing With Easier Customer Targeting
A mobile app makes marketing easier – by understanding consumer-specific demands, it helps them to segment their customer base. It becomes easier to get sales through it.
Additionally, mobile apps come with a social login feature; as a result, sharing the products on social media becomes easier. It promotes the brand as a whole.
Well, it's pretty sure that users enjoy using a mobile app while shopping, but is that all?
No! Mobile apps benefit merchants, too, in their daily tasks! Let's check this out!
6. Flawless Analytics
Mobile apps come with analytics which helps the merchants to keep a record of their total orders, cart value, number of returns, highest-selling products, and so on. Merchants get flawless reports of everything just by accessing their dashboards and taking action accordingly. It helps in providing related offers to the customers to retain them longer whenever they open the app.
7. Increased Conversions And Revenue
Mobile apps are easy to use and this ease delights the users. Now, this delight factor will lead the user towards a purchase if the product and pricing is good enough. It is a direct indication of higher conversation and revenue for the business.
Amazing fact: 37% of clothes and accessories are sold on mobile apps
8. Easier Inventory Management
Mobile apps come with an easy inventory management system. It tracks the stocks very closely and notifies the merchants about what to restock and when to restock. Merchants can take action accordingly to prevent out-of-stock problems. Similarly, uploading and deleting a product on the listing page, too, needs just a few clicks. So, merchants can effortlessly manage their inventory by using their app.
Fashion Industry With Mobile Apps – The Present Scenario
Here are a few popular brands that are making the most of their business with their unique fashion apps:
Zara with AR allows the consumers to select a mannequin and see how the product on their cart looks in it
Target tracks what the users search for and keeps notifying the buyers
Gucci and Tommy Hilfiger create the delight factor with TRY ON option
Etsy allows communication with the store wonders and takes interaction to the next level
StyleSnap, with their new AI-powered tool, allows consumers to get the exact product
ASOS too developed the picture recognition tool to delight their consumers
ThreadUp takes the help of maximum filters to narrow down the search results
Looking For A Mobile App To Scale Your Fashion Business Faster? Alright! Let's Bring On The Disruptor!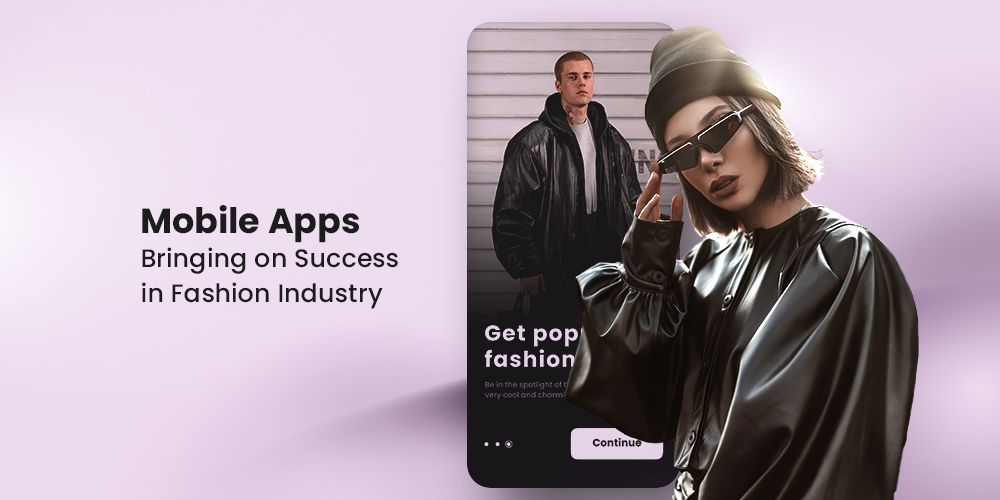 Are you a merchant in the fashion industry? Are you looking for massive growth within a short span? Well, you probably need a disruptor called a mobile app. You can now curate your own app with mobile app builder for a faster scalability in your business.
Fashion goods are made for consumers to use, so to grow in this industry, you will need a tool that helps you to reach them and get their attention. A mobile app can help in both. With interactive UX/UI, it can first grab their attention, and once they come and install the app, it starts receiving the personal details like email ID, contact number and sometimes social media profiles. As a result, it becomes an easier task to reach the consumers and convince them to purchase.

So, are you ready to bring rapid scalability to your business? If yes, get a mobile app today. Reach MageNative and make your app within an hour – so, let's begin your fashion app development journey right now!
About MageNative
MageNative is a leading app-building platform that facilitates app creation for business owners regardless of their knowledge of the technical nuances involved. At MageNative, we convert ideas into scalable mobile apps instantly and conveniently.
Check out the most successful Case studies of MageNative.
About The Author
A content marketing professional at Magenative, An app development company providing solutions on different app development platforms including Shopify , Magento and Woocommerce.
Related Posts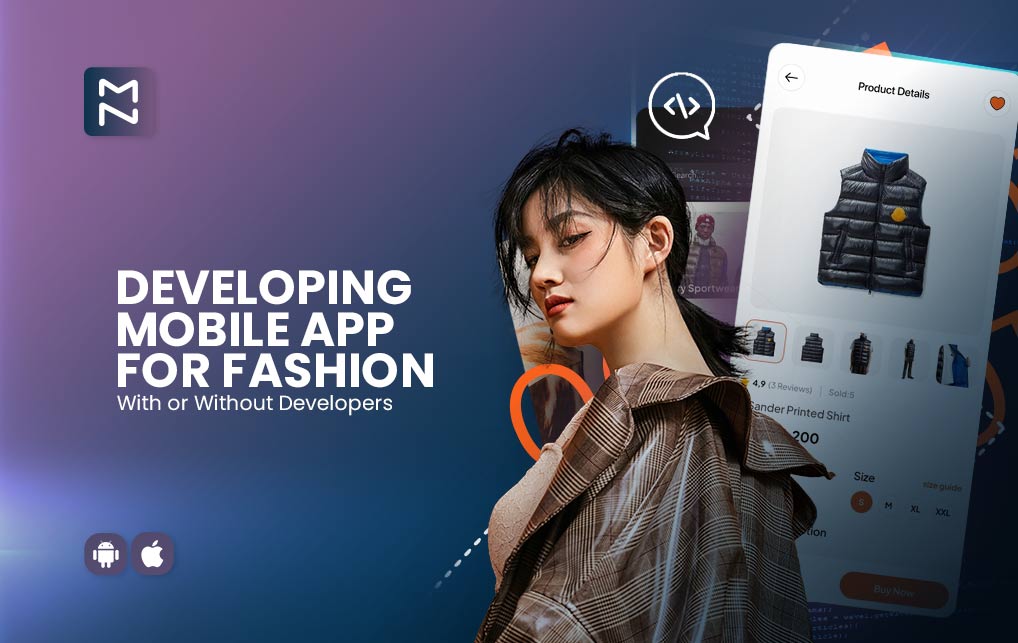 Fashion App Development: How Can You Do It? [With Cost & Time Analysis]
For fashion lovers, online shopping and mobile app purchases are…
Read article >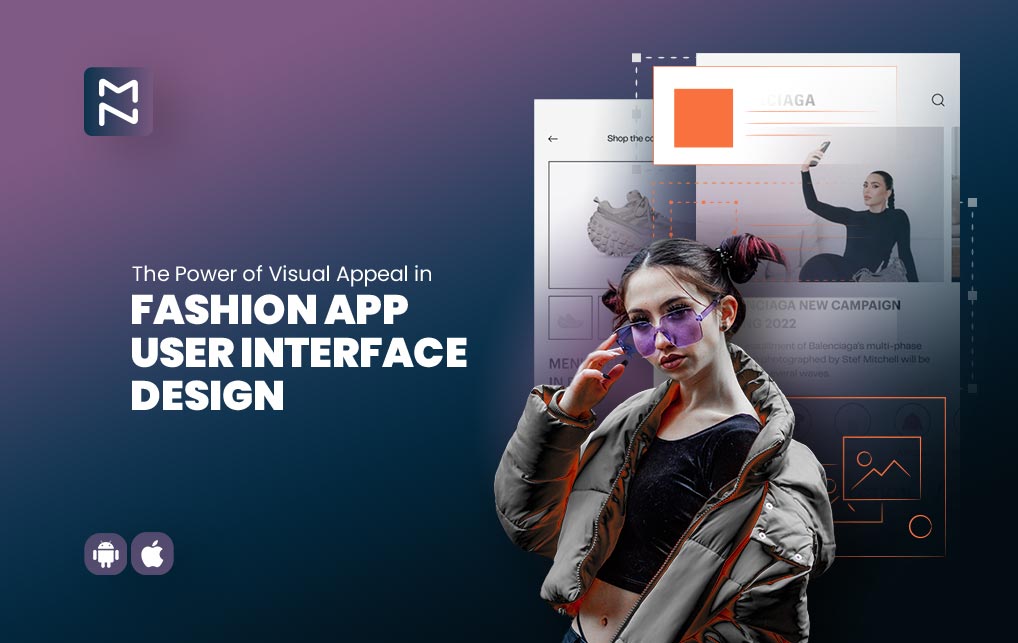 The Importance of UI/UX in Fashion Mobile App
You cannot deny the fact that UI UX in fashion…
Read article >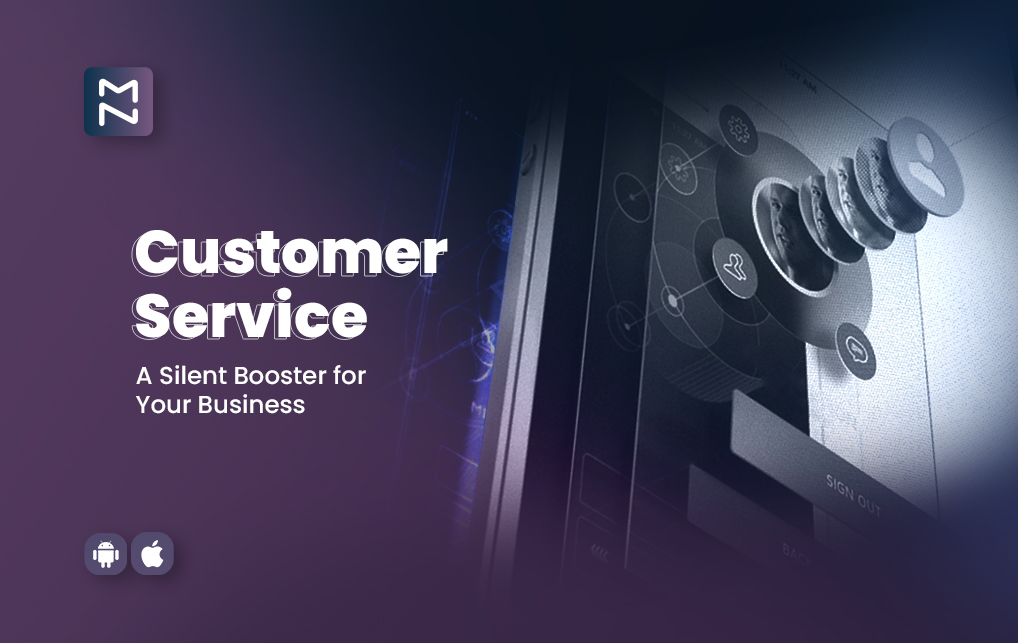 Mobile App Customer Service: Benefits, Red-flags, Quick Tips & More
Let's admit – a majority of online shoppers believe that…
Read article >