Unveiling App Analytics: The Key to Smarter Decision-Making
Analytics
Unveiling App Analytics: The Key to Smarter Decision-Making
Do you find tracking analytics of your mobile app a bit troublesome?
Having a hard time understanding how successful your app is?
MageNative takes an attempt to solve all these performance tracking related problems with Analytics.
And just like that you'll be ready receive flawless reports on
Traffic
Revenue
Average order value
Total number of installs (android + iOS)
App activity
Number of push notifications (sent, opened, and scheduled)
Active users
Sessions & much more
Here's the best part, you get all this with zero manual effort-advanced app analytics will prepare all these reports for you.
So, this is no more difficult to understand how much your business is getting generated through your app. Whenever you need to check any of the factors mentioned above, just go to the analytics sections of the admin panel and just click on the element.
All these elements of this analytics section come with a calendar option so that you can put a date range to get the comparisons.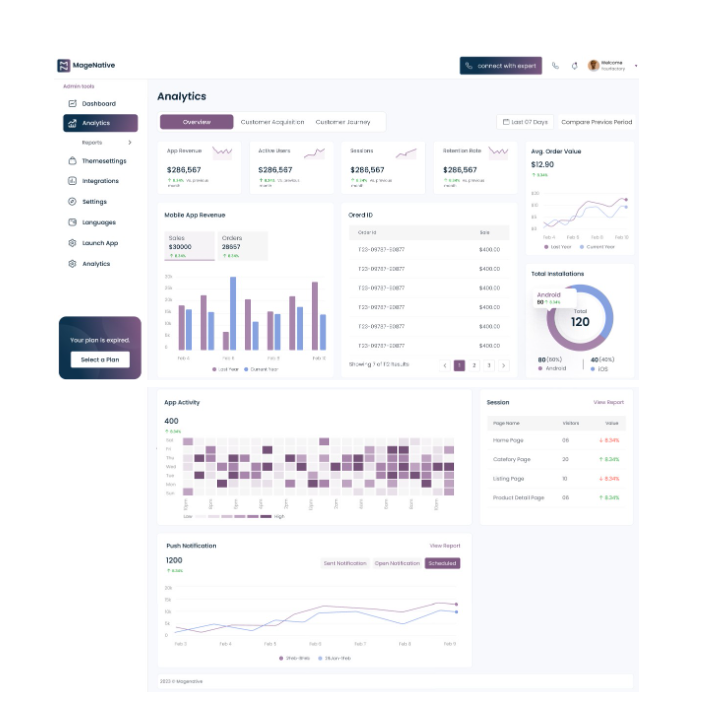 Benefits of analytics on your Shopify Mobile App
With  detailed reports in the analytics section, merchants can figure
Whether the app is bringing results or not
What is missing in the app that is preventing good results
And to top it off, merchants can get month-wise data and understand what went well in a particular month and implement it again to get better results.
1. Why are analytics needed in a mobile app?
In the simplest words, mobile app analytics help in app's performance tracking. Merchants can only improve their apps' performance only and only when they track it. With app analytics, merchants can figure out the following:
How well is it bringing traffic
How many users are active in it
How long users are using the app
How many users are making repeat purchases
>How many users installed the app
In short, merchants can track how the app and marketing strategies are working, whether any improvements are needed or not.
2. Why is it important to track app's performance?
A mobile app is developed to invite more users to increase traffic, sessions, and conversions. And it is much needed to check whether the app is successfully bringing results to a business or not. This is why tracking the app's performance is essential and analytics help with that.
3. What elements do MageNative's app analytics have?
MageNative's app analytics include elements like traffic, session, active users, installs, average order value, revenue, and much more to ensure seamless performance tracking.