Suppose you have just finished the app development process of your business. You might have accomplished it yourself without developers using a codeless platform like MageNative. The next grand task is to let your target audience know that an efficient app has arrived from your business to solve their problems. But the decisions taken in the next 3-4 weeks of app publication can skyrocket your business or inflict a lifelong scar that doesn't heal.
Smart business owners dedicate their major time in this immediate period after app publication towards planning. With extensive research, they try to understand the present advertising market scenario for newly launched apps. In 2021, advertisers put 51% of their marketing budget into mobile adverts.
But for you, no such difficult research is needed because you found this insightful do's and don't guide for mobile app advertising. Each significant advertisement option for your app has been briefly explained here.
Table Of Content
Let's skydive into the trending approaches for mobile app advertising with do's and don'ts highlight for each approach:
Announcing your app on websites
Your existing business website is the first place you need to exclaim about the newly launched app. Website advertising for your business app is the most efficient and cost-effective way of promoting your mobile app. Unlike other mobile app advertisement strategies, this doesn't cost you anything, as the website is already up and running. Remember that the existing website audience is your ideal customer, even for app downloads. So, here are vital do's and don'ts for your own e-commerce website advertisements:
Do's for advertising your app on websites:
Website advertisements for your mobile app need to be created with attractive design and content.
According to UI/UX experts at MageNative, your business can be promoted in multiple sections across the active website.
Add a CTA link that takes a user to the download section in the app stores.
Always mention why your audience should prefer mobile shopping.
Don'ts for advertising your app on websites:
Avoid the mistake of placing only one app store link. Provide links for both Android and iOS.
Always keep track of the audience behavior for such app download CTAs on the website.
Refrain from repeating statements of 'download app' across the web pages. In a subtle manner, explain what problem the app solves for the reader.
Pause website promotions if your app is under maintenance for multiple hours or days.
Star Idea- Incorporate a QR code in your website that automatically initiates app download from the smartphone's app store.
Paid and organic promotion across social media
According to smart insights, 4.62 billion people used social media in January 2022. The number keeps climbing, making social media an ideal platform to find every niche audience for mobile app advertisement. Compared with other mobile app advertising options, social media is the most affordable and effective one in terms of ROI. For startups, social media is a treasure trove for reaching local and global target audiences.
Along with so many giants in the social media market like Facebook, Instagram, Twitter and Snapchat- finding new customers daily becomes easier with social media adverts.
Your mobile apps ads can be targeted based on factors like location, interests, age, gender, occupation, and lots more. The facility to obtain data on each app-related ad performance lets a business further learn about its audience behavior, interests, and other demographic data.
Advertising in social media generally refers to the paid option for running targeted ad campaigns. The other option is the organic promotion for your app on social media platforms that cannot be targeted towards unknown audiences, nor can you get analytics.
Before you step in this direction, you must find the social media platform where most of your audience is partying. In a survey made by Facebook, it was found that the ideal social destination for discovering fashion products is Instagram. Based upon this, find your platform, then create a business account if you don't have one yet in that specific social media app.
Paid process on Instagram:
Instagram ads can be easily controlled from a Facebook profile. So first log into your Facebook business account.
Then you need to click on the Facebook ads manager option.
Then select the 'Create' option to configure a new Ads campaign.
Choose 'campaign objective', which is the aim you want to achieve.
Enter 'campaign name' and select 'where you want to drive traffic'.
Input the 'daily budget' for a campaign. Select the campaign's 'start date' and 'end date'.
Create audience targeting details. Select a location, age, gender, and interests.
You include or exclude a specific audience for your app or website in the 'connections' section.
Select 'manual placements'. Only select Instagram to run adverts only on Instagram.
Select your ideal option in the 'Optimization and Delivery' option for further targeting.
The same device advantage is obtained when advertising mobile apps on social media. The ads that each targeted person comes across can be clicked upon for direct download on the same device.
Do's for social media ads and promotion:
Move forward with an integrated advertising approach by combining paid and organic marketing strategies.
Set a daily budget for the paid campaign and let it run with automation.
Track paid performance on a daily basis on Ads Manager dashboard.
Focus only on the social platform where your maximum business audience can be found.
Use the 'scheduling' option based on research for audience presence timing.
Be consistent with the brand voice. Determine how much casual or formal tone the ideal customers are expecting.
Use a social media calendar to plan ahead for advert content.
Don'ts for social media ads and promotion:
The first thing to remember, avoid going off-topic unrelated to your core business and expertise.
Don't ignore the statistics for your mobile app advertising posts. Make changes for low performance.
Don't run ads or make organic advertisements in huge gaps. Try to send out one post each day.
Try to refrain from controversial topics that might offend your existing customers.
Don't ignore the posts after publication. Engage with the audience in comments.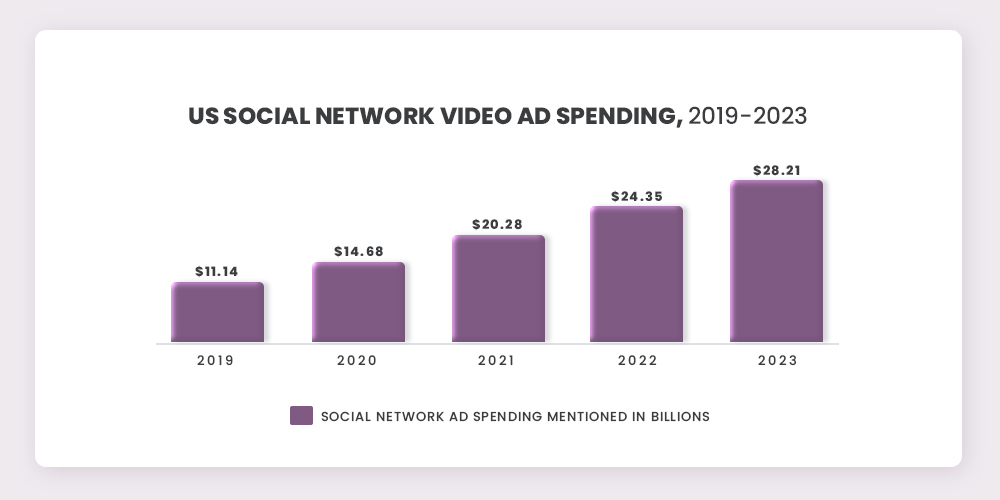 3) App Store promotion for Android and iOS
As bitter as it sounds, launching a mobile app isn't enough- promoting the app in app stores is vital for app triumph. Mobile app advertisements for Android and iOS versions can run on their specific app stores. Advertising your app on Google Play Store and Apple Store can become the most effective app promotion strategy between mobile app ads.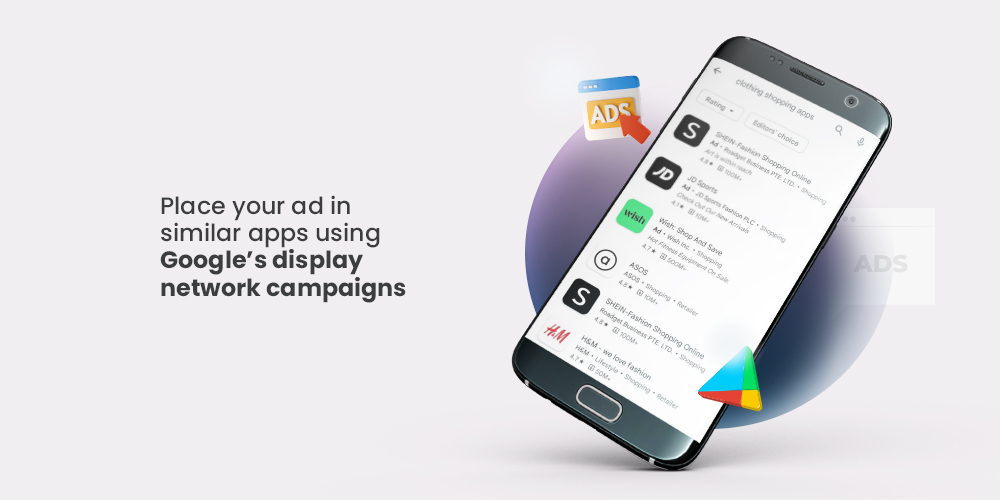 When people visit these app stores from their smartphones, they usually look for an app. The download probability multiplies if your app appears on their app store homepage. The customer data these organizations like Google and Apple already hold acts as the magic courier to deliver your app to the right person. Based on the behavior and interests of users, your app advertisement gets suggested to the ideal customers.
By saving this guide, you can later learn how to advertise your mobile app in the Apple App Store through search ad campaigns. Similarly, you can learn Google Play Store advertising in the ads help section.
Do's for app store advertising:
Understand the mobile app ads process first for app stores.
Hire an advertising mobile app expert for the Google and Apple Store campaign dashboard if needed.
Track the Ads clicks on a daily basis.
Additionally, track the install rate coming through Advert UTM links.
Experiment by changing the Advert targeting location.
Use the Chat option within the Google Ads campaign for one-on-one sessions.
Plan more than one campaign with different target metrics.
Don'ts for app store advertising:
Do not run your campaign at a time when your app server is down.
Do not pour your entire yearly budget into one campaign.
Never neglect the app description and keyword inputs.
Avoid the mistake of adding low-quality screenshots and videos.
Don't ignore text length and other app optimization factors.
Skip the mistake of not experiencing competitor apps within the stores.
4) Public relation-based marketing like press releases, guest posting and events
PR-based strategies can be executed long before the app hits the app stores. Think about the times when you bought something just because your best friend suggested it. This is a great example of viral marketing. Influencer marketing has become popular due to such factors, where the audience trusts the product influencers recommend.
For the ideal customers, the first stage for the app download funnel will be awareness. They need to be aware from trusted resources that such an app is getting launched and that the solution and benefits it brings hold the utmost truth. PR strategies help the most in the initial stage of promotion.
Although clarity needs to be found, PR strategies don't involve direct promotion of your business app. Certain news around your app can be shared with an audience interested in the category. The news can hold links to your app or business website, making it a stealth advertisement.
The common forms of PR promotions are mentioned below:
Press-release news– When a business issues a press release, it acts as an official statement issued to the news media and other similar industry resources. When reputed news platforms share such releases with their own forewords, trust and credibility start to get established in the reader's mind.
Business interviews– One of the business founders can appear in regional newspaper interviews or modern tech bloggers with large social media followings. This PR strategy works smoothly as butter for gaining a local audience and building regional awareness.
Guest blogging– A content approach for building authority, such as guest blogging, helps immensely with a cross-platform audience reach. The audience directing resourced increased in number, making the app gain popularity.
Event for app launch– The business can host an event-based launch, inviting app influencers and local media. Automatic coverage is obtained for the event and the core focus of the app is advertised subtly.
Do's for PR marketing:
Get a press release prepared only by an expert technical content writer.
Try to restrict the press release content to a single page.
Find the ideal date and time for the press release of your new business app.
Interviews should only be attended by a senior employee with several years of experience or by the founders.
The launch party should mostly have invitees who can help with the app promotion.
Guest blogs should be submitted after going through the guidelines for the platform.
Don'ts for PR marketing:
Refrain from making the press release a mobile app advertisement.
Press Releases must be written in a proper journalistic format, do not experiment.
Don't miss out on including original, expert quotations in the press releases.
Avoid submitting a guest blog for websites or pages with little authority and audience.
Ensure your press release and guest blog are directed toward the ideal audience, not irrel
Ensure the App launch event is more of a professional industry event and not some trivial party.
5) Ads placement in similar category apps
Thanks to modern advertising for mobile apps, the rise of in-app advertising has occurred. In-app advertising is a process by which advertisers can display ads within third-party apps and these third-party apps can bring in revenue by leveraging their app space. The process is similar to renting a house; similarly, brokers are in the middle for in-app advertising. The brokers here are known as ad networks who keep a stock of available ad space.
Do's for in-app advertising:
In communication with ad networks, get the ads placed in mobile apps in the same category of your business.
Add a UTM link to track how many visitors are coming from in-app advertising.
Personalize the ads for specific audience targeting.
Hire a temporary in-app advertising manager if required.
Go through the pricing models of CPM, CPC, CPA, and CPI.
Calculate your budget before any expenditure for in-app advertising.
Try to promote video ads over other formats of advertisements.
Don'ts for in-app advertising:
Do not forget to select the category and audience type for in-app advertising.
Refrain from allocating more than 40% of your total ad budget towards in-app advertising for mobile apps.
Never forget to put in time and labor towards the Ad visuals, whether static or video format.
Do not mention anything about in-app advertising in mobile apps ads content.
Avoid tracking simultaneously every day; use different time frames.
Test different ad content and graphic format to identify the most suitable one.
6)Influencer marketing for your app
Now it's proven that influencers can convert unknown audiences into leads. The medium for the majority of influencer-focused marketing occurs on social media platforms. According to social shepherd, 93% of Marketers have used influencer marketing. Major influencers, having experience in a single category already have a huge audience in their social media 'following'. The way influencers constantly nurture this audience with engaging content builds long-term trust that other businesses can utilize by partnering with such influencers.
Do's for influencer marketing:
Only choose the influencers who have experience in a similar category to your business.
Verify the claims made by influencers regarding their certifications.
Use an integrated approach of mobile app advertising through macro, mid-tier, and micro-influencers.
Distribute your budget among influencers and set a maximum cost for each.
Research and find on which social media your app audience remains, and pick influencers on that platform.
Don'ts for influencer marketing:
Avoid relying on the strategy of only hiring celebrities and mega influencers.
Do not refrain from using an influencer management tool to maintain engagement with all hired influencers.
Do not forget to check your existing customer base for influencers. They can be the best advocates for your app.
Stop yourself from hiring influencers who create only a single format of content.
Do not forget to explain to influencers about CTA placements.
Avoid influencers who will be unwilling to share post-performance data for your mobile app.
7) Conventional physical ads
You might have asked yourself the question already if the physical advertisement technique has become obsolete in terms of driving results. Most businesses avoid physical ads because the performance cannot be tracked like digital advertising. But traditional advertisements have adapted with innovation and don't look like weary and boring banners anymore. One of the prime examples of such innovative physical advertisement techniques is Guerilla marketing.
Definition of Guerilla marketing- It can be defined as an unconventional and surprising physical advertisement strategy to drive publicity and attract interest in a business.
Wisdom Note
You need to start the advertising journey with only one strategy among all mentioned here. Keep the do's and don'ts for that specific app advertising option close to your heart. At the present time, you can start with any of the advertisement methods mentioned.  Taking action is the only way to learn further. This learner's guide can prove to be highly insightful for businesses launching an app, and sharing it with others on social media so that others can benefit.
About The Author
A content marketing professional at Magenative, An app development company providing solutions on different app development platforms including Shopify , Magento and Woocommerce.
Related Posts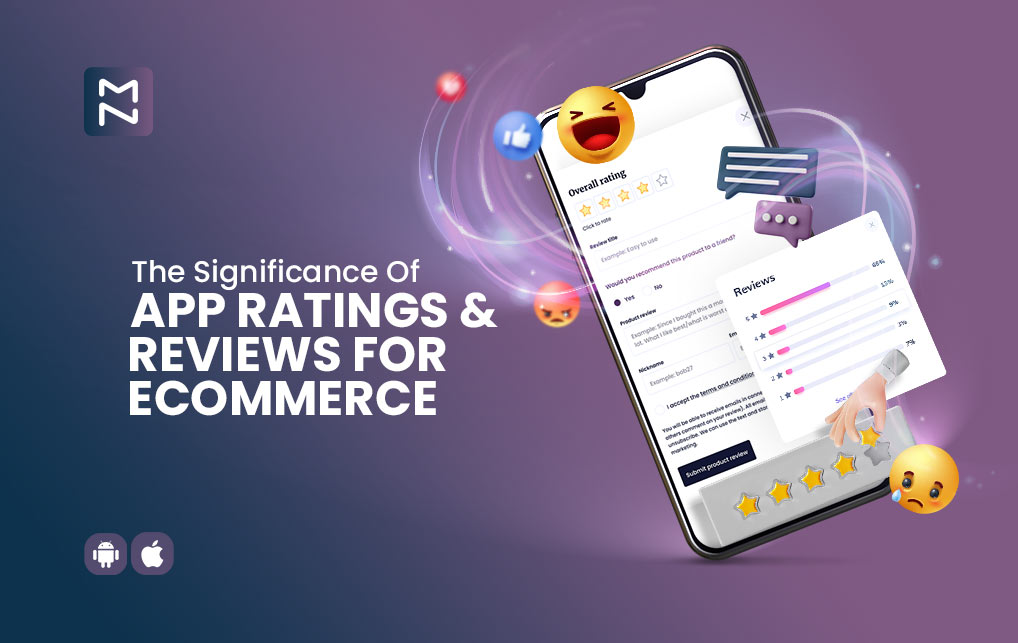 Why App Rating And Reviews Are Essential For Your Mobile App Growth?
App rating and reviews are important. So important, in fact,…
Read article >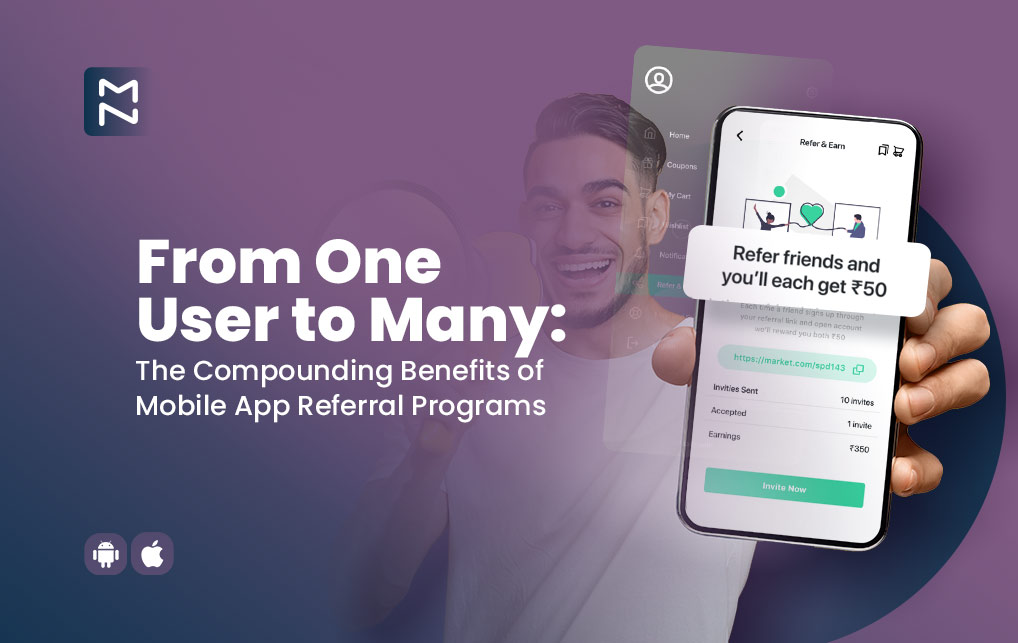 How a Mobile App Referral Program Can Help Your Business Grow
In today's crowded mobile app marketplace, businesses must be creative…
Read article >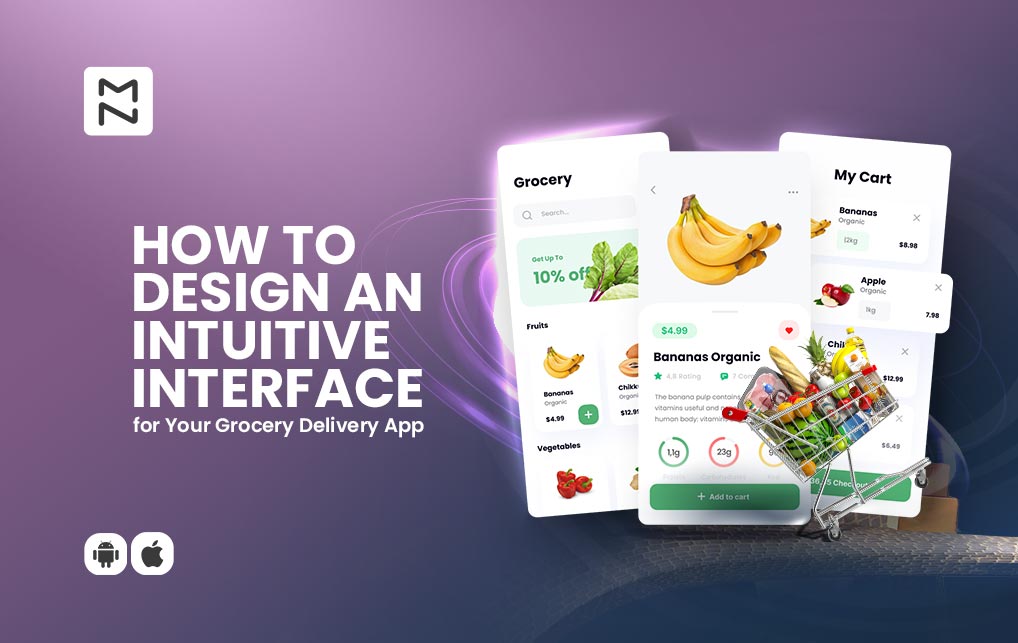 How To Create A Winning Grocery App Design? Best Practices To Know
In today's times, you cannot deny that mobile apps have…
Read article >