Let's admit – a majority of online shoppers believe that customer service is nothing but a myth. But a factor underneath this barely comes out i.e., they don't really want to get into the hassles of connecting with the customer service team. Rather uninstallation seems like the easier way out. But an impromptu call from customer service can be a diabolically brilliant move from your end, and it can even retain them on your mobile app! Yes, it is true!
Strangely, just 33% of users opt for customer service to resolve any type of dissatisfaction. They somehow believe that reaching the executives will hardly solve the problem; it will be a waste of time. Well, in some cases, it may be true too, but there are exceptions as well. There are companies that are winning the trust of their users with high-quality service – would you like to be one of them?

What Is Customer Service?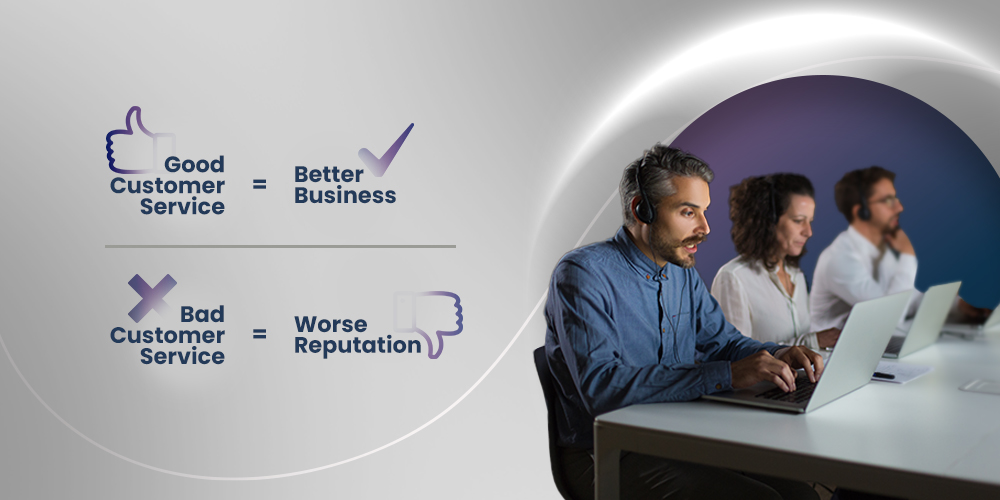 Customer service does not even require a definition – we all know what it is, right? But not all companies are giving it the importance it deserves. It is an essential factor that can convert dissatisfied customers into satisfied ones with minimal effort.
Customer service is a summation of 

understanding what customers need while accessing your app and what problems they are facing to get that. 

Thereby supplying the same to consumers  
Customer Service: Then Vs. Now
Customer service has gone through an evolution – initially, the entire process was offline, and people had to pre-book it through dockets, that too by standing in long queues.
But right now, the entire system has shifted online, and sometimes users do not even need to reach the executives via calls, the apps/websites include so many resources/guides beforehand to solve most of the problems. Currently, the wait time to get immediate help is reduced to a great extent, too, with or without reaching the executives.
As a large part of customer service is shifting online, some technicality is also attached here to make users happy.
It's not like offline customer service is entirely absent – in some industries, it still exists. But for eCommerce and many other sectors, online customer service is primarily preferred. And the reasons behind the popularity of online customer service are pretty clear from the comparison table below:
| | | |
| --- | --- | --- |
| Factors  | Online Customer Service  | Offline Customer Service  |
| Mode of service | Face to face | Chatbot, email, call, instant FAQs |
| Timing | Limited | 24*7 |
| Expectations | Decent time will need to get solution | Users expect instant solution |
| Wait time to get first response | Long | Moderate to long |
Due to the technicalities, online customer service is a bit tricky. And to a certain level, glitches in technologies are inevitable. As a result, providing quality customer service gets difficult sometimes.
Since it is a trend, minimal tech issues interrupt the customer service on mobile apps and interruption is a big "NO" for the users. And strangely, this interrupted service is sometimes labeled as bad customer service. Are you aware of the consequences of this? If not, just check the following section:
A Bad Customer Service Experience Can Hurt Your Business
The impacts of bad customer service can best be with numbers – so, no more storytelling, just proven stats to show where it can lead:

61-91% of the consumers switch to alternatives on receiving bad customer services
On the contrary, 93% users are likely to make a repeat purchase for good customer services
To recover one negative customer experience, minimum 12 positive experiences are needed
94% consumers create an opinion about the brand based on the quality of their services
79% consumers find that service as important as the products they sell
Business across the world lose around $75 billion due to bad customer service in each year
40% consumers expect a resolution on a single call
Strange but true, 52% consumers are willing to pay even higher than usual to get good customer services. 
Brands That Manage Online Customer Service Proactively
To prevent big losses and maintain a good reputation among the target groups, popular brands are now managing customer service like a pro. And to top it off, they are getting results as well.
Here are a few inspirational stories to learn from:
Apple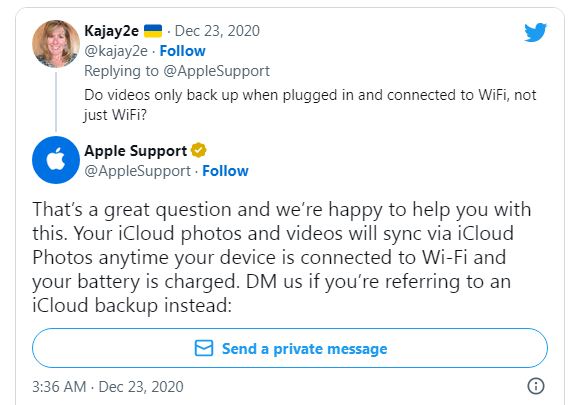 Apple left no platform unanswered to serve its customers, and it is still continuing its legacy like a champ. The results are known to all – it is one of the leading companies in terms of its revenue.
Most importantly, customers of Apple are almost loyal to the brand – they barely switch even after getting similar products at lower prices. They trust the brand so much that in 2021, the loyalty rate of iPhones exceeds 90%. Can you imagine?!
Amazon
Amazon is way ahead in terms of serving its customers on their app. They introduced the guides/FAQ system so that their users can get self-service for their problems.
Amazon proudly holds a 90% customer retention rate and they believe customer service offers a strong base for their technically advanced mobile app with an extensive stock of inventories.
Starbucks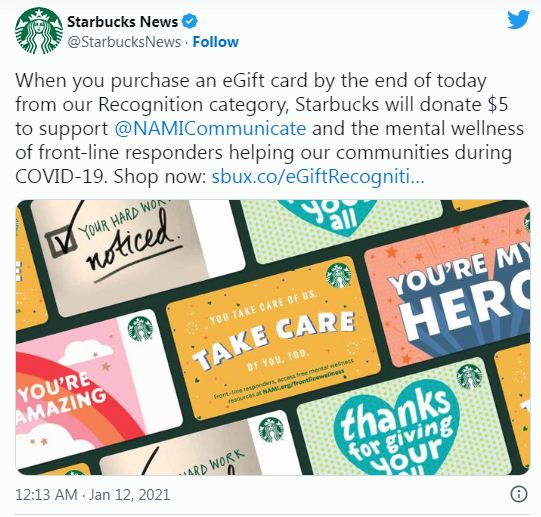 If Amazon and Apple are cracking the online customer service the best way, Starbucks is cracking it both online and offline. And this outstanding service is resulting in 16x more loyal customers along with 6x more store visits. Now, say how cool is that?
What to watch and learn from these geniuses: The positive and encouraging tone of their responses to customers
You Should Care About Customer Service, Right?
Still, thinking about why you need to pay attention to the customer service on your mobile app? Here are its perks: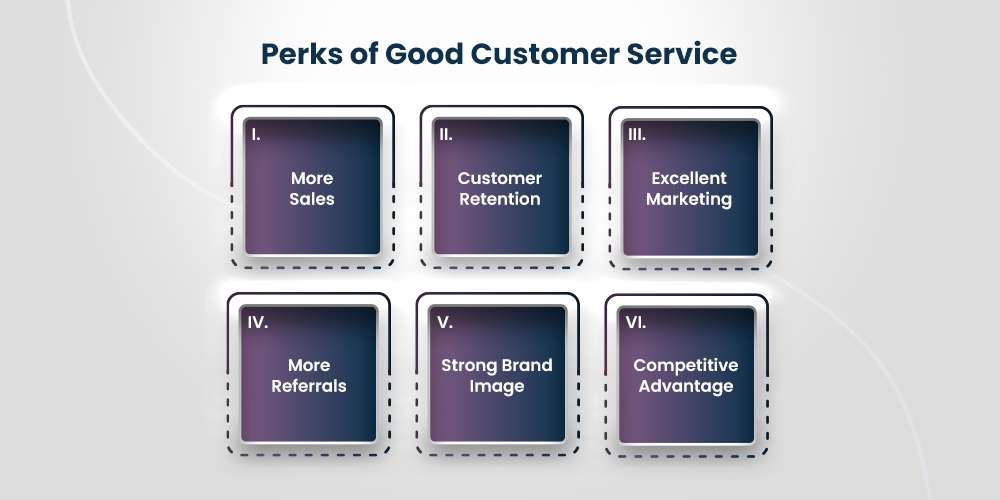 1. Improves Sales
Good customer service creates numerous cross-sell and upsell opportunities. By serving your consumers, you can actually convince them to purchase more of your products. And you may expect to sell some products the consumer does not even intend to purchase.
Research shows that even a difficult interaction can result in 6% cross-sell and upsell possibilities – excellent service creates 80% of these higher selling possibilities.
2. Retains Customers
The case studies of Apple, Amazon, and Starbucks showed how good customer service helps in mobile app customer retention. Some other related benefits are higher customer lifetime value and lower customer churn. And just a 5% increase in customer retention can raise your profits by 25-95%.
3. Creates Excellent Marketing Scope
Exceptional customer service is like a good marketing strategy, especially for entry-level companies. Good customer service is like a word-of-mouth marketing strategy – simply by serving the customers well, one can promote their brands. It indicates cost-cutting for marketing – a win-win game, indeed!
4. Strengthens Brand Image
Good customer service is like a booster to your brand image. We already discussed how it helps in creating a reputation for your company. Offering good customer service gradually makes your brand popular, and you will gain a number of loyal customers for sure on your mobile app.
5. Generates Referrals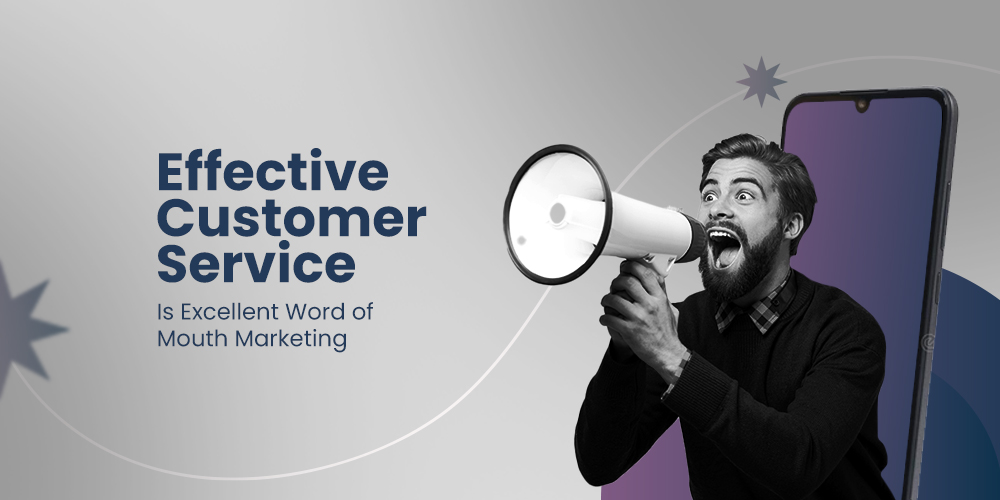 Once you serve your customers well, you build a happy community. Did you know that a happy customer talks about their positive experience only to 9 people, whereas negative customer service spreads to 16? Unhappy customers drop their experience in their circles, social handles, communities, etc.
But sharing a positive experience with 9 people is not a matter of joke – all 9 can be your customer. Yes, words of happy customers are this powerful, and the better you serve them, the more they will generate referrals.
Amazing fact: On having a good customer experience, 89% of consumers are more likely to return and make another purchase. On the contrary, poor service is a reason for cutting ties with customers – 51% of B2B companies avoid vendors that provide poor service.
6. Creates Competitiveness
Higher conversion, more organic traffic, stronger brand image, etc., will altogether keep you ahead of the competition. It indirectly helps in improving your company culture too, thereby improving your employee retention rate.
Now, you know that customer service is paramount to making your mobile app more productive. So, improving customer service is a necessity. But do you know the signs when you need to improve it? Not to worry, we will help you to identify the red flags.
Signs That Show Your Customer Service Needs Some Upgrade
Technically, there are a handful of red flags that indicate a dire need for improvement in customer service. But, here we are pointing out the 3 main red flags encountering which you need to take immediate action. Check these out: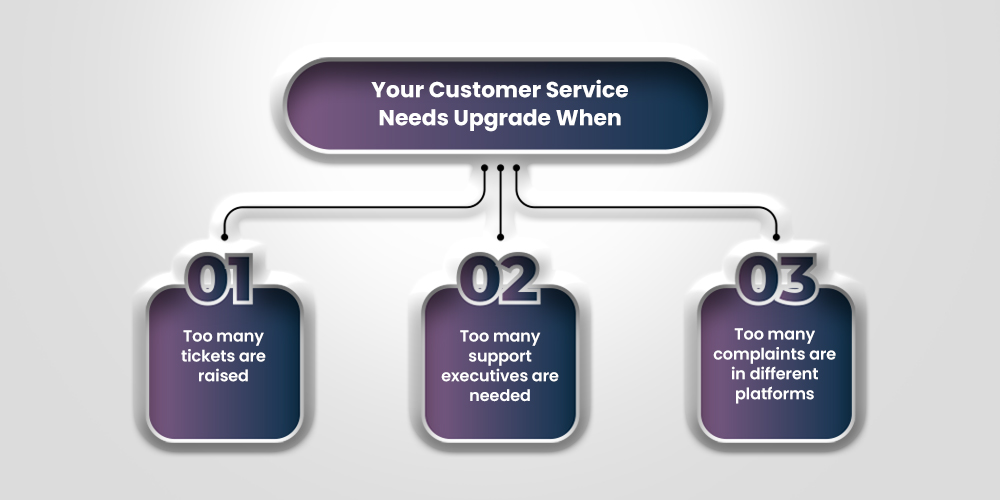 Red-flag 1. Too Many Tickets Raised
Beware of the number of customer service tickets on your mobile app. In case, more than 10% of the customers are raising tickets, you need to take action. Too many and repeated tickets indicate that you are not serving them well or your service executives cannot resolve the issue quickly. If it continues, your business is going to face losses soon.
Red-flag 2. More People Need To Support Customers
Another red flag is the requirement for a higher number of service executives. So, check out if your service team is in need of more employees to handle the pressure.
Did you know

39% of users admitted that customer service executives lack the knowledge of serving them which is the most frustrating factor to them? 
So, make sure that your service executives are learned enough to resolve the queries as soon as possible.
Red-flag 3. Customers Reach You Via Different Channels
Another sign that you need to improve your customer service is getting complaints via different channels. Receiving customer grievances in chats, emails, calls, social media, etc., shows that customers are getting frustrated and reaching you again and again to get further help.
Want To Improve Customer Service On Your App?
Well, well, well… we know identifying the red flags is just not enough. That's why we are offering you the solutions: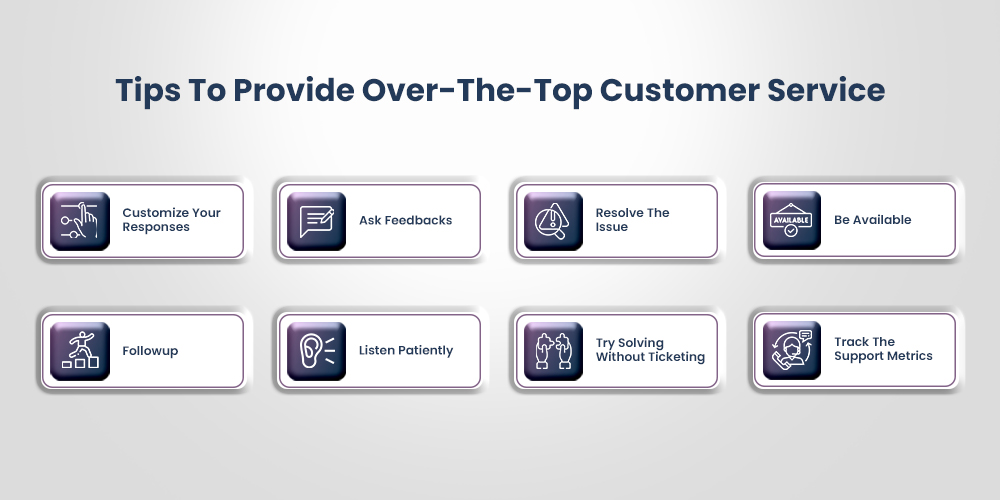 Pro-tip 1. Customize Your Responses
A number of times, users feel that customer service employees are talking robotically. This is why use different templates to offer customized responses. You can do the same for the automated chatbots as well. It will make your customers feel special.
Did you know that with personalized consumer experiences, your conversion rate can grow by 8%? 
Pro-tip 2. Ask For Feedback
After serving your customers, never forget to ask them for feedback. It will show you how well your customers are liking your service. Also, negative feedback indicates where exactly you are lacking.
Pro-tip 3. Resolve The Issue
In short, the feedback helps you to identify the problem easier. So, you can resolve the issue accordingly. Or in other words, you can choose to hire executives or improve your technology accordingly to make your customers happy.
Did you know

53% of customers believe that companies do not even listen to their feedback regarding bad customer service? You have to be an exception here by resolving their complaints?
Pro-tip 4. Be Available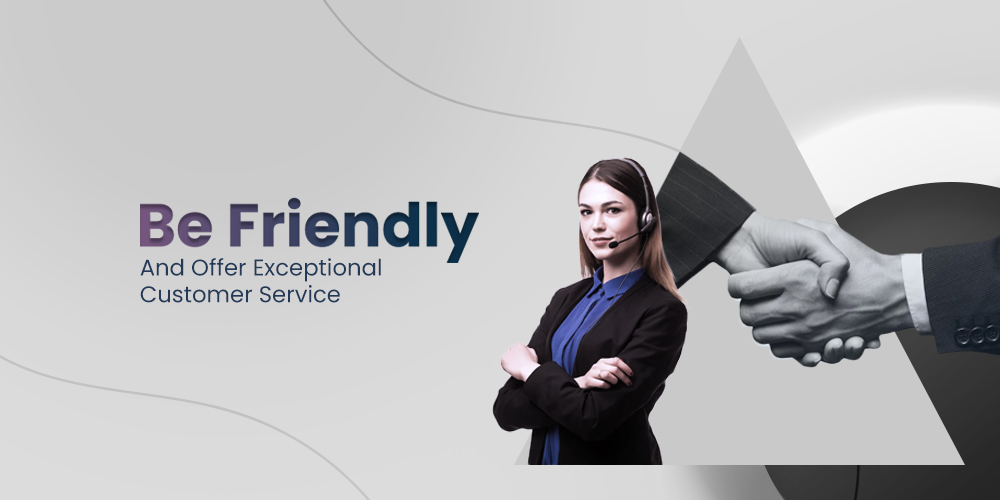 76% of the consumers want consistent support – in other words, they want uninterrupted interactions with the support team. So, be available and aim at reducing the wait time to get the response.
Pro-tip 5. Followup
Your work does not stop at resolving the issue – you need to follow up with them. It will help you to understand whether the customer has even noticed the action you take or not. Follow up with them to inform this and get noticed. Only after noticing they will become happy customers.
Pro-tip 6. Listen Patiently
Another tip to improve customer service is to listen to them patiently. The customers must not have the feeling that you are not listening or you are not paying attention to their complaints. Once they feel this, they will not take a second to switch to alternatives. So, be a good and patient listener.
See what customers prefer in terms of customer service: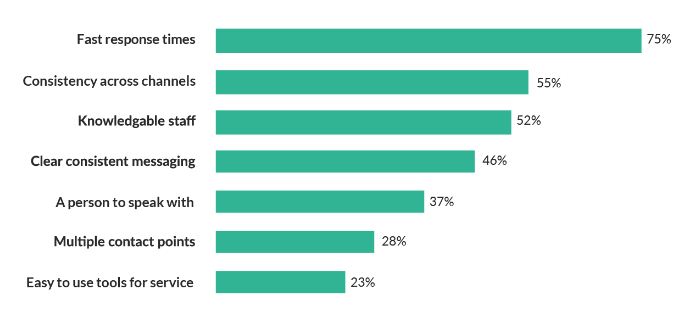 Source: SuperOffice
Pro-tip 7. Try Solving Without Ticketing
Resolving the customer's queries without even raising the ticket is also a good practice in regard to service improvement. It makes the customer happier that they do not need to put extra effort into getting a solution. Just a call, a mail thread, or the automated chatbots/FAQs had solved their issue will make them more satisfied, and they will be more likely to spread this experience and generate referrals.
Pro-tip 8. Track The Support Metrics
Lastly, you need to measure the total volume of the complaints or calls, time taken to give the first response, average resolution time, customer satisfaction rate (if after support feedback is given) and retention rate to understand where you are standing in the competition. In case, you do not get satisfactory numbers from these KPIs, do not get disheartened – just keep improving your customer service.
How Can You Offer Excellent Customer Service On Your Mobile App?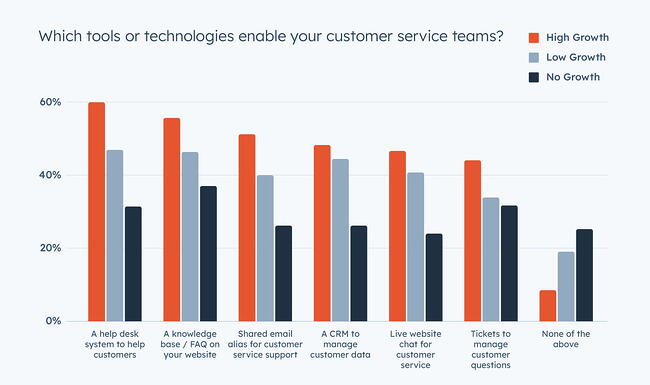 Source: HubSpot
Now, moving on to the most preferred platforms for customer service of the present time. Let's have a look at it:
1. Chatbot
It is one of the most preferred platforms, especially by the younger generation. They really do not want to indulge in calling the customer service number to get their issue resolved, rather they prefer to tap on the chats and select the options accordingly.
2. Call
42% of users still prefer getting customer service via call till date. Regarding the expectations of response,

25% believe that they will not get a response
24% expect to get a response in one hour
And 20-83% want an immediate response

So, satisfying the customers by offering them service via call is a bit tricky. It has to be first and of good quality. Trained executives who can understand the problem and recommend solutions can earn you some really good feedback here.
3. In-app FAQ
These are short guides for the commonest problems on the app. By tapping on the required FAQ, customers can get a solution in no time.
4. Forum
These are the communities that are dedicatedly built inside the mobile app to provide customer service. These forums consist of many customers and professionals who can then and then solve the problem.
5. Social Support
38% of customers prefer reaching the company via social media. Users typically believe that it will return a faster reply to them.
On the other hand, brands too need to maintain their images on social media, as a result, they actually respond first to the complaints on their social handles.
6. CRM
CRMs are used to make the customer happy for days and it is still very relevant. These CRMs are easily integrated into mobile apps for over-the-top customer service. Some popular CRMs are Zoho, Salesforce, HubSpot, etc.
7. Text Message
This is a traditional yet very relevant method to offer exceptional customer service. Here, customers have to use a particular code to let the concerned team know about the issue. They get back to the customer after a certain time to have more clarity and thereby resolve the issue.
8. Email
20% of consumers reach customer service via emails till date, which means that this conventional method is still reliable to a certain extent. This is a detailed version of the text message where customers can write the problem in detail. This method was once found to be the most convenient and sophisticated method to reach the support team.
How MageNative Helps With Customer Service On Mobile Apps?
At MageNative, we understand that competitive pricing and quality products are important for business growth – but customer service is that booster element that deserves equal priority. This is why we have listed some customer support integrations on our app builder. All you need to integrate it for seamless chat support on your mobile app.
Tidio
Tidio – live chat and chatbots enable the users to get instant help without reaching the service team via call. On the bots, an online assistant remains ready with a set of questions, followed by the answer options.
Users simply need to select the question and pick the relevant answer options. The assistant thus understands the area where the user needs help and directs them toward the solution. It mostly resolves within the chat itself. However, if needed, the users leave their contact details so that executives can get in touch to understand the problem and guide them in a better way.
Learn how to integrate Tidio on your mobile app.
Zendesk
Zendesk aims at providing community support to users immediately upon facing a problem. In addition to community support, it offers automated chatbots to provide instant support to help the user in finding what they exactly need. It has a calling feature too.
Learn how to integrate Zendesk on your mobile app

Build your mobile app with MageNative mobile app builder and get the best customer support integrations!
Takeaways
So, customer service on mobile apps offers a concrete base to your business to prevent easy downfalls. Your product is indeed the key player for your brand, and good customer service is that X-factor that helps your key player give the best shot.
No matter how good your products are, you have to reach your customers with exceptional service to level up your sales and create a good rapport with them. It is truly said that customers are the main pillar of a business especially when you are selling consumer-facing goods. So, serve them with what they need, or just simply reach them – interact with them and make them feel happy.
About MageNative
MageNative is a leading app-building platform that facilitates app creation for business owners regardless of their knowledge of the technical nuances involved. At MageNative, we convert ideas into scalable mobile apps instantly and conveniently.
Check out the most successful Case studies of MageNative.
About The Author
A content marketing professional at Magenative, An app development company providing solutions on different app development platforms including Shopify , Magento and Woocommerce.
Related Posts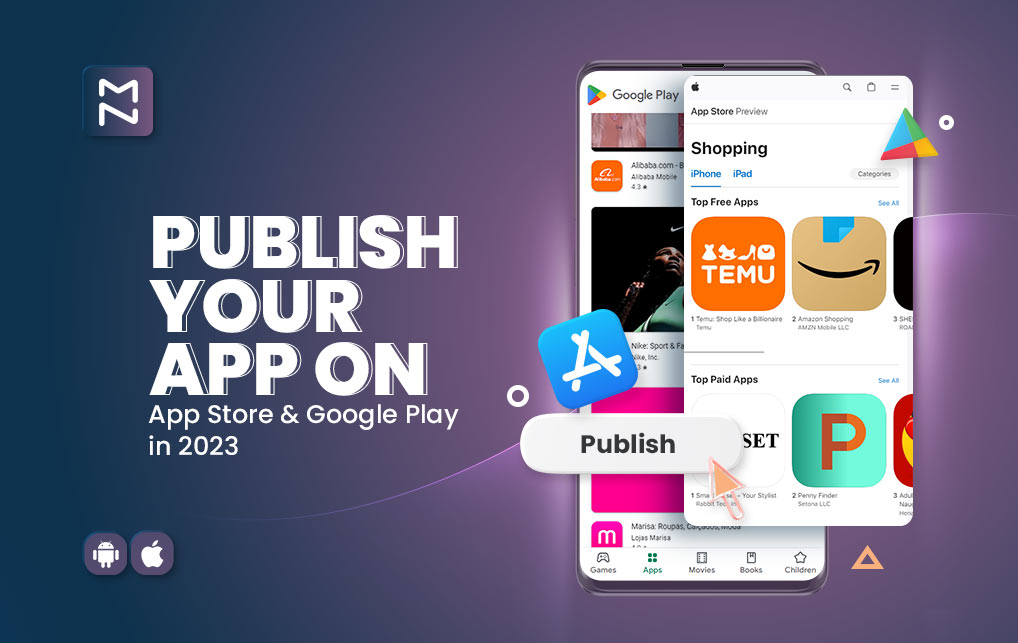 How To Publish Your App On Apple App Store And Google Play Store In 2024?
Objective: In this article, we provide you with an in-depth…
Read article >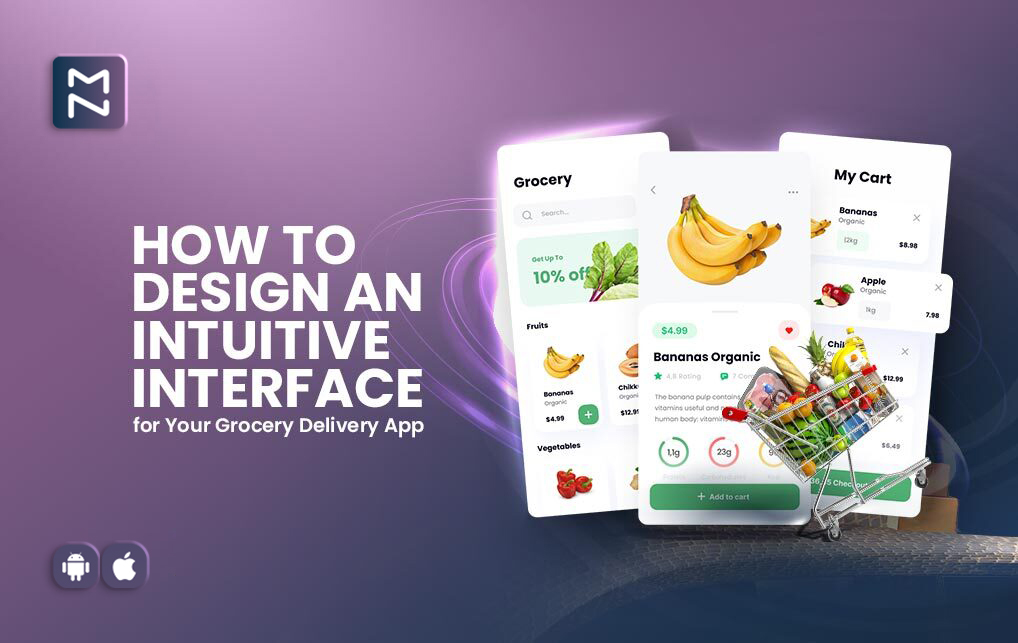 How To Create A Winning Grocery App Design? Best Practices To Know
In today's times, you cannot deny that mobile apps have…
Read article >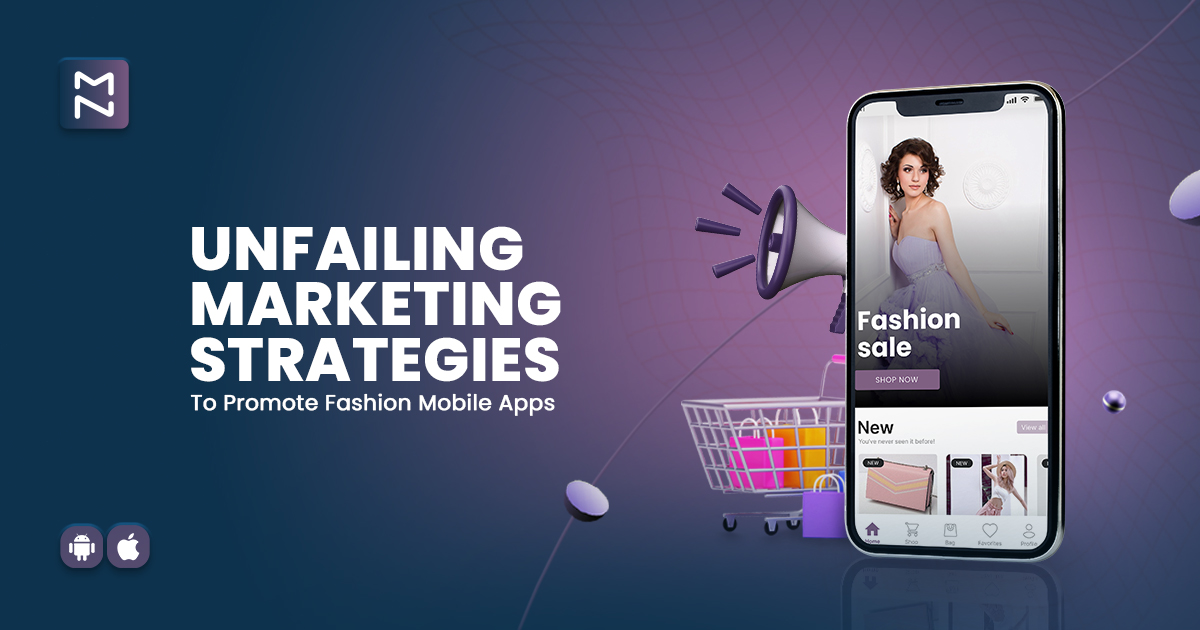 10+ Marketing Strategies for Your Fashion Mobile App
Are you into the fashion industry? Well, pat your back…
Read article >