What is so remarkable about mobile commerce, and why is it regarded as the next big thing? You might wonder what the big deal is. It's just like another type of commerce that will be replaced by a new one after some time. But believe me, it's here to stay longer than you can imagine.
It won't be an exaggeration to say that 2022 belongs to mobile commerce, as almost 50% of eCommerce sales are given by mobile devices, and the future is even brighter. If we go by the current trends, it is improbable that your business will flourish without the help of mobile commerce, as the domain has grown by leaps and bounds. Buying & selling products, making online payments, and paying monthly bills are some activities that anyone can perform hassle-free using mCommerce. But just like any other industry, there are some downers also.
What Is Mobile Commerce?
Let's first understand the term mobile commerce, also known as mCommerce. It involves using wireless handheld devices such as mobiles and tablets to perform commercial transactions online, including buying and selling products, online banking, paying bills, etc.
The use of mCommerce activity has seen an unprecedented rise in 2022. According to market research company Statista, mobile commerce sales in the United States will be an estimated $431 billion by the end of 2022.
Understanding Mobile Commerce
eCommerce can be divided into many subsets, one of which is mobile commerce. It is a model where individuals or firms conduct business over the internet. According to the Pew Research Center, Almost 97% of America's population own a mobile phone, and 85% own a smartphone, a 35% rise from 2011.
Many products and services can be transacted through mCommerce, including banking, investing, and purchases of books, plane tickets, and digital music. Several factors, including increased wireless handheld device computing power, the proliferation of mCommerce applications, and the broad resolution of security issues, have driven the rapid growth of mobile commerce.
How Mobile Commerce Works?
Most mCommerce-enabled platforms connect the mobile device (Mobile or tablet) to a wireless network to buy products online and perform other transactions. For creating a mCommerce application, key performance indicators to monitor are
Total mobile traffic;
Total application traffic;
Average order value; and
The importance of orders over time.
Developers can track the mobile add-to-cart rate to understand whether users are becoming customers. mCommerce developers may also be interested in mobile cart conversion rates, SMS subscriptions, and logging average page loading times.
mCommerce Market Share and Size
Retail mCommerce sales increased by around 15.2% over 2020 to hit $359.32 billion in 2021. By 2025, retail mCommerce sales are projected to reach almost double, about $728.28 billion, accounting for 44.2% of eCommerce sales in the US.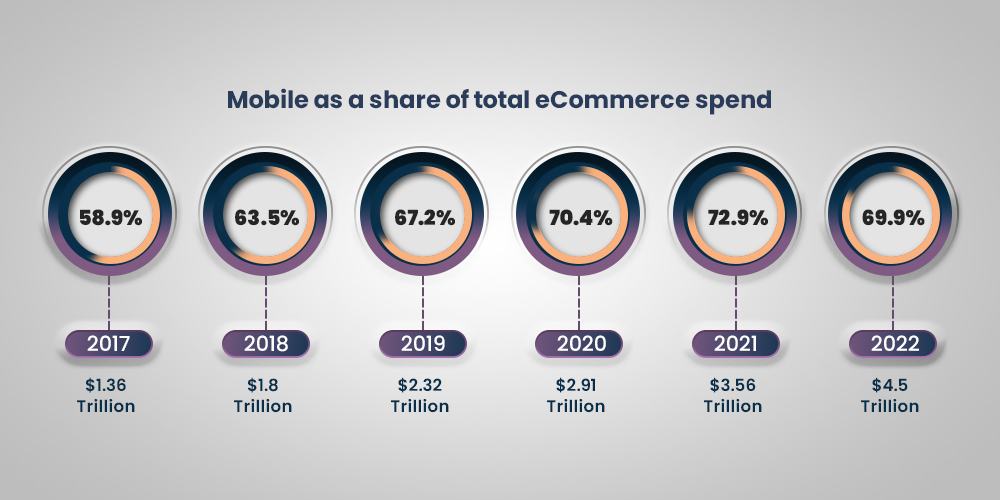 Get Your Mobile App Now With 30 Days, Free Trial
mCommerce Statistics To Look Forward
Insider Intelligence projects mCommerce sales to hit $620.97 billion, or 42.9% of all eCommerce, in 2024. The two key devices driving the mCommerce revolution are smartphones and tablets.
Smartphones are driving mCommerce growth like no other. In the US alone, the mCommerce volume is projected to increase from $128.4 billion in 2019 to $553.28 billion in 2024. Even though the conversion rate is not so high due to customer dissatisfaction as they have to check out on a small mobile screen.
When compared to smartphones' mCommerce volume, tablets are lagging. But they are still contributing massively to the success of mCommerce. Insider Intelligence expects a sale of $64.06 billion in the year 2022 through tablets.
Different Types of Mobile Commerce
We can categorize all mCommerce transactions into these three:
1. Mobile shopping
This is similar to eCommerce but accessible via your mobile phone (iOS or Android). Mobile shopping is now possible through mobile-optimized websites, dedicated shopping apps, and social media platforms.
2. Mobile banking
Mobile banking is very much similar to online banking. However, in mobile banking, some transaction types are restricted to mobile devices. It generally involves a dedicated mobile app, though some banks have started experimenting with using messaging apps and chatbots.
3. Mobile payments
Mobile payments are now an alternative to traditional payment methods, like cash, check, debit, and credit cards. This payment type enables users to purchase products using a mobile device. Digital wallets, such as Amazon Pay and Apple Pay, facilitate customers to buy products without paying with cash or swiping a card. Some popular options are mobile payment apps like PayPal, Xoom, and Venmo. QR codes are also one such mode of payment through mobile. Users can send money directly to the recipient's cell phone number or bank account with the help of mobile payment.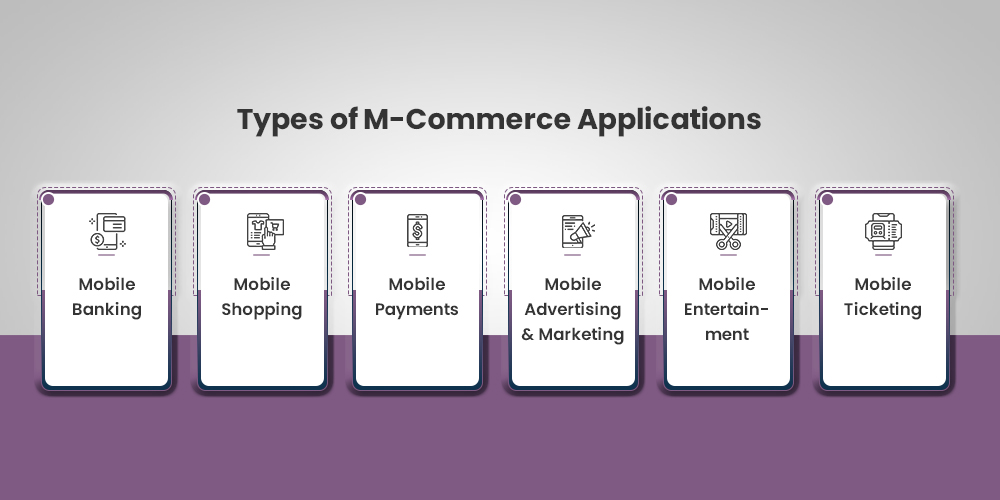 The Highs of Mobile Commerce
If we look a few years back, developing a mobile app and switching to mobile-friendly platforms have only been embraced by big companies like Amazon and Walmart. But now, as the cost of having a mobile app drops, more and more businesses can have the advantage.
Mobile commerce could be a huge driving force for your business, whether big or small. Below are some key benefits of mobile commerce and how it can enhance your business revenue.
1. Created Better Customer Experience
The advent of eCommerce was already considerably improving how we shop. With the ability to shop from their home computer instead of walking into a physical store, customers have the facility to access a wider range of products and compare pricing quickly.
But now technology has improved, and shoppers only need a mobile phone to shop whenever they desire.
Mobility: Although laptops and desktops are pretty portable, everyone can't keep a laptop all the time at all places. What makes mobile commerce so enticing is most people have their mobile phone with them most of the time.
Reachability: With the ability to send customers SMS push notifications, online retailers can reach a much wider range of customers even when they're on the go.
Location-Tracking: mCommerce apps and online stores can pinpoint user locations using GPS technology and Wi-Fi, which helps provide personalized and location-specific content.
2. Provided Phenomenal Growth Potential
Mobile commerce has already reached a considerable user base still the industry growth shows no sign of stopping.
In 2021, mobile eCommerce sales were expected to account for 6% of all US retail sales. But by 2025, Statista forecasts that mCommerce sales will make up over 10% of all US retail sales, which would be a growth of 7 percentage points since 2018.
3. The Power of Omnichannel Experiences
With the advent of Omnichannel commerce, merchants can sell in-store as well as online through multiple channels. It could be an eCommerce website, eBay, Amazon, Instagram, etc. It provides a seamless shopping experience and cohesive brand message across all contact points.
The core of the omnichannel experience is simply meeting your customers wherever they are available and making it easier for them to buy.
4. It's Even Easier To Pay Now
Various emerging mobile payment services have opened the door for multiple payment options, such as Amazon Pay, Apple Pay, Visa Checkout, and PayPal One-Touch, to make the buying process even more accessible.
Many eCommerce sites now offer one-click checkout functionalities, which allow consumers to enter their payment details only once. Then they can use the one-click option every time they purchase.
Give Your Customers The Freedom of Buy Now And Pay Later (BNPL) And Watch Your Sales Sky Rocket.
The Lows of Mobile Commerce
Just like mCommerce has so many highs, it also has many downers. You must know about the lows thoroughly to run your online/eCommerce business successfully. So let's discuss them in detail below.
1. Constant Need For Optimization Can Be Painful
Although mCommerce is growing, we can't forget that the desktop still matters. Desktop still has many advantages over mobile devices. The average desktop device still accounts for a conversion rate of 2.1%, which is more than double the 1% average smartphone rate.
Desktop devices are still ahead of mobile devices in terms of order value. As per Statista, in 2022, smartphones accounted for 58% of global retail website visits and generated around 51% of eCommerce revenue, almost the same as desktop devices.
This gives us an insight that you need to optimize your mobile commerce repeatedly. As consumer behavior changes, you need to be aware of the latest applications and technologies to ensure that your online store is fast, convenient, mobile-friendly, and easy to navigate.
2. Various Payment Methods Not Always Work
While having multiple payment options can be advantageous, it should be noted that only some opportunities work in some regions. Plus, customers in different areas often prefer specific payment options over other regions, making it more difficult for online retailers to regulate their business on a global scale.
Offering multiple payment options would enhance the mobile experience, but sometimes less is more. A study done in the year 2000 found that offering too many product choices often decreases sales and customer satisfaction.
Thus, you'll want to determine the right mix of payment options for your business area and the locations you're serving.
3. Easy To Compare Prices
One of the most significant downers of oversimplifying the mobile user experience is that customers can compare prices quickly across various stores. Customers can know how much a similar product costs from ten stores other than yours in just a few taps or clicks. Most of the time, customers continue searching until they find the cheapest product for the highest value.
Now the question is, how do you fight this? Simple, just like your customers, be aware of the competition. Look out for when competitors drop or raise their prices and shipping costs, and be ready to react.
4. Customer Security Is A Huge Downer
A Forrester study suggests that about 30% of smartphone users don't pay online as they don't consider it safe. Another reason is fear of phone information being sold to third parties, which 14% of users said.
eCommerce businesses are more responsible for protecting and stewarding their data than mobile commerce.
You'll need to comply with a wider range of regulations but, simultaneously, be transparent with your customers in how you're using their collecting and sharing their information.
Know Your Customers Better And Enhance Your Sales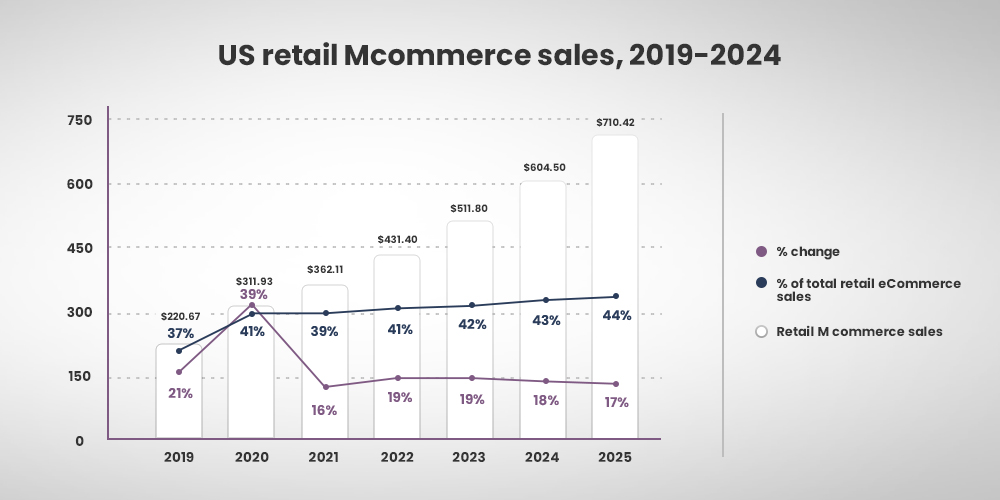 Mobile Commerce – The Future
Mobile commerce is evolving daily and reaching a broader audience. According to Insider Intelligence, around 6.9% of retail transactions happened through a mobile device in 2022. Going by the projections, mCommerce will account for about 10.4% of all retail sales by 2025. Most businesses are adopting mobile commerce to stay updated with their competitors.
Below are some current and future mobile commerce trends:
1. Mobile Retargeting
This concept extends location-based mobile marketing. This trend targets potential customers contextually instead of putting ads in random places. For example, marketers can send customized ads to their previous mobile app users. Mobile retargeting offers a better ROI than other promotional strategies and is likely to become more prevalent.
2. Augmented Reality (AR)
Embedded AR is growing faster with the number of mobile apps. In 2017, to provide digital content optimization and improve its brand presence, retail giant Ikea introduced an AR mobile app that lets shoppers test products in real time through Apple iOS 11's ARKit technology. Through this technology, customers can use AR models of IKEA furniture to see how those fit in their home or office spaces, and they can do it all in their mobile app itself. Major brands, like Coca-Cola, Zara, Covergirl, and Pez, use embedded AR in their native mobile apps.
3. Mobile SEO
With the rapid growth in smartphone users accessing the internet, mobile-responsive websites have become necessary. Less mobile-friendly websites or those that do not provide a good user experience have a high risk of abandonment. This increases their website bounce rate, resulting in a lower rank in SEO and Google searches. Therefore, all businesses must build mobile websites that are adaptive to handheld devices.
4. Mobile Banking
The most significant advantage of mobile banking is sending money anytime, anywhere. Mobile banking users can send money to other users and conduct transactions with their bank, irrespective of location. The ease provided to customers in sending money is likely to keep growing. According to Business Insider, there are an approx 169.3 million mobile banking users in the United States in 2021. Almost 80% said they prefer mobile banking to access their accounts.
5. Shopping Assistants, AI, And Chatbots
Powered by AI, chatbots are becoming popular and are an essential e-commerce tool. They help shoppers in the whole shopping journey with product recommendations, purchase completion, customer support, and other tasks, and the icing on the cake is they are available 24*7. According to the Grand View Research report, the worldwide AI chatbot market is rapidly expanding and is expected to reach $3.99 billion by 2030.
Shoppers have become comfortable with chatbots because they are already used to chatting with their family and friends over multiple chat apps like WhatsApp, Facebook Messenger, and Telegram.
6. Mobile Ticketing
Gone were the days when people had to wait in a long queue to buy concert or movie tickets. With mobile ticketing, users can purchase and receive their tickets through their smartphones. Another significant advantage of mobile ticketing is that you don't need a physical copy.
Get Your Personalized Mobile App In Less Than An Hour
Summary
Do yourself a favor and start paying attention to mobile commerce today. Mobile commerce isn't going to go down anywhere soon like a passing trend. It's growing and will keep growing. Start learning to better your mobile sales and use MageNative's mobile tools. Manage your business from your smartphone and make it easier for customers to buy from their smartphones with a simple click.
Mobile trends will play an essential role in the eCommerce industry in the inevitable future. As an eCommerce store owner, you must keep in mind the latest mobile commerce trends to empower your business for success in the future.
Building a mobile app for your eCommerce business is the easiest way to keep up with the times and to change technology.
These trends discussed in the blog are front and center for the ever-changing customer experience. As consumer behavior is forever evolving, retailers that embrace and implement the required changes early on will be better positioned for success now and in the future.
About MageNative
MageNative is a leading app-building platform that facilitates app creation for business owners regardless of their knowledge of the technical nuances involved. At MageNative, we convert ideas into scalable mobile apps instantly and conveniently.
Check out the most successful Case studies of MageNative.
Also, check: Why Is MageNative The Best Mobile App for Your Shopify Store?
About The Author
A content marketing professional at Magenative, An app development company providing solutions on different app development platforms including Shopify , Magento and Woocommerce.
Related Posts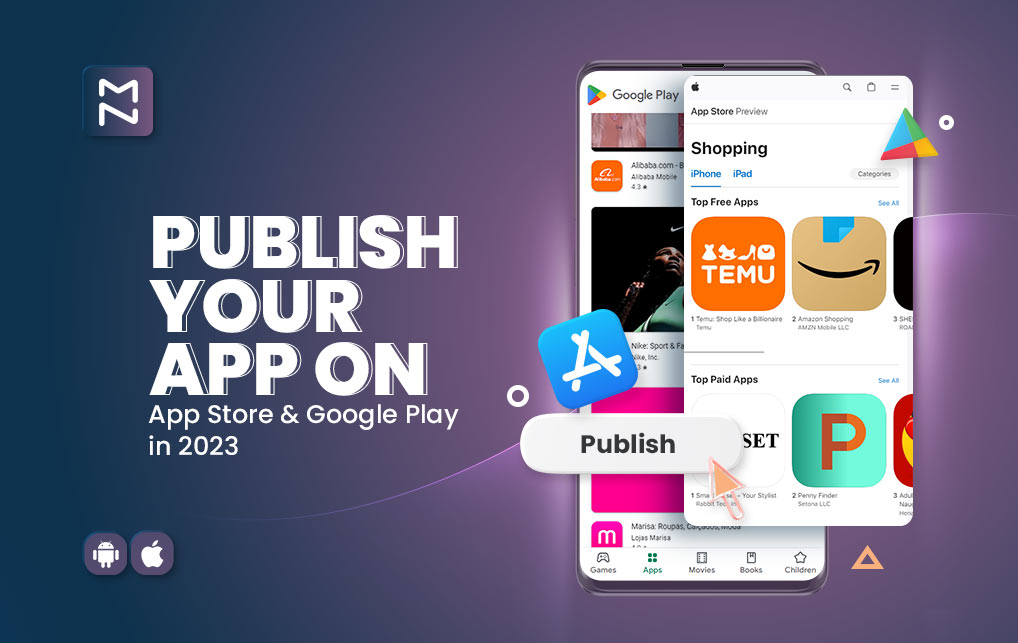 How To Publish Your App On Apple App Store And Google Play Store In 2024?
Objective: In this article, we provide you with an in-depth…
Read article >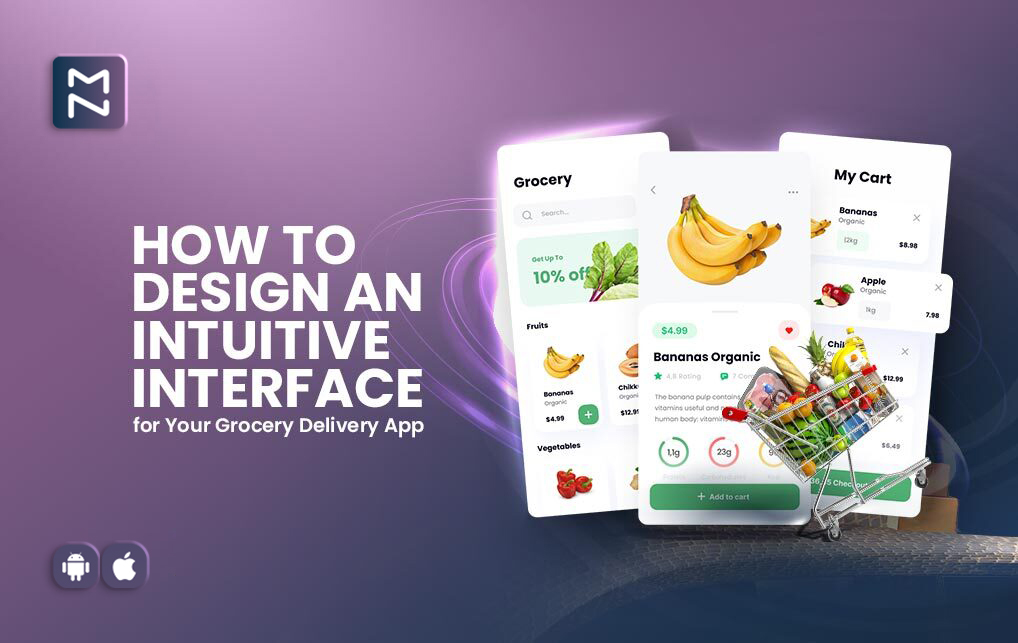 How To Create A Winning Grocery App Design? Best Practices To Know
In today's times, you cannot deny that mobile apps have…
Read article >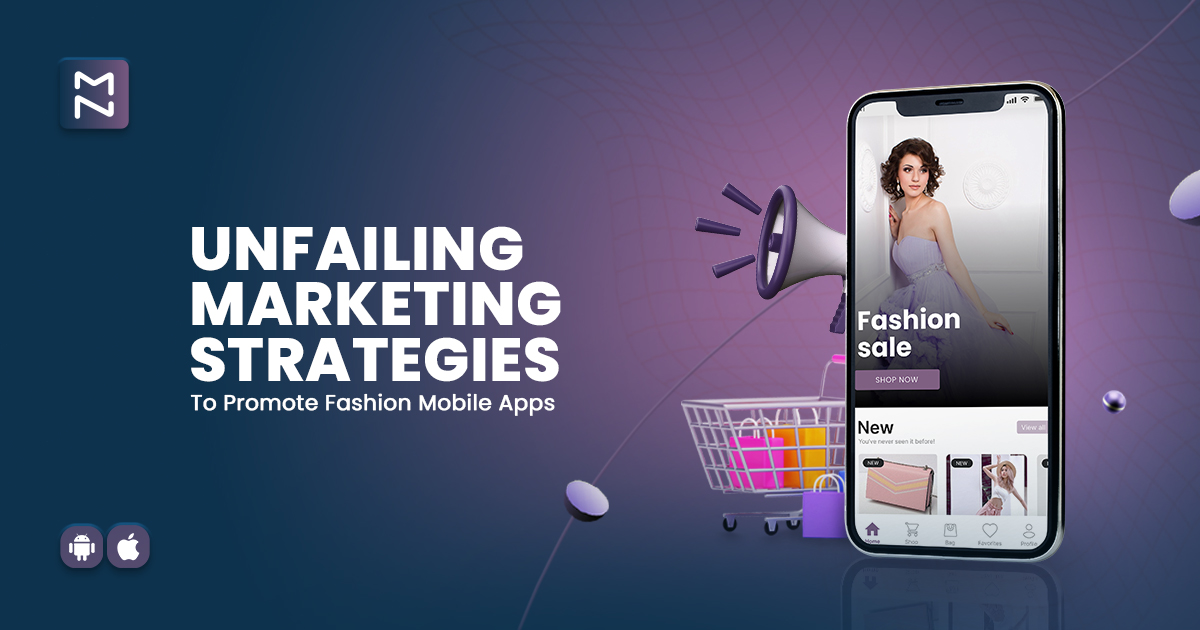 10+ Marketing Strategies for Your Fashion Mobile App
Are you into the fashion industry? Well, pat your back…
Read article >