Entrepreneurship is consistently shifting gears, and technology is at the core of this rapid expansion.
Here's a quick rundown of what's going on right now.
Businesses are now spending more money on social media and digital marketing than ever.
With the advancement of new technology, it is now easier for small businesses to develop their programs, innovate, and collaborate with specialized teams.
Micro-influencers are assisting in the growth of sales, particularly in niche markets.
Some old favorites, such as email marketing, are making a comeback, but we're also venturing into exciting new territory, particularly when it comes to remote working and app development.
New technologies, changing customer demands, societal shifts, and the COVID-19 pandemic are all rapidly altering the business landscape. These factors paved the way for location-agnostic businesses, niche markets, disruptive industries, and tight-knit global teams. You must, however, stay informed about new entrepreneurship trends if you want to benefit from these changes.
Running Businesses From Home
Digital nomadism began to gain traction a few years ago (Forbes). A sizable proportion of the workforce has chosen to work from home or to hold multiple freelance jobs. As many can attest, this is a stepping stone to entrepreneurship. Many freelancers eventually launch their consultancy or professional services firm.
Furthermore, this expands employment opportunities for other established entrepreneurs. Remote workers can help entrepreneurs spare electricity, overhead, and equipment maintenance costs.
Digital nomadism is a type of remote working in which the worker lives as a nomad.
Because of the nature of their work or specialization, they can work virtually from anywhere—a foreign country, a beach house, a coworking space, or even an RV (Investopedia, 2020).
Because digital nomadism has been popular for quite some time, it doesn't mean it is a new trend.
Experts believed that its importance had yet to peak until COVID-19 arrived.
Remote business management has become the norm for many entrepreneurs, particularly those just starting. However, most businesses were forced to return to their roots instead of striving to grow out of their garages like the million-dollar companies that began at home. Meanwhile, more seasoned entrepreneurs will almost certainly hire more remote workers to staff digital touchpoints.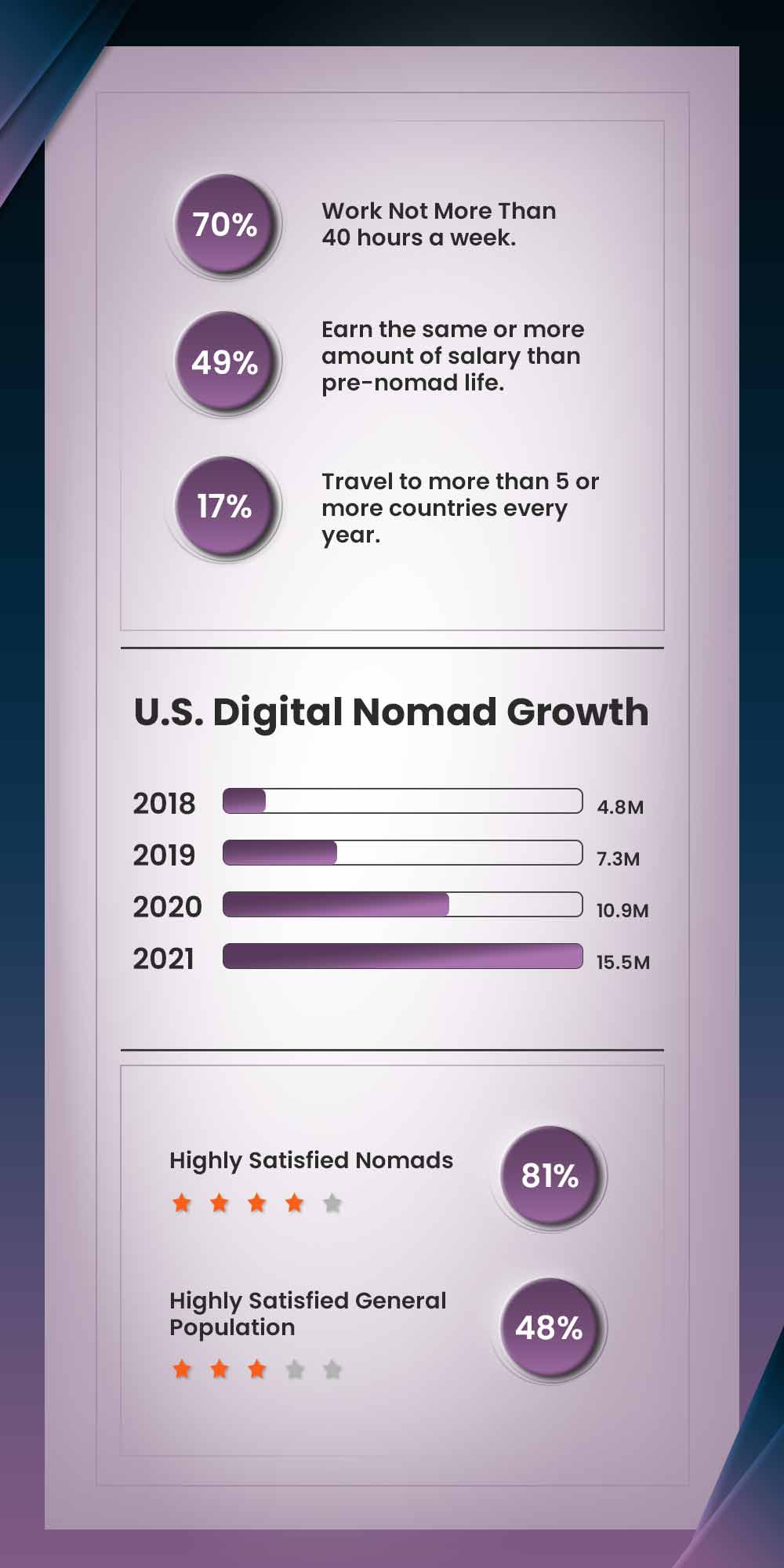 Digital Nomadism
The digital nomad lifestyle is full of "new" things: new countries, languages, friends, and experiences. Living a life of full-time travel and online work puts you in charge of attempting to balance everything. From booking the next flight tickets to setting up your work goals, you need to manage everything independently when working as a digital nomad. Here you need a mobile app to streamline your tasks and manage them efficiently. Mobile applications like Google Drive, My currency converter & rates, TripIt, Google translate, FlightAware, etc. are some popular applications that could help manage different tasks related to journeys, entertainment, or utility.
Business Globalization Powered By Remote Work
Globalism has been made possible by the factors that enabled digital nomadism to flourish. While digital nomadism allows entrepreneurs to run their businesses from anywhere in the world, globalism works with international teams to build, support, and develop their businesses.
In reality, globalism has been a prevalent trend for many years. But, sometimes, we need to consider it an option for more prominent companies. Some also think globalism is just a choice for companies after years or a few months of starting out. However, many entrepreneurs started their businesses with globalism already entrenched in their DNA. In fact, on average, 29% of start-up employees are foreign. It's a significant portion at 45% for those in Silicon Valley. With remote work on the rise, especially given that 65% of employees prefer to work remotely full-time post-pandemic (FlexJobs, 2020), expanding globally becomes more feasible for SMEs.
These trends are not only changing the nature of work but also facilitating the crossing of international borders and creating a fluid globalized workforce. We can see inklings of these trends already in the sectors like technology and education. Now, most MNCs employ a remote work force that is culturally diverse and highly trained. Now, most MNCs employ a remote workforce that is culturally diverse and highly trained. Big players like Byjus, Simplilearn, Udemy, and others are creating a buzz in the education sector.
Mobile Commerce Is Rising At A Rapid Pace
One thing has always remained constant in the dynamic world of modern business: consumer demand is steadily shifting in favor of online shopping.
This option has numerous advantages, including the fact that consumers do not have to leave the comfort of their homes, they can access different product variations, they can have products shipped to any address, and so on.
When it comes to gaining new customers as a business owner, there are other options than having an online presence.
This is where mobile commerce or m-commerce can help you and your customers get on the same page.
With the emergence of the covid pandemic, mobile commerce has become the latest norm for online shopping. By 2025 it is anticipated to make up 44.2% of retail eCommerce sales in the US.
Astonishing Mobile App Features
With outstanding features like Augmented Reality, mobile commerce has become much more realistic and enjoyable for online shoppers.
Lets take an example of IKEA, a swedish furniture giant offering AR feature to deliver immersive and outstanding mobile shopping experience.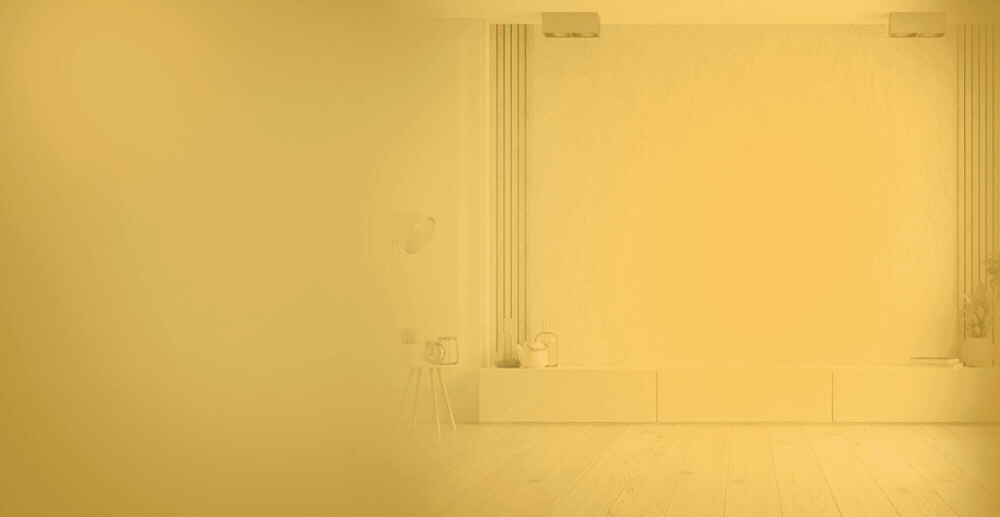 With IKEA Place, users can try items from the retailer in their homes using augmented reality. Point the camera at your surroundings, precisely where you want to place an item. They can choose any item from the IKEA catalog, and it will appear. The user can turn and adjust the thing to fit where they want it in the room. They can walk around and examine the item from various angles.
Furniture can be browsed by category, including some IKEA highlights. Users can save items, take pictures, and share them with others.
This efficient and simple app design takes the stress out of making your next furniture purchase, and the setup and navigation are more accessible than ever.
IKEA Place capitalizes on futuristic design and functionality trends with innovative technology to create an immersive and dynamic user experience. This technology takes the phrase "try before you buy" to a whole new level, allowing users to test out the size, shape, look, and functionality of a new purchase without leaving the comfort of their living room.
IKEA Place uses AR to provide users with an immersive experience that keeps them engaged and convinces them to purchase more quickly.
Make Your M-Commerce Journey More Delightful With An AR-Enabled Mobile App. Get Started For Free
Mobile Optimization
According to a Google study, half of all shopping apps installed on a smartphone are used at least weekly. Global consumer mobile spending is expected to reach $728 billion by 2025.
Businesses that want to succeed online must start or increase their investment in mobile optimization. The mobile versions of their online stores must be simple to use. The term "electronic commerce" refers to the sale of goods and services over the internet.
Remember that being present and optimized for mobile is only one component of the overall picture. It would be best if you were optimized and considered user experience at all times.
Mobile optimization offers advantages to businesses in numerous ways.
Mobile Searches Keep Rising.
Conversion Rates Are Affected by Mobile SEO.
Positive mobile experiences encourage visitors to return.
Mobile-First Indexing: Mobile Content Determines Ranking.
Mobile Search Increases Sales.
Check Out: 10 Best Tips To Implement Successful App Store Optimization in 2023
Social Commerce
Social media platforms have grown in importance as a channel for e-commerce on mobile devices. It has grown organically as a result of social media usage. As social media became more popular, many people started doing something quite natural — they started selling and buying online social media sites and apps.
Social commerce occurs when astute marketers combine the best of eCommerce with social media.
People are more active on mobile social media platforms such as Snapchat, Facebook, Instagram, etc., and you can integrate these social media apps into your apps to promote your brand and increase sales.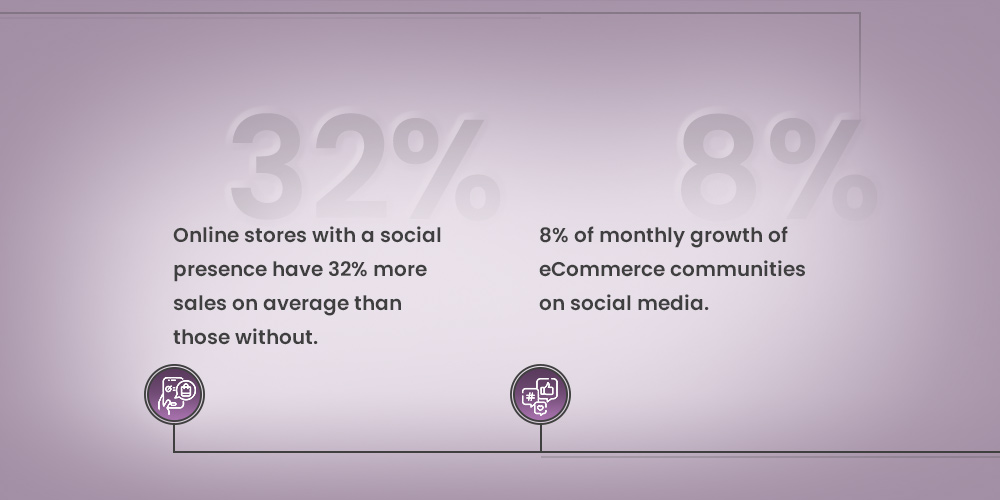 Brands are making the most of social media. Let's take the example of Playstation, a popular video gaming brand.
Sony's PlayStation is the most followed brand on Twitter, with 18.7 million followers. According to UnMetric, PlayStation has grown its following by 376% in the last five years, adding 12 million followers from 2014 to 2019.
One reason for this is how active it is on the platform, posting different content to engage fans, such as new game trailers, gaming footage, and streaming events regularly. PlayStation recently generated positive buzz on Twitter with its #PlayAtHome campaign, which encouraged users to stay at home by downloading free copies of "Uncharted: The Nathan Drake Collection " and "Journey " games. According to reports, over 10 million people have downloaded free copies.
The Gig Economy
The gig economy is quite large (Mastercard, 2019). As of 2021, it is worth approximately $300 billion globally. Experts predict it will be worth $455 billion by 2023, based on a 17.4% CAGR. Furthermore, the US gig economy accounted for 44% of the global gig economy's Gross Volume in 2018.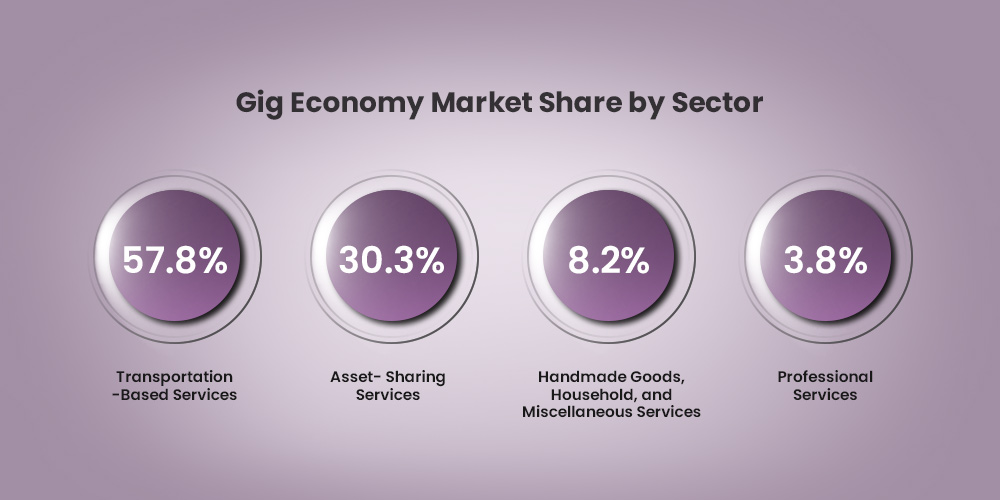 The gig economy in the United States now employs approximately 59 million people. It also accounts for approximately 36% of the American workforce, contributing approximately $1.2 trillion to the US economy (Business Wire, 2020). Moreover, it has decacorns in it as well. If you are unfamiliar with the term, decacorns are private companies worth $10 billion or more.
Key Takeaways
The global gig economy is bound to balloon up to $455 by 2023. This means that the pie is getting bigger, and more entrepreneurs will be able to get more giant slices. The most straightforward method is to join sharing platforms and rent out assets on a timely basis on platforms such as Uber or Airbnb.
There are numerous advantages to transitioning to or developing a gig-like business model. These include lower pay packages, lower overhead costs, and lower equipment maintenance.
Also, there are challenges to this setup. One is that you must balance the supply and demand sides. Another disadvantage of using gig workers is that you may need more control over the quality of their work. Furthermore, if you act as an intermediary between gig workers and clients, your gig workers may eventually cut out the middleman.
One way an entrepreneur can leverage this is by creating a "gig scheme" for her business. This is not new. In fact, some athletes (especially in combat sports) and entertainers (like stand-up comedians) are independent contractors. They have gigs. Their "employers" benefit from not paying for employee benefits like regular-employing firms do. Furthermore, they do not have long-term commitments to their suppliers or independent contractors. Additionally, many gigs require workers to bring their own equipment. So, entrepreneurs seeking to take advantage of a gig scheme can find ways to eliminate overhead costs. Again, this seems to work best in the realm of professional services.
Subscription-Based Business Is On The Rise
According to a recent survey, the global subscription and billing market will be worth $11.1 billion by 2027, growing at a CAGR of 14.4% from $3 billion in 2020. This is due to two primary factors: increased brand subscribers and new subscription-based models. Furthermore, end-user industry segments abound. Among them are telecom, healthcare, media and entertainment, retail, and information technology. And, due to the pandemic's forced isolation from the outside world, 22.5% of subscription businesses saw their growth rate increment.
According to Tien Tzuo, subscription-based models are the future. Having consistent revenue streams makes more sense than having intermittent sales. He said, "if you're not shifting to this business model now, chances are you won't have any business left to shift in a few years." Subscription-based models are also more convenient to customers, especially with automatic recurrent payment schemes.
Today, aspiring and established entrepreneurs are considering developing their own consumption-based models. Why? The main advantage is that you will have a consistent income. Also, you can reduce costs with a scheme primed for easy automation. Earn a consistent income while paying less? That is an excellent offer. It must, however, be done correctly.
Utilization Of Disruptive Technology
Disruptive technology is an innovation that significantly alters how consumers, businesses, and industries work. It has the potential to replace existing systems or habits due to its measurable and superior attributes.
In simple terms, disruptive technology is a new technology that significantly changes how an existing market or industry operates. Because disruptive technologies threaten to upend the status quo, incumbent businesses frequently oppose them at first. However, they have the potential to transform how an industry operates entirely over time. Online shopping, Personal computers, and ride-sharing apps are examples of disruptive technologies.
Disruptive technology incorporates the following
5G and Improved Connectivity.
Automation and Robotics.
Machine learning and Artificial Intelligence.
3D Printing.
Cyber Security Advances.
Augmented reality and virtual reality.
Headless Tech.
Edge Computing.
Voice-Activated Searches.
The Rise of "As-a-Service" Computing.
The Work-From-Home Revolution.
Mobile applications are now enabled with features like voice search, image search, and augmented reality utilizing AI and machine learning.
Take Advantage Of These Trends For Entrepreneurs
As you may have noticed, most of these trends are related. The conditions that allowed entrepreneurs to run businesses from home are the same as those that allowed business globalization. Furthermore, the industry and societal trends that emerged from the same conditions are related and, more importantly, are posed to assist businesses in dealing with the pandemic.
Consider the rise and adoption of disruptive technologies. This has contributed to an increase in the number of niche markets in various industries.
Furthermore, this resulted in the development of more technological entrepreneurship and business education. Again, these specialized education courses are partly in response to other overarching trends, such as the desire for greater diversity, environmentally friendly practices, and general social responsibility.
Indeed, recent entrepreneurship statistics support this—the current trajectory points towards more enterprises focusing on helping society as a whole.
There is no such thing as a trend in a vacuum. All of these factors contribute to the current socioeconomic landscape in different ways. Recognizing the interrelationships between entrepreneurs, especially aspiring entrepreneurs, is prudent.
Some of these trends may feel familiar. Mobile optimization, working from home, and environmental concerns have been simmering for years. Others, such as subscription services, have seen new life due to the pandemic. Regardless, consistent entrepreneurial trends are taking hold and seeing consistent growth for years.
Mobile devices are becoming more popular in the digital world; buyers, searchers, and social media users are all using them. To thrive in the online marketplace, you should invest in a robust and captivating mobile application that will captivate online users.
About The Author
A content marketing professional at Magenative, An app development company providing solutions on different app development platforms including Shopify , Magento and Woocommerce.
Related Posts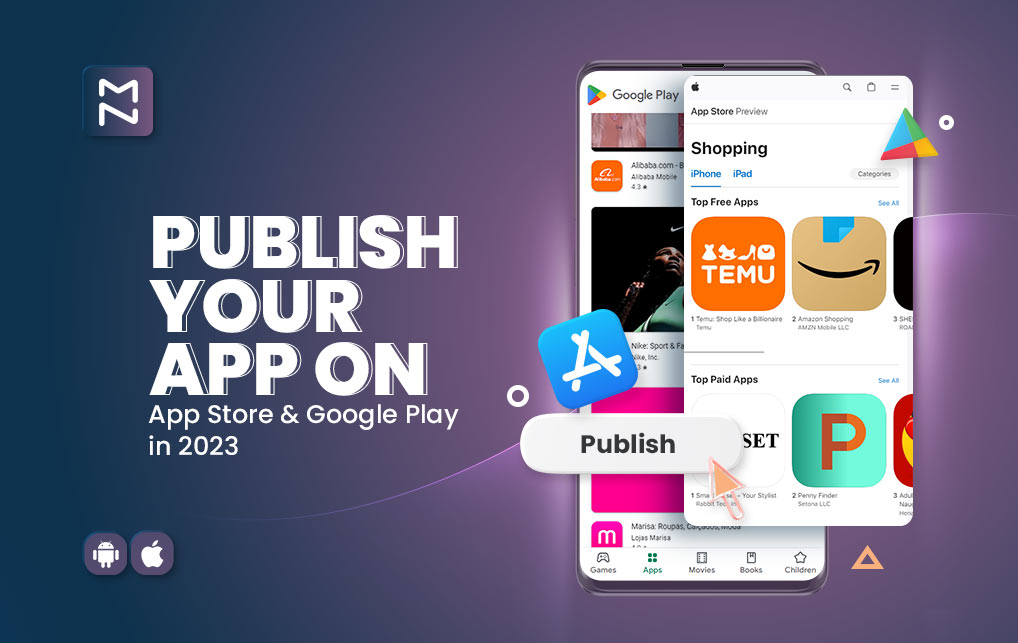 How To Publish Your App On Apple App Store And Google Play Store In 2024?
Objective: In this article, we provide you with an in-depth…
Read article >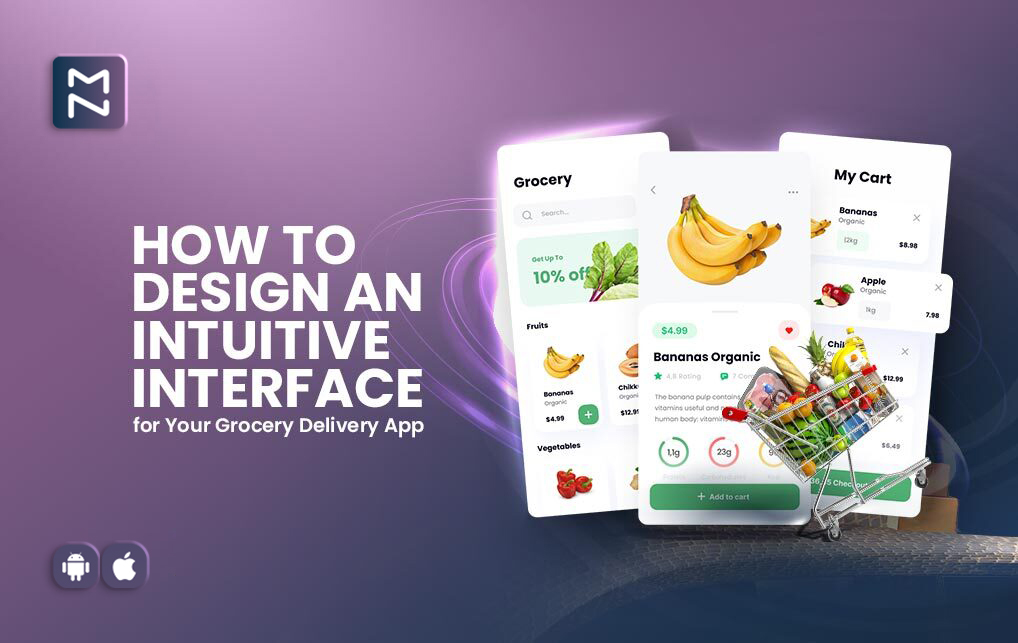 How To Create A Winning Grocery App Design? Best Practices To Know
In today's times, you cannot deny that mobile apps have…
Read article >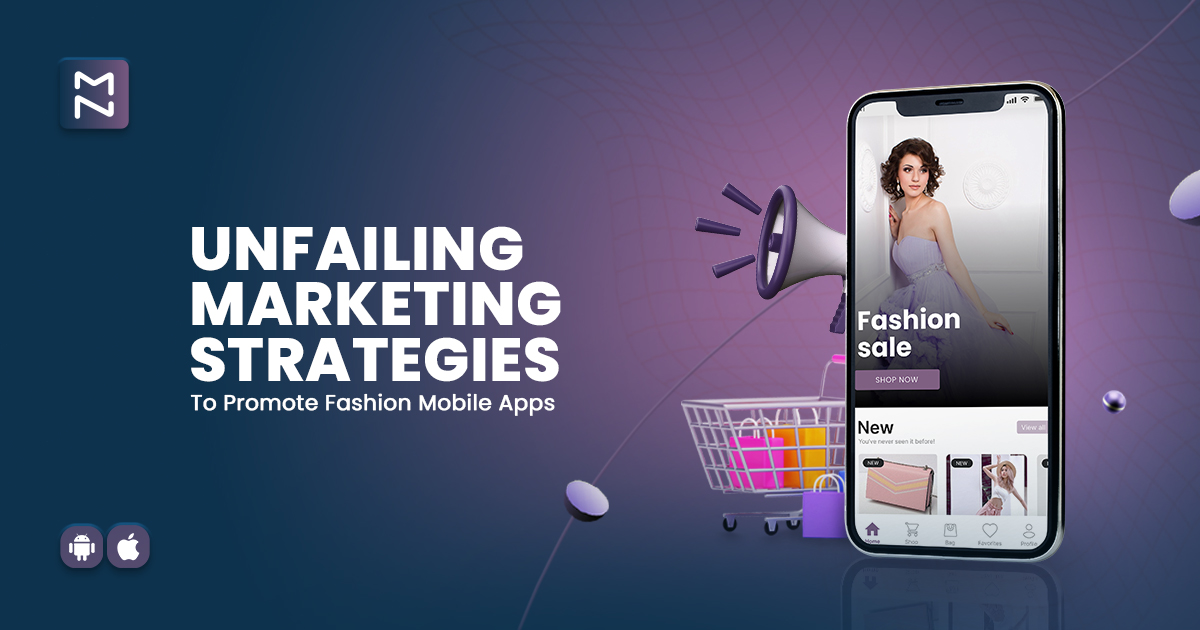 10+ Marketing Strategies for Your Fashion Mobile App
Are you into the fashion industry? Well, pat your back…
Read article >